Notre Dame Football:

Tanner Price
July, 30, 2012
7/30/12
9:00
AM ET
Week 11
: Nov. 17 vs. Wake Forest (at Notre Dame Stadium in South Bend, Ind.)
Time/TV
: 3:30 p.m. ET, NBC
Series
: Notre Dame leads all-time, 1-0
2011 record
: 6-7 (5-3 ACC; tied second place, Atlantic Division)

Head coach
: Jim Grobe (68-67, 11 years)
Returning starters
: Offense: 3; defense: 7; kicker/punter: 2
Top returners
QB
Tanner Price
, WR
Michael Campanaro
, C
Garrick Williams
, DE
Zach Thompson
, NG
Nikita Whitlock
, OLB
Joey Ehrmann
, ILB
Scott Betros
, ILB
Riley Haynes
, CB
Merrill Noel
, FS
Kenny Okoro
Key losses
RB Brandon Pendergrass, WR
Chris Givens
, TE
Cameron Ford
, T Dennis Godfrey, T Doug Weaver, G
Joe Looney
, G Michael Hoag, DE Tristan Dorty, DE
Kyle Wilber
, SS Cyhl Quarles, FS
Josh Bush
2011 statistical leaders (*returners)
Rushing
: Brandon Pendergrass (823 yards)
Passing
: Tanner Price* (3,017 yards)
Receiving
: Chris Givens (1,330 yards)
Tackles
: Cyhl Quarles (101)
Sacks
: Kyle Wilber/Nikita Whitlock* (3.5)
Interceptions
: Josh Bush (6)
Three questions for ...
ACC blogger Heather Dinich:
Wake returns plenty of talent at the skill positions, but it is tasked with replacing four starters on the offensive line. What's a realistic timeline for the newcomers to jell and form a cohesive unit?
Heather Dinich:
Well, it's more like three starters at this point, because
Steven Chase
, who missed the spring for undisclosed reasons, has since returned. The group also got a huge boost from the move of
Frank Souza
from the defensive line. Chase's return has allowed the staff a little more flexibility with the depth chart. He or Souza -- whoever develops into the better pass protector — will likely slide into the right guard position. Souza was backup to talented noseguard Nikita Whitlock and saw the writing on the wall: Whitlock wasn't coming off the field anytime soon. So he jumped at the opportunity to see more snaps on offense. Coach Jim Grobe told me they "hit a home run with Souza." Right now he's got five guys he's comfortable with. Depth? That's another question.
Head coach Jim Grobe rarely has much staff turnover, but three new assistants are aboard for 2012. What's new, and how will that translate on the field this season?
HD:
Yes, the Deacs have long been one of the most stable staffs in the ACC, but there are a few new faces in new positions, and I think overall, it will make Wake Forest a better team. Tim Duffie will be in his first season coaching the secondary, and he has lots of talent to work with back there, particularly at the corner position. Jonathan Himebauch is in his first year coaching the offensive line, and
Derrick Jackson
is in his first season coaching the outside linebackers. The move of OC Steed Lobotzke to tight ends and fullbacks should help him manage his time better as a coordinator because he won't have to deal with so many offensive linemen.
The Deacs surprised everyone but themselves last season, falling a field goal short of playing for the ACC title. There are obvious shortcomings (O-line, secondary) on this year's roster, but will they be able to overcome those and make another push at a division crown?
HD:
If they did it last year, I don't see any reason why they shouldn't be able to make another run at it. They've got to be able to win those close games, though. The close losses to Syracuse, Clemson -- and of course Notre Dame -- are still stinging, and just about anyone in that program will tell you they could've played better against UNC. Jim Grobe has a very good football team to work with this year, and he has a defense that could be reminiscent of the old days with Aaron Curry and Alphonso Smith. There are some diamonds in that group, they're just not very experienced. It wouldn't be wise, though, for Wake Forest opponents to take this year's team lightly.
January, 10, 2012
1/10/12
3:00
PM ET
With 2011 in the rearview mirror, here is an early look at Notre Dame's 2012 opponents, with the game date and site in parantheses.
1. USC (Nov. 24, away):
Matt Barkley
's return makes the Trojans a trendy preseason national title pick and Barkley a likely preseason Heisman frontrunner. They host the Irish in the regular-season finale, and how sweet it would be for Notre Dame should they knock their rivals off with the highest stakes on the line.
2. Oklahoma (Oct. 27, away):
Like the Trojans, the Sooners return their prized quarterback (
Landry Jones
) and will, at the very least, enter 2012 as the Big 12 favorite.
3. Michigan State (Sept. 15, away):
Kirk Cousins
and
Keshawn Martin
are gone, but the Spartans return four offensive linemen and plenty of production on the defensive side of the ball as they go for a third-straight 11-win season.
4. Michigan (Sept. 22, home):
Denard Robinson
and several key skill players likely return, but the Wolverines lose a lot on each line and will rely on several young players to fill the void.
5. Stanford (Oct. 13, home):
Perhaps the biggest mystery entering 2012. We just don't know how much this team will drop off following the likely loss of
Andrew Luck
. Time will tell.
6. BYU (Oct. 20, home):
Another wild card. Much will depend on the growth of dual-threat QB
Riley Nelson
and the Cougars' offense.
7. Purdue (Sept. 8, home):
The Boilermakers finished 2011 with back-to-back wins for the first time this season and have a bit of momentum under Danny Hope. Some see them as a darkhorse Leaders Division contender in 2012.
8. Miami (Oct. 6, Chicago):
The Hurricanes will likely be led by a defense that returns eight starters for Al Golden's second year.
9. Wake Forest (Nov. 17, home):
Quarterback
Tanner Price
is back, but the Demon Deacons must eliminate the mistakes that cost them five of their final six games and two assistants their jobs.
10. Boston College (Nov. 10, away):
The Eagles got better as the season went on and hope new offensive coordinator Doug Martin can bring the unit up to speed with the defense, which loses Luke Kuechly.
11. Navy (Sept. 1, Dublin):
Can
Trey Miller
build off 2011, when he was forced in midseason for the injured
Kriss Proctor
?
12. Pitt (Nov. 3, home):
New coach Paul Chryst will have his work cut out for him on a team with quarterback, protection and, at least in the past calendar year, coaching issues.
November, 6, 2011
11/06/11
1:27
AM ET
WINSTON-SALEM, N.C. -- Jimmy Newman's 42-yard field goal sailed wide right, and
Jonas Gray
and
Cierre Wood
immediately wanted the ball.
Five-minutes, 24 seconds remained. And even though Wake Forest had all three timeouts remaining, there was not a doubt in either back's mind that the Demon Deacons' luck had run out in an eventual
24-17 loss
to Notre Dame.
"Definitely, definitely," Gray said. "That was the first mindset we had. The guys were doing a great job blocking on the perimeter and inside. We knew what we had to do was run the clock out, and by doing that we had to run the ball."
Wood got the first two carries, totaling 11 yards. Gray, who made his second straight start, took it from there, rushing it five straight times for 16 yards, the final carry a third-and-1 conversion that sealed the game with 1:40 left.
The Irish had let other hosts stick around in primetime games before, and they had been bitten, most notably when they struggled in short-yardage situations late in a last-second loss at Michigan. But Gray, who has improved as much as anyone during the course of the season, said the team takes on a different mentality now.
[+] Enlarge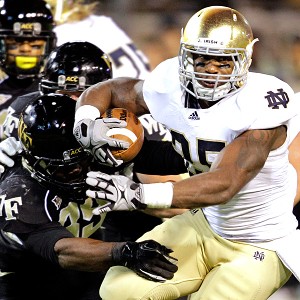 AP Photo/Chuck BurtonJonas Gray had 92 yards on 19 carries with a long run of 25.
"We welcome it," the senior said.
Gray finished with 92 yards on 19 carries -- again, ironically, hurting his yards per rush average in his chase of George Gipp's single-season school record of 8.1.
For that, he can blame a review that followed his 26-yard third-quarter rush into the end zone, as it got marked down at the 1, where he punched it in from two plays later for his ninth touchdown in the last six games.
That score tied things up at 17 after the Irish went into the half down seven, Wake Forest's offense keeping the banged-up defense on its toes with the elusive
Tanner Price
running the show.
Brian Kelly won his 14th straight November/December regular-season game, and his 20th in his last 22 tries. And he did it the hard way.
When a third-quarter flea-flicker resulted in a 54-yard interception return and eventually first-and-goal for Wake Forest, down seven in the third, Harrison Smith forced a fumble that was recovered by Gary Gray.
The next time the Demon Deacons got so close, Stephon Tuitt recorded a sack, Smith blew up a backfield pass for another loss and Newman missed from 42 yards.
Notre Dame played the majority of the game with Mike Golic Jr. at center instead of Braxston Cave, who left the game after the first play of the second quarter with an undisclosed injury. All-everything linebacker Manti Te'o "was playing on one leg," Kelly said, after the junior left Wake Forest's last drive of the third quarter before returning on the next series.
Defensive end Aaron Lynch had to leave the game on two separate occasions, further depleting an already depleted defensive line, and T.J. Jones somehow made it back after taking a vicious hit on an impressive six-yard grab early in the third quarter.
"We got a lot of guys banged up. A lot of guys banged up," Kelly said. "We'll give you a full report on that when I get a sense of, we got guys that are gonna be -- hey, listen, it's November, too. So there's gonna be some guys that come to practice on Tuesday not full-speed. But these guys are tough, they're gritty and they'll answer the bell."
Earlier, Kelly was less pleased with a question about Notre Dame's passing game.
Tommy Rees
finished the night 14-of-23 for 166 yards with two touchdowns and two picks.
"I mean is there a negative to everything? Is there a negative?" Kelly said. "We just won a football game, on the road. I mean, what kind of, really, what kind of question, what do you want me to say? What's the answer? We won 24 to 17 against a good football team, and you want to know what's wrong with the passing game. You know what's wrong with it? Um, the coach doesn't call good plays. How's that? There's nothing wrong with it. We're fine. We just won a good game."
It's the best game Notre Dame can win before Nov. 26, as it will face hapless Maryland and Boston College before traveling to what Kelly said will be "hopefully an undefeated Stanford team."
Kelly was later asked if he was looking forward to Stanford, and he made sure to not look ahead with two games left before the regular-season finale.
"No, no, we're on the right track," Kelly said. "We're not too far ahead. The guys know what they're playing for. We're playing for a consistent performance. We have a sign, I don't know if you know this, but we have a sign that says 'Play Like A Champion.' And to play like a champion you have to play consistently. You can't have spurts.
"Tonight was a great step in that direction, of playing on the road, against good competition, down at halftime, come back a couple of times -- that's resolve. That's toughness. That's gritty. We've been trying to build this and it's starting to come and you can see it. And that's why I'm proud of my guys tonight."
November, 5, 2011
11/05/11
11:17
PM ET
WINSTON-SALEM, N.C. -- That was a close one, no?


Notre Dame overcame a pair of turnovers Saturday night to escape BB&T Field with a
24-17 win
over Wake Forest, making the Irish bowl-eligible at 6-3.
A couple of big defensive plays in the second half played a role in deciding this one, as Harrison Smith forced
Brandon Pendergrass
to fumble with Wake Forest facing second-and-goal late in the third quarter. Gary Gray recovered for the Irish.
Wake Forest received another chance to even things up in the fourth quarter, getting as close as first-and-goal from the 10. But Stephon Tuitt came up with a sack for a loss of 11, a pass in the backfield was blown up by Smith for a four-yard loss and
Tanner Price
overthrew on 3rd-and-goal from the 25.
Jimmy Newman then missed a 42-yard field goal attempt with 5:24 remaining, and the Irish were able to run out the clock from there.
Be sure to keep it here for postgame reaction from a close one at BB&T Field.
November, 5, 2011
11/05/11
9:38
PM ET
WINSTON-SALEM, N.C. -- Notre Dame trails Wake Forest by seven entering halftime. Here's a quick look at what went down in the first 30 minutes.
Turning point:
The Demon Deacons capped the first half with an 11-play, 81-yard drive that ended with a two-yard touchdown run by
Josh Harris
and a 17-10 lead. Aaron Lynch missed some time on the drive after appearing to hurt an ankle but returned for the end of it. Wake Forest's offense has been very impressive against the Irish's defense so far.
Yards per rush:
The teams are tied at 4.4 yards per carry going into the break, especially surprising given what was seemingly a mismatch of lines heading into this one. Wake Forest's small defensive front has done a solid job early against the Irish offensive line, which is currently without center Braxston Cave. Let's see if the Demon Deacons' D-line can hold up in the second half.
Best player in the half:
Wake Forest's
Tanner Price
has done a great job of escaping the rush and keeping plays alive with his feet. The sophomore quarterback has completed 10 of 14 passes for 107 yards and a touchdown, adding two carries for 21 yards. The Irish defense has to do a better job of containing him in the final 30 minutes.
November, 5, 2011
11/05/11
8:54
PM ET
WINSTON-SALEM, N.C. — We've got a wild one here early, with each offense scoring on its first two possessions and each being aided by long kickoff returns.
Notre Dame and Wake Forest are tied at 10 entering the second quarter, with two big coverage breakdowns resulting in wide open touchdown passes.
The first came from the Demon Deacons'
Tanner Price
to
Brandon Pendergrass
for 20 yards for an early 7-0 lead.
Tommy Rees
later answered by finding a wide open
Tyler Eifert
for a 38-yard touchdown pass to tie things up at 10.
Wake Forest had the first punt of the game right before the first quarter ended, giving the Irish the chance to take their first lead of the night.
I can't say the early fireworks are too surprising, as Wake has a tendency to jump out to early leads. The key, as always, has been sustaining that for four quarters, something that will be all the more difficult with a depleted backfield and undersized defensive front. We'll see if the Irish try to take advantage of that when the second quarter begins.
November, 4, 2011
11/04/11
12:00
PM ET
Almost tuned in to the D-league draft last night. Almost.
November, 3, 2011
11/03/11
8:00
PM ET
A slate of games against ACC opponents -- amid the back-drop of conference expansion, no less -- has given way to even more talk about Notre Dame's football future.
During his Thursday radio show at Legends of Notre Dame, Kelly once again re-iterated his stance when asked if Notre Dame would ever join a conference.
"Well never's a tough word," Kelly said. "I think that the super-conferences are here to stay. I don't think that's gonna change. We're seeing the models coming together right now -- 14, 16 teams in a conference. So we feel like we're still in a solid position as an independent. We feel like we have a great schedule we can play every year. ... Certainly the Big East has been a great home for [our other sports], but those aren't my decisions. I can tell you from a football standpoint we're on top of it. But again, I think we're in a pretty good position right now to be independent."
Once again, the subject of a potential Jumbotron at Notre Dame Stadium came up as well, with Kelly only saying: "It's on order. How about that? It's on order."
Earlier, Kelly began his post-practice session with reporters by providing an obligatory Ethan Johnson update without being asked, simply stating that the senior defensive end is progressing.
Johnson has not played since the first snap Oct. 1 at Purdue, when he sprained his right ankle. He dressed for the past two games, but was held out both times.
Notes:
Kelly said freshman
Everett Golson
was named offensive scout team player of the week for his role in simulating Wake Forest quarterback
Tanner Price
. ... The coach also said freshman defensive back Eilar Hardy (knee surgery) should return to the team at full strength this spring.
Weis Likely Done Coaching