Notre Dame Football:

Taylor Lewan
September, 6, 2013
9/06/13
2:00
PM ET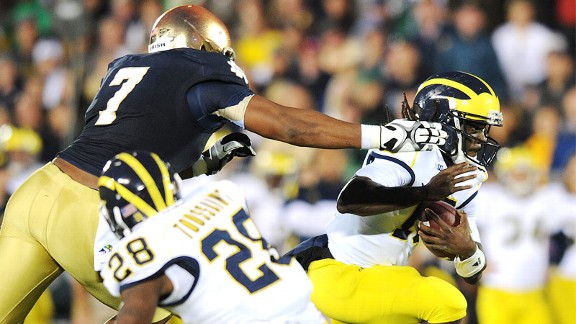 Chris Williams/Icon SMIStephon Tuitt is looking forward to making memories at the Big House on Saturday.
SOUTH BEND, Ind. —
Stephon Tuitt
's memories of Notre Dame's last trip to Michigan are, well, colorful.
"I just remember it was a big ol' stadium with a lot of yellow pompoms," Tuitt said. "That's it."
Tuitt traveled to the Big House in 2011, but he never played a snap. Both he and
Aaron Lynch
, prized freshmen ends with one college game under their belts at the time, were held out of the 35-31 loss to the Wolverines as coach Brian Kelly deemed them not ready.
Tuitt's role has ballooned in the two years since, as the 6-foot-6, 322-pounder will stand eye-to-eye this Saturday with a fellow All-American, left tackle
Taylor Lewan
.
Well, almost eye to eye.
"He's 6-8 and can move really good," Tuitt said. "We watch his film. He's a great tackle. He backs up well. He has great strength. … Me going against that is a great matchup and a great opportunity for me to really showcase the things that I worked on this summer, and a great opportunity for him to showcase what he worked on this summer, and I'm expecting a great matchup between me and him."
It is a showdown of probable first-round draft picks next spring. Lewan passed on that opportunity for a fifth and final season with the Wolverines, much like the other measuring stick Tuitt gets to see every day in practice in
Zack Martin
, who has helped with the preparation for the challenge that awaits this weekend.
"That's the thing about it," Tuitt said. "You've got one of the best tackles on our team, one of the best tackles in the country. It makes you better. It makes your confidence way higher, too."
Tuitt will inevitably have a decision of his own at the end of this season as the prized junior looks to build off a 12-sack 2012 campaign that he had previously deemed a "learning year." Playing in just his seventh year of organized football, the behemoth from Monroe, Ga., has learned to harness his big frame and become more than just a quarterback hunter.
Or, as linebacker
Jarrett Grace
described it: "He doesn't just have to be Godzilla out there throwing everyone around. He can be Godzilla focused in one area taking everyone out, because we've got other great guys on the defensive line that are also working their technique."
So Tuitt's only chance in Ann Arbor might also serve as his last chance against the Wolverines, with the attention surrounding the Big House's second night game only raising the stakes as he faces his stiffest individual test.
"No more going back, so I've got to leave it all," Tuitt said. "Leave it all out there."
September, 6, 2013
9/06/13
12:00
PM ET
Peyton Manning's pretty good.
September, 5, 2013
9/05/13
8:00
AM ET
Who ya got?


When Notre Dame has the ball:
The Irish had plenty of success running the football in their last trip to Ann Arbor, averaging six yards per rush by repeatedly pounding it up the middle. They should try to do that again early with an experienced offensive line, and with enough running back depth to keep everyone fresh. The Wolverines return just three starters from their front-seven last season, too.
Tommy Rees
has to continue to make smart decisions, and
TJ Jones
has to get in space to create the way he did in the opener against Temple.
When Michigan has the ball:
Devin Gardner
isn't as athletic as Denard Robinson, but he's a better passer. And he has arguably the top left tackle in the country protecting him in
Taylor Lewan
. The Lewan matchup with
Stephon Tuitt
will be one to keep an eye on throughout the night.
Fitzgerald Toussaint
is a threat in the backfield, and the Wolverines will likely try to stretch the field with
Jeremy Gallon
and
Devin Funchess
in the passing game.
Intangible:
Michigan is hosting its second-ever night game, which could make for another record crowd like last time. This is also the last scheduled meeting between these schools in the Big House, and the Wolverines will have a bit of a chip on their shoulders after the Irish opted out of the series, and after Brian Kelly tried to downplay the rivalry earlier in the week. On Notre Dame's end, Rees was 30 seconds away from becoming the toast of the town in the 2011 game. He's only better now, and we've all seen his poise in big environments.
Prediction: Michigan 24, Notre Dame 20.
The past four meetings have been decided in the fourth quarter, so why should this one be any different? The Irish will have trouble turning yards into points, and the Wolverines will make just enough plays down the stretch to pull out the win.
September, 4, 2013
9/04/13
9:00
AM ET
If you've been paying attention to college football over the last few seasons, Michigan's rematch with Notre Dame under the lights this weekend is a game you've been waiting for. So why don't we chat about it? You sent in your Michigan-Notre Dame questions and I answered. Here's what we've got.
1. Paul, Chicago: Can Michigan's O-line really hold up against Notre Dame's defensive line?
A:
That's a great question. If Michigan doesn't play well there, it doesn't win the game. Plain and simple. Offensively, the Wolverines will have a really tough test with Notre Dame's odd front (and front seven, but let's just focus on the D-line for right now). On the inside, Louis Nix is going to be a challenge for the young interior offensive linemen. He's 6-foot-3, 340 pounds, meaning the prospect of him outmuscling and overpowering center
Jack Miller
(6-foot-4, 290 pounds) isn't completely out of the question. And defensive end
Stephon Tuitt
is going to be a challenge too, though one I think
Taylor Lewan
can handle.
2. Christian Sack via Twitter: Derrick Green arguably was one of the better RB's yesterday, will he share carries with Fitz Toussaint vs. ND?
A:
I think we will. Offensive coordinator Al Borges still wants to have a featured back but he said Tuesday that from game to game we might see different looks. I think it's smart to use both of them if both can be effective. I think as Green gets his sea legs we'll still see more of Toussaint, but I don't think it's out of the question that we'll see a fair amount of both.
3. Timothy, New York: Does Michigan have enough weapons in the passing game beyond Jeremy Gallon and Devin Funchess? Or is that all the Wolverines will need against Notre Dame?
A:
I believe those will be the two biggest targets we see this season. However,
Joe Reynolds
proved himself effective on Saturday so I wouldn't count him out for a reception or two a game, especially as Michigan works to get the ball in the air more. And
Drew Dileo
is a name that will always pop up. But if you have to pick just two guys who will be the big targets against Notre Dame, I would think it's those two. They create mismatches (for different reasons) and the Wolverines will look for every way to exploit those.
4. Mark, Fowlerville: Why was Drake Johnson being used on special teams? Why would you have the No. 2 RB on special teams?
A:
There are several coaches who look at special teams as the third tier of importance, however Brady Hoke doesn't necessarily look at it that way. He has been very vocal about how there are three equally important parts of the team and he has offered scholarships to special teams players. Last season
Blake Countess
was also injured on special teams during the Alabama game, but I feel like both were injuries that could've happened in any aspect of the game. Now, Michigan has more depth at running back this season than it did at cornerback last season, if there's any kind of silver lining here. However, it will be interesting to see if Hoke's take on special teams changes at all going into the rest of the season.
September, 3, 2013
9/03/13
2:00
PM ET
By
Matt Fortuna, Chantel Jennings & Brian Bennett
| ESPN.com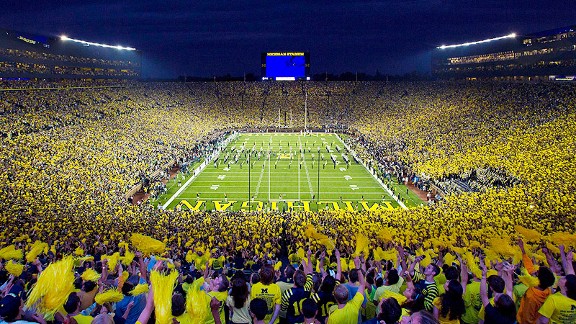 AP Photo/Tony DingCan anything top Michigan's 35-31 win in 2011, which was the first night game in the history of Michigan Stadium?
Under the lights ... and two of college football's oldest rivals in one of their last scheduled meetings … and College GameDay. Does it get any better than this? Only when Big Ten reporter Brian Bennett, Dame reporter Matt Fortuna and Michigan reporter Chantel Jennings get together to talk about it. Today, they discuss a few topics surrounding the highly anticipated matchup.
1. Over the past few years, this rivalry has seen its fair share of big stars excel during this game -- Denard Robinson's 502 yards in 2010, Roy Roundtree's game-winning catch in 2011, Manti Teo's defensive performance in 2012. Which player could you see having a mega game on Saturday?
Bennett:
How about
Jeremy Gallon
? The Michigan receiver had the huge 64-yard catch that set up Roundtree's game-winner in 2011. While he wasn't as active in last year's game, that's primarily because the Wolverines were busy throwing the ball to Notre Dame. Gallon has been more effective ever since
Devin Gardner
started running the show, and I could see him burning the Irish secondary for some big plays.
Jennings:
The heroes this game has helped create have kind of come out of nowhere in some instances. So I'm going to pick a guy who has been flying under the radar statistically, who I think has the ability to show up in big games, and that's Michigan tight end
Devin Funchess
. He had a fine freshman year and a better offseason. I think we could see him be a big difference maker on Saturday.
Fortuna:
If I'm Notre Dame, I'm gearing up for Gardner, since Michigan quarterback play has essentially decided these contests in one form or another in each of the past four years. From the Irish side, though, I think wide receiver
DaVaris Daniels
could break out. He was Notre Dame's best offensive player in the national title game loss to Alabama, hauling in six catches for 115 yards. On Saturday against Temple, the redshirt sophomore had three catches for 69 yards, including a pair of 32-yard touchdown receptions on the Irish's first two drives.
2. Which mismatch between these two teams are you most intrigued to watch?
Bennett:
On paper at least, it's the Michigan interior offensive line vs. Notre Dame nose guard
Louis Nix III
. Center
Jack Miller
and guards
Kyle Kalis
and
Graham Glasgow
are talented and played well together last week, but they have very little experience. Nix, meanwhile, is a 357-pound man-mountain who helped anchor a championship-level defense last season. He commands double teams, and it will be up to Michigan's young inside guys to keep him in check so
Stephon Tuitt
and others can't wreak even more havoc.
[+] Enlarge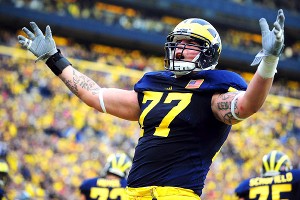 Andrew Weber/US PresswireMichigan tackle Taylor Lewan will have his hands full with Notre Dame's talented defensive line.
Jennings:
Left tackle
Taylor Lewan
on whomever or whatever Notre Dame tries to throw at him. He's so crucial to Michigan's offense, and I really don't see him not dominating any matchup this season. Lewan came back for games like this and matchups like what he'll have against Tuitt.
Fortuna:
I'll say Notre Dame's offensive line against Michigan's defensive line. The Irish have three starters back from last season, along with a very talented center in
Nick Martin
. One of the reasons they were able to jump out to a 17-point lead in Ann Arbor two years ago was because of their ability to run up the middle, as the Irish averaged six yards per rush on the night. Notre Dame is now in its third straight year of starting
Zack Martin
and
Chris Watt
together on the left side, and it has started using pistol packages in 2013 to tailor to the strengths of some of its young backs in hopes of establishing a downhill run game. This is far from a "mismatch," but with Michigan returning just three starters from last season's front seven, and with the teams so evenly matched across the board, I'd say this is where Notre Dame probably has the biggest edge. Conversely, I can't wait to see Tuitt and Lewan go head-to-head. Both will be a lot richer eight months from now.
3. Is there any way this game could one-up the last time these two teams met in the Big House?
Bennett:
It's possible that this could be an even better overall game than the one in 2011, just not as flashy. People remember the Michigan comeback and the crazy fourth quarter, but it was a pretty lopsided affair until then. That wild finish was made possible by major defensive breakdowns on both sides, and both teams are much more sound defensively now. I believe these are two legitimate top-15 teams, so we should expect a tight game. The atmosphere won't be quite as special because it won't be the first time under the lights at the Big House. But Notre Dame-Michigan usually finds a way to amaze us.
Jennings:
I was on the sideline for the final minutes of that matchup two years ago, and to call the atmosphere electric would still be selling it short. I don't know if the Wolverines have had a game as exciting since, so I'm going to go with no. I think it'll be a great game and the fact that it's the last in Michigan Stadium for the foreseeable future adds a lot. But as far as the plays themselves, jam packed into that short amount of time, I just don't see that being topped.
Fortuna:
I said no to this same question two years ago and was sadly mistaken, so I'll try not to be as definitive in my answer this time around. Whether it was Denard Robinson or Tate Forcier before him, magic seems to always happen in the late moments of this game. I'll just go ahead and make the bold prediction that if Notre Dame takes the lead with 30 seconds remaining this time, its secondary will hold up and secure an Irish win. Like I said, bold.
July, 9, 2013
7/09/13
3:00
PM ET
Our series continues today with Michigan, which will host Notre Dame on Sept. 7 in the Big House's second-ever night game. The two teams will also get together in 2014 -- the last time for the foreseeable future.
To read the Temple entry, click
here
.

Offense: Taylor Lewan, LT
. Yes, we know this isn't the flashiest pick, especially with
Devin Gardner
now at the helm under center for the Wolverines. But Lewan's decision to return to Michigan for another season is huge for the program. He is coming off a season in which he was named the Big Ten's offensive lineman of the year and was on a number of different All-American teams. Watching the 6-foot-8, 308-pounder going head-to-head with Notre Dame defensive line behemoths
Stephon Tuitt
and
Louis Nix III
should make for one of the better matchups in the nation this fall.
Defense: Desmond Morgan, LB
. The two-year starter on the weak side saw time in the middle this spring and will have added responsibility in the fall -- both against the run and as a field general. Morgan tallied 81 total tackles, including five for loss, to go with two pass break-ups last season despite missing two games due to injury. In holding Notre Dame to just 13 points in the Irish's win over the Wolverines last season, Morgan notched seven tackles and 0.5 tackles for loss. Someone will have to make up for the production this fall without
Jake Ryan
, who could miss the season because of a torn ACL suffered during the spring, and Morgan seems like a prime candidate to do so.
July, 3, 2013
7/03/13
9:00
AM ET
Surprise, surprise:
Stephon Tuitt
and
Louis Nix
are on a preseason All-America team. And it probably won't be the last time for the Notre Dame defensive line duo.
Athlon's Steven Lassan
has both Tuitt and Nix on the first-team defense
. They are joined by South Carolina all-everything end
Jadeveon Clowney
and Arizona State tackle
Will Sutton
, who will face the Irish on Oct. 5 in Arlington, Texas.
Fifth-year left tackle and likely two-time Irish captain
Zack Martin
also makes Athlon's list, checking in on the third-team offensive line. Martin is the only Notre Dame offensive player to make any of Athlon's four All-America teams.
The first-team distinction for Tuitt and Nix should come as no surprise, as both helped spur the Irish to No. 2 in the nation last season in scoring defense. Both are already being projected as high-to-mid first-round picks in the 2014 NFL draft.
The SEC had the most selections, with 25 players. The Pac-12 had 23 players across the four teams.
Other notable first-teamers that will face Notre Dame this year include USC receiver
Marqise Lee
, Michigan tackle
Taylor Lewan
, Stanford guard
David Yankey
, BYU linebacker
Kyle Van Noy
and Stanford safety
Ed Reynolds
.
May, 13, 2013
5/13/13
9:00
AM ET
Mel Kiper Jr. said it, not me: "Just imagine for a moment how scary the Notre Dame defensive line would be in 2013 if [Aaron] Lynch had stayed in South Bend."
OK, so I actually
hinted at the exact same thing 10 days ago when looking at Todd McShay's initial 2014 draft board
.
Nonetheless, Kiper is in the same boat as McShay with this one, as he sees a 2014 NFL draft class that is top-heavy with current and former Notre Dame defensive linemen.
Kiper's first 25-man Big Board

for next year's draft is up, and he has Louis Nix, Stephon Tuitt and Aaron Lynch all among the top-20.
Nix leads the pack at No. 7, with Tuitt coming in next at No. 13 and Lynch rounding out the trio at No. 20.
All three players will have at least one more year of eligibility remaining after the 2013 season. While Nix was faced with a decision this past winter and Lynch is, frankly, an unknown, Tuitt has given zero indication that he plans on leaving school early, though that could all change pending a monstrous fall.
And, as I
wrote in the Big East blog recently
, while playing the "What If …" game is always tempting, there's no guarantee everything would have worked out so swimmingly for the Irish last year had Lynch stayed with the program and not made some significant adjustments. To his credit,
the reviews out of Tampa, Fla., have been positive so far
.
Other familiar names on Kiper's Big Board include USC's Marqise Lee, Alabama's Cyrus Kouandjio, Michigan's Taylor Lewan, Alabama's Adrian Hubbard and Alabama's C.J. Mosley.
Kiper also
has a "next 25" list
,

though no Irish players check in at Nos. 26-50.
October, 24, 2012
10/24/12
12:15
PM ET
Official Visit: Capitalizing On Momentum
FBS INDEP. SCOREBOARD
Friday, 10/24
Saturday, 10/25