Notre Dame Football:

Tim Jefferson
October, 8, 2011
10/08/11
9:11
PM ET
SOUTH BEND, Ind. — Lots of praise to go around after
this one
, particularly on the offensive side of the ball. Let's get right to it.
Theo Riddick:
The much-maligned receiver stepped up in a big way Saturday, catching eight passes for 83 yards and a touchdown and rushing for 14 yards on his only carry. Riddick finally showed what he is capable of and quieted concerns around his early-season performance.

Tyler Eifert:
When will defenses figure him out? The tight end once again was a favorite target of
Tommy Rees
, especially on third downs. Eifert finished with eight catches for 81 yards and a touchdown.
Michael Floyd:
Another typical day for the senior receiver, who has already re-written the Notre Dame record books. His spectacular 34-yard touchdown catch on the opening drive got the Irish on the board early, and he finished with six catches for 78 yards. He even was back to return a pair of punts as well.
Jonas Gray:
Saturday's Irish game captain chipped in with another strong performance, scoring two touchdowns and finishing with 69 yards on just seven carries. Gray, a senior, had no career touchdowns going into Pitt two weeks ago and now has four.
Andrew Hendrix:
Most figured he'd see his first game action after Brian Kelly's hint during the coach's radio show Thursday, but few saw this kind of performance coming. Hendrix, a sophomore, rushed for 111 yards on six carries, going 78 yards on one fourth-quarter run before being tripped up and falling at the 2-yard line. Hendrix also completed all four of his pass attempts for 33 yards.
Tommy Rees:
We can't forget the man who directed this offensive onslaught. The sophomore quarterback built off his big performance last week at Purdue by directing Notre Dame touchdown drives on the Irish's first six possessions. He finished 23-of-32 for 261 yards with four touchdowns and no interceptions.
Manti Te'o:
The junior linebacker was once again his usual self, which is good news for Notre Dame. Te'o finished with 10 tackles, 2.5 for loss, and nearly came up with a pick as well.
Jamoris Slaughter:
The safety made his presence felt on Air Force's first offensive play, forcing
Jonathan Warzeka
to fumble and later picking off
Tim Jefferson
in the second quarter. Slaughter added six tackles and a pass break-up as well. Neither defense was very productive statistically, but forcing key turnovers early helped spring this game open.
October, 7, 2011
10/07/11
6:00
PM ET
Apologies for having to cut the chat short today, but I have decided to make it up to you guys with a mailbag. Here's a look at what's been on your mind recently.
James from Dallas writes:
Matt, I'm surprised you aren't more bullish on the IRISH as an underrated team. When the adjusted stats come out from Football Outsiders -- adjusted for competition, ND will show up as among the top five or eight defenses in the country. Rushing offense will be top 10, and total offense will be top 15. Doesn't the fact that ND is ranked behind Texas, Nebraska, West Virginia, and Michigan strike you as odd? Baylor?
Matt Fortuna:
James, not at all. Michigan beat Notre Dame and is undefeated. Texas is undefeated. And Nebraska, West Virginia and Baylor all have better records than Notre Dame, all losing to ranked, undefeated opponents. The Fighting Irish have no argument to be ranked ahead of any of those teams right now and, given their popularity, will hardly ever be considered an underrated team, though I suppose an 0-2 start may have put them in the backs of some people's minds.
---
Bradley Horner from South Bend, Ind., writes:
Do you think that Tuitt and Lynch can be prepared enough this week to face Air Force's triple-option? They have only allowed one rushing TD this year (
Denard Robinson
), but AF runs the ball more often. How will the game play out and who do you think will win?
Matt Fortuna:
I don't think anything can really prepare a defense for Air Force's offense, considering there are so few other teams like the Falcons. Tuitt and Lynch didn't play at Michigan and have to be disciplined here. If they get anxious and try to bull-rush or overpursue, they will play right into
Tim Jefferson
's hands. That being said, I like Notre Dame because of how its offense matches up with Air Force's defense.
---
Mason from Mishawaka, Ind., writes:
Michael Floyd
had yet another stellar performance against Purdue and showed he can catch and run-block. Does Floyd have a shot at Heisman?
Matt Fortuna:
Notre Dame needs to win out and be in contention for a BCS bowl berth, which, if it is, would probably be in huge part because of Floyd. It's a long season and a lot can still happen between now and then, but Floyd's numbers have certainly been noteworthy. He will get no shortage of national attention.
---
Josh from Waterloo, Iowa, writes:
Sooooo...... ND fan here.... can we relax and expect the Irish to be legit for the rest of the year??? Or should we continue to live week by week? Im going with A I hope for now.... GO IRISH!!!
Matt Fortuna:
You definitely can't relax, or Air Force will sneak up on you. USC and Navy, in light of recent years, cannot be overlooked, either. The first two weeks of the season should have taught you not to take anything for granted with this team, though it certainly does seem headed in the right direction as of now.
---
Pat from Indianapolis writes:
Comment: Matt in an article about ND you mentioned that Illinois was the only three-loss team to go to the BCS. Well, that is not true. Off the top of my head Purdue (2001 Rose Bowl), Pitt (2005 Fiesta Bowl), and UConn (2011 Fiesta Bowl) (4 losses) have all gone to BCS games. There may be others, but those are at least three.
Matt Fortuna:
A couple of you pointed this out, and I probably should have been clearer: Illinois was the only at-large team to make a BCS bowl with three losses. The others were automatic qualifiers because they won their conferences. Sorry for the confusion.
October, 6, 2011
10/06/11
7:59
PM ET
SOUTH BEND, Ind. -- Notre Dame fans clamoring for a chance to see what the Fighting Irish's young quarterbacks can do may finally get their wish Saturday.
Brian Kelly said as much during his weekly radio show Thursday at Legends of Notre Dame.
"We're gonna employ a special package with somebody, but I'm not gonna tell you who," the head coach said. "It could be
Everett Golson
, it could be
Andrew Hendrix
."
The two signal callers have yet to take the field in their brief careers. Golson is a true freshman while Hendrix is in his second year after not playing in 2010.
Kelly said in his post-practice session with reporters that Golson played the role of Air Force quarterback
Tim Jefferson
throughout the week.
Asked about his two young quarterbacks later in his radio show, Kelly said: "They have some outstanding skill sets but they really don't have the offense down. ... If we're gonna move in that direction you have to prepare them for everything. They just can't run the entire offense yet."
Here are some notes from Kelly's meeting with the media before he went on the air:
Defensive end Ethan Johnson (right ankle sprain) will be a game-time decision.
Long snapper Jordan Cowart, who broke his hand in a post-punt scuffle Saturday at Purdue, snapped Thursday but Kelly is still unsure if he will go. Braxston Cave would do short snaps if Cowart couldn't go. Ryan Kavanagh would do long snaps.
October, 6, 2011
10/06/11
9:00
AM ET
So does Air Force do something special on offense? Seriously, though, the Falcons attack is a potent one, good enough to rank third nationally in rushing and fourth nationally in pass efficiency. Air Force lines up in a variety of different formations, will hand the ball off to any and every eligible player in the backfield and has a quarterback,
Tim Jefferson
, who has completed 70 percent of his passes.
But let's talk about the defense. Notre Dame's has been great for 19 out of 20 quarters so far this season and is tied for the national lead in rushing touchdowns allowed, with one. It has seen nothing like this offense before, and it struggled immensely in the fourth quarter against
Denard Robinson
and Michigan, but it is a veteran group in the back-seven -- one that knows its opponent this week cannot be overlooked with a bye and USC looming afterward.
I'm looking more at Air Force's defense, which is missing two of its top linemen in Zach Payne and Ryan Gardner. This is a defense that ranks no better than 70th statistically in any of the four major defensive categories -- rushing, pass efficiency, total and scoring. And it will be going up against a Notre Dame offense coming off its most complete performance of the season, a unit that has eclipsed the 500-yard mark in three of its first five games.
Notre Dame took a big step last Saturday by getting out of its own way and blowing out Purdue. That's something the Fighting Irish can build on this week. Sure, there will be some challenges early against the Falcons' offense, but the disparity between the two teams when Notre Dame has the ball is what will come to light Saturday.
Prediction: Notre Dame 31, Air Force 17
October, 4, 2011
10/04/11
5:45
PM ET
SOUTH BEND, Ind. -- Toward the end of his weekly news conference, Brian Kelly was asked questions on his opponent's offense: Is Air Force even really an option team? How much option do the Falcons actually run?
"That might be true in Troy's eyes," Kelly responded to the first question, speaking about Air Force coach Troy Calhoun. "But let me tell you what, if you fall asleep for one second on his offensive scheme, and that being the triple option and veer option, you're gonna be in big trouble. So I think what he does very, very well offensively is he forces you defensively to be ready for triple option, and when you are so committed to triple option, he's running the zone play at you. And his ability to morph back into either one of those, if the defense is overplaying one scheme or the other."
[+] Enlarge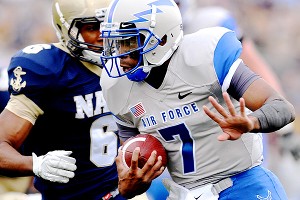 Evan Habeeb/US PresswireTim Jefferson has close to 500 yards passing and more then 200 yards rushing through four games.
In layman's terms, Notre Dame's opponent Saturday is not an option team as much as it is a team that likes to run the option.
But just how complex is Air Force's offense? If public discourse is an accurate measurement, then plenty.
Kelly fielded 51 questions on Tuesday, and 15 centered around Air Force's offense, including the first six.
The difference in Air Force's offense and schemes jump out when comparing it to Navy, a traditional option team that the Falcons beat Saturday in a 35-34 overtime contest. The Midshipmen ran for 367 yards in a 35-17 rout of the Fighting Irish last season in East Rutherford, N.J.
"There's many more pieces in the Air Force offense," Kelly said when asked to compare and contrast the offenses of the two military academies. "They're gonna run some traditional zone, inside/outside zone, they're gonna run some power, some gap. You're not gonna get any of that from Navy, whereas you're gonna get a balance in terms of what you'll have to defend.
"[Air Force quarterback Tim] Jefferson is obviously a guy that can throw the ball very well, and so the receiving corps, it's not off of play-action or crack-and-go, it's a comprehensive passing game. So this incorporates a lot of principles, so quite different in that respect."
The Falcons offense lines up in a variety of different formations, including the shotgun and spread, giving Jefferson more time to read defenses.
The senior quarterback has completed 70 percent of his passes (33-of-47) for 493 yards, five touchdowns and two interceptions, and he has been sacked just once. Air Force ranks fourth in the nation in passing efficiency.
Kelly called facing Jefferson "a nightmare," thanks in large part to all of the different looks Calhoun can throw at defenses.
"You have to look at how the defense is playing," Kelly said. "If the defense is all out set for triple option, he's not gonna run much of it. He's gonna run zone, he's gonna run lead, he's gonna throw the football. So if you're running a middle-of-the-field alley player who's set for option, you're not gonna see much of it. They're gonna throw the football and they're gonna run the zone.
"So that's really where he has a great scheme here, is that he sets what he does based upon what the defense shows."
Oddly enough, Air Force ranks 116th in the nation in time of possession, at 24 minutes, 55 seconds per game, though that likely speaks more to its offensive efficiency.
"They're running the ball effectively, getting tons of yardage, and then getting the opportunity to throw the ball over your head," Kelly said. "So consequently the time of possession's down a little bit. I would say that it's not attributed to their inability to put points on the board. I think that's the most important stat."
Kelly said Tuesday the Irish got away from who they were last season against Navy before re-gaining their physical edge four weeks later in a 27-3 rout of Army, another option team.
Maintaining that nature, specifically in the trenches, is something Kelly hopes to see from his team this Saturday.
"I think what I'm trying to say is that I don't want to get away from who we're becoming, and that is a team that's playing really physical," Kelly said. "I don't think you jump into the sixth week and all of a sudden now you stand up and you take a step back.
"I think we keep charging. I think we keep doing what we've been doing. Certainly we have to be aware of option and the responsibilities. It's an extremely multifaceted offense. But we've gotta be who we are, and that is being physical on both sides of the ball."
October, 4, 2011
10/04/11
12:00
PM ET
A.J. Burnett in an elimination game. Finally the Yankees-as-underdogs line makes sense.
The latest from Gustin at The Opening
FBS INDEP. SCOREBOARD
Friday, 8/29
Saturday, 8/30