Notre Dame Football:

Tom Savage
November, 14, 2013
11/14/13
12:00
PM ET
November, 13, 2013
11/13/13
9:00
AM ET
SOUTH BEND, Ind. -- Brian Kelly's facial expression said it all.
Asked about
Stephon Tuitt
's ejection -- and not for the first or last time Tuesday -- the Notre Dame coach stood in bemusement trying to figure out why his defensive end was not even allowed to stay on the sideline for the rest of Saturday's game at Pitt after his second-quarter targeting penalty.
A follow-up question from another reporter about why Tuitt's penalty could not be for the next game, given the amount of reviewing, at least drew words out of Kelly. But the confusion from the Irish losing arguably their most talented player one play into the second quarter of an eventual loss had hardly subsided nearly 72 hours after the fact.
[+] Enlarge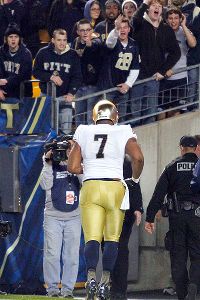 Justin K. Aller/Getty ImagesStephon Tuitt was ejected from Saturday's loss to Pitt, something Notre Dame coach Brian Kelly still struggles to understand.
"Look, you're talking to somebody who's got two guys thrown out of games this year, so you know where I fall on this one," Kelly said. "I am for player safety. I am for making sure that in this game of football that we do everything to protect the integrity of the game.
"We don't have it right yet. We need to get it right. Hopefully we'll be able to get it right."
The ACC
told the Chicago Tribune on Monday
that coordinator of officials Doug Rhoads said the ejection of Tuitt -- who laid a seemingly unintentional helmet-to-helmet hit on Panthers quarterback
Tom Savage
during a scramble -- was warranted.
Kelly said that Tuitt was confused when the two spoke at halftime, though the 312-pounder will not miss any action Nov. 23 against BYU since the call came in the first half.
Notre Dame will continue to coach its players to be aggressive, Kelly said, though the staff never directs them to punish offensive players or lead with their helmets. He does not think the targeting rule was meant for plays like the one that cost Tuitt the final three quarters of Saturday's game.
"Clearly we're going to have to look at the rule in greater detail after the season because we don't want to take that out of the game," Kelly said. "We don't want to take that effort out of the game, we don't want to take guys selling out trying to make plays out of the game, so targeting as we all know it, is somebody dialing-in intentionally to try to injure somebody, and we clearly know that that wasn't the case in that instance. So we've got some work to do with the legislation and hopefully we'll be able to clean that up after the season."
The Irish had lost
Ben Councell
to the targeting call in the fourth quarter of a Sept. 28 loss to Oklahoma, which forced the linebacker to sit for the first half of the following week's game against Arizona State.
And,
according to Irish Illustrated
, the Irish lost more than a yard per play without Tuitt at Pitt, as it surrendered 3.7 yards per play with the junior in and 4.9 yards per play with him out.
"When you watch college football, one of the bigger problems that we have is that it's being interpreted differently, right?" Kelly said. "And one of the things that we've tried so hard to rectify in officiating is to be more universal in our interpretations. Now, we've got one out there that is looked at differently by conference. So we have a problem. We all recognize that. It's a real shame that a young man misses a game, and I think we all recognize it has to be dealt with, but we just can't deal with it until the end of the year."
Kelly said he hopes he can be among a group of reasonable people whose voices are heard on the matter this offseason, with intent being the key distinction that should be considered for clearer interpretation moving forward.
"I really didn't want him to get kicked out -- like the 15 yards, yeah, maybe, but going to the locker room, kicking him out of the game like he intentionally tried to kill a guy, I didn't like that," nose guard
Louis Nix
said. "But it's a rule, and we've got to stay by the rules and do better at tackling, I guess."
November, 10, 2013
11/10/13
10:00
AM ET
Here is what we take away from Notre Dame's 28-21 loss at Pittsburgh on Saturday:

1. Bye-bye BCS.
People cans top working out the BCS scenarios. The Irish suffered a third and brutal loss, with two games left in the regular season. It is too early to put into perspective what kind of season this is/was for Notre Dame, but we can safely say that it won't be going to a major bowl game for the second straight season. Destinations could be New York, Detroit or perhaps San Diego for the San Diego County Credit Union Poinsettia Bowl, which now has an available spot after Army lost Saturday to Western Kentucky to fall to 3-7.
2. Close-game magic disappears.
Notre Dame entered Saturday having won 10 straight games decided by seven points or fewer. That streak has come to an end with a loss in which the Irish turned the ball over three times and could not make the big plays late to stave off the upset. The Irish get a week off for another bye week and must re-group, as the physicality BYU and Stanford will bring in the final two weeks scream tight games all over them.
3. Targeting call rears ugly head.
Notre Dame fell victim to the targeting ejection rule for the second time this year, as
Ben Councell
was ejected late in the Oklahoma game, and
Stephon Tuitt
got tossed after a hit on
Tom Savage
on Saturday. The call will be debated endlessly, but the Irish are lucky it happened in the first half and that Tuitt will be available for the full game against BYU in two weeks. And the future first-round draft pick might just be the highest-profile player in the country to get tossed for the new rule, which surely will be discussed more this offseason.
November, 8, 2013
11/08/13
2:00
PM ET
Does another tight contest await Saturday night when No. 23 Notre Dame and Pitt square off?


When Notre Dame has the ball
: The onus falls on the offense a little bit more this week as it tries to bail out a defense with no shortage of injuries. The expected return of
Chris Watt
at left guard will be big for a group tasked with slowing down Pitt defensive tackle
Aaron Donald
, who is arguably the best interior defensive lineman in the nation this season.
Tommy Rees
cannot afford to turn the ball over, and he and the rest of the offense will be helped a great deal if
Tarean Folston
runs on Pitt the way he did against Navy last week, as the freshman looked better than any of the other Irish backs during his breakout 140-yard day.
When Pitt has the ball
: Though Notre Dame's starting defensive line is probably at less than 100 percent health, the Panthers have been abysmal running the football this year, failing to reach even 25 rushing yards as a team in three games this season. They do, however, have a much better decision-maker under center in
Tom Savage
, who has two arguably the ACC's best receiving duo in redshirt senior
Devin Street
and freshman sensation
Tyler Boyd
. Street has struggled against the Irish in three previous matchups but is a smart, sure-handed route-runner who can make plays all over the field. Boyd was a running back in high school and Pitt is not afraid to get him the ball in several different ways to keep the defenses honest. Though nothing like the challenge of facing an option team the past two weeks, Notre Dame will have to again be cautious on the edges in defending Pitt's playmakers.
Intangible
: Notre Dame, as we know, has been dealing with a lot of injuries. So, too, has Pitt, though it expects the left side of its offensive line,
Adam Bisnowaty
and
Cory King
, to be fine Saturday night. This series has not been short on drama in recent years, and that could be the case again at Heinz Field.
Prediction
: Notre Dame 14, Pitt 10. Picture the 15-12 contest from 2011, just in a night atmosphere. And this time, both teams will have somewhat of an excuse, as it is later in the season and both are ailing. Nonetheless, the Irish survive one last test before a much-needed bye week.
November, 6, 2013
11/06/13
1:00
PM ET
SOUTH BEND, Ind. -- The package was called "Desperado," a phrase both Pittsburgh and Notre Dame fans would probably rather never hear or speak of again.
It was not discovered until the day after the Fighting Irish's triple-overtime win over the Panthers last year that cornerback
Bennett Jackson
and receiver
Chris Brown
, both No. 2 for the Irish, were on the field together when Kevin Harper's potential 33-yard game-winning field sailed wide right after a bad snap.
[+] Enlarge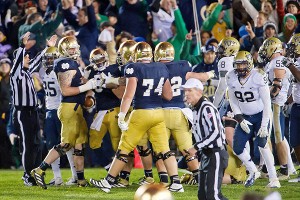 Matt Cashore/US PresswireEverett Golson's game-winning touchdown in the third overtime last season gave the Irish a heart-stopping victory over Pitt.
For the Panthers, it was an oversight that all but cost them a program-defining win for new coach Paul Chryst. For the Irish, it was a crisis averted, one of several minor miracles in a magical season.
It was another hold-your-breath moment in a series that, for one reason or another, has never lacked for drama. A primetime atmosphere awaits Saturday night at Heinz Field when the Panthers and the Irish square off. One team is fighting to clinch bowl eligibility, the other is clinging to BCS-bowl hopes and, well, here we go again.
"It happens," Pitt linebacker
Todd Thomas
said of the officials' error last season. "Two No. 2s on the field, it happens. Refs make mistakes, so everybody's not perfect. So it happens. So we just put the loss behind us and just carried on to the next week. But it happens. Everybody's not perfect."
Notre Dame has beaten Pitt by three points in each of the last two years, including a 15-12 tractor-pull of a contest in 2011 that both teams are best served to forget. The Irish are 6-3 against the Panthers since 2002, but eight of those games have been decided by eight points or fewer.
There have been seven total overtimes across two of those games -- a four-overtime Pitt win in 2008 and last year's three-overtime Notre Dame victory, its last close call on the way to the BCS title game.
"You know what, we're letting it go, it's old news," Pitt end
Bryan Murphy
said. "Whatever happened last year happened. We're not paying attention to it. We're just moving on from there. That's all last year. We were a different team, they were a different team. So we're not even concentrating on anything that happened last year."
Chryst echoed that sentiment during his Monday press conference in Pittsburgh, though tight end
J.P. Holtz
had a decidedly different tone when he
told reporters that he did not like Notre Dame, calling their coaches "really cocky."
The comments seemingly made their way back here to Irish coach Brian Kelly, who said Tuesday: "They don't seem to like Notre Dame very much, and they want to beat Notre Dame."
Though in just his fourth year at Notre Dame, Kelly is more familiar with Pitt than any other opponent in the last seven years, having faced the Panthers in each of his three seasons at Cincinnati before playing them annually so far while with the Irish.
He has also faced the Panthers' new starting quarterback, redshirt senior
Tom Savage
, who appeared in Rutgers' 2009 season-opener against the Kelly-coached Bearcats.
"A big kid, strong-armed, and obviously they like to throw the football with him," Kelly said of Savage. "He's got some talented receivers. We're going to have to prepare ourselves for a kid that likes to throw the football and has some weapons."
The best of those weapons, redshirt senior
Devin Street
, is two weeks removed from becoming Pitt's career leader in receptions. Though winless and held to 42 or fewer yards in each of his three contests against the Irish, Street has no particular distaste for the team he will face this weekend.
"We don't go in disliking anyone, but we definitely have a respect for Notre Dame and the tradition and that type of team," Street said. "But we don't hate them or anything like that. I think they're a great team."
Both teams are coming off consecutive games against option teams -- Pitt losing to Navy and Georgia Tech, Notre Dame beating Air Force and Navy.
And both will reconvene in two years, and roughly every three years after that, as part of the Irish's five-game-per-year scheduling agreement that takes effect next year with the ACC, which Pitt is finishing out its first season in.
"Everyone knows Notre Dame; Notre Dame is one of the most historic football programs in the country, and they always will be," Murphy said. "I think it's amazing to have a team like that on your schedule. That's always a primetime game for us. I think it's huge for our team going forward to always have that game because we always play great against them. It's always just an amazing game between us two, so I think it's important that we continue that matchup."
Top Returning Players: AAC and Notre Dame
FBS INDEP. SCOREBOARD
Saturday, 12/21
Monday, 12/23
Tuesday, 12/24
Thursday, 12/26
Friday, 12/27
Saturday, 12/28
Monday, 12/30
Tuesday, 12/31
Wednesday, 1/1
Thursday, 1/2
Friday, 1/3
Saturday, 1/4
Sunday, 1/5
Monday, 1/6