Notre Dame Football:

Tony Springmann
November, 4, 2013
Nov 4
9:00
AM ET
SOUTH BEND, Ind. -- As Brian Kelly was finishing up his postgame press conference Saturday, an unexpected visitor made an appearance during the penultimate question.
"Jaylon, we'll be done in a second," Kelly said to
Jaylon Smith
, who had entered prematurely. "I know it's your press conference, but I'll be done in a second, and we'll let you get going. Is that all right?"
"Sorry," Smith said to the room of reporters. "I'm new to everything."
Within 24 hours, it turned out the freshman linebacker would be a seasoned veteran by Notre Dame's defense's standards. The Irish are hurting on that side of the ball -- just trying to get by, in a sense, with this weekend's game at Pitt preceding a much-needed bye before a two-game stretch against BYU and at Stanford.
[+] Enlarge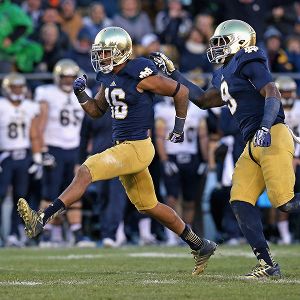 Jonathan Daniel/Getty ImagesSafety Eliar Hardy (left) is one of several Notre Dame reserves that were pressed into action due to injuries.
BCS dreams have essentially taken a backseat to figuring out just who is going to play and where, and how the remaining available guy will get ready for when their time comes.
"I think this is probably close to the pinnacle," Kelly said during Sunday's teleconference when asked if this defense has been hit as hard as any he's had in 23 years as a head coach. He added: "They don't give you any points for complaining about it. If they did, I'd complain every minute. So we just take care of it internally and get the next guy ready."
Ben Councell
, the man behind Smith most of the season at the dog linebacker spot,
was ruled out for the season Sunday after suffering a significant knee injury in the 38-34 win over Navy
. Smith and Councell, of course, waged a preseason battle for a starting spot only after senior
Danny Spond
, last season's starter, was forced to retire because of hemiplegic migraines. And the linebacking corp is less than a month removed from its other big hit, when
Jarrett Grace
broke his leg in the Oct. 5 Arizona State game, costing the Mike linebacker the rest of his redshirt sophomore season.
It only gets worse up front, where
Kona Schwenke
is lost for at least this Saturday's game at Pitt because of a high-ankle sprain suffered on the Midshipmen's final drive. And Schwenke was only starting these last two games in place of nose guard
Louis Nix III
, who at first was ruled to have a shoulder injury suffered in the USC game, and then knee tendinitis, and now tendinitis and a small meniscus tear, though the school says he will practice this week after undergoing an MRI Sunday. Before that, Schwenke filled in for end
Sheldon Day
, who missed most of a three-game stretch after leaving a Sept. 14 game against Purdue with a high ankle sprain, and then re-aggravated said ankle sprain against Navy.
And no, it is not a coincidence that most of these injuries have come during this two-game stretch against Air Force and Navy, teams that often cut-block.
"It's unfortunate," Kelly said. "It's the style of offense that the academies play. It is what it is."
Kelly said it will make sense to possibly avoid scheduling multiple option teams in a single season, but that is a bridge he will cross when he gets to it. For now, his next-man-in philosophy is being tested by, well, a lack of next-men-in.
He said he guards against that by putting those who saw 15 or fewer plays in a game through extra conditioning that following Monday, while reserves get roughly half the work of the starters during 11-on-11 and scout team work in a given week.
"I think that we're so close that you don't really think about it in terms of, Oh, I've never seen you out here," redshirt senior linebacker
Dan Fox
said. "We get a lot of guys in at practice, there's a lot of reps to go around, so next man in and next man in."
Underclassmen such as
Jarron Jones
,
Isaac Rochell
and
Romeo Okwara
have been thrust into more meaningful time than most could have reasonably expected entering the season, while names unfamiliar to all but the closest of program observers --
Tyler Stockton
,
Justin Utupo
and
Eilar Hardy
, to name a few -- saw extended action.
The last of those names, Hardy, helped set Smith up for the game-clinching tackle on Navy's
Shawn Lynch
during the visitors' final fourth-and-4 try. And he was only there because
Austin Collinsworth
suffered a neck strain that will require an MRI Monday.
Fellow safety
Elijah Shumate
, meanwhile, is expected to play against the Panthers after being sidelined the last three games with a hamstring injury, though Kelly had said the sophomore would play going into the Navy game, too.
There are also the knee injuries to left guard
Chris Watt
(PCL) and cat linebacker
Ishaq Williams
(ACL), both of whom left the Air Force game a week ago but only one of whom, Watt, could possibly return this week, depending on how quickly the redshirt senior can acclimate to the knee, which will not require surgery. Williams was in an immobilizer this week and could possibly return for the Nov. 23 BYU game.
The return of Watt would give Notre Dame four of its five starters back on the offensive line, as it lost right guard
Christian Lombard
for the season because of back surgery after the USC game. Still, the bruises have taken their biggest tolls on the other line, which during the spring and summer lost reserves
Chase Hounshell
(shoulder) and
Tony Springmann
(knee) for the season, in addition to seeing freshman signee
Eddie Vanderdoes
leave for UCLA.
All of it leaves the Irish, winners of four in a row, crawling to the finish line, every last piece of Kelly's three straight top-10 recruiting classes fitting into the plan for his push toward a second straight BCS-bowl berth.
"We are running out of next men. We're at that point where from a defensive standpoint, and particularly the defensive line, we're left with very few options," Kelly said, adding, "We'll figure something out. We'll get 11 guys out there. It's just not going to be one of those things where we're going to have the same group of guys out there all the time. As you know, we're going to have to find a way to stop a big, physical offensive line at Pittsburgh, and that is the thing that concerns you the most."
October, 16, 2013
Oct 16
9:00
AM ET
SOUTH BEND, Ind. --
Sheldon Day
is scheduled to speak with reporters Wednesday, as sure a sign as any that he will actually play Saturday after missing the majority of Notre Dame's last three games because of an ankle sprain.
[+] Enlarge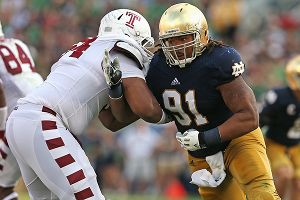 Jonathan Daniel/Getty ImagesNotre Dame is expecting sophomore defensive end Sheldon Day back after he missed the better part of the last three games due to injury.
Brian Kelly said that Day practiced Monday and is expected to play against USC this weekend, though the head coach had sounded pretty confident publicly about Day's condition going into each of the last three games. Day missed the Michigan State and Oklahoma games and was very limited in the Arizona State contest two weeks ago.
Versatile lineman
Kona Schwenke
had started opposite
Stephon Tuitt
in Day's absence.
"He doesn't stay blocked," Kelly said of Day. "One of the things that makes a defensive lineman a great player is he gets off blocks. Sheldon gets off blocks and is a great pass rusher. He's a guy that early in the season was a great pass rusher and wasn't staying blocked. He'll figure into our game plan on Saturday."
Kelly also said that, among players already ruled out for the season,
Chase Hounshell
(shoulder surgery) is the closest to returning to full strength, with the end possibly getting to put pads on within the next 10-14 days.
Doug Randolph
and
Nicky Baratti
(both shoulder) are in a light rehab process, while
Tony Springmann
(ACL tear) suffered an infection after surgery but is recovering well.
Kelly said that
Torii Hunter Jr
. probably would have been playing this year had he not suffered a broken left femur in during U.S. Army All-American bowl workouts, while
Daniel Smith
(ankle) and
Jarrett Grace
(leg) had successful surgeries following their injuries two weeks ago in Arlington, Texas.
Among those contributing this season, Kelly said that
Tarean Folston
has recovered from a hamstring injury suffered on his career-long 36-yard run in the Sept. 28 loss to Oklahoma.
"He looked better when we got a chance to run him out, and we expect him to be part of the mix for us," Kelly said. "That was the Oklahoma game moving forward. He just didn't feel like he could cut it loose. We had a play -- I think it was a series or two later -- where he was coming out of the backfield, and Tommy (Rees) overthrew him. He really couldn't cut it loose on a mesh route, and that's when we pulled him out of the game. He's a lot better. I think he's 100 percent. He feels a lot better, and he looked really good in practice yesterday."
October, 9, 2013
Oct 9
4:30
PM ET
Our series continues today with the defense, which brought back seven starters from a unit that finished second nationally in scoring defense in 2012.
DEFENSE
Grade
: C

Summary
: Notre Dame's defense has been the team's biggest disappointment this season, as it has allowed 34 or more points in three of six contests so far. Of course, some of that is on the offense, too, particularly in the Oklahoma game. But this was a unit that was expected to continue the dominant tone set last season, when the Irish never gave up more than 26 points in a regular-season game. (And Pitt even needed three overtimes to reach that total).
The pass rush was virtually non-existent for five games, until
Prince Shembo
and company turned it up a notch against Arizona State and tallied six sacks (three by Shembo). The defensive line has been negated for much of the early going, with offenses doing everything they can to get away from
Louis Nix
and
Stephon Tuitt
.
Depth among the front seven has taken a hit, too: First with the
Eddie Vanderdoes
transfer to UCLA this summer, then with the retirement of
Danny Spond
and season-ending knee injury suffered by
Tony Springmann
in camp.
Sheldon Day
's ankle sprain has essentially kept him out of the past three games, while
Jarrett Grace
's season-ending knee injury against ASU is another big blow, especially to a thin inside linebacker corps.
Tackling, though, especially in the secondary, was less than great at Michigan and at Purdue, a sign of some of the ordinary things that Brian Kelly said his team needed to do better after the Oklahoma loss. Perhaps the defense turned a corner against the Sun Devils — Kelly said he's not doing jumping jacks just yet — but the overall body of work through six games has been mediocre, not particularly great or bad.
Notre Dame is 50th nationally in total defense (374.5 yards per game) and is 58th in scoring defense (25.5 ppg). And the Irish are tied for 86th in turnovers forced, with just seven takeaways on the season. They will be tested by skilled (USC) and complex offenses (Air Force and Navy) in the next three weeks so they need to become more reliable as the season progresses. That includes limiting big plays or forcing more turnovers to put the offense in a better position to succeed.
August, 22, 2013
Aug 22
2:20
PM ET
SOUTH BEND, Ind. —
Notre Dame
's defensive line has taken another hit heading into 2013, as the Irish have lost
Tony Springmann
for the season because of a left knee dislocation with severe ligament damage, coach Brian Kelly said during Thursday's media day.
Springmann, who will undergo surgery, was not dressed and had his left knee wrapped during the previous two media viewings of practice, with Kelly initially ruling the redshirt sophomore out for the Aug. 31 season-opener against Temple.

The 6-foot-5, 296-pound Springmann played in every game last season, notching 11 total tackles, two tackles for loss, one sack and three quarterback hurries.
Notre Dame's depth up front took a blow earlier this summer when five-star defensive tackle
Eddie Vanderdoes
opted out of his National Letter of Intent and went to UCLA, where he was later granted immediate eligibility.
Kelly said that he is not concerned about another Irish end,
Stephon Tuitt
, after the junior went down Thursday in practice after twisting his knee. Tuitt walked off the field on his own power.
As for special teams,
George Atkinson III
will return kickoffs again and T.J. Jones will return punts. Kelly also said that
Nick Tausch
,
Kyle Brindza
and
Alex Wulfeck
will all play against Temple, with Brindza getting the first shot at punter while remaining in charge of kickoffs.
Notes
: Kelly said that
Everett Golson
(academic suspension) is working out in Chicago and plans on heading to San Diego for two months to work with quarterback guru George Whitfield. Golson does not need to enroll in any classes. ...
Zack Martin
,
TJ Jones
and
Bennett Jackson
are Notre Dame's 2013 captains. Martin was a captain last year as well, making him the 18th two-time captain in school history. …
Jaylon Smith
(dog) and
Austin Collinsworth
(safety) both worked with the first-team defense during the media's viewing of practice. … Tackle
Ronnie Stanley
(concussion), guard
Mark Harrell
and running back William Mahone were not in pads.
Steve Elmer
received first-team reps at right tackle with Stanley out, with
Christian Lombard
again at right guard. Kelly said he hasn't nailed down a staring five on the offensive line but said that Stanley and Elmer will both play this year. Stanley should be back Monday if all goes well. … Guards
Chris Watt
and
Conor Hanratty
and running backs
Cam McDaniel
and
Tarean Folston
were all back from practice as well.
July, 26, 2013
Jul 26
3:00
PM ET
You guys are all about the backfield lately.
Joey from Washington, D.C., writes
: Hey Matt -- Thanks for your insights and hard work on covering the Irish! Can you give us an update on the running back situation? I'm high on Carlisle, but his early shoulder injury has stymied an outbreak season. How is he recovering? And is it possible we can see one of these backfield weapons including Carlisle line up in the slot?
Matt Fortuna
: Thanks, Joey. Carlisle suffered a broke ankle before the spring of 2012 that ended up forcing the staff to redshirt him during the season, which was all the more disappointing considering he had received a waiver from the NCAA to play immediately following his transfer from USC. He received strong reviews this spring before suffering a broken collarbone. All of that being said, if healthy, he will likely have a big role on this team in the fall.
George Atkinson III
will probably get the first opportunity to start and even escape the backfield to catch some passes, but there is plenty of untested talent in there, and Carlisle has the potential to make some big plays. This is a guy who averaged 6.2 yards per carry as a true freshman on a 2011 USC team that finished 10-2. Carlisle also caught seven balls for 41 yards that season.
---
Jake Fait from Baltzley Valley, Ohio, writes
: Good day, Mr. Fortuna. If I may, I would like to ask you a question that has been befuddling me for months. How will the running back carries be split? Everyone has been saying George Atkinson will start but he's more of a speed back and I don't think he can carry a huge load play after play.
Amir Carlisle
is talented, but he's injury prone. So even though he's a freshman, I think
Greg Bryant
should start from day one. Am I crazy for thinking that? And what is your opinion of this episode?
Matt Fortuna
: Jake, I wouldn't say
crazy
, as I am very intrigued by what Bryant can bring to the table immediately and have written as much, going so far as to even rank him on my top 25 player countdown for this season despite him not so much as practicing with the team yet. The backfield is crowded but unproven, and Atkinson has shown only big-play ability so far. I can see a scenario in which the carries get split up a lot early in the season, giving Bryant, a bigger, between-the-tackles back, the chance to emerge as the true lead rusher that every team ultimately seeks. That being said, all of this may be asking a lot for a true freshman who is entering a very competitive situation at running back.
---
Tim from Comox, British Columbia, writes
: Matt who will take Nix's place in '14 and will Tuitt stick around for his senior year?
Matt Fortuna
: Tim, good question on Louis Nix, especially in light of the Eddie Vanderdoes situation.
Tony Springmann
will likely be around in 2014 and has shown the ability to play both inside and outside and is probably the safe bet for now, though a lot can change. It would not shock me to see the staff get creative here, which brings me to your second question: Logic would indicate that, with another strong season, Tuitt would be inclined to leave, considering most 2014 mock drafts have him going as a high first-rounder. But he and his mother have given little indication that Tuitt is interested in leaving school before obtaining his degree. And Tuitt did, after all, play in the middle just a little bit early in his freshman year. That, however, remains highly unlikely, if he even does come back.
---
Duane Mountain from Anderson, Ind., writes
: Are the practices in Marion open to the public? I live in Anderson and go see the Colts , just wondering if I could see the best team in IN.
Matt Fortuna
: Best team in Indiana, huh? Andrew Luck may have something to say about that. (Or, much as the New Yorker in me hates to say it after this past spring … Roy Hibbert, too. But we'll keep it to the gridiron for now.) As for your question: Nope. No media access or fan viewing will happen while Notre Dame is at Camp Shiloh.
July, 5, 2013
Jul 5
1:15
PM ET
March, 18, 2013
Mar 18
9:00
AM ET
Our series continues with the defensive line.
Starters returning
:
Louis Nix
,
Stephon Tuitt
Players returning
:
Sheldon Day
,
Tony Springmann
,
Kona Schwenke
,
Chase Hounshell
,
Jarron Jones
Players departing
:
Kapron Lewis-Moore
,
Tyler Stockton
Newcomers
: Issac Rochell, Eddie Vanderdoes
The breakdown
: The defensive front was the strength of Notre Dame's defense in 2012, and it returns the bulk of production up there. While Lewis-Moore will be tough to replace from both a production and a leadership standpoint, Nix and Tuitt are both among the best in the country at their positions. Nix recorded 7.5 tackles for loss, two sacks and one forced fumble last season. Tuitt fell just shy of Justin Tuck's school season-record for sacks, finishing with 12 (along three forced fumbles, a 77-yard fumble return for a score, and a blocked kick).
After enrolling last spring, Day managed to see the field in every game as a true freshman -- he notched 3.5 tackles for loss, two sacks and a hurry -- and he figures to be the frontrunner to replace the open starting spot this spring. Springmann and Schwenke proved to be valuable reserves as well, while Jones redshirted during his first season and Hounshell sat out the season while recovering from shoulder surgery (after playing as a true freshman in 2011).
Vanderdoes was the last prospect to sign with Notre Dame, and quite possibly the best. The five-star tackle is ESPN's No. 10 overall player in the country, and at 6-foot-3, 310 pounds, he has the frame that should give him a chance to play and contribute this fall. Rochell is another ESPN150 player coming into the mix, and the numbers will present both coordinator Bob Diaco and line coach Mike Elston with a good problem to have this offseason.
October, 12, 2012
10/12/12
12:00
PM ET
September, 25, 2012
9/25/12
9:00
AM ET
DEFENSIVE LINE
Grade
: A
Summary
:
Mel Kiper's Week 1 comments
about
Stephon Tuitt
-- that the sophomore might be the best defensive lineman in the country -- went viral, and Tuitt responded by doing his best to live up to the claim. Tuitt has six sacks through four games and has been a key piece to an Irish defense that did not allow touchdowns to Michigan State and Michigan in consecutive games and is giving up just nine points per game (No. 4 nationally).
Louis Nix
has shaken off his spring rust and appears to be refocused, becoming a force inside. And fifth-year senior and captain
Kapron Lewis-Moore
has provided veteran leadership through four games, grinding through a calf injury and reeling in the two young studs he plays beside. This unit was supposed to suffer a drop-off after
Aaron Lynch
transferred to USF in the spring, but right now it is hard to imagine the Irish's front playing much better, as it has made life miserable each quarterback it has faced. Of the Irish's 14 sacks -- which is tied for 10th in the nation -- 11.5 have come from defensive linemen.
Backups
:
Sheldon Day
, frankly, has not played like a true freshman. The Indianapolis native has a pair of sacks on the season and has proved to be a very valuable second-teamer, filling in capably for the hobbled Lewis-Moore. He has very bright days ahead of him.
Tony Springmann
has played better than most expected thus far as well, and
Kona Schwenke
has gotten one start and been a capable No. 2 man in the middle behind Nix.
Previous report cards:
Quarterbacks
September, 21, 2012
9/21/12
12:00
PM ET
Anything going on this weekend?
March, 29, 2012
3/29/12
9:00
AM ET
Our breakdown of Notre Dame's 2012 roster continues today with the defensive side of the ball.
DEFENSIVE LINE
The players:
Aaron Lynch
,
Louis Nix
,
Stephon Tuitt
,
Kapron Lewis-Moore
,
Tony Springmann
,
Chase Hounshell
, Sheldon Day,
Tyler Stockton
,
Kona Schwenke
The incoming:
Jarron Jones
,
Romeo Okwara
[+] Enlarge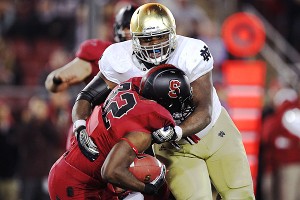 Ezra Shaw/Getty ImagesTackle Louis Nix is a key cog in what should be a strong, experienced defensive line for Notre Dame.
The breakdown:
Injuries forced all three current starters — Lynch, Nix and Tuitt — to play much more than expected last season, and none disappointed. They are all second-year players now, and their pass-rushing ability should have opposing offensive lines and quarterbacks on their heels. Lewis-Moore has been cleared for spring following a season-ending knee injury in 2011 but might not start, though he will likely see plenty of playing time as the line rotates. Hounshell (shoulder surgery) is not cleared yet, but he will likely see significant time this fall after playing as a true freshman last year as well.
LINEBACKERS
The players:
Danny Spond
,
Manti Te'o
,
Dan Fox
,
Prince Shembo
,
Kendall Moore
,
Ishaq Williams
,
Anthony Rabasa
,
Carlo Calabrese
,
Jarrett Grace
, Justin Utopo,
Connor Little
,
Ben Councell
,
Joe Schmidt
The incoming:
None
The breakdown:
As we said with
Tyler Eifert
yesterday, everyone knows what Te'o is capable of, as he likely would have been a first-round NFL draft pick had he left school following his junior year. Fox and Calabrese shared the other inside role last year, and their experience should prove valuable. Shembo has been working at the cat spot this spring, and up-and-coming talents like Williams and Spond figure to see extensive playing time.
SECONDARY
The players:
Bennett Jackson
,
Jamoris Slaughter
,
Zeke Motta
,
Lo Wood
,
Josh Atkinson
,
Austin Collinsworth
,
Dan McCarthy
,
Jalen Brown
,
Cam McDaniel
,
Eilar Hardy
,
Chris Salvi
,
Joe Romano
, Will Salvi,
Connor Cavalaris
,
Matthias Farley
,
Blake Breslau
The incoming:
Elijah Shumate
,
Nicky Baratti
,
C.J. Prosise
,
John Turner
The breakdown:
The loss of
Tee Shepard
really stings this group, which is down to four scholarship corners with a combined zero career starts. Jackson and Wood are in position to take over as the new starters, and playing time last season should help with the transition. At safety, Slaughter and Motta saw plenty of time the last two seasons, and Slaughter in particular has shown a nose for the ball and the capability of providing a leadership force that
Harrison Smith
is leaving behind. Collinsworth will likely also see plenty of snaps after playing last year.
ND Bringing Football Back To Fenway
FBS INDEP. SCOREBOARD
Saturday, 12/21
Monday, 12/23
Tuesday, 12/24
Thursday, 12/26
Friday, 12/27
Saturday, 12/28
Monday, 12/30
Tuesday, 12/31
Wednesday, 1/1
Thursday, 1/2
Friday, 1/3
Saturday, 1/4
Sunday, 1/5
Monday, 1/6