Notre Dame Football:

Troy Thomas
October, 29, 2013
10/29/13
9:00
AM ET
SOUTH BEND, Ind. --
Troy Niklas
had just returned from a week-long senior retreat at Servite (Calif.) High. Family and friends awaited back at the chapel to greet the teenagers. Niklas was among those who spoke upon the group's arrival, and he had his mother, father, sister and sister's boyfriend in the audience.
As he finished his speech, he looked at each in a moment of gratitude.
"Hey Mom," he said, "love ya."
"Hey Dad," he continued, "love ya."
"Hey Tara," he said to his sister, "love ya."
"Hey Shawn," he waved to Tara's boyfriend (and now-husband).
A interminable moment of silence set in, laughter filled up the room and Niklas had, again, captured a crowd with his unmistakable wit.
[+] Enlarge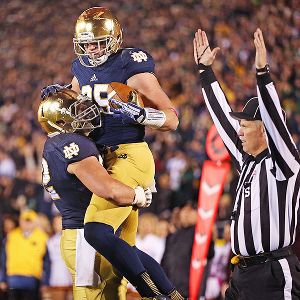 Jonathan Daniel/Getty Images)Troy Niklas enjoyed scoring a touchdown to help the Irish beat USC, his mother's alma mater.
Three years later, not much has changed for the now-6-foot-6½, 270-pound Notre Dame junior. Niklas has been among the Irish's biggest surprises this season, the latest in line at a place that has churned out pro tight ends like few others in recent years. His 20 catches for 328 yards are both third-best on the Irish, and his five touchdown grabs are one fewer than team-leader
TJ Jones
.
He has opened things up for Notre Dame on the field while keeping the vibe loose off it, be it with his attire or his one-liners, remarks that often relax the sometimes-awkward scene of dozens of reporters huddled around a player nearly twice their size, in search of any bit of information.
"He kind of gets it from his father," quipped Troy's father, Don. "I think a compassionate person is part of it, and that's a huge part of his personality, in terms of he wants people to feel comfortable. I think that is one of the driving forces behind being able to be fun-loving and communicative to a point where he wants other people to feel comfortable."
Niklas has made himself at home all over the field. His high school career featured time as an offensive guard, and he was recruited by Notre Dame as a defensive end. He started one game as a freshman for the Irish at outside linebacker and switched to the other side of the ball before last season, when he bided his time behind eventual first-round pick
Tyler Eifert
.
"All the other times Troy's just a nice guy, he's a very funny guy, he's always very popular at school and on our team," said Troy Thomas, Niklas' coach at Servite. "But once he got on the field he's just a different guy, he turned it on. He was that way at practice, and he's that way in the games. You just buckle up the chin-strap. He's still going to have fun out on that field, but he's definitely got a different mode to him."
Nicknamed "Hercules" for his physique, Niklas' motor became the source of viral attention this summer when
video of him tossing a blocking sled circulated across the internet
-- this in the days after the social-media world had become in awe of South Carolina end
Jadeveon Clowney
flipping one with the help of a teammate.
Niklas' feats of strength extend outside campus, with the Fullerton, Calif., native recently spear-heading a team effort for a service project at the South Bend Center for the Homeless, single-handedly raising nearly $3,500. As a senior at Servite, an all-boys Catholic school, he became a prior in the school's Priory program. In charge of roughly 80 kids, Niklas initiated a distribution idea, helping make about 800 goodie bags of toothpaste, toothbrushes, candy bars, first-aid items and pamphlets with religious cartoons to be handed out to homeless people students would pass by on the road.
That same year, Niklas lifted Servite to a 14-1 record and a second straight division title, a run that featured a memorable midseason touchdown off an interception from Mater Dei and future USC quarterback
Max Wittek
.
A score so memorable that, when prompted about the pick three days before this year's USC game, Niklas livened up an otherwise tight rivalry-week interview session with a much-needed infusion of dramatic color.
"I did," he said of the pick. "And ran it for a touchdown."
"In front of 30,000 fans, too," he added in an overstatement, just warming up.
"And it was on TV," he continued.
"And it was a big rival game."
"Oh, oh, oh, and by the way, we did win that game. But what do I know?"
This dalliance with the media lacked the farcical mustache he had grown out for a brief period of time a year earlier. And though fully clothed -- unlike the pre-Michigan pep rally last year, in which he ripped off his shirt and declared his love for pain -- Niklas' top did not say, "Beef: It's what's for breakfast," the phrase plastered on a shirt he wore to an interview one month earlier.
After the USC game, in which he had four catches for 58 yards and a score, Niklas emerged from the locker room in a flannel button-up, standing out among peers mostly decked in team-issued polos. He joked about having bragging rights over his mom, uncle and many other USC alums in his family.
In closing another exchange with a reporter who had a Spanish accent, Niklas caught everyone off-guard by saying, "Yo soy fiesta," a phrase popularized by New England Patriots tight end Rob Gronkowski, seemingly the life of every party.
"It comes very natural for him," Don Niklas said. "He doesn't try to be funny, it's just the way our minds work."
October, 5, 2011
10/05/11
8:00
PM ET
SOUTH BEND, Ind. — The bruises covering Troy Niklas' arms were enough of a concern that an elementary school teacher phoned home, wondering if he was a victim of child abuse.
"My parents weren't happy about that phone call," Niklas recalled with a laugh Wednesday.
In truth, Niklas had been joining his older brother, Austin, every Wednesday behind the junior high building about a mile away to play football with kids three years older than him.
[+] Enlarge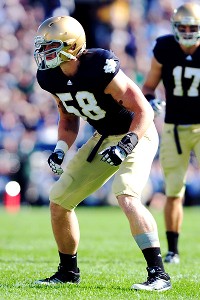 Chris Williams/Icon SMITroy Niklas will see his brother, Austin, on the opposing sideline when the Irish play Air Force.
"Let's just say my parents didn't really want us doing that," Austin Niklas said.
"I was like, 'No, I was playing a lot of dodge ball,'" Troy explained of the scars.
On Saturday, their parents and 10-12 other family members will be singing a much different tune inside Notre Dame Stadium, as Troy and Austin Niklas will take the field for Notre Dame and Air Force, respectively.
Since both are linebackers, there is little chance for them to be on the field together, which may not be such a bad thing.
"I'm kind of glad they're not going against each other," Troy Thomas, their coach at Servite High School, said, "because both of those guys are very, very physical and very, very competitive guys."
Troy has earned the nickname "Hercules" from some of his Fighting Irish teammates because of the freshman's 6-foot-6.5, 250-pound physique.
Thomas said the younger Niklas couldn't possibly have weighed more than 180 pounds his freshman year of high school, but he was big enough at a young age to compete with big brother by the time he reached third grade.
"He was a nasty guy," Troy said of Austin, in the highest form of a compliment for a football player. "He did whatever it took, because he knew he wasn't gonna lose to his little brother, and so he didn't let me win much. But when I did win I made sure he knew."
One of the competitive activities they only recently grew out of did not involve a field or ball of any sort: bed wrestling.
And the only reason those matches came to an end was because they broke a couch two years ago.
"There were a couple matches in high school," Troy said. "My mom used to always kind of flip out whenever we'd start up because things would break. We're big people."
Saturday will be the first time they take the same field since Troy's freshman year of high school, when he got called up to varsity for the playoffs.
Making big brother proud is something that was never lost on Troy, especially given Austin's dedication and responsibility at the Air Force Academy.
"Last year Austin came to the Mater Dei game in his uniform, in his blue suit that Air Force guys wear, and I saw him talking to Troy during the game," Thomas said. "And you could just tell Troy was just trying to represent his brother, and it was just a really cool dynamic to see that on the sidelines. And it was such a big game for us and I thought Troy played extremely well."
Still, competition isn't lost on the brothers going into this week.
Austin said the two usually talk once or twice a week over the phone, but Troy said Wednesday that Austin had not returned any of his calls so far leading up to Saturday.
"This next Christmas there's gonna be some major bragging rights," Troy said. "Someone's gonna be eating first."
If that happens to be Troy, who has seen extensive playing time and even started one game this season as a true freshman, Austin has only himself to blame.
And he couldn't be prouder.
"Coming to college I figured he was gonna do all right, because he's always had that competitive edge where he's always played against older people," Austin said. "Coming in as a true freshman and being able to compete and do better than some veteran guys is pretty insane. And I knew he had it in him, but I didn't know he was gonna show it this early. So I'm just really proud of him for being able to step up and do what he's doing."
Official Visit: Imminent ESPN 300 Decisions