Notre Dame Football:

Tulsa
September, 30, 2011
9/30/11
9:00
AM ET
As always, thanks to ESPN Stats & Information for these tidbits.
Notre Dame leads the all-time series with Purdue, 54-26-2. The Fighting Irish have won five of the past six contests and 20 of the past 25, including a 23-12 home win last season.
Notre Dame's 54 wins over Purdue are its second-highest win total against an opponent. The Irish have beaten Navy 71 times.
Notre Dame has not won on the road in consecutive weeks since 2005, when it won at Washington and at Purdue on Sept. 24 and Oct. 1, respectively.
Notre Dame's 15 turnovers this season are tied with Tulsa for the most in the nation.
Purdue may have lost 54 times to the Irish, but it is also one of only five schools to have beaten Notre Dame at least 20 times, joining Michigan, Michigan State, Pitt and USC.
The Boilermakers' 258 rushing yards per game are the 11th-most in the nation. The Irish have allowed just 93 rushing yards per game, good for 25th nationally.
September, 26, 2011
9/26/11
4:30
PM ET
Notre Dame committed two more turnovers Saturday at Pitt, which was actually an improvement after giving the ball away five, five and three times in its first three games, respectively.
[+] Enlarge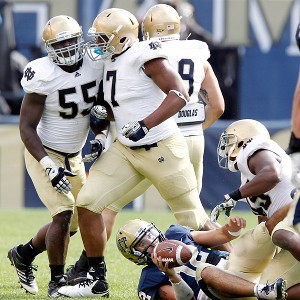 AP Photo/Keith SrakocicNotre Dame's Stephon Tuitt, 7, celebrates with Prince Shembo, 55, after sacking Pittsburgh's Tino Sunseri. The Irish defense has been at its best following a turnover by the offense.
Nonetheless, the Fighting Irish are tied with Tulsa for the nation lead with 15 turnovers, and they are all alone at the bottom in turnover margin, at -2.50.
The latter figure is of less importance to the Irish because of just how effective their defense has been. And, more specifically, because of how effective their defense has been once the offense turns the ball over.
Following Notre Dame's past four turnovers, Irish opponents have totaled just 12 yards on 14 plays, an average of just less than .86 yards per play. Two field goals are all the Irish have allowed during that stretch.
The sudden-change defense was at its absolute best in the first quarter Saturday, after Pitt's Andrew Taglianetti forced a
Tommy Rees
fumble on a third-and-12 at the Irish 26 yard line.
Pitt took over at the 23, committed a false start penalty and, two plays later, lost five more yards when Manti Te'o sacked
Tino Sunseri
. The drive, which ended with a 45-yard Kevin Harper field goal to put Pitt ahead 3-0, totaled -5 yards on four plays.
A week earlier, following a
John Goodman
fumbled punt deep in his own territory in the fourth quarter, Notre Dame's defense responded three plays later by picking off Michigan State's
Kirk Cousins
in the end zone to seal the game.
"I think Coach [Bob] Diaco and the defensive staff do a great job of talking about it," Brian Kelly said of his defensive coordinator during his Sunday teleconference. "I think it's something that we coach every day and talk to our players about, and they then -- I think right now, any time you have some early success in that, it starts to build a confidence level where they are talking about it themselves, and I think we have got that going for us."
That's no lie. Just a week earlier, following the Irish's win against the Spartans, Te'o said being ready for such situations is part of the defense's DNA.
Fifth-year safety and captain Harrison Smith said the unit has come to enjoy being ready to get back out there, acknowledging the unusualness of the statement by adding, "as sick as it sounds."
Notre Dame's defense has just five takeaways on the season, but Kelly doesn't see that as a problem.
Given the circumstances the unit has been put in, it is doing just fine.
"Well, I think there's a balance there in terms of big plays," Kelly said. "We really have not let up any big-play runs, and if you are going to gamble a little bit and look to get that takeaway, there's a chance that you give up some more big plays.
"We are philosophically more in line with wanting to be gap sound and disciplined against the run game. I mean, we are doing pretty good this year relative to teams in running the football. I'm more interested in that right now than gambling on defense to get some more turnovers."
September, 23, 2011
9/23/11
9:00
AM ET
Once again, kudos to ESPN Stats & Information for the help.
Pitt coach Todd Graham is looking to become the first coach to beat Notre Dame in consecutive seasons with two different teams. Grahan's Tulsa team won at Notre Dame last season. Only three coaches have ever beaten the Fighting Irish with two different schools (Howard Jones with Iowa and USC, Johnny Majors with Pitt and Tennessee, and Dennis Erickson with Miami and Oregon State. Randy Edsall could become the fourth when Maryland plays Notre Dame on Nov. 12.)
Pitt is 20-45-1 against Notre Dame, making it one of only five schools with at least 20 wins against the Irish. (Michigan, Michigan State, Purdue and USC are the others.)
Notre Dame's 13 turnovers are tied with Western Kentucky for the most in the FBS. Its turnover margin (-8) is the worst in the nation.
Michael Floyd's 202 career catches are fifth-most among active FBS players. His 2,936 career receiving yards and 30 career receiving touchdowns each rank second.
Pitt has won three of the past five meetings between this school, though Notre Dame won 11 of the previous 12.
September, 19, 2011
9/19/11
4:30
PM ET
SOUTH BEND, Ind. -- A day before being admitted into the ACC, Pittsburgh's football team held a 17-point fourth-quarter lead in a hostile Big Ten stadium before losing by four.
Sound familiar?
[+] Enlarge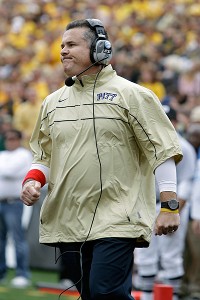 AP Photo/Charlie NeibergallTodd Graham's departure forced Pitt to find its fourth head coach in a two-year span.
OK, so the Panthers' collapse in a 31-27 loss to Iowa didn't exactly replicate Notre Dame's 35-31 loss at Michigan a week earlier. And, to be fair, the loss Saturday was Pitt's first of the season, so it might not be scratching its head and playing with the same chip on its shoulder that the Fighting Irish did in the culmination of two frustrating weeks Saturday, a 31-13 win against Michigan State for victory No. 1.
Brian Kelly, for one, doesn't think Pitt will let its loss linger.
"They're a football team in a first year with coach [Todd] Graham," Kelly said during a conference call Sunday. "They're still learning, they're still learning about the coaching staff. I know where they are relative to that development. We'll be more concerned with what we do and how we do it then losing a tough game. I know we lost a couple tough games, too, and the first thing he'll probably do is talk about, 'Put that behind you, because you've got Notre Dame coming into town. Because if you let that linger you'll get beat by Notre Dame.'
"So I'm pretty sure what happened last week won't have much effect on what happens this week."
What the Irish should be more concerned about is not letting what happened last year against Graham happen again.
Last year's game against Tulsa, Graham's previous head-coaching stop, was supposed to provide ample opportunity for the Irish to bounce back from a tough loss to Navy and get back over .500.
Instead, the Golden Hurricanes knocked
Dayne Crist
out of the game, ending his season. They scored 10 unanswered points in the second half and picked off
Tommy Rees
in the end zone in the final minute, sealing a 28-27 win that was the program's first against a BCS-AQ team since 1996.
More troubling is how they did it.
They blocked an extra point and returned it 98 yards for two the other way.
They returned an interception 66 yards for a touchdown.
And, late in the third quarter, they returned a punt 59 yards for a score.
Notre Dame finally put two weeks of misery behind it with a win this past Saturday, and with a favorable schedule in the next three weeks, it can be tempting for the team to look ahead.
To prevent that, the Irish should look back at the last time they faced a Graham-coached team, and know that the more talented one they will face Saturday may carry an anger that is all-too-familiar.
Notre Dame knew the feeling just a short week ago.
September, 6, 2011
9/06/11
1:02
PM ET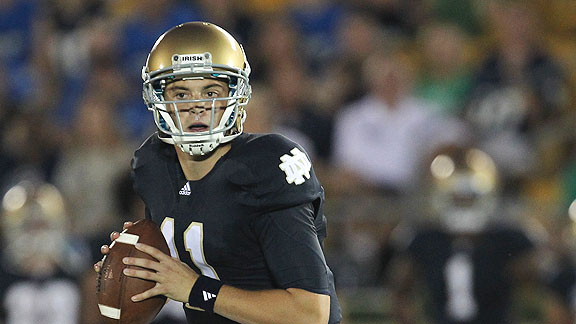 Jonathan Daniel/Getty Images Tommy Rees will take the reins Saturday as the Irish look to overcome a disappointing Week 1 loss.
SOUTH BEND, Ind. -- It took Brian Kelly just 15 days to reverse course on his quarterback decision, as the Notre Dame head coach named
Tommy Rees
his starter for Saturday's game against Michigan.
In choosing a sophomore to lead a group whose BCS aspirations are on life support after a disappointing opening-game loss to South Florida, Kelly is going with a win-now formula rather than protecting the potential emotional consequences that come with benching a senior who overcame two devastating knee injuries.
Rees will be on the same leash
Dayne Crist
was if he fails to deliver.
"He knows what I told him: 'You gotta be productive,'" Kelly said of Rees. "If you're not productive, you should be looking over your shoulder. If you're a productive quarterback and you're doing the things that we ask you to do, you should just go out there and play the game the way you know how to play. When you have two really good quarterbacks, you know that if you're gonna err on one side or the other, you want your quarterback to be productive. And I keep coming back to that word, maybe I'm overusing it, but both of those guys are capable of leading our football team, and those are the expectations that are placed on them."
Kelly hinted that Rees developed a better rapport with
Michael Floyd
on Saturday, as 10 of Floyd's 12 catches and 107 of his 144 receiving yards came in the second half.
Getting the ball to Floyd, who is blitzing through the Fighting Irish's record books, is a must if this offense wants to click.
"I don't know that Tommy has a better relationship than Dayne has with Mike, but he seemed to find him at the right time," Kelly said. "Maybe sometimes he threw the ball when he shouldn't even have thrown it to him, so I think I've got to be careful we're not trying to feed the ball to Mike if he's being doubled. We just have to have those other guys step up --
T.J. [Jones]
,
Theo [Riddick]
,
Tyler Eifert
have to step up if they're gonna double Mike."
One of the intangibles that has marked Rees' success in the past year has been his ability to step into game action and fit right in without any flaws. He did so in a failed comeback attempt last season against Tulsa and again Saturday, when he completed his first four passes before a costly interception in the red zone.
"I'm not here to cover Dayne's butt, OK? That's not my job," Kelly said. "But I'm going to tell you what: He did some really good things, and the offense comes pretty easy to him. The difference between being good and great sometimes is being decisive, not whether you can process and understand but decisiveness.
"Some of that is just what we're all talking about. Sometimes it just happens that way. And again, when you look at the film and you really break it down, Dayne did some really good things for us in the first half."
Just not good enough.
St. Brown talks USC, Stanford and more
FBS INDEP. SCOREBOARD
Thursday, 8/28
Friday, 8/29
Saturday, 8/30