Notre Dame Football:

Tyler Stockton
June, 23, 2014
Jun 23
12:00
PM ET
Is there anything less fulfilling than a tie?
December, 16, 2013
12/16/13
9:00
AM ET
Brian Kelly's bigger workload was on display already Friday night, when the Notre Dame head coach presented not one, not two, not three, but four different awards during the Irish's awards banquet, named "The Echoes" for the second straight year.
He did say on Saturday, however, that he does not expect any more of his assistants to leave, and that was seemingly confirmed shortly afterward by defensive line coach Mike Elston, whose first-ever tweet was the announcement he's staying at Notre Dame. (There had been some chatter that he could follow Bob Diaco to UConn to become the Huskies' defensive coordinator.)
Staying at ND. Love thee Notre Dame. Go Irish.

— Mike Elston (@CoachMikeElston) December 14, 2013
As for the awards show,
TJ Jones
took home team MVP honors in a team vote that Kelly said wasn't even close. (Yours truly
had predicted Jones as the winner beforehand
, just as he
had predicted the correct final score of the Stanford game
.)
Jones easily took home best-dressed honors on the night, wearing a burgundy suit with a bowtie and some hipster glasses.
Corey Robinson
and
Chris Watt
were among the bowtie-wearers as well.
The biggest news, or non-news, of the night came when
Stephon Tuitt
met with the media afterward,
saying he remains undecided on his future
.
As for the big winners on Friday...
There was also in-show fan voting for best hit and best catch honors, which went to Tuitt and Jones for their plays against USC.
November, 14, 2013
11/14/13
12:00
PM ET
November, 9, 2013
11/09/13
7:00
AM ET
No. 23 Notre Dame visits Pitt tonight (8 ET/ABC) to renew a rivalry that has featured no shortage of close calls in recent years. Here are five things to watch when the two teams square off at Heinz Field.


Injured guys.
Yes, we're starting here again. Warmups every week during a Notre Dame game have become all the more important for watching who lines up where, and next to whom.
Chris Watt
(PCL tear) practiced this week and is expected back at left guard.
Sheldon Day
(ankle) and
Louis Nix III
(knee tendinitis/small meniscus tear) are both expected to play again on the defensive line as well, though to what extent, we do not know. Then there is safety
Austin Collinsworth
, who is cleared to play after suffering a neck strain during last week's game against Navy. Brian Kelly says that
Elijah Shumate
is fine after a hamstring injury kept him out of the last three games.
Tarean Folston.
Everyone had been waiting for a Notre Dame running back to break out the way Folston did last week against Navy. The freshman carried the ball 18 times for 140 yards and ran it in for the go-ahead, one-yard touchdown with less than four minutes to play. Pitt's defenses won't be as forgiving as Navy's, but it will be interesting to see if Folston can build off his career day or if this was just a flash in the pan, as the Irish certainly could use a consistent force in the backfield.
Tight end play.
These guys have certainly risen to the occasion this year. No one is replacing Tyler Eifert's production -- nor were they expected to after the captain was drafted in the first round -- but
Troy Niklas
and
Ben Koyack
continue to improve every week. Niklas has 22 catches for 372 yards and five touchdowns and, as seen last week, has become much more aggressive as a blocker. Koyack, meanwhile, has seen the ball come his way much more in recent weeks, as he has scored three touchdowns in the Irish's last four games. They take plenty of pressure off a passing game that has often been too reliant on
TJ Jones
, and another strong outing can further stretch the defense.
Aaron Donald.
The Pitt defensive tackle just might be the best interior lineman in the country this season. He leads the nation in tackles for loss (2.4 per game) and is third in sacks (1.1), in addition to forcing three fumbles. At 6-foot, 285-pounds, he is not overwhelming with his size, but he certainly can change the game, as evidenced by last week's performance at Georgia Tech -- 11 total tackles, six tackles for loss, two forced fumbles and one sack. The six TFLs were the most in a game by an FBS player this season. To put that into perspective, the Yellow Jackets ran 63 plays, meaning nearly 10 percent of their plays ended with Donald making a tackle in the backfield.
Defensive newcomers.
Nix and Day should play, but we don't know how much.
Jarron Jones
,
Tyler Stockton
,
Justin Utupo
and
Isaac Rochell
all have seen more time lately because of the injuries across the line.
Ben Councell
is also done for the year (ACL tear),
Ishaq Williams
is out for at least this game with a different ACL injury, and there is the chance that Collinsworth and Shumate could be limited (or not play), as well.
Romeo Okwara
and
Eilar Hardy
are among the reserves who have seen much more action in recent weeks, and they will need to step up again in order to contain a dangerous Pitt passing attack.
November, 7, 2013
11/07/13
12:00
PM ET
Great night of football on deck.
November, 4, 2013
11/04/13
9:00
AM ET
SOUTH BEND, Ind. -- As Brian Kelly was finishing up his postgame press conference Saturday, an unexpected visitor made an appearance during the penultimate question.
"Jaylon, we'll be done in a second," Kelly said to
Jaylon Smith
, who had entered prematurely. "I know it's your press conference, but I'll be done in a second, and we'll let you get going. Is that all right?"
"Sorry," Smith said to the room of reporters. "I'm new to everything."
Within 24 hours, it turned out the freshman linebacker would be a seasoned veteran by Notre Dame's defense's standards. The Irish are hurting on that side of the ball -- just trying to get by, in a sense, with this weekend's game at Pitt preceding a much-needed bye before a two-game stretch against BYU and at Stanford.
[+] Enlarge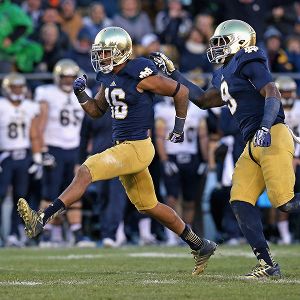 Jonathan Daniel/Getty ImagesSafety Eliar Hardy (left) is one of several Notre Dame reserves that were pressed into action due to injuries.
BCS dreams have essentially taken a backseat to figuring out just who is going to play and where, and how the remaining available guy will get ready for when their time comes.
"I think this is probably close to the pinnacle," Kelly said during Sunday's teleconference when asked if this defense has been hit as hard as any he's had in 23 years as a head coach. He added: "They don't give you any points for complaining about it. If they did, I'd complain every minute. So we just take care of it internally and get the next guy ready."
Ben Councell
, the man behind Smith most of the season at the dog linebacker spot,
was ruled out for the season Sunday after suffering a significant knee injury in the 38-34 win over Navy
. Smith and Councell, of course, waged a preseason battle for a starting spot only after senior
Danny Spond
, last season's starter, was forced to retire because of hemiplegic migraines. And the linebacking corp is less than a month removed from its other big hit, when
Jarrett Grace
broke his leg in the Oct. 5 Arizona State game, costing the Mike linebacker the rest of his redshirt sophomore season.
It only gets worse up front, where
Kona Schwenke
is lost for at least this Saturday's game at Pitt because of a high-ankle sprain suffered on the Midshipmen's final drive. And Schwenke was only starting these last two games in place of nose guard
Louis Nix III
, who at first was ruled to have a shoulder injury suffered in the USC game, and then knee tendinitis, and now tendinitis and a small meniscus tear, though the school says he will practice this week after undergoing an MRI Sunday. Before that, Schwenke filled in for end
Sheldon Day
, who missed most of a three-game stretch after leaving a Sept. 14 game against Purdue with a high ankle sprain, and then re-aggravated said ankle sprain against Navy.
And no, it is not a coincidence that most of these injuries have come during this two-game stretch against Air Force and Navy, teams that often cut-block.
"It's unfortunate," Kelly said. "It's the style of offense that the academies play. It is what it is."
Kelly said it will make sense to possibly avoid scheduling multiple option teams in a single season, but that is a bridge he will cross when he gets to it. For now, his next-man-in philosophy is being tested by, well, a lack of next-men-in.
He said he guards against that by putting those who saw 15 or fewer plays in a game through extra conditioning that following Monday, while reserves get roughly half the work of the starters during 11-on-11 and scout team work in a given week.
"I think that we're so close that you don't really think about it in terms of, Oh, I've never seen you out here," redshirt senior linebacker
Dan Fox
said. "We get a lot of guys in at practice, there's a lot of reps to go around, so next man in and next man in."
Underclassmen such as
Jarron Jones
,
Isaac Rochell
and
Romeo Okwara
have been thrust into more meaningful time than most could have reasonably expected entering the season, while names unfamiliar to all but the closest of program observers --
Tyler Stockton
,
Justin Utupo
and
Eilar Hardy
, to name a few -- saw extended action.
The last of those names, Hardy, helped set Smith up for the game-clinching tackle on Navy's
Shawn Lynch
during the visitors' final fourth-and-4 try. And he was only there because
Austin Collinsworth
suffered a neck strain that will require an MRI Monday.
Fellow safety
Elijah Shumate
, meanwhile, is expected to play against the Panthers after being sidelined the last three games with a hamstring injury, though Kelly had said the sophomore would play going into the Navy game, too.
There are also the knee injuries to left guard
Chris Watt
(PCL) and cat linebacker
Ishaq Williams
(ACL), both of whom left the Air Force game a week ago but only one of whom, Watt, could possibly return this week, depending on how quickly the redshirt senior can acclimate to the knee, which will not require surgery. Williams was in an immobilizer this week and could possibly return for the Nov. 23 BYU game.
The return of Watt would give Notre Dame four of its five starters back on the offensive line, as it lost right guard
Christian Lombard
for the season because of back surgery after the USC game. Still, the bruises have taken their biggest tolls on the other line, which during the spring and summer lost reserves
Chase Hounshell
(shoulder) and
Tony Springmann
(knee) for the season, in addition to seeing freshman signee
Eddie Vanderdoes
leave for UCLA.
All of it leaves the Irish, winners of four in a row, crawling to the finish line, every last piece of Kelly's three straight top-10 recruiting classes fitting into the plan for his push toward a second straight BCS-bowl berth.
"We are running out of next men. We're at that point where from a defensive standpoint, and particularly the defensive line, we're left with very few options," Kelly said, adding, "We'll figure something out. We'll get 11 guys out there. It's just not going to be one of those things where we're going to have the same group of guys out there all the time. As you know, we're going to have to find a way to stop a big, physical offensive line at Pittsburgh, and that is the thing that concerns you the most."
April, 26, 2013
4/26/13
12:09
PM ET
Where do y'all think Manti ends up?
April, 23, 2013
4/23/13
12:15
PM ET
Hilarious
. The story behind the Irish Chocolate two-point conversion.
March, 18, 2013
3/18/13
9:00
AM ET
Our series continues with the defensive line.
Starters returning
:
Louis Nix
,
Stephon Tuitt
Players returning
:
Sheldon Day
,
Tony Springmann
,
Kona Schwenke
,
Chase Hounshell
,
Jarron Jones
Players departing
:
Kapron Lewis-Moore
,
Tyler Stockton
Newcomers
: Issac Rochell, Eddie Vanderdoes
The breakdown
: The defensive front was the strength of Notre Dame's defense in 2012, and it returns the bulk of production up there. While Lewis-Moore will be tough to replace from both a production and a leadership standpoint, Nix and Tuitt are both among the best in the country at their positions. Nix recorded 7.5 tackles for loss, two sacks and one forced fumble last season. Tuitt fell just shy of Justin Tuck's school season-record for sacks, finishing with 12 (along three forced fumbles, a 77-yard fumble return for a score, and a blocked kick).
After enrolling last spring, Day managed to see the field in every game as a true freshman -- he notched 3.5 tackles for loss, two sacks and a hurry -- and he figures to be the frontrunner to replace the open starting spot this spring. Springmann and Schwenke proved to be valuable reserves as well, while Jones redshirted during his first season and Hounshell sat out the season while recovering from shoulder surgery (after playing as a true freshman in 2011).
Vanderdoes was the last prospect to sign with Notre Dame, and quite possibly the best. The five-star tackle is ESPN's No. 10 overall player in the country, and at 6-foot-3, 310 pounds, he has the frame that should give him a chance to play and contribute this fall. Rochell is another ESPN150 player coming into the mix, and the numbers will present both coordinator Bob Diaco and line coach Mike Elston with a good problem to have this offseason.
December, 10, 2012
12/10/12
9:00
AM ET
Befitting a season seemingly from the past, Notre Dame made the theme for its Friday night awards banquet "The Echoes."
Seventeen "Echoes" were handed out at the DeBartolo Performing Arts Center by the entire Notre Dame staff, including the team MVP echo to
Manti Te'o
, who accepted the award live via satellite from atop 30 Rock in New York. Te'o was for the Heisman Trophy presentation the following night.
The highlights of the night:
Matthias Farley
's bowtie,
Theo Riddick
's Armani belt and Louis Nix's brief acceptance speech: "I'd like to thank my mom. She had a beautiful son and he's here today." The senior parents' video was a hit for the second straight year as well.
Here's a list of the night's winners:
Offensive scout team player of the year, presented by offensive GA Bill Brechin
Winner
:
Nick Fitzpatrick
(also nominated:
Bruce Heggie
, William Mahone)
Defensive scout team player of the year, presented by defensive GA Josh Reardon
Winner
:
Tyler Stockton
(also nominated:
Joe Romano
,
Joe Schmidt
)
Offensive newcomer of the year, presented by offensive coordinator Chuck Martin
Winner
:
Everett Golson
(also nominated:
DaVaris Daniels
,
Christian Lombard
,
Troy Niklas
)
Defensive newcomer of the year, presented by co-defensive coordinator Kerry Cooks
Winner
:
KeiVarae Russell
(also nominated:
Sheldon Day
, Matthias Farley,
Danny Spond
)
Irish Around the Bend award (community service), presented by director of player development and engagement Ernest Jones
Winner
: Mike Golic Jr.
A-Team award (accountability, appreciation, achievement), presented by defensive line coach Mike Elston
Winner
:
Kapron Lewis-Moore
Count On Me award (reliable, unselfish), presented by running backs/slot receivers coach Tony Alford
Winner
: Theo Riddick
Father Lange Iron Cross award, presented by strength and conditioning director Paul Longo
Winner
:
Braxston Cave
Special teams award, presented by tight ends coach/special teams coordinator Scott Booker
Winner
:
Kyle Brindza
Pietrosante award (courage, loyalty, teamwork, dedication, pride), presented by outside receivers coach Mike Denbrock
Winner
:
John Goodman
,
Robby Toma
Moose Krause defensive lineman of the year, presented by assistant head coach/co-defensive coordinator Bob Diaco
Winner
: Louis Nix and
Stephon Tuitt
Offensive lineman of the year, presented by offensive line coach Harry Hiestand
Winner
:
Zack Martin
Rockne Student-Athlete award, presented by safeties coach Bob Elliott
Winner
: Danny Spond
Next Man In award, presented by head coach Brian Kelly
Winner
:
Tommy Rees
Offensive player of the year, presented by Kelly
Winner
:
Tyler Eifert
Defensive player of the year, presented by Kelly
Winner
:
Zeke Motta
MVP, presented by Kelly
Winner
: Manti Te'o
October, 18, 2012
10/18/12
9:30
AM ET
SOUTH BEND, Ind. -- At least these guys get along
on
the field.
Cierre Wood
and
Theo Riddick
can't cramp each other's styles when splitting carries in Notre Dame's backfield, so their four-person apartment has become the setting of never-ending bickering between the two.
The manifestation of their hilariously odd relationship was evident Wednesday in the Guglielmino Athletics Complex, with the two sitting a row apart from each other while fielding questions about how the talented backs stay content with one football to go around on Saturdays.
Turns out the gridiron is a safe haven for the duo.
"Theo is my roommate, so I see him whether I want to see him or not," said Wood, who rushed for 1,102 yards last season. "Me and him are like brothers. Just our personalities are so much alike. We all play around with each other and make jokes with each other and pull pranks on each other and stuff like that."
[+] Enlarge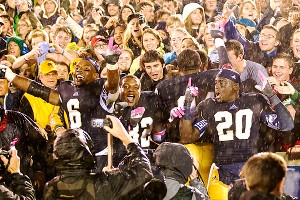 Cal Sport Media via AP ImagesRBs Theo Riddick (6) and Cierre Wood (20) celebrate the victory over Stanford with fellow students.
Such as?
"We like to punch each other a little bit, but it's all out of love," Riddick cracked.
Riddick's complicated marriage with the running-back position over three seasons gave way to a hybrid back/slot role this season, and Wood's two-game suspension to start the campaign has allowed Riddick to tally team-highs of 80 carries, 308 rushing yards and 20 catches, with 170 receiving yards.
Despite Wood's 5.9-yards-per-carry average to Riddick's 3.9, coach Brian Kelly doesn't think the numbers tell the story of the two.
"We are looking at circumstances in the game, play call, matching of personnel versus the defensive personnel that's in the game," Kelly said. "A lot of those things are not seen within the statistical numbers. So we think they are all very good backs. I think if there's any comment that needs to be made on the three running backs is we still have to continue to get more touches for
George Atkinson
."
Yes, then there is Atkinson, who has displayed the most speed on the team in breaking off 55- and 56-yard touchdown runs on two of his 32 carries this season.
"Oh, definitely I'm the little one," the sophomore quipped. "So I'm always getting picked on from both of them. It's all fun, and I enjoy every moment I share with those guys."
Atkinson spends plenty of time at the upperclassmen's place, which also houses nose guard
Tyler Stockton
and non-football-playing friend Kevin.
"Kevin, uh … Hey, Theo, what's Kevin's last name?" Wood turned and asked one of his roommates when pressed for another's last name.
"Saunders," Riddick said, breaking off an answer to another question.
"Yeah, Sanders. It's Kevin Sanders. I see you dog," Wood affirmed.
Wood and Stockton had originally decided to live together and needed two more roommates. Wood then invited Sanders, a friend he met in a freshman-year class who, like Wood, is a neat freak.
As for the fourth?
"Theo just jumped in the mix: 'Hey, I want to be in there, too,' " Wood said. "That's how it happened. It became the best roommate corps ever."
The best thing since sliced bread, Wood later added while wearing the sweatpants of Riddick, who himself was decked out in the No. 92 sweatpants of Stockton. Stray shoes are fair game, too, though the mess usually comes in the basement inhabited by Riddick and Stockton, referred to internally as the cave.
Seemingly improbably, the senior running backs are much more comfortable sharing the leather on game days for the No. 5 Irish.
"We're just so close as friends, that that would never be a problem," Wood said of Riddick. "We've had times when we're arguing and stuff like that. But when we're on the field, we know what we have to do, what has to get done. That has never been a problem and never will be a problem."
March, 29, 2012
3/29/12
9:00
AM ET
Our breakdown of Notre Dame's 2012 roster continues today with the defensive side of the ball.
DEFENSIVE LINE
The players:
Aaron Lynch
,
Louis Nix
,
Stephon Tuitt
,
Kapron Lewis-Moore
,
Tony Springmann
,
Chase Hounshell
, Sheldon Day,
Tyler Stockton
,
Kona Schwenke
The incoming:
Jarron Jones
,
Romeo Okwara
[+] Enlarge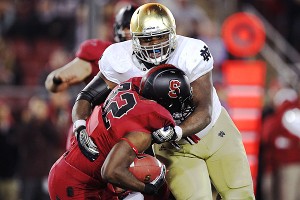 Ezra Shaw/Getty ImagesTackle Louis Nix is a key cog in what should be a strong, experienced defensive line for Notre Dame.
The breakdown:
Injuries forced all three current starters — Lynch, Nix and Tuitt — to play much more than expected last season, and none disappointed. They are all second-year players now, and their pass-rushing ability should have opposing offensive lines and quarterbacks on their heels. Lewis-Moore has been cleared for spring following a season-ending knee injury in 2011 but might not start, though he will likely see plenty of playing time as the line rotates. Hounshell (shoulder surgery) is not cleared yet, but he will likely see significant time this fall after playing as a true freshman last year as well.
LINEBACKERS
The players:
Danny Spond
,
Manti Te'o
,
Dan Fox
,
Prince Shembo
,
Kendall Moore
,
Ishaq Williams
,
Anthony Rabasa
,
Carlo Calabrese
,
Jarrett Grace
, Justin Utopo,
Connor Little
,
Ben Councell
,
Joe Schmidt
The incoming:
None
The breakdown:
As we said with
Tyler Eifert
yesterday, everyone knows what Te'o is capable of, as he likely would have been a first-round NFL draft pick had he left school following his junior year. Fox and Calabrese shared the other inside role last year, and their experience should prove valuable. Shembo has been working at the cat spot this spring, and up-and-coming talents like Williams and Spond figure to see extensive playing time.
SECONDARY
The players:
Bennett Jackson
,
Jamoris Slaughter
,
Zeke Motta
,
Lo Wood
,
Josh Atkinson
,
Austin Collinsworth
,
Dan McCarthy
,
Jalen Brown
,
Cam McDaniel
,
Eilar Hardy
,
Chris Salvi
,
Joe Romano
, Will Salvi,
Connor Cavalaris
,
Matthias Farley
,
Blake Breslau
The incoming:
Elijah Shumate
,
Nicky Baratti
,
C.J. Prosise
,
John Turner
The breakdown:
The loss of
Tee Shepard
really stings this group, which is down to four scholarship corners with a combined zero career starts. Jackson and Wood are in position to take over as the new starters, and playing time last season should help with the transition. At safety, Slaughter and Motta saw plenty of time the last two seasons, and Slaughter in particular has shown a nose for the ball and the capability of providing a leadership force that
Harrison Smith
is leaving behind. Collinsworth will likely also see plenty of snaps after playing last year.
The latest from Gustin at The Opening
FBS INDEP. SCOREBOARD
Friday, 8/29
Saturday, 8/30