Notre Dame Football:

Vincent Smith
June, 5, 2013
6/05/13
9:00
AM ET
Today brings us to the eighth-most memorable moment from Notre Dame's 2012 season.
As always, my mailbag is open to hear your suggestions on rankings such as these.
Sept. 22, 2012: ND gets revenge on Robinson, UM in night win to cap perfect opening month (Stories here, here and here)
For a Notre Dame fans who watched Michigan quarterbacks rally to last-second wins over the Irish in each of the previous three years, this was perfect. The Irish forced Denard Robinson into the worst performance of his career — on his 22nd birthday, no less — as Shoelace turned it over five times to all but doom the Wolverines' chances.
Everett Golson
wasn't much better himself, getting replaced by
Tommy Rees
early. But Rees came through again for the Irish, even rushing it in himself for the game's only touchdown. (Seriously, who predicted Rees to get more rushing touchdowns than Robinson?)
Michigan had a stretch in the first half of five straight passes getting picked off, as running back
Vincent Smith
tossed an interception to
Nicky Baratti
in the end zone.
The win made the Irish perfect through month No. 1, giving them their first 4-0 start in 10 years. At the time, the post-game celebration was considered one of the best scenes of the college football season, with "Oh, What a Night!" blasting over the speakers as the fans -- decked in leis to support Manti Te'o through what was then believed to be a double-dose of tragedy -- stayed in their seats while the players jumped into the crowd.
The revelation of the Te'o girlfriend hoax no doubt takes some luster off the night as a whole -- he recorded two picks, landed on the Sports Illustrated cover the following week and said that the game was the same day as his purported girlfriend's funeral -- but there is no denying what a big win this was for the Notre Dame program as a whole, especially after losing to rival USC at home a year earlier in what was the first Notre Dame Stadium night game in 21 years.
(This was also the same night that Jack Swarbrick handed David Brandon an envelope calling off the series after the 2015 season, but Irish fans will always have this night to remember.)
Previously
No. 10
: Rees replaces Golson on final drive, leads Irish to win over Purdue
No. 9
: Irish open season in Dublin with rout of Navy
March, 25, 2013
3/25/13
5:00
PM ET
SOUTH BEND, Ind. -- The video has been making the rounds for much of the offseason, garnering more than 12,000 views since it was first uploaded in January.
If hype and preseason projections hold to form, it may feature a future Heisman Trophy winner. If
Everett Golson
develops into the kind of quarterback he hopes to become, it may eventually feature two Heisman winners.
<!-photo1-->The first play of the South Carolina High School League AAA title game,
as CSNChicago's JJ Stankevitz notes
, offered a familiar sight:
Jadeveon Clowney
obliterating everything in its path en route to the quarterback.
The quarterback remembered getting tossed on the sack -- "like it was yesterday," Golson joked -- but he also remembered the night for something else. His Myrtle Beach team beat Clowney's South Pointe squad, 27-23.
Clowney, a rising junior at South Carolina, is among the early spring favorites to lift college football's most coveted individual hardware in 2013, especially after he capped his 2012 campaign with a hit like
this one
on Michigan's
Vincent Smith
.
Golson is quietly rooting for the fellow South Carolina native to become the first pure defensive player to win the Heisman. Golson's former teammate, linebacker
Manti Te'o
, came as close as any pure defender ever in 2012. But there is a caveat.
"I hope he does, but at the same time, I think I'm pushing for the same thing," Golson said. "I know it's maybe a goal some may say is a little bit far-fetched, but I want to be the best competitor I can be. So I want to see him do great, but I also want to be there at the same time."
Starting at the glamor position of quarterback -- at Notre Dame, no less -- one year after taking his team to the final game of the college football season gives Golson a built-in advantage. A year of ups and downs at the highest level, plus the ever-so-slight comfort of knowing the No. 1 job is his to lose, also gives Golson more confidence heading into his redshirt sophomore season. He is better prepared for this year after admitting to being a bit overwhelmed by the media attention.
"I think I came in and it was probably like six [reporters]," he said of last year's spring game, which served as his first breakout public performance. "I was like, 'All right, it's cool.' And next thing I know, I look up and it's like 20, 30 people. I'm like, 'Whoa.' So I'm trying to watch my words more carefully and stuff like that."
He is hoping his plan heading into the 2013 season goes a little bit better than his team's did entering that 2010 title game in South Carolina, end result notwithstanding.
"Oh man," he said laughing. "Let's just say what we planned to happen didn't happen at all. It was the complete opposite. I guess we had a great plan, scheme-wise. We thought it was a good plan. We were basically cracking back on Jadaveon so we would block him with our tackle and our tight end was actually detached and he would crack back as soon as the ball was snapped.
"But I remember we snapped the ball and he just gets off the line and I don't think my tight end gets to him. So I'm like, 'Awww man.' I know he's coming, so like I'm trying to get out but he's a great athlete and it wasn't really combat from me, I guess. I couldn't do anything. I was at a loss so I just kind of took that one."
September, 22, 2012
9/22/12
11:02
PM ET
Denard Robinson
was the difference in the Michigan-Notre Dame classics in 2010 and 2011.


Robinson was again the key figure in the 2012 meeting, though not in a good way for the Wolverines. And the game was anything but a classic -- but Irish fans will gladly take the ugly
13-6 victory
.
It was a bizarre game in South Bend that featured eight turnovers, including six of them by the losing team. Here's a quick look at how it went down.
It was over when:
Tommy Rees
found
Tyler Eifert
for a 38-yard gain on third-and-4 from the Notre Dame 31 with less than two-and-a-half minutes remaining. That play, coming against one-on-one coverage, allowed the Irish to run out the clock and keep Robinson from pulling off another miracle. It was Eifert's only catch of the game.
Game ball goes to:
The Notre Dame defense. For the past two years, they were absolutely terrorized and traumatized by Robinson. This time, the Irish not only held Michigan out of the end zone, they forced Robinson to turn it over five times (four interceptions, one fumble). He had 228 total yards, and his longest run was only 20 yards. It was like a photo negative of Robinson's previous two performances in this series. The front seven got great pressure and stayed in its lanes, while
Manti Te'o
played an enormous game with two interceptions and two hurries that led to turnovers. That's why the Irish erased their nightmares from years past.
Stat of the game:
Michigan had 299 total yards to only 239 for Notre Dame. But the minus-four in turnovers was too much to overcome.
How the game was won:
Turnovers, turnovers, turnovers. Notre Dame coach Brian Kelly made the best move of the game when he lifted
Everett Golson
for Rees in the first half. Golson looked too skittish for this stage and had two bad interceptions. Rees settled down the offense and while he threw for only 115 yards, he was the only quarterback in the game who took care of the ball.
Second guessing:
Michigan was driving the ball well in the first quarter and had the ball on the Notre Dame 10-yard line when offensive coordinator Al Borges got a little too tricky. He called for a halfback pass from the diminutive
Vincent Smith
, who jumped in the air with Te'o barreling down on him and lobbed an easy interception in the end zone. The Wolverines could have used the momentum early and ended up really needing the points.
What Notre Dame learned:
While this one wasn't pretty, the Irish could hardly have asked for a better start to this season. Its defense is playing at a championship level -- to hold Michigan and Robinson to six points is an outstanding achievement. There are still questions for this team, and Kelly will have to answer even more quarterback controversy questions this week, but this is the toughest Irish team we've seen in a while.
What Michigan learned:
The Wolverines still aren't ready for prime time. They got blown out in the opener against Alabama and then were ridiculously sloppy with the ball in this one. While Michigan had by far its best defensive performance to date and can build on that, Robinson is still making too many mistakes in the passing game. There's really no reason for the Wolverines to be ranked in the top 25 right now, but Michigan still will be a factor in the weakened Big Ten, which went 0-3 against Notre Dame.
December, 6, 2011
12/06/11
9:00
AM ET
The warning signs were there from the beginning.
Persistent thunder and lightning rocked South Bend, Ind., throughout halftime of Notre Dame's season opener against South Florida, culminating in a game that ended five hours, 59 minutes after it started. The final tally was
Bulls 23, Irish 20
, with a quarterback switch and nighttime falling somewhere in between.
[+] Enlarge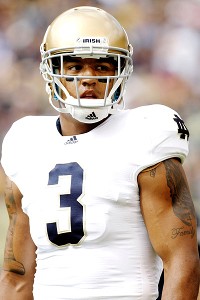 Charles LeClaire/USPRESSWIREEven with Notre Dame's unsettled quarterback situation, receiver Michael Floyd rewrote the Irish record books this season.
The lights came on one week later in Ann Arbor, Mich., where the Irish faced Michigan in the Big House's first-ever night game. But a 17-point lead entering the fourth quarter was not enough for Notre Dame, which surrendered 28 points to
Denard Robinson
and Co. in the game's final 15 minutes, with a pair of fumbles taking wrong turns, to add to the pain.
An 0-2 start rendered any preseason BCS-bowl expectations meaningless, and the manner in which those defeats took place were as sure a sign as any that this would be one strange season.
Consider:
Notre Dame then routed Michigan State 31-13 in Week 3, one of only two regular-season losses for a Spartans team that ended up falling a few plays shy of the Rose Bowl.

The Irish faced a third-and-goal from the 1, down seven, in the third quarter in Week 8 against USC before a fumbled snap resulted in an 80-yard touchdown the other way, effectively killing any chance of a win. It was the second fumble returned for a touchdown against the Irish when facing third-and-goal from the 1 during the season. (USF did it on Notre Dame's first drive of the season.)

Five days later, Brian Kelly made controversial comments about the difference between the players he recruited and those he inherited, leading to player backlash on Twitter and an apology to the team the next day.
The Irish won eight of their final 10 games to finish 8-4 and clinch a berth in the Dec. 29 Champs Sports Bowl against Florida State, another 8-4 team that saw lofty preseason expectations take a hit early.
Tommy Rees
will start for Notre Dame, the sophomore's 12th consecutive start after replacing
Dayne Crist
to start the second half against the Bulls in Week 1. Fellow sophomore
Andrew Hendrix
, who replaced Rees to start the second half at Stanford in the regular-season finale, is slated to see plenty of action against the Seminoles as well.
The status of Crist, meanwhile, is up in the air after the senior was granted his release to explore options outside of Notre Dame for next season, his final year of eligibility after graduating later this month.
Also leaving the Irish is senior receiver
Michael Floyd
, who re-wrote the school record books and hauled in 95 catches for 1,106 yards this season. Floyd, a projected first-round draft pick, could be joined by junior linebacker Manti Te'o, who is also projected as a first-round pick after leading the Irish defensively for the second consecutive season.
Personnel questions will be answered later. For now, let's take a look back at this campaign and hand out some hardware:
Offensive MVP:
Wide receiver Michael Floyd
Floyd took full advantage of one last chance after a third alcohol-related offense last March put this season in jeopardy. The senior's 95 catches this season are an Irish record, as are the 266 for his career. His 3,645 career receiving yards are the most in school history. So, too, are his 36 career receiving touchdowns. Floyd was lined up virtually everywhere this season and dealt with three different quarterbacks. His downfield blocking improved greatly. And, big statistical performance or not, he remained a threat in every game and always required the full attention of opposing defenses. The Irish will certainly miss him next season.
Defensive MVP:
Linebacker Manti Te'o
Following his 133-tackle output from a year ago, the junior has racked up 115 more tackles through 12 games this season, by far the most on the team. He has become more familiar in the backfield, too, notching 13 tackles for loss and 4.5 sacks, both good for team highs. Add in the fact he dealt with an ankle injury midseason, and Te'o had himself quite a junior campaign. A big decision awaits him this offseason, as Te'o is projected as a first-round NFL pick should he choose to forego his final year of eligibility.
Newcomer of the Year:
Defensive end Aaron Lynch
The freshman burst onto the scene with a giant Week 3 performance against Michigan State, recording one sack, forcing a fumble and notching six quarterback hurries. To put that into proper context, no Notre Dame player recored that many throughout all of the 2010 season. Lynch enters the Champs Sports Bowl against Florida State — a school he once committed to — with 5.5 tackles for loss, 4 sacks and 13 hurries on the season. He was forced into extended playing time because of injury along the line, and he did not disappoint.
Coach of the Year:
Running backs coach Tim Hinton
Hinton helped the rushing game exceed everyone's expectations but its own.
Cierre Wood
rushed for 1,042 yards and nine touchdowns, and
Jonas Gray
may have joined him in the 1,000-yard mark if not for an ACL tear Nov. 19. Gray, a senior, scored 12 touchdowns this season, including at least one in eight consecutive games, finishing his final campaign with 791 yards and a 6.9-yards-per-carry average. Hinton
could draw interest from Urban Meyer at Ohio State
, but for now the Irish are thankful for the work he put in this season.
Biggest surprise:
Running back Jonas Gray
Speaking of Gray … Kelly said before the Irish's game against Boston College that he had never in his career seen a senior renaissance like Gray's. Gray overcame a potentially devastating Week 1 fumble against USF — one that resulted in a game-changing touchdown the other way — and ended up getting game captain honors against Air Force and starting four games. He spent much of the season in pursuit of George Gipp's single-season yards per carry record of 8.11, finishing with a 6.9 average. He had never scored a touchdown before notching 12 this season. Sadly, the campaign ended prematurely on Senior Day. Here's hoping Gray makes a speedy recovery and left enough of an impression on NFL scouts, as he was playing his way onto their radars before going down Nov. 19.
Biggest disappointment:
Punt-return game
The Irish finished the season with a punt-return average of 0.30 yards per return, the worst among FBS teams. The
Theo Riddick
experiment backfired, as the junior fumbled one away in Week 1, and even the normally sure-handed
John Goodman
let one get away deep in his own territory Week 3 against Michigan State. Floyd voluntarily went back there to try to make something happen, but he never got a chance to return one this season. The Irish have plenty of work to do in this area in the offseason.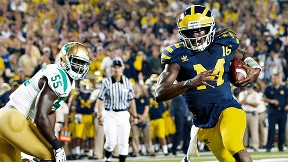 Rick Osentoski/US PresswireThe first night game at Michigan Stadium featured a classic final quarter-- but one that didn't go Notre Dame's way in a 35-31 loss Sept. 10.
Game of the Year:
Michigan 35, Notre Dame 31
The Sept. 10 contest had everything a college football fan could ask for: The first night game in the history of the Big House. Two of the three winningest programs in college football history. College GameDay on campus. The biggest crowd in college football history.
Then the game actually started, and it somehow surpassed the hype.
Michigan came back from a 24-7 deficit after three quarters, scoring four touchdowns in the fourth quarter and two in the final 1 minute, 12 seconds to shock the Irish.
Vincent Smith
's 21-yard touchdown catch made it 28-24 Michigan, Tommy Rees responded 42 seconds later with a 29-yard scoring strike to Riddick and Robinson closed things out with a 16-yard touchdown pass to
Roy Roundtree
with 2 seconds to play, capping off Michigan's third consecutive thrilling win over Notre Dame and a night for the ages. The Big House might as well quit while it's ahead; no night game there will ever surpass the first one.
Rivalry Week: Notre Dame-USC
FBS INDEP. SCOREBOARD
Friday, 11/28
Saturday, 11/29