Notre Dame Football:

Wake Forest
September, 19, 2011
9/19/11
3:23
PM ET
Notre Dame's 8 p.m. Oct. 1 game at Purdue will air on ESPN, the Big Ten announced today.

The Fighting Irish's third and final game against a Big Ten school this season is the second of at least five night contests on the schedule for 2011.

Notre Dame's Nov. 5 contest at Wake Forest is its only remaining game without an announced start time or television network yet.

ABC will broadcast Nebraska's Big Ten debut at Wisconsin, which starts at the same time as Notre Dame-Purdue.
September, 12, 2011
9/12/11
12:33
PM ET
The Big East announced that Notre Dame's Sept. 24 game at Pitt will be a noon kickoff and be televised by ABC.

The Fighting Irish's Nov. 5 contest at Wake Forest is its only remaining game without an announced start time or television network yet.

The Irish's Oct. 1 game at Purdue will be on ABC, ESPN or ESPN2, as will their regular-season finale Nov. 26 at Stanford.
September, 8, 2011
9/08/11
4:00
PM ET
SOUTH BEND, Ind. -- The way
Michael Floyd
sees it, the biggest difference between a 3:30 p.m. kickoff and a primetime showdown is not between the stripes or among what is sure to be a record-sized crowd inside the Big House.
It's for those watching at home.
"It's just a regular game -- just the sky's dark," Floyd said of this weekend's 8 p.m. game at Michigan. "There's nothing too big. And it's on a different channel."
Floyd and his Notre Dame teammates may be playing down the night atmosphere for this Saturday's game at Michigan, but they may also have a point: The Fighting Irish are scheduled for a school-record five night games this season, with the time for their Nov. 5 tilt at Wake Forest yet to be determined.
[+] Enlarge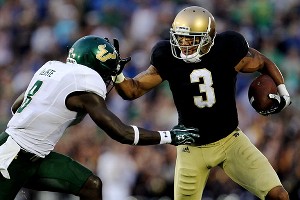 Jonathan Daniel/Getty ImagesMichael Floyd isn't too concerned about playing in the first night kickoff at Michigan Stadium. "It's just a regular game -- just the sky's dark," Floyd said.
Throw in a 3:30 p.m. Week 1 contest that saw the team sit a total of 2 hours, 53 minutes because of a pair of weather delays, and the lines between afternoon and evening kicks begin to blur.
With Michigan Stadium expecting upward of 114,000 fans for the first night kickoff in its history Saturday, Brian Kelly sees the burden on the hosts.
"We like playing on the road, yeah," Kelly said. "There's no question, the atmosphere is great at home. We love playing at home, make no mistake about it. But getting on the road sometimes in a night game, you get that chance to really relax and focus in on the game."
The hardest part is waiting.
Coaches and players have talked about a game day system in place for night games that keeps the players active, though they have been reluctant to divulge details.
Theo Riddick
knows at least one way to help kill the time.
"Take little naps, I guess," the junior receiver said. "Things around that. Just hang out, go over the plays and things around that nature."
That's a routine that will take some getting used to, at least early during the season. Notre Dame played just three night games last season and has played six so far in Riddick's career, a number that could be doubled in 2011.
Fifth-year senior Harrison Smith has played in nine night games, though he said the loudest stadium he's seen came during a game he didn't play in, a 6 p.m. contest at Penn State his freshman season in 2007.
"We haven't played too many night games," Smith said. "But the ones we have played, it is -- it's definitely different."
For
Jonas Gray
, the scene Saturday will look a little out of place. The Pontiac, Mich., native grew up on afternoon Michigan games during the fall, and he never thought he'd see the day the maize and blue would take the field under the lights, let alone see himself playing there against them.
"I know the rivalry between us," Gray said, "so whether we play during the day or at night, it didn't really matter too much to me."
Defensive line coach Mike Elston played three seasons for the Wolverines before becoming a graduate assistant with the program, but he never let his mind wander about what it would be like to play a home game under the lights.
Now he is returning to his alma mater to coach in what will be a milestone game, regardless of outcome.
As guests for the historic weekend, the Irish know their only burden is controlling the final score.
"It really wasn't a big deal to me until I was thinking about it this week," Elston said. "It's gonna be exciting. It's gonna be fun going back. And a lot of things have changed there since I've been back -- I've coached there one other time when I was at Central Michigan. And I know they've had a lot of different renovations now, so it'll be exciting to see it.
"But at the end of the day it's another venue for us, and when the ball's kicked off we got a job to do and get the guys playing better."
'College Football Live' Extra: Biggest Plays
FBS INDEP. SCOREBOARD
Saturday, 12/20
Monday, 12/22
Tuesday, 12/23
Wednesday, 12/24
Friday, 12/26
Saturday, 12/27
Monday, 12/29
Tuesday, 12/30
Wednesday, 12/31
Thursday, 1/1
Friday, 1/2
Saturday, 1/3
Sunday, 1/4
Monday, 1/12