Notre Dame Football:

West Virginia Mountaineers
October, 12, 2012
10/12/12
2:38
PM ET
Is Notre Dame for real? (Skip.) Is Notre Dame for real? (Skip.) Is Notre Dame for real? (Skip.)
Yes, the college football punditry and peanut gallery can sound like a broken record. The Fighting Irish are 5-0 and ranked seventh, and almost every sign suggests legitimacy, but, well, we've been down this road before. And not only with Notre Dame. It wasn't too long ago that everyone was blowing kisses at Florida State -- the Seminoles are
finally
back -- before it became a national punch line or cautionary tale, however you wish to view a loss at NC State.
Notre Dame plays host to No. 17 Stanford on Saturday. The Cardinal might present the Irish their toughest test yet. Stanford, after all, beat USC. Whipped the once-No. 2 Trojans at the line of scrimmage, no less.
Of course, Stanford also wilted against Washington, making a Huskies defense that would get decimated by Oregon look stout.
[+] Enlarge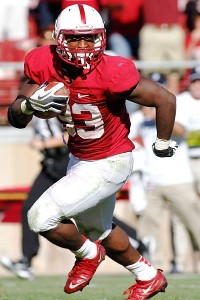 George Nkitin/AP PhotoStepfan Taylor and Stanford can perhaps clear the national title picture a bit by toppling undefeated Notre Dame.
The gist here is there is still a lot of fog over the college football season. We all say stuff, perhaps even with a feigned certainty -- Alabama is unbeatable! -- but we don't really know. The season remains rife with variables and plot twists, even with the first BCS standings being released Sunday.
There are 14 undefeated teams in the Football Bowl Subdivision (Ohio State isn't eligible for the postseason due to NCAA sanctions). Some teams mostly feel -- fairly or unfairly -- like curiosities: three in the Big East (Cincinnati, Louisville and Rutgers), Ohio, Louisiana Tech, Oregon State and Mississippi State. Others own undeniable heft: Alabama, Oregon, South Carolina, Florida, West Virginia, Kansas State and, yes, Notre Dame.
Odd that this weekend's Red River Rivalry feels so far off the radar, although both Texas and Oklahoma could play roles in winnowing the contenders and pretenders. The Sooners still have dates with Notre Dame and West Virginia, while the Longhorns conclude the season against Kansas State.
The "what ifs" are rampant. Such as: What if Alabama, Notre Dame and Oregon all finish undefeated; who then plays for the title? Or switch out Oregon with West Virginia or Kansas State. There are the multiple unbeaten quandaries, and then there are all the best of the once-beaten comparisons, such as: Can USC get back into the national title hunt?
Again, so many variables in our penultimate season yoked by the lovely BCS system. It's difficult to predict how pollsters will react. And don't even start with the computers. With strength of schedule, it's not just what your team has accomplished, but what all its foes did. And all its foes' foes. Etc., etc.
What's also interesting is that the march toward clarity isn't always linear. At any moment, a couple of upsets can put a boot print in our consensus expectations. For example, what might have happened last season if LSU had been nipped in the SEC title game?
The good news is a page will turn next week. If Kansas State and West Virginia both survive tricky road games this weekend -- the Wildcats are at Iowa State, and the Mountaineers are at Texas Tech -- they meet in Morgantown on Oct. 20, so one of the Big 12's two unbeatens will fall.
Same goes for the SEC East. If No. 3 South Carolina manages to win at No. 9 LSU on Saturday, a visit to No. 4 Florida on Oct. 20 seems like the Rubicon for the division. Only one unbeaten will remain in the division, just as only one unbeaten -- Alabama or Mississippi State -- can emerge from the West.
And, if everyone then holds serve, we could have an epic No. 1 versus No. 2 matchup in the SEC title game.
But, alas, that's getting ahead of ourselves.
We started with the notion that Stanford will provide a nice test for Notre Dame's legitimacy. The Cardinal, after all, are riding a three-game winning streak in the series.
But we know past success doesn't guarantee future results. Just look at your 401K. Or the Fighting Irish's storied history.
Is Notre Dame for real? Heck, is anyone for real?
It's probably best to turn to one of history's great college football pundits at times like this. As Socrates once noted when his preseason picks imploded, "I know one thing, that I know nothing."
Or, more charitably, at least very little.
January, 9, 2012
1/09/12
5:18
PM ET
Aaron Lynch was named to the
Football Writers Association of America freshman All-American team Monday
.
Lynch started six games at defensive end for Notre Dame, tallying 33 total tackles, seven tackles for loss, 5.5 sacks, 14 quarterback hurries and a forced fumble.
The roster includes both true freshmen and redshirt freshmen. Lynch was one of 14 true freshmen honored.
Irish opponents Marqise Lee (USC), Dion Bailey (USC), Timmy Jernigan (Florida State), Marcus Rush (Michigan State) and Merrill Noel (Wake Forest) were honored as well.
West Virginia's Dana Holgorsen claimed first-year coaching honors.
January, 4, 2012
1/04/12
2:30
PM ET
Thursday's Champs Sports Bowl between Notre Dame and Florida State involved the largest attendance increase of any bowl from last season to this season, Notre Dame announced Wednesday.

The capacity crowd of 68,305 was 19,343 more than last year's attendance for West Virginia's matchup with North Carolina State, which was 48,962.

The second-largest increase came for the the Belk Bowl, which had 58,427 fans this year watch Louisville take on North Carolina State. That's a 17,305 increase over last year's contest, which featured Clemson and South Florida.

The 68,305 people at this year's Champs Sports Bowl marked the bowl's highest attendance figure since the game moved to Orlando, Fla.
October, 7, 2011
10/07/11
6:00
PM ET
Apologies for having to cut the chat short today, but I have decided to make it up to you guys with a mailbag. Here's a look at what's been on your mind recently.
James from Dallas writes:
Matt, I'm surprised you aren't more bullish on the IRISH as an underrated team. When the adjusted stats come out from Football Outsiders -- adjusted for competition, ND will show up as among the top five or eight defenses in the country. Rushing offense will be top 10, and total offense will be top 15. Doesn't the fact that ND is ranked behind Texas, Nebraska, West Virginia, and Michigan strike you as odd? Baylor?
Matt Fortuna:
James, not at all. Michigan beat Notre Dame and is undefeated. Texas is undefeated. And Nebraska, West Virginia and Baylor all have better records than Notre Dame, all losing to ranked, undefeated opponents. The Fighting Irish have no argument to be ranked ahead of any of those teams right now and, given their popularity, will hardly ever be considered an underrated team, though I suppose an 0-2 start may have put them in the backs of some people's minds.
---
Bradley Horner from South Bend, Ind., writes:
Do you think that Tuitt and Lynch can be prepared enough this week to face Air Force's triple-option? They have only allowed one rushing TD this year (
Denard Robinson
), but AF runs the ball more often. How will the game play out and who do you think will win?
Matt Fortuna:
I don't think anything can really prepare a defense for Air Force's offense, considering there are so few other teams like the Falcons. Tuitt and Lynch didn't play at Michigan and have to be disciplined here. If they get anxious and try to bull-rush or overpursue, they will play right into
Tim Jefferson
's hands. That being said, I like Notre Dame because of how its offense matches up with Air Force's defense.
---
Mason from Mishawaka, Ind., writes:
Michael Floyd
had yet another stellar performance against Purdue and showed he can catch and run-block. Does Floyd have a shot at Heisman?
Matt Fortuna:
Notre Dame needs to win out and be in contention for a BCS bowl berth, which, if it is, would probably be in huge part because of Floyd. It's a long season and a lot can still happen between now and then, but Floyd's numbers have certainly been noteworthy. He will get no shortage of national attention.
---
Josh from Waterloo, Iowa, writes:
Sooooo...... ND fan here.... can we relax and expect the Irish to be legit for the rest of the year??? Or should we continue to live week by week? Im going with A I hope for now.... GO IRISH!!!
Matt Fortuna:
You definitely can't relax, or Air Force will sneak up on you. USC and Navy, in light of recent years, cannot be overlooked, either. The first two weeks of the season should have taught you not to take anything for granted with this team, though it certainly does seem headed in the right direction as of now.
---
Pat from Indianapolis writes:
Comment: Matt in an article about ND you mentioned that Illinois was the only three-loss team to go to the BCS. Well, that is not true. Off the top of my head Purdue (2001 Rose Bowl), Pitt (2005 Fiesta Bowl), and UConn (2011 Fiesta Bowl) (4 losses) have all gone to BCS games. There may be others, but those are at least three.
Matt Fortuna:
A couple of you pointed this out, and I probably should have been clearer: Illinois was the only at-large team to make a BCS bowl with three losses. The others were automatic qualifiers because they won their conferences. Sorry for the confusion.
Freshman Quarterbacks A Growing Trend?