Notre Dame Football:

Will Fuller
May, 23, 2014
May 23
5:00
PM ET
What's up, everybody?
[+] Enlarge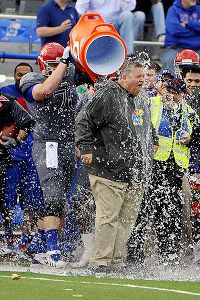 John Rieger/USA TODAY SportsThe fact that Charlie Weis received more money from Notre Dame than head coach Brian Kelly during the 2012 season was a cold splash of water in the face for many fans.
Teddy Marks from New Zealand writes:
Matt, I am an American living down under.
Your article
is simply gobsmacking, as they say in Kiwiland. Notre Dame is not just an institution of higher learning, it is supposed to represent higher learning! The numbers you provide should make sane people sit up and ask, "What is going on?" A coach is fired and getting paid what?! Everything about this situation is just so wrong, but what's worse is that there are probably a dozen other comparable scenarios out there. Quite frankly, since the idea of a "student-athlete" is really from a bygone era, and what we have now are really professional wannabes posing as students. Maybe the guys at Northwestern are at least going to make the NCAA drop the charade of financial integrity with regard to the athletes in light of this sort of garbage in the coaching ranks -- garbage that is the norm and put right out there in front of everybody by Matt Fortuna. And let's not forget it's the presidents and boards, intellectual giants that they are, that make these contracts while they wring their hands over the latest tuition hike. At Notre Dame, you'd like to think the prez there would know what the Bible says about greed. Or stewardship. This note is undoubtedly rambling and incoherent. Still gobsmacked.
Matt Fortuna:
Teddy, this might be the angriest, profanity-free, printable email or tweet I've ever received. And not entirely without merit, either. Bravo. (Coherent, too.)
---
Jack from Erie, Pa., writes:
Notre Dame can only go to the Orange Bowl twice over the next 12 years. ... So if they go, say 10-2 this season, would one of those slots get used up right away? Also, how many at-large spots will there be in the new format? If the SEC champ is in the playoff, does their spot in the Sugar Bowl then become an at-large? I'm concerned in that there doesn't seem to be a ton of access for ND to the big bowls if they finish outside of the top four.
Matt Fortuna:
Jack, if the Orange Bowl wants Notre Dame and the Fighting Irish are eligible for it, I see no reason why they wouldn't jump in. "Saving" a spot for a later year, so to speak, would be foolish on the Irish's end, in my opinion. The Irish have been to just one BCS bowl in the past seven years. The new format's elite games are three contract bowls with league tie-ins (Sugar, Rose, Orange) and three access bowls (Fiesta, Peach, Cotton) with none, with two of the six bowls rotating into the semifinals each year. The Sugar Bowl is a semifinal this upcoming season. But the access bowl spots will be filled by any power conference champion that didn't make the playoff and has no contract with one of the remaining elite bowls. The elite bowls must also take the highest-rated team from the group of non-power conferences. The highest-ranked remaining teams, as determined by the selection committee, would fill in the open top-tier bowl spots. This new format
presents Notre Dame with many more bowl options than the BCS did
, as the Irish have both the Orange Bowl deal and the ACC deal, which allows them to step over another ACC team for its spot in a non-elite bowl if the Irish's record is better than, equal to or within one of that ACC team, or ranked higher in the final standings.
---
Kj from Kent, Ohio, writes:
Surprised you didn't mention
William Fuller
in
your WR section of the spring wrap-up
. He had as many catches as
Corey Robinson
did last year and would've had at least two more TDs if Tommy [Rees] had a DI arm. Don't sleep on Fuller, Matt!
Matt Fortuna:
I'm not sleeping on Fuller, Kj! (Sorry for the yelling back.) I just believed Robinson deserved singling out among the sophomores given how much potential he has with that frame, and the fact that Brian Kelly raved this spring about how much he loved coaching Robinson. That said, it's anybody's guess as to who will emerge from the pack among the young guys. The opportunities are certainly there for the taking at receiver.
April, 21, 2014
Apr 21
9:00
AM ET
SOUTH BEND, Ind. -- It was hard for Notre Dame to differentiate among its wide receivers throughout the spring. Just ask Mike Denbrock about any one of them -- in this case,
Torii Hunter Jr
.
"He is absolutely physically very gifted, and right in the mix with all those young guys as far as what we feel like he can do potentially down the road," the Irish offensive coordinator said. "Like a lot of young guys, the more he sees things, the more he does things, the better he's going to be. He's not where we need him to be yet but you can see so many positive things that are going to happen there moving forward. We're just trying to speed up the process as fast as we can."
Hunter saw action mostly on the outside this spring. Like most of his peers, however, the redshirt freshman also played in the slot. He had once expressed hopes of following in the footsteps of
TJ Jones
, last year's team MVP, by playing all over the field. But he was less direct when asked on the eve of the spring game.
"It just depends," Hunter said. "I just want to play wherever the coaches need me. I just want to see the field. If it does end up being the way TJ was used then definitely that's the way I'll be."
This isn't all necessarily a bad thing for Notre Dame; it's just the way things are until
DaVaris Daniels
' presumed summer return. From the towering
Corey Robinson
to the early enrollee
Justin Brent
, it was an all-hands-on-deck operation for Irish wideouts this spring.
There are no fewer than seven scholarship players fighting for meaningful roles this fall. But the pecking order -- let alone knowing who will line up where to begin with -- is really anyone's guess.
"I don't think that that's going to happen in June, per se," head coach Brian Kelly said. "These guys need so much development work,
Amir Carlisle
needs to continue to develop.
Chris Brown
has got to continue to work on a number of things.
Will Fuller.
A lot of that is development work that in June will continue to take place. Then we're very hopeful that if things go the right way, Daniels comes back to us.
"We got a very competitive situation with Robinson, Daniels, Fuller, Brown, Carlisle. We've got a nice situation there. I think it's a just competitive situation. We've got to get the best players on the field, because the tight end is going to be on the field as well. I like to keep a tight end on the field.
"So we're talking about three positions and arguably you've got, half a dozen guys there that can compete. So what's going to be the deciding factor for me is, I'm not settled on any one of those guys right now. I think it will be a very competitive situation. I think they are going to push each other and we're going to be the beneficiary. Notre Dame's offense is beginning to be the beneficiary."
March, 27, 2014
Mar 27
9:00
AM ET
SOUTH BEND, Ind. -- Brian Kelly wants more out of all of them, because that's just the way the head coach is wired. Mike Denbrock is not displeased with any of them, because six practices into spring ball would be an awfully early time for the offensive coordinator to heap any significant praise on a green group.
If Notre Dame's offense is going to break out in the fashion all expect now that it has a proven, dynamic quarterback in
Everett Golson
, it's going to need its receivers to take the next step. And these final three weeks of spring practice will probably go a long way in determining whether such a leap can occur, especially with headliner
DaVaris Daniels
exiled until the summer because of an academic matter.
"Now, it's kind of been funny, when I have a question, I have to figure it out as opposed to last fall,"
Corey Robinson
said. "DaVaris played 'W' a lot -- whenever I had an issue, I'd go to him and he'd help me out, or I'd go to TJ [Jones]. Now I have to figure it out, and some of the younger guys who didn't play last year are coming to me and asking me what to do. That's really forced my hand -- and I know it's the same for Breezy (
Chris Brown
) and
C.J. (Prosise
). We have to know the offense better and it kind of puts pressure on us to do that so when questions are asked we can help out."
Robinson has raised eyebrows for the second spring in a row, this time for more than just his frame. The 6-foot-4.5, 205-pound son of hoops Hall of Famer David Robinson has asserted himself more after a nine-catch, 157-yard, one-touchdown rookie campaign, with Kelly saying the sophomore has pleased him more than anyone else at the position.
"He does exactly what I ask him to do all the time," Kelly said, loud and deliberately. "And he does it right. Now he may screw it up the first time, but you coach him and he does it right the second time. I love that kid."
"They try to do it right," Kelly later added of the others when asked. "They all try to do it right. He does it right the second time. He's fun to coach."
Denbrock said the experience of Brown has made him the steadiest of the bunch, as his junior status and 17 career grabs for 265 yards and a score are all tops on the current roster.
It helps that youngsters like Robinson and

Will Fuller
(six catches, 160 yards, TD) got their feet wet last season as freshmen, but there are still projects in spring enrollee
Justin Brent
and
Torii Hunter Jr
., who redshirted last season while recovering from a broken left leg suffered in high school.
"If you look at those other guys, it's still new to them," Denbrock said. "We're really working hard at all positions on offense because of our youth and gaining that type of consistency play in and play out that you need to control the game from the offensive side of the ball."
March, 3, 2014
Mar 3
8:55
AM ET
SOUTH BEND, Ind. -- Spring football is under way at Notre Dame. And if the snowbanks at every turn of campus weren't an indication, the sight of a No. 5 throwing footballs in a red jersey again sure was.
Yes, all eyes were on
Everett Golson
during his first Irish practice in nearly a year, with Avicii's "Levels" blasting once stretching was done and the tempo drill was under way. The media was able to view the first 30 minutes of practice from a balcony in the Loftus Sports Complex, with Golson and the offense running tempo on the far end of the field and the defense getting into gear right below us.
Golson is set to meet the media after practice for the first time since his return to school so we will have more on him later on Monday. As for what could be gathered about his weapons with the 2014 season still far away …
The first-team offensive line consisted of, from left to right, Ronnie Stanley, Steve Elmer, Matt Hegarty, Christian Lombard and Mike McGlinchey. Corey Robinson, Chris Brown and C.J. Prosise were running with the first team at receiver, while Tarean Folston saw some action in the backfield, and Ben Koyack was at tight end.
The second-team offensive line, again from left to right, was made up by Hunter Bivin, Conor Hanratty, Mark Harrell, John Montelus and Colin McGovern. Malik Zaire ran the show with that group, with Will Fuller (now No. 7), Torii Hunter Jr. and Amir Carlisle seeing action at receiver. Greg Bryant and Cam McDaniel split time in the backfield.
Defensively, the Irish used a four-man front on the first team, with Romeo Okwara and Ishaq Williams on the edge and Sheldon Day and Jarron Jones inside. Jaylon Smith, Joe Schmidt and Kendall Moore were at linebacker, while KeiVarae Russell and Cole Luke was at corner and Max Redfield and Austin Collinsworth were at safety.
We'll have more later on Monday, as Golson will be joined by seven other players, plus coach Brian Kelly, following the completion of spring practice No. 1.
October, 8, 2013
10/08/13
4:00
PM ET
Notre Dame's first bye week comes at the season's midway point, giving us the perfect opportunity to make a decent evaluation of what this team's strengths and weaknesses are following a 4-2 start. We'll break this down into four categories over the next four days: offense, defense, special teams, coaching staff.
Without further ado, here is the first installment.
OFFENSE
Grade
: C+
Summary
: Notre Dame is averaging 27.3 points per game, a slight increase from last year's 25.77 mark. Of course, part of that is a result of playing from behind, something the Irish did against Michigan and Oklahoma, both losses. They found themselves in another shootout this past weekend against Arizona State and proved they were able to pull out a contest far different from some of the meat-grinders they endured in 2012.
[+] Enlarge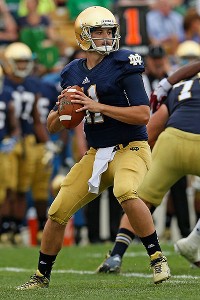 Jonathan Daniel/Getty ImagesTommy Rees has nine TD passes and just one interception in Notre Dame's four victories.
Tommy Rees
has been Tommy Rees. He eclipsed the 300-yard mark in the first three games. He threw two picks in a loss at Michigan, a game in which the Irish defense did the offense no favors. Rees misfired several times against a stout Michigan State defense, but he protected the ball and the Irish escaped the Spartans in a game reminiscent of last season. He became the easy scapegoat against the Sooners after throwing three picks — which Oklahoma turned into 21 points — but he received little help from his offensive line and receivers on two of those gaffes.
Andrew Hendrix
has appeared here and there, but Rees remains the Irish's best option at quarterback. Criticize Rees for his physical attributes if you must, but if you're going to get mad about the offense's make-up, blame the starting quarterback who got himself suspended for school this semester — after the program spent a whole spring investing in him to take charge. Rees stayed through the good and bad, has endured a lot more than most signal-callers has had to, and has kept a strong mindset through it all. Go back and watch the Purdue game, especially late in the second half, as he rallied the offense on the sideline, commanding the group's attention in a way only a senior with the respect of the entire locker room could. Brian Kelly has stuck by Rees, and he will continue to do so as long as Rees remains the offense's best option, which is what he is.
His offensive line has been stellar in pass protection, ranking eighth nationally in fewest sacks allowed per game (.60), surrendering just four on the season. That's all the more impressive when you consider Rees' lack of threat with his legs. Still, the running game had trouble getting off on the right foot, tallying three consecutive under-100-yard performances in games 2-4 before
George Atkinson III
broke out against Oklahoma. The Irish continued to build off that ground success last week against the Sun Devils, rushing for 145 yards. Slowly, the Irish have made progress in that department, raising their rushing yards per game average from 114.3 to 137 since Week 4.
In the pass-catching department, meanwhile,
TJ Jones
has been every bit as good as advertised, with the captain hauling in 33 passes for 481 yards and four touchdowns. He has had two 100-yard games and a 98-yard effot, absorbing hit after hit and becoming the kind of reliable target for Rees that Tyler Eifert was in 2011 and 2012. He has gotten big lifts here and there from
DaVaris Daniels
(25 catches, 385 yards, 4 TDs) and
Troy Niklas
(14, 250, 4), and the Irish have regularly played true freshmen who have made some minor contributions (
Corey Robinson
,
James Onwualu
, Will Fuller).
Overall, the offense has been uneven, as it has yet to really turn in a complete performance outside of Week 1 against a Temple team that is still seeking its first win. The Irish appeared to be moving closer to that direction against ASU, but a pick-six put a dent in that performance. The bye week will serve them well as they prepare for a skilled but depleted USC defense that should give the offense its biggest test before Senior Day against BYU.
October, 2, 2013
10/02/13
9:00
AM ET
Notre Dame kicks off the first of three games this year against the Pac-12 with Saturday's showdown against No. 22 Arizona State in Arlington, Texas. What should you be looking for? Glad you asked. Notre Dame reporter Matt Fortuna and Pac-12 reporter Kevin Gemmell talk it over.
Matt Fortuna
: Arizona State is a newcomer to the Pac-12 portion of Notre Dame's schedule this year, Kevin. The Sun Devils have looked great against USC, not so great against Stanford and, well, fortuitous in their win over Wisconsin. They put up 62 points last week against what was believed to be a good Trojans defense, getting Lane Kiffin fired in the process. So I guess we'll start there, given Notre Dame's defensive struggles so far this season: What makes Todd Graham's unit so explosive offensively, and what do the Irish need to really keep an eye on Saturday to keep the points down?
Kevin Gemmell:
Tempo, tempo, tempo. Offensive coordinator Mike Norvell, who Graham trusts to run the show offensively, uses "tempo" as a verb, not an adjective. As in, he wants to tempo teams into submission.
[+] Enlarge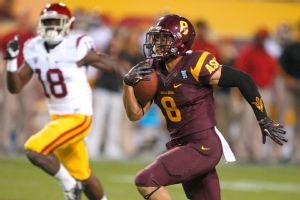 AP Photo/Rick ScuteriNotre Dame will have to find a way to slow down D.J. Foster and the Arizona State offense.
They want to have as many possessions as possible. And they get that with a fast-paced attack that stretches and then compacts a defense. Quarterback
Taylor Kelly
is off to another outstanding start, and a huge reason for that is the addition of wide receiver
Jaelen Strong
, a junior college transfer who already has 31 catches for 433 yards. He gives Kelly that sideline threat the Sun Devils were lacking last season, and Kelly has been fantastic at spotting him on the outside shoulder and letting him make plays. Strong has been targeted 51 times, so it's only a 60-percent completion rate when they look to him. But when he does catch it, it's usually for a substantial gain; he averages 14 yards per reception.
They use running backs
Marion Grice
(12 touchdowns already!) and
D.J. Foster
in creative ways in the screen game and like to splt Foster out into the slot. Tight end
Chris Coyle
has also emerged as one of the top players at his position in the country.
How about the Irish? Things don't seem to be going as swimmingly as they did last year. Only 25.4 points per game. ASU is going to blitz early and often. What does Notre Dame have to do to get its offense moving in the right direction?
Matt Fortuna
: It will get overlooked because Notre Dame lost Saturday, but the Irish were finally able to establish a ground game, tallying 220 rushing yards against the Sooners. They had eclipsed the 100-yard rushing mark as a team just once before, in the opener against Temple. Junior
George Atkinson III
, who was the No. 1 back entering the season, finally played like it, lowering his shoulder and looking more like a downhill runner. He finished with a career-high 148 yards and a touchdown on 14 carries.
Aside from not turning it over on their first two possessions and falling behind 14-0, it is very important for the Irish to continue to establish the ground threat early, as they often can become predictable in second- and third-and-long with a non-mobile quarterback under center in
Tommy Rees
, though Brian Kelly did insert
Andrew Hendrix
in for some zone-read, change-of-pace packages against the Sooners. Receivers must run better routes, too.
TJ Jones
and
DaVaris Daniels
have been big playmakers, but they both had route-running miscues Saturday that were costly. Kelly has said that ordinary things need to be done better. The Irish also regularly play three true freshmen wideouts (
Corey Robinson
,
James Onwualu
,
Will Fuller
).
I'm interested in ASU's defense, particularly
Will Sutton
. Before the season, everyone had pegged this as a matchup of the two best interior defensive linemen in the country, between Sutton and Notre Dame's
Louis Nix
. It's been hard to gauge Nix's performance so far, as the Irish have faced some mobile quarterbacks and quick-strike offenses that have utilized the short passing game early to essentially take the line out of the game. What challenges do Sutton and the rest of the Sun Devils' defense present?
Kevin Gemmell
: They like to blitz a lot. Todd Graham fashions his defense as a "hybrid attacking defense," meaning at times they'll substitute speed for bulk to create pressure from anywhere on the field.
Sutton hadn't made much of an impact the first few games for a couple of reasons: One, they were facing mostly run-based power teams like Wisconsin and Stanford; two, he's been seeing a lot of double and triple teams. Makes sense. His first step is so quick that it precedes his reputation. But he finally broke out against the Trojans with two tackles for a loss and a sack. I think, as the season pushes on, we're going to see more pressure from the front seven based on the teams they'll face.
That said, you have to look out for safety
Alden Darby
, who is coming off a fantastic performance against the Trojans. He had two picks (one returned for a touchdown) and has 19 tackles on the year. Hybrid linebacker
Carl Bradford
is explosive and
Chris Young
has really emerged, leading the team with 29 tackles.
The front seven is a little undersized, but it's quick and if your protections aren't set, someone will get missed with as much as the Sun Devils like to blitz.
Now that the Sun Devils are back in the top 25, it's a huge game for them to keep some of that momentum going on a national stage. The Pac-12 is already coming off of the nonconference season with a 29-4 record.
Notre Dame, however, seems to be scrambling to salvage its national reputation. And with three games against the Pac-12, which many believe is the deepest conference in college football, it seems the Irish could restore some of that lost credibility. How do you see them matching up with the now Lane-less Trojans or Stanford in the season finale?
Matt Fortuna
: Based on everything we have seen from both Notre Dame and Stanford so far, that matchup might not be a very pretty one for the Irish. Fortunately for them, it is not until the regular-season finale, meaning they have plenty of time to fix their issues in the six games before then.
The bigger question pertains to what kind of team the Irish will be heading into that matchup in Palo Alto, a status that will largely be dictated by their performances in both the ASU and USC games. The Irish need to get it together, fast, and Rees has to avoid a repeat performance of this past Saturday (three first-half interceptions) and get the offense going again. In theory, that should be enough to beat a USC team that looks to be reeling after the firing of its coach, though that kind of midseason move can have different lingering effects, good or bad. It's not like the Trojans aren't talented, and it's not like they won't be up for another night game at Notre Dame Stadium.
Still, I say the Irish win that one, especially coming off a bye. And especially with the threat of falling under .500, as a loss to ASU would make them 3-3 on the season. Notre Dame might be the better team, but the Irish have shown me little over the last four weeks that suggests that they are capable of keeping up with the Sun Devils' offense.
So that's an early 1-2 prediction for Notre Dame against the Pac-12 this season. What say you, Kevin?
Kevin Gemmell:
I'm an ASU lean right now simply because of how explosive that offense can be. And if the Sun Devils can fix a couple of assignment issues on defense, I think they have the firepower to be a top-20, maybe even top-15 team. But they have to show they can do it away from home. A neutral field setting provides a nice opportunity. It's close enough for their fans to travel, but it's not a true road game.
As of today, we're in lock-step when it comes to the Stanford matchup. The Cardinal offense is looking better and better each week. I thought back in April that
Tyler Gaffney
was going to be a game-changer for Stanford, and so far he's shown that he is. That season finale could also have huge BCS implications, and I don't see the Cardinal tossing one away at home in a game that could potentially lock them into a fourth straight BCS game.
As for USC, well, who knows? Haven't heard any USC players come out and condemn the firing of Lane Kiffin. Maybe this move reinvigorates them? The Trojans certainly have talent. But as of today (as always, I reserve the right to change my mind), I'd go with Notre Dame at home.
September, 22, 2013
9/22/13
10:00
AM ET
Did we really learn anything from
Notre Dame's 17-13 win over Michigan State
?

1. Limiting mistakes is sometimes enough.
We all know that turnovers have cost Notre Dame in the past. But I didn't realize just how much until I saw this postgame stat: The Irish are 12-0 under coach Brian Kelly when they don't turn it over. They came awfully close a few times Saturday, especially on special teams, and
Tommy Rees
did not have a great day. But they won the turnover battle 1-0, which ended up being the difference in the game.
2. Run game needs to get going.
The Irish ran for just 82 yards on 32 carries. They went empty backfield on a number of third-and-short plays, an oddity considering that Rees is not a mobile quarterback. MSU's defense is among the best in the nation, so the Spartans deserve some credit, but this was not the kind of start the Irish wanted on the ground through four games.
3. Rookies step up.
Corey Robinson
had his best game. Will Fuller made a 37-yard catch.
Cole Luke
and
Devin Butler
saw time together.
Tarean Folston
even got four carries for 12 yards. (Though everyone's still waiting to see
Greg Bryant
on more than kick coverage.) The first-year guys took advantage of some opportunities, perhaps earning more trust as the season progresses.
September, 1, 2013
9/01/13
10:00
AM ET
Here's what to take away from
Notre Dame's 28-6 season-opening win
over Temple.

1. Rees looks better
. There's no such thing as a perfectly clean opening game. But Notre Dame delivered about as crisp of a performance as one could have asked for offensively, starting with
Tommy Rees
. He led the Irish to touchdowns on their first two drives and avoided the bad decisions that had plagued him earlier in his career, allowing Irish nation to rest easy as Notre Dame heads to Michigan for Week 2.
2. Carlisle might become a major factor
. Notre Dame's first play of the game? A 45-yard rush for
Amir Carlisle
, who was playing in his first game with the Irish after a broken ankle cost him last season after getting a waiver to play immediately following his transfer from USC. Carlisle had a team-best 68 rushing yards on just seven carries, adding two catches for 5 yards. He looked like the best of the five running backs the Irish used Saturday, and he could grow into a bigger role in the offense as the season progresses.
3. Kicking woes need to be resolved
. Brian Kelly wanted Week 1 to be somewhat of a tryout between
Nick Tausch
and
Kyle Brindza
. Kelly could not have liked what he saw, as each missed his lone field goal attempt. Michigan will be far less forgiving of such mistakes next week if Notre Dame cannot work out the kinks there.
4. Freshmen make presence felt
. Notre Dame played 10 true freshmen in the opener, with
Corey Robinson
and
Jaylon Smith
earning the starts. Receivers
James Onwualu
and Will Fuller, cornerback
Cole Luke
and end
Isaac Rochell
saw action early, with
Max Redfield
and
Devin Butler
getting special teams action. Running backs
Greg Bryant
and
Tarean Folston
carried the ball late in the game, finishing with 35 total yards. Folston was the only freshman to catch a pass, hauling in a 9-yard grab.
August, 30, 2013
8/30/13
10:00
AM ET
Here are some fun facts about the Saturday tilt. As always, thanks to ESPN Stats & Info and both schools' sports information departments for these nuggets.
Notre Dame and Florida State are the only two teams that finished in the top 11 of last season's AP poll that are not returning their leading passer. If it were not for the suspension of Everett Golson, each of the top six teams would be returning its leading passer. The last time that happened was entering the 1982 season. That 1982 group became the famed 1983 NFL draft class that boasted six quarterbacks chosen in the first round — including Hall of Famers John Elway, Jim Kelly and Dan Marino.
Notre Dame surrendered 36 plays of 20-plus yards last season, tied for the second-fewest in FBS. The Irish allowed a season-high seven such plays in their loss to Alabama in the BCS Championship Game.
Entering the title game, Notre Dame had allowed a touchdown on 24 percent of its opponents' red-zone drives, the lowest percentage for any FBS team. But Alabama scored a touchdown on all five of its red-zone drives.
Golson and Tommy Rees had virtually identical Adjusted Total QBR numbers (Golson – 68.0, Rees – 67.0) in 2012, but Golson was much more of a running threat than Rees. Golson also had a QBR of 67.5 as a rusher last season, while Rees has a QBR of 4.7 as a rusher in his career.
George Atkinson III led the Irish last year in yards per rush (7.1), which ranked 12th among running backs with at least 50 carries last season.
Brian Kelly has 199 career wins as a head coach (including 13 seasons at Grand Valley State). A win would make him the 14th active coach with at least 200 wins across all divisions.
Since joining its first major conference in 1991 (Big East), Temple has defeated one nationally ranked team: October 17, 1998 at No. 14 Virginia Tech.
Notre Dame has four players on its roster from Pennsylvania: Ben Koyack, John Chereson, Will Fuller and Mike McGlinchey, who was a prep teammate of Temple walk-on running back Eric Neefe at Penn Charter. Temple has no players from Indiana.
The schools have never played, though two more games are on deck for 2015 (Philadelphia) and 2017 (South Bend).
New Temple coach Matt Rhule rewards the toughest players on his team with single-digit jersey numbers: No. 1Sean Daniels, No. 2 Anthony Robey, No. 3Juice Granger, No. 4Ryan Alderman, No. 5Jalen Fitzpatrick, No. 6Blaze Caponegro, No. 7John Christopher, No. 8 LBTyler Matakevich and No. 9 Levi Brown. (Offensive linemen cannot wear single-digit jersey numbers.)
The Owls' captains, as elected by teammates, are Alderman, a senior receiver, Brown, a senior defensive lineman, sophomore offensive linemanKyle Friend and sophomore linebackerTyler Matakevich.
Temple enters the 2013 season with a new school president (Neil Theobald), new acting athletic director (Kevin Clark) and new head coach (Matt Rhule).
August, 9, 2012
8/09/12
5:00
PM ET
Slim pickings this week as fall practices are into full gear. But the Irish did have a productive recruiting weekend, nonetheless ...
August, 5, 2012
8/05/12
3:30
PM ET
For a few minutes, anyway,
Will Fuller
(Philadelphia/Roman Catholic) was just another one of us.
The three-star wide receiver and former Penn State commitment was among the gathered media members Saturday outside the LaBar Practice Complex, awaiting the start of Notre Dame's fall camp like everyone else.
Fuller got to stay when the rest of us were kicked out, and he clearly liked what he saw on the field and off, as he eventually
became the Irish's 19th Class of 2013 commitment
.
The 6-foot-1, 163-pound prospect caught 46 balls for 758 yards and 10 touchdowns last season, and he
tested well this spring on the Nike Combine circuit, posting an electronically-timed 4.53 40-yard dash, 4.25 20-yard shuttle, 33.9-inch vertical and 88.47 SPARQ

.
Fuller is ranked by ESPN as the No. 132 receiver in the Class of 2013, and as the No. 26 player in the state of Pennsylvania.
Here's a look at the
Irish's 19-man 2013 recruiting class
, which features 15 four-star prospects, four three-star prospects, five ESPN150 commits (*) and 10 ESPN300 commits (**)
Four-star OLB Jaylon Smith (Fort Wayne, Ind./Bishop Luers)*
Four-star OLB Alex Anzalone (Wyomissing, Pa./Wyomissing)*
Four-star OT Colin McGovern (New Lenox, Ill./Lincoln-Way West)*
Four-star OT Hunter Bivin (Owensboro, Ky./Apollo)*
Four-star DE Isaac Rochell (McDonough, Ga./Eagles Landing Christian Academy)*
Four-star QB-DT Malik Zaire (Kettering, Ohio/Archbishop Alter)**
Four-star CB Devin Butler (Washington/Gonzaga)**
Four-star RB Jamel James (Katy, Texas/Cinco Ranch)**
Four-star TE-Y Mike Heuerman (Naples, Fla./Barron Collier)**
Four-star OT John Montelus (Everett, Mass./Everett)**
Four-star ATH Rashad Kinlaw (Galloway, N.J./Absegami)
Four-star ATH James Onwualu (St. Paul, Minn./Cretin-Derham)
Four-star OT Mike McGlinchey (Philadelphia/William Penn)
Four-star ILB Michael Deeb (Plantation, Fla./American Heritage)
Four-star OT Steve Elmer (Midland, Mich./Midland)
Three-star ATH Danny Mattingly (Spokane, Wash./Mead)
Three-star WR Corey Robinson (San Antonio/San Antonio Christian)
Three-star TE-Y Jacob Matuska (Columbus, Ohio/Bishop Hartley)
Three-star WR Will Fuller (Philadelphia/Roman Catholic)
New Notre Dame Uniforms Revealed
FBS INDEP. SCOREBOARD
Friday, 8/29
Saturday, 8/30