Notre Dame Football:

Wisconsin Badgers
December, 23, 2011
12/23/11
12:00
PM ET
You may notice that these links all have something in common.
December, 22, 2011
12/22/11
1:25
PM ET
It is this time of the year when Twitter is the most useful and the most dangerous tool we have as sportswriters. The layoff between the regular season and bowl games is when coaches are hired and fired, transfers are decided upon and the rumor mill kicks into full swing.
It is through social media that much of the speculation and reaction is made upon such news, with nearly every move throwing a portion of the Twittersphere up in arms.
That is, of course, unless you are
Dayne Crist
and you just decided where you will play your final year of college ball.
"After a long & difficult decision making process, I'm incredibly excited to join the Kansas football team. Rock Chalk Jayhawk!"
Crist posted at 11:59 a.m. ET.
That was the news. Within minutes, the reaction would have made you think Crist was taking all of Notre Dame with him:
Reading
what Crist had to say to Douglas Farmer of the student paper Wednesday
, it's easy to see why his former teammates felt this way.
The hiring of former Irish coach Charlie Weis no doubt helped with the decision immensely, as Crist will get one final shot with the coach who recruited him and in a system he is familiar with. Kansas was a two-win team last year and is a basketball school, so expectations will be tamed.
Wisconsin, believed to be the other finalist, would have been in better position to win its third straight Big Ten title after Tuesday's bowl ban placed on Ohio State, but it may have lost its hope as offensive coordinator Paul Chryst leaves to become Pitt's head coach.
Regardless, this is one final shot for Crist, who committed to Notre Dame as ESPNU's No. 2 quarterback from the Class of 2008.
As colleague David Ubben points out
,
Landry Jones
, Blaine Gabbert and
Andrew Luck
were all ranked behind him. Only Terrelle Pryor was ranked ahead of Crist.
Season-ending injuries in each knee and bad breaks on the field have spoiled Crist's opportunities, leaving many to wonder whether this last chance will actually provide a happy ending. That remains to be seen. For now, all it takes is a brief glance at Twitter to know nobody deserves one more than him.
December, 9, 2011
12/09/11
12:00
PM ET
Still trying to wrap my head around the Paul/Pau/trade/no-trade thing ...
December, 4, 2011
12/04/11
3:30
AM ET
Russell Wilson
's Grange-Griffin Trophy was less than two hours old by the time
news broke
of
Dayne Crist
's reported exit from Notre Dame.
The parallels, of course, are obvious.
Wilson, who won the Big Ten title game MVP Saturday night, starred in his lone season in a Wisconsin uniform, leading the Badgers to their second consecutive Rose Bowl one year after he was taking snaps for North Carolina State.
[+] Enlarge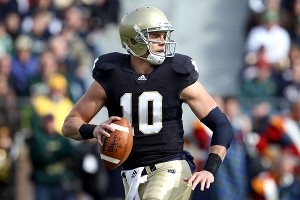 Jonathan Daniel/Getty ImagesInjuries and poor performances kept Dayne Crist from living up to the advanced billing at Notre Dame.
He was able to do this, of course, because of a rule that allows players who have already graduated and have one year of eligibility remaining to transfer to another school and play immediately, provided that the player enrolls in a graduate program not offered at his previous school.
Crist will get the same chance at any school that will have him, as the Irish senior is set to graduate this month and will likely enroll at a new school for spring semester.
The rule -- or loophole, as some have referred to it as -- has been the subject of much scrutiny. The SEC banned such one-year transfers this past summer. Many feel this is the equivalent to "renting" players and takes the "student" out of student-athlete.
Wrong. It might be the only rule in the NCAA manual that actually rewards the "student" part of that term.
Players are told all the time what they cannot do. Coaches who make millions often jump from job to job without consequence. Here, players are simply rewarded for fulfilling their academic duties.
Crist, from what we have seen so far, is no Wilson. It would be unreasonable at this point to think he would be the difference between a good team and a Rose Bowl-bound one, permitting he even ends up on a good team.
Wilson threw for 8,545 yards, rushed for another 1,089 and had a total of 93 touchdowns in his three years with the Wolfpack. In three years with the Irish, Crist has just 2,327 passing yards, 74 rushing yards and 20 total touchdowns.
Crist's most notable stats won't even show up in the box score. He suffered a torn anterior cruciate ligament in his right knee in 2009, ruptured the patella tendon in his left knee nearly one year later and then lost his starting job after one mediocre half against South Florida in Week 1 of this season.
Though unavailable to reporters since the Week 1 loss, Crist has, by all accounts, handled the bad breaks with class and dignity. And, as mentioned earlier, he is scheduled to graduate later this month, with a degree in management-consulting.
Having redshirted his freshman year, Crist still has one year of eligibility remaining. And, with a lofty high school ranking (he entered college as ESPNU's 22nd overall prospect and No. 2 quarterback) and not a lot to show for it yet in college, he deserves the chance to showcase his talents for the next level. That just isn't going to happen at Notre Dame, where a pair of sophomores (
Tommy Rees
and
Andrew Hendrix
) have already moved ahead of him on the depth chart and where a freshman (
Everett Golson
) is currently redshirting in hopes of bright days ahead.
What good does it do Crist to sit his final year, his degree already in hand? His perseverance through a pair of potentially devastating knee injuries shows he wants to play, and he deserves that chance.
If he can get that opportunity somewhere else while earning another degree and, who knows, maybe a little bit of hardware for himself in the process, then — dare we say it? — more power to him, the student-athlete.
October, 21, 2011
10/21/11
3:30
PM ET
Apologies for the late start chatting today. Here is my way of making it up to you.
Kevin from New York writes:
I would love to see Notre Dame make a BCS bowl game, but how do you see Notre Dame standing up against some of the other dominant BCS schools?
Matt Fortuna:
Kevin, I think LSU, Alabama and Oklahoma are in a league of their own right now. Oklahoma State, Wisconsin, Stanford and Clemson aren't too far behind. I suppose we'll really get our answer Nov. 26 when the Irish go to Stanford, and I think at the moment that could be a very good game. I wouldn't want any part of the other three at the moment.
---
Adena from South Bend writes:
I often hear Kirk Herbstreit talk about how Notre Dame has a lot of talent. Why don't they play a team like Alabama or LSU to prove they are indeed relevant again? Can you please blog about this? Thank You.
Matt Fortuna:
Adena, they go to Oklahoma next year to face a Sooners team that, who knows, may just be defending its national title. They also go to Stanford this year and in recent years have played a national title contender in USC annually. Add in the fact that there are no true cupcakes and the scheduling quirks that come with being an independent, and it becomes a lot harder to schedule such big games, especially with so many annual rivalries to protect as well.
---
Jody Ruedisale from Lansing, Mich., writes:
I feel Notre Dame should be ranked. I don't know what the coaches or the writers are thinking in the AP and the coaches poll. They are better in the teams ranked 20-15 and they beat a very Michigan State team soundly.
Matt Fortuna:
Jody, I agree, it is weird to see the Irish not ranked after these past four wins. That MSU win is looking better and better each week, as well, and will especially look good if Sparty can somehow beat Wisconsin this week. No worries, however. If ND beats USC, it will be ranked.
---
Pete from Bergenfield, N.J., writes:
Do you see
Everett Golson
getting some solid playing time in the near future? And when do you think if ever he will be the starting quarterback.
Matt Fortuna:
Pete, Golson is all but a lock to redshirt this season with three other quarterbacks having already seen playing time. It is a long ways away to know whether he will ever start, and I, for one, have never seen a practice so I can't exactly tell you how he looks. I do know that it will be an open competition after this year and everything will be up for grabs.
---
James Clinton from Springfield, Va., writes:
You always say that Notre Dame's defense isn't good and that ND isn't good, yet they are the only team to beat Michigan State, IN A BLOW-OUT, and man-handled Air Force. U are just being biased because of the first two games. And our offense, which is so bad apparently, has scored over 30 in 4 games. And we rank 28th in BCS, which is too low, yet somehow 7 spots lower than penn state. How does PSU, who plays NOBODY, rank above a team with what analysts call the "hardest first six games schedule?" Thanks
Matt Fortuna:
James, appreciate the etiquette with the "thanks" at the end. And I don't think Penn State is better than Notre Dame, which I again ranked higher this week, though I do think the better record and the fact its only loss came to No. 2 Alabama certainly plays a role in most voters' minds. Now if you can find where I "always say that Notre Dame's defense isn't good," that "ND isn't good" and where I wrote that the offense is so bad, then I will gladly eat my own words. Also, a bias would imply I don't like Notre Dame, not that my judgment is clouded by the first two games. Those two games — two losses — are a part of Notre Dame football's 2011 team forever, and they will always show up in the record books. You can't always ignore that when talking about this team, however good it may end up being.
'College Football Live' Extra: Playoffs