Oakland Raiders:

Dallas Cowboys
August, 14, 2014
8/14/14
6:05
PM ET
OXNARD, Calif. -- Sure, there were brawls, five of them, in fact, big enough to stop the action of the two joint practices here. And there was the fan who swung a replica helmet at
Dallas Cowboys
cornerback
B.W. Webb
, plus the numerous scuffles throughout.
But you'd have a hard time finding anyone from either Oakland or Dallas who did not consider the joint effort a rousing success. So successful, in fact,
Oakland Raiders
coach Dennis Allen hopes the Cowboys come to Napa, California, next summer for the, ahem, rematch.
[+] Enlarge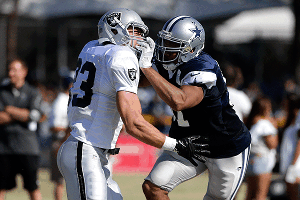 AP Photo/Jae C. HongScuffles didn't take away from the productivity of joint practices with the Cowboys, Raiders coach Dennis Allen said.
"I don't know if that's 100 percent determined," Allen said after Wednesday's practice. "I think there have been some preliminary discussions and we'd like to be able to do it. But again, it's probably too early to say for sure."
But what gave this week's workout an added oomph might not be possible on the grounds of Napa's Redwood Middle School -- an overflow of fans. The Cowboys announced a crowd of 8,326 for Tuesday's opening practice, with Raiders fans sequestered to one side and Cowboys fans on the other, funneled into their areas through fences that resembled cages and/or European soccer-style fan seating.
The Raiders played host to fans for 12 of their 13 practices in Napa and there was no separation, save for a painted yellow line on the grass and waist-high tape between posts, between the fans and the field. Capacity was about 1,000.
In Oxnard, Cowboys coach Jason Garrett called the opening practice "as electric an atmosphere as I've ever been around on a practice field, really in my life."
A visibly pumped-up Allen said, "What a hell of an atmosphere to practice football in. That's what Raider Nation is really all about, man. That was awesome to see those [fans] come out and support us like that. It almost felt like, at times, that I had to quiet the crowd down just so we could get some plays off. It was a great atmosphere."
And while it's hard to imagine a joint practice being held in front of fans at the Raiders' current training camp facility in Wine Country, Allen sees bigger benefits from a pure football standpoint.
"Absolutely," Allen said, "I like doing this. I think it does nothing but help your football team.
"Again, any time you get in these competitive environments, I think it increases the sense of urgency of your football team. I thought we got better over these last couple of days."
Injury update
: cornerback
Chimdi Chekwa
(knee) was not the only Raiders player unable to finish Wednesday's practice as receiver
Juron Criner
was also sidelined. "I think Criner had a groin injury or a hip, so he wasn't able to go," Allen said.
"He tried to go out here through individual [drills] and wasn't able to go."
The Raiders' home exhibition opener against the
Detroit Lions
Friday night at 7 p.m. PT will be broadcast live locally on KTVU 2.
June, 2, 2014
6/02/14
5:00
PM ET
ALAMEDA, Calif. -- The
Oakland Raiders
"are in the process of communicating" with the
Dallas Cowboys
to hold joint training camp practices at the Cowboys' site in Oxnard, California, Raiders coach Dennis Allen said Monday.
Allen did not divulge potential dates for the workouts, which would seemingly be for two or three days, but it would seem to make sense to hold them before or after the Raiders' exhibition opener, which is Aug. 8 at the
Minnesota Vikings
.
In 2008 and 2009, the Raiders played host to the cross-bay
San Francisco 49ers
for training camp workouts in Napa.
May, 8, 2014
5/08/14
4:45
PM ET
Totally spit-balling here, like just about every other draft prognosticater out there, but if the
Dallas Cowboys
are as hot and heavy for
Johnny Manziel
as Twitter would have you believe, the
Oakland Raiders
might be sitting in prime position.
So long as two scenarios play out.
Manziel
The first, obviously, is that Manziel is still on the board when it comes time for the Raiders' choice at No. 5 overall.
The second, is that both
Khalil Mack
and
Sammy Watkins
are already gone, because if either of those guys are still available, that has to be Oakland's pick, at least, in this corner.
In that combined development, though, the Raiders could reach out to Jerry Jones and offer up that No. 5 selection for a boatload of picks. Using the Trade Value Chart, the No. 5 pick is worth 1,700 points. The No. 16 pick, which is where the Cowboys currently sit, is worth 1,000 points.
So, for the swap to work, the Cowboys would have to come up with 700 more points in draft picks, or a player. Dallas' second-rounder this year (No. 47 overall) is worth 430 points and its third-rounder (No. 78) is worth 200 points, while its fourth-rounder (No. 119) is worth 56 points. That gives the Raiders two seconds, two thirds and two fourths, but still nothing in the fifth or sixth rounds to go with three seventh-rounders. It also still leaves the Cowboys needing 14 points to make up the difference.
Of course, the Trade Value Chart is more of a guideline for teams than a hard fast rule, and the Cowboys would have to stomach gutting the middle of their draft, though they could conceivably involve future picks in such a deal.
Plus, from the Raiders' perspective, going from No. 5 to No. 16 is a pretty big drop (last year, they went from No. 3 to No. 12). Because as has been mentioned in this corner, Oakland needs an impact player with its first pick, rather than a developmental one like in general manager Reggie McKenzie's first two seasons in
Tony Bergstrom
and
D.J. Hayden
.
So who could
potentially
be there at No. 16? Think UCLA outside linebacker
Anthony Barr
, or Oklahoma State cornerback
Justin Gilbert
, or Notre Dame nose tackle
Louis Nix III
, or USC receiver
Marqise Lee
, or even Fresno State quarterback
Derek Carr
.
Or should the Raiders simply stay put at No. 5 and take the best player available?
November, 27, 2013
11/27/13
7:00
PM ET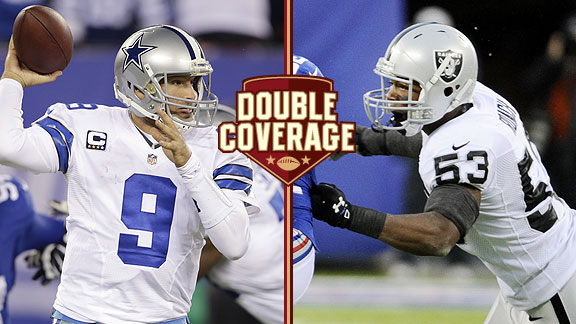 AP PhotoTony Romo's Cowboys host Nick Roach and the Raiders in a Thanksgiving Day duel.
IRVING, Texas -- For the second time in five years, the
Dallas Cowboys
and
Oakland Raiders
meet on Thanksgiving at AT&T Stadium.
The Cowboys won the 2009 matchup 24-7 with
Tony Romo
throwing for 309 yards and two touchdowns and
Miles Austin
catching seven passes for 145 yards. Since that game Austin has had more yards in a game just twice.
ESPN.com's Raiders reporter Paul Gutierrez and Cowboys reporter Todd Archer bring you this week's holiday version of Double Coverage.
Todd Archer:
The Cowboys are bad in most areas defensively, but they have given up 200 yards rushing in three games this season. The Raiders' strength, from afar, seems to be their running game. What makes it so good and how has it differed with
Terrelle Pryor
out?
Paul Gutierrez:
Hey, Todd, it's not just Pryor being out, but also
Darren McFadden
, who has missed three straight games and four overall with a strained right hamstring. He said Monday night he hopes to play after practicing (limited) for the first time since Nov. 1. The run game, though, has not missed a beat with underrated
Rashad Jennings
picking up the slack. In the past four games, he has run for 413 yards while averaging 5.7 yards per carry. In fact, the running game has been so surprisingly solid without McFadden and Pryor that the play-action pass game has picked up with undrafted rookie
Matt McGloin
under center.
Speaking of passing games ... no doubt Tony Romo can rack up stats, but has he decided to assume more of a leadership role yet as the QB of America's Team, or is that just not in his makeup?
Archer:
He has developed over the years as a leader, but there's no question that this has been "his" team the past three seasons. He is the veteran. He is the guy the Cowboys look to. The guys on this team now don't know of the Romo who burst on the scene in 2006 or had to deal with the
Terrell Owens
stuff. He's the guy who led the lockout practices and has been the big voice in the room. This year he has been given the added responsibility of being more involved in the game plan. The Cowboys' past two wins have come on last-minute drives led by Romo to beat Minnesota and the
New York Giants
. I don't think there's anybody questioning his leadership anymore. And if they did, well, the $106 million extension Jerry Jones gave him in the offseason should be more than enough proof to those guys that this is Romo's team.
Let's stick with the quarterback theme. Before the Cowboys lucked into Romo, they ran through a ton of guys after
Troy Aikman
's departure. Is there any reason to believe McGloin or Pryor can be a solution or do the Raiders need to go after one of these guys in next April's draft?
Gutierrez:
Well, the way I put it earlier in the season, before Pryor hit his purported ceiling and sprained his right knee, robbing him of his greatest strength (running) while accentuating his biggest weakness (passing), if Pryor was not the Raiders' Mr. Right, he was their Mr. Right Now. McGloin is a pure quarterback, a pocket passer whom Dennis Allen prefers for what he wants to accomplish offensively. It's hard to give Allen and GM Reggie McKenzie much credit for their evaluation of QBs, though, what with their misses on
Matt Flynn
and
Tyler Wilson
, not caring much for Pryor early on and then, similar to the Cowboys with Romo, stumbling upon McGloin. But it's hard to see them going all in with the undrafted rookie from Penn State, too. At least hard at the moment. Unless McGloin continues to improve and wins a few games, it would behoove the Raiders to draft another QB if they see one as a can't-miss prospect. I know, I know, they really wanted USC's
Matt Barkley
but Philadelphia traded in front of them so they traded back and selected Wilson. Oops. There is no doubt, though, that this Raiders regime prefers McGloin as a prototypical QB over the more electric Pryor.
No matter who is under center for Oakland, though, the Raiders' QB is going to have to keep an eye on
DeMarcus Ware
. Is he rounding back into shape as a dominant pass-rusher, or is he more decoy as he rehabs from his quad strain?
Archer:
I think he's still feeling his way through it. The fact that he made it through the Giants game healthy was a plus. He has been dinged up in just about every game with stinger and back strains earlier in the season before the quadriceps injury. We'll see how he fares on a short week, but the defense is a lot better with even the threat of Ware on the field.
Jason Hatcher
had two sacks against the Giants at least in part because of the attention Ware received. Ware has talked about wanting to make up for lost time. He has five sacks so far, his fewest this late in a season since his rookie year in 2005. Thursday would be a good time to look like the DeMarcus Ware of old.
This game is a homecoming of sorts for guys like
Mike Jenkins
,
Andre Gurode
,
Kevin Burnett
and Tony Sparano, but it's a real homecoming for Dennis Allen. How is he perceived in Oakland and will McKenzie be more patient with him than, say, Al Davis would have been?
Gutierrez:
The jury, so to speak, is still out on Allen in the streets of Silver and Blackdom. Of course, when the Raiders win a game, he's the man. When he loses, the fans turn on him and start pining for Jon Gruden ... again. But isn't that the nature of the beast? Even Allen himself said this was a results-oriented business. Of course, he was referring to the quarterback position at the time, but it still applies. Make no mistake about it, Allen is McKenzie's "guy" and he's going to roll with him and have patience with him. The plan coming in was to give Allen at least three years to right this ship and really, the only thing that could damage Allen's chances of lasting another year would be if the team quit on him, like it did last November before playing hard again at the end. Then again, it might not be McKenzie's choice. Owner Mark Davis is a more patient owner than his father and wants McKenzie to handle all football-related decisions. But a year after stating he was fine with just about anything but regression, Davis wants progress. Stagnancy won't cut it, either. So, stay tuned.
Sticking with the coaching theme, is Jason Garrett in Jerry World for the long haul, or was Jerry Jones' support merely the dreaded vote of confidence?
Archer:
Jerry has publicly backed Garrett, but he's also been a guy who's said, "Just because I say something, doesn't mean it's true." I do know this: He wants Garrett to be the guy. He desperately wants it to work. I really believe that. He believes in Garrett's approach and how he builds a team. Garrett will provide some blow-back to Jerry but not as much as, say, a Bill Parcells. Garrett knows what makes Jerry work and knows how to work around it to a degree or push Jerry in a certain direction. Honestly, Cowboys fans should want the Garrett deal to work out because it might be the best combination to mitigate the bad parts of Jerry and keep the good parts of Jerry.