July, 22, 2014
Jul 22
10:00
AM ET
Don't adjust your computer screens.
That's right, ESPN.com's "NFL Nation TV" normally airs live at 1 p.m. ET each Thursday, but we are taking a couple of extra days before this week's show.
That is because we will be joined Thursday by comedian and impressionist Frank Caliendo, the man behind the hilarious Jon Gruden and John Madden impressions, among many others. So make sure you come back this Thursday at 1 p.m. ET/10 a.m. PT when Caliendo chats with and does impressions for "NFL Nation TV" hosts Paul Gutierrez (
Oakland Raiders
reporter), Coley Harvey (
Cincinnati Bengals
reporter) and Episode 15's other guest, Kevin Seifert (ESPN.com national NFL writer).
We'll have more Thursday on what we'll discuss, but you can bet topics of conversation likely will include Tony Dungy's comments on avoiding drafting
Michael Sam
, debates about where the Oakland Raiders should play, updates as training camps start, and the final result of NFL Nation's "Memorable Play" tournament. As always, viewers are encouraged to create a Spreecast account (it's free and easy) and log in and ask the panelists questions as well as contribute in the chat feature.
See you then.
.
April, 3, 2014
Apr 3
10:01
AM ET
By
ESPN.com staff
| ESPN.com
Let's turn back the clock, way back to, say, 2011.
John Fox is in his first season as coach of the
Denver Broncos
, and John Elway in his first season as the team's top football executive. After five weeks, the Broncos are 1-4.
Kyle Orton
gets benched, the Broncos put
Tim Tebow
in at quarterback, and Denver goes 7-4 to finish 8-8 and win a tightly clustered AFC West on the basis of tiebreakers.
The
San Diego Chargers
also finished 8-8, as did the
Oakland Raiders
. The
Kansas City Chiefs
were 7-9.
All four teams piled together in a bit of a mediocrity club. Not too good, not too bad.
And then, in March 2012, the balance of power didn't just shift, it was tilted by the weight of a future Hall of Famer when the Broncos signed
Peyton Manning
. The Broncos have followed with two more division titles, back-to-back 13-3 finishes and one Super Bowl appearance.
In all, the Broncos have gone 33-10 since moving Tebow and then Manning into the starting lineup. But the Broncos lost a Super Bowl by 35 points, looking physically overwhelmed while doing it, and Manning just turned 38. The clock is ticking on his storied career, and three teams with head coaches and general managers all hired since 2012 hope there is opportunity.
"You know they're working their tails off to change things," Fox said. "We're working hard to keep going, but your first goal always is to win the division; that's the only guaranteed way to get in the tournament."
The Broncos were the most active of the four AFC West teams in free agency in recent weeks, but as Chargers coach Mike McCoy put it, "We're grinding away. That's the solution, just keep grinding."
The four writers who cover the AFC West for ESPN.com's NFL Nation -- Paul Gutierrez in Oakland, Jeff Legwold in Denver, Adam Teicher in Kansas City and Eric D. Williams in San Diego -- offered their insights on closing the gap on the Broncos and some other key offseason topics. They also polled their Twitter followers to find out if they saw the issues differently.

Which team is closest to catching the Broncos in the AFC West?
Paul Gutierrez: Is this a trick question? Sure, the Broncos excel at losing Super Bowls in blowout fashion like no one else this side of Fran Tarkenton's Minnesota Vikings. But when it comes to the division in which they reside, the Broncos got better defensively in free agency by adding DeMarcus Ware and Aqib Talib. Since the Chargers were the only ones in the AFC West to beat the Broncos last season and have had a better run than the Chiefs in free agency, I'll go with the Bolts. While Kansas City lost three starting offensive linemen, San Diego essentially stayed the course. Quarterback Philip Rivers enjoyed a renaissance season under first-year coach Mike McCoy and figures to spread his wings (and bolo ties) with a year of experience. As far as the Raiders are concerned, there are simply too many questions and new faces at this juncture to think they will make a quantum leap in improvement, though stranger things have happened. Think Tony Sparano and the 2008 Miami Dolphins, who improved to 11-5 a year after going 1-15. And, yes, Sparano is on Oakland's staff.
Jeff Legwold: Everyone in the division, including the Broncos, carries a significant question in tow this season. For the Chiefs, it's their secondary; for the Chargers, it's their offensive line; and for the Raiders, their search for a get-it-done quarterback has now landed on Matt Schaub. The Chiefs were closest in the standings last season, powered by their defense, but the Chargers were closest on the field, with a win over the Broncos in the regular season and a hard-fought loss in the divisional round of the playoffs. The Chiefs return the guts of that defense, and even with the questions in the secondary, they are poised to duplicate a double-digit-win season in coach Andy Reid's second year. The Chargers played the Broncos tougher last season, and if Philip Rivers has another quality year, they will be in the playoff conversation. But they have largely sat out free agency with a draft-built approach. That puts them on a timetable to need one or two more drafts to be in position to win the division.
Adam Teicher: The Chargers finished last season in that spot, and though they lost offensive coordinator Ken Whisenhunt, I don't see how much else has changed in that regard. The Chargers were competitive in their games against the Broncos last season, something the Chiefs and Raiders couldn't manage. San Diego also has the division's best quarterback and, yes, that includes Peyton Manning. The way the Chiefs finished last season, losing six of their last eight games, makes me wonder which way their program is headed. Their 9-0 start was a long time ago. The Raiders should be better than in 2013 but still haven't come far enough to be a serious part of this discussion. They had a huge pile of money to spend, but for the most part I don't agree with how they used it. While Matt Schaub is better at quarterback than the guys who played there for Oakland last season, he's still fourth among the four starters in the division.
Eric D. Williams: The Chargers offer the best challenge to Denver's throne in 2014. San Diego is the only AFC West team to defeat the Broncos since Peyton Manning's arrival in 2012. The Chargers held Denver's offense to 24 points a contest in three games last season, 14 points lower than the Broncos' NFL-best average of 38 points a game during the regular season. San Diego is the only team that returns its entire offensive line from 2013, and the defense should improve with the return of a healthy Dwight Freeney along with the development of young players like Shareece Wright, Jahleel Addae and Manti Te'o.
@adamteicher As much as I want to say the Chiefs I think it's the Chargers. Great coach, Top 10 QB, no significant FA losses.

— clarkgriffiths (@clarkgriffiths) March 26, 2014
---

The AFC West had three teams make the playoffs last season. Can it happen again?
Gutierrez: Sorry, can't see it happening this season. Besides the fact that the Broncos are still the class of the division, even if they lost Eric Decker and Wesley Woodyard, and the Chiefs and Chargers are stuck playing catch-up, the rest of the AFC's wild-card chasers -- the New York Jets, Miami Dolphins and Baltimore Ravens -- won't be down for long. Plus, it's such a statistical anomaly for a division to gobble up three of the six playoff slots in a conference. Since the 2002 realignment, it's happened only five times -- in 2006 with the NFC East (Philadelphia, Dallas and the New York Giants), in 2007 with the AFC South (Indianapolis, Jacksonville and Tennessee) and the NFC East (Dallas, New York and Washington), in 2011 with the AFC North (Baltimore, Pittsburgh and Cincinnati) and last season with the Broncos, Chiefs and Chargers. Then there's this: The AFC West next season plays the tough NFC West, which went a combined 42-22 last season, compared to the AFC West going 37-27. They will beat up on each other a bit, allowing other AFC teams to grab playoff berths.
Legwold: That's a tough sell. When the division had three teams make the postseason in 2013, it was because the Steelers, Ravens, Jets and Dolphins -- who finished 8-8 -- lost a spot on the final day of the regular season. For the second consecutive year, Miami has tried to buy improvement in free agency, the Jets waved the checkbook around, and the Steelers and Ravens continued to trust the draft-first formula that has served them well on the way to multiple Super Bowl wins. It's a stretch to think all four of those teams won't cross the .500 mark in 2014 or that somebody won't come out of the AFC South. NFL personnel evaluators continue to say Houston's roster isn't that of a 2-14 team and that, with the No. 1 pick in the draft, their turnaround could come quickly.
Teicher: It can, but it won't. That Denver, Kansas City and San Diego all made the playoffs last season was a factor of the AFC West teams getting some extremely favorable scheduling. AFC West teams played against teams from the AFC South and NFC East. Only two of those eight opponents finished with a winning record and included were games against three of the worst teams in the league (Jacksonville, Houston and Washington). They won't have such luck in 2014. The common opponents from outside the division include four teams that won 10 or more games last season (New England, Seattle, San Francisco and Arizona). So all three of last year's playoff teams from the AFC West will find it difficult to beat or even match their records from last season. Few if any gimmes are built into this year's schedule.
Williams: While I believe the AFC West will remain one of the most competitive divisions in pro football, three teams will not make the playoffs again. The Chargers needed several things to go their way on the final week of the regular season, including Kansas City kicker Ryan Succop missing a relatively easy 41-yard field goal, to sneak in as the final AFC wild-card team. Other teams like Houston, Pittsburgh and Tennessee should improve, making it tough for three teams from one division to get into the postseason for a second straight year.
@eric_d_williams There will only be 2. The Chargers and Broncos. Too much turnover in KC especially on the O-line.

— Mikey G (@MikeyG253) March 27, 2014
---

Peyton Manning is the obvious top choice at quarterback in the division. Which of the other current starters -- Philip Rivers, Alex Smith and Matt Schaub -- do you think will have the best 2014?
Gutierrez: The knee-jerk reaction is to go with Rivers, who, as mentioned above, experienced enough of a rebirth to be named the NFL's comeback player of the year by The Associated Press, an honor that usually goes to someone coming back from injury. But let's think outside of the box and put on our silver-and-black-tinted glasses. Schaub had a nightmarish season in Houston last year, with visions of pick-sixes dancing through his head. But if a change of scenery is all the doctor ordered -- and Darren McFadden stays healthy enough to make the play-action pass a devastating weapon for Schaub, and the Raiders' rebuilt offensive line gives him time, and a playmaking receiver emerges -- then Schaub might be the guy. That's a lot of ifs, but we're just talking here, right? I'm not saying that translates to wins, but with an offense tailored to his strengths and confidence, might Schaub be the second straight QB from the division to win a non-injury related comeback player of the year award?
Legwold: The Raiders were quick to pour on the optimism at the recent league meetings about Schaub's arrival and what he could mean to their offense, and the Chiefs believe Smith will be better in his second season with Andy Reid. But after Manning, Rivers is still the most accomplished passer among the other three, and he, too, will be better in the second season with McCoy. With former offensive coordinator Ken Whisenhunt's departure to be the Tennessee Titans coach, Rivers is facing at least some transition, but with McCoy's presence and the promotion of Frank Reich from quarterbacks coach to offensive coordinator, it should be fairly seamless. If the Chargers can protect Rivers, they will benefit from the results.
Teicher: Rivers. He was rejuvenated in Mike McCoy's offensive system. It will be interesting to see what, if any, impact Whisenhunt's departure has on him. Smith had a strong finish last season, even if the Chiefs didn't. Things should run more smoothly for him in Year 2 in Andy Reid's system, but it's troubling that the Chiefs lost their best offensive lineman in left tackle Branden Albert and two other regulars on their line. They have yet to add to their meager collection of offensive threats, though I expect they will in the draft. Their inability to sign Pittsburgh wide receiver Emmanuel Sanders in free agency will haunt them. I have little in the way of expectations for Schaub in his first season with the Raiders. It's a bit much to ask him to thrive in his first year in a new system with unfamiliar teammates.
Williams: Rivers has the best chance to repeat his success from 2013 for one reason: continuity. The Chargers will return almost every starter from one of the best offenses in the NFL last season. San Diego added Donald Brown in free agency to bolster an already potent run game led by Ryan Mathews. Young playmakers Keenan Allen and Ladarius Green should get better. Look for San Diego to add another playmaker in the draft, along with a player or two to bolster an aging offensive line.
@PGutierrezESPN @JLK1993 Statistically, Rivers. But what Schaub will do on this Raiders team (stabilize the qb pos.) will be most impactful

— ClayJay (@clayjay31) March 26, 2014
---

What is the dark-horse free-agency move in the AFC West that will have the biggest impact?
Gutierrez: Seems to me that there have been few, if any, dark-horse signings in free agency; they've all been pretty big names, especially among the top three teams. Even the Raiders' signings have been relatively well-known names. Perhaps, then, the most surprising signing that could have an impact in the division is the guy who was thought to be long gone: Oakland running back Darren McFadden. When he's healthy and used to his skill set -- think early 2011, before a Lisfranc injury ended his season -- Run DMC looks like a league MVP candidate. With the zone-blocking scheme all but scrapped in Oakland, McFadden figures to benefit from the change back to a power-blocking mantra. The Raiders re-signed him to a relatively cheap, incentive-laden deal, so that qualifies as a dark-horse move. Whether he has a breakthrough season will determine if the signing is impactful enough to help decide the division.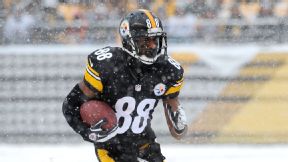 Legwold: LaMarr Woodley will turn 30 in November and Justin Tuck turned 31 on March 29, but if the two have a little something left in the career tanks, then they can have an impact in Dennis Allen's defense with the Raiders. If not, well, then they are the first steps toward some salary-cap dead money when they can't play out their contracts. But overall, Emmanuel Sanders was the Broncos' last big splash in the opening days of free agency, and he's the guy who could make a significant jump in the Broncos offense. One of the league's better receivers in terms of yards after the catch, he is now with a quarterback whose greatest strength is getting the ball to players on short and intermediate routes in the best place to do the most with it. Sanders' 67 catches in 2013 were his career best, but his 11.0 yards per catch from '13 figures to jump with the opportunities he will get in the Broncos offense.
Teicher: This probably doesn't qualify as a dark-horse move, but when Sanders didn't sign with the Chiefs and instead joined the Broncos, it further tipped the balance of power in the division. Sanders would have been a nice fit in Kansas City's offense. His ability to line up in the slot or split wide would have given the Chiefs a fast receiver to use in a variety of ways. The Chiefs, for the time being at least, are without a proven slot receiver after losing Dexter McCluster to free agency. Their best hope at this point for that position is Weston Dressler, who was signed this year after putting up big numbers for several seasons in the CFL. Sanders, meanwhile, appears destined to catch 80 or more passes for better than 1,000 yards and several touchdowns as Eric Decker's replacement in Denver.
Williams: While some league observers consider San Diego signing Brown to a three-year, $10.4 million deal a reach because the team needs more immediate help in other areas, I believe the Chargers made a good decision for a couple of reasons. Brown is a known commodity because of general manager Tom Telesco's familiarity with the University of Connecticut product from their time together in Indianapolis. Brown is a perfect fit in San Diego's offense with his ability to run between the tackles and catch the ball out of the backfield. Brown strengthens something the Chargers already do well: running the football. With Brown, Mathews and Danny Woodhead, San Diego has the most talented running back group in the AFC West.
March, 21, 2014
Mar 21
11:00
AM ET
The
Oakland Raiders
'
pending acquisition
of quarterback
Matt Schaub
makes perfect sense, at least in the context of their clear approach to the offseason: 2014 or bust.
As the chart indicates, Schaub is one of 10 players the Raiders have acquired this month -- via free agency, trade or re-signing -- who will be at least 29 years old during the regular season. After consecutive 4-12 finishes, general manager Reggie McKenzie is hoping for a quick spike in competitiveness to cover for what I can only assume is a longer-term plan to back-fill with younger players.
Schaub
Conventional wisdom discourages NFL teams from collecting veterans to win now, but McKenzie and coach Dennis Allen don't have enough job security to rebuild in a more deliberate manner. The best news is McKenzie has not hamstrung the franchise's future -- or, if you're a cynic, the job of his successor -- with any of these deals. The Raiders can part ways with all 10 of these players after the 2014 season, Schaub included, without paying them another cent and with minimal impact on their future salary-cap structure.
So as long as the Raiders are going all-in on 2014, there is no reason to continue experimenting with
Terrelle Pryor
and
Matt McGloin
, their primary quarterbacks in 2013. This approach cries out for a veteran quarterback, one who presumably can bring a higher minimum standard than an unproven starter. (How is that for an endorsement?!) Schaub's age is actually a plus in this situation -- veterans on the roster are assured of the team's short-term commitment to winning -- and let's not forget that he was a productive NFL starter before an unexpected spiral in 2013.
During his previous six years with the Texans, Schaub was one of the league's most accurate and efficient passers. His completion percentage of 65.1 ranked No. 7 among qualified starters, and he threw almost twice as many touchdowns (114) as interceptions (64) over that period. That ratio (1.78) ranked No. 12 in the NFL.
Perhaps a fresh start will help Schaub move past last season's unquestionable disaster. Regardless, there is no reason to waste time discussing whether he could experience a career renaissance in Oakland or if he could be their starter for the next few years. All that matters is that he is a better option, given their current philosophy, than the players on their roster.
You might blanch at the $11 million salary Schaub's contract calls for, but don't forget the
Raiders' unique position relative to the collective bargaining agreement
: At the start of the week, they needed to commit another $30 million in cash to their 2014 payroll to remain on track for compliance with the league's four-year salary floor. I don't think the Raiders were looking for the most expensive quarterback option they could find, but in this case, his salary provides absolutely no obstacle.
In the end, the Raiders did what they had to do: Find a more credible option at quarterback to carry out their short-term approach. Memories are short, but it wasn't long ago that Matt Schaub was one of the league's more consistent starters. In context, his arrival in Oakland -- at least at this moment -- was an easy call.
.
September, 26, 2013
9/26/13
2:30
PM ET
You've probably heard more than you care to about the causes of football concussions, the NFL's increasingly detailed diagnosis process and its treatment protocol. Independent neurologists are on the sideline during games this season, for instance, and players must be taken to the locker room to undergo tests at any sign of concussion symptoms.
While those steps are helpful and important, there is still ample evidence of the remaining gray area in this issue.
I've covered two games so far in 2013, and in both, an individual has played while concussed. (Or, in one case, played while claiming to have hidden a concussion.)
Pittsburgh Steelers
running back
Isaac Redman
returned to a Sept. 16 game after being cleared of a possible head injury, and
Oakland Raiders
quarterback
Terrelle Pryor
remained in last Monday night's game for two plays after a brutal hit that was later determined to have caused a concussion.
[+] Enlarge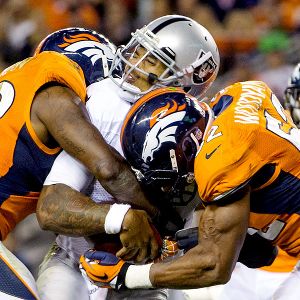 Kent Nishimura/Colorado Springs GazetteTerrelle Pryor played two more snaps after this hit late in the fourth quarter.
Let's walk through both issues and then I'll offer a few thoughts.
Redman was slow to get up on the opening kickoff in Week 2 at Paul Brown Stadium. He was taken to the locker room to be evaluated for a head injury, was cleared and returned to the game. He played 19 snaps, carrying on three of them and also catching two touchdowns, and finished the game.
I was among the reporters who interviewed Redman afterwards after the game. He spoke of being "embarrassed" by the loss to the
Cincinnati Bengals
, among other topics, and never once did I think, "Wow, this guy seems hazy."
This week, however, Redman
told the Pittsburgh Post-Gazette
that he in fact had suffered a concussion and "was pretty much out of it the rest of the game." Asked how he had beat the concussion tests in the locker room, Redman said: "I said I was alright."
In a statement, the Steelers detailed their evaluation process:
"Isaac was taken out of the game, and we announced that he was being evaluated for a concussion. He was then taken through the proper protocol by our medical staff and it was deemed he was cleared to return to action after multiple examinations. He then re-entered the game and saw action shortly thereafter and throughout the rest of the game."
Meanwhile, last Monday night, we all saw Pryor absorb a crushing hit from
Denver Broncos
linebacker
Wesley Woodyard
late in the fourth quarter at Sports Authority Stadium. Pryor remained face down for a moment, and during an ensuing review to determine whether he fumbled, he wandered the field as if trying to collect himself.
Officials determined that the Raiders would maintain possession. Pyror returned to the huddle and threw a third-down pass to receiver
Rod Streater
. As the Raiders huddled for a fourth down play, Pryor turned and looked at the sideline as if he couldn't hear the call. The Raiders called timeout, Pryor walked to the sideline to get the play, and then returned to throw an incomplete pass.
Pryor didn't play again, the next day
he tweeted:
"Sorry about the loss RaiderNation. I don't remember much ! Good hit by whoever it was. I heard our team fought well .. We will be back!"
I'm not looking to assign blame here. Concussions don't always look the same and they descend at different paces. I don't think we want to get to the point where every hard hit leads to a player getting tested in the locker room during a game.
And despite warnings from the league, the NFL Players Association and independent doctors, we should probably expect at least some players to try to play through them. The process is better, no doubt, but it's not perfect and never will be.