Brady-Manning harkens Stabler-Bradshaw
January, 14, 2014
1/14/14
8:00
AM ET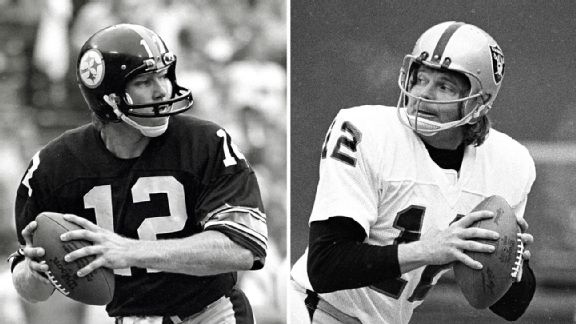 Getty ImagesTerry Bradshaw, left, and Ken Stabler were frequent opponents in the AFC title game.
ALAMEDA, Calif. -- When
Peyton Manning
and
Tom Brady
meet Sunday in the AFC Championship Game, it will be the third time the two future Hall of Famers will meet with a trip to the Super Bowl on the line.
It will also be only the fourth such occasion in which two quarterbacks face off in a conference title game for the third time since the AFL-NFL merger of 1970.
Yes, the
Oakland Raiders
are involved in this unique state of affairs -- even if they have not had a winning season or a playoff berth since the 2002 season.
From 1974 through 1976, the Raiders' Ken Stabler and the Pittsburgh Steelers' Terry Bradshaw faced off in AFC title games, with the Steelers winning the first two en route to their first two Lombardi trophies in Super Bowl IX and Super Bowl X against the
Minnesota Vikings
and
Dallas Cowboys
, respectively. Stabler and the Raiders finally pulled through to get to Super Bowl XI, when they beat the Vikings.
The other times a pair of QBs have met in three conference championship games since 1970?
The Denver Broncos'
John Elway
sweeping the Cleveland Browns'
Bernie Kosar
in 1986, 1987 and 1989 and the Dallas Cowboys'
Troy Aikman
and the San Francisco 49ers'
Steve Young
in 1992, 1993 and 1994, with Aikman winning the first two.
Brady and Manning are tied at a victory apiece against each other in such high-stakes games, with Brady winning in the 2003 season and Manning's
Indianapolis Colts
returning the favor three seasons later.
A brief look, then, at the three times Stabler and Bradshaw met in the AFC title game:
Dec. 29, 1974, Oakland Coliseum
Steelers 24, Raiders 13
The Raiders seemed to peak in their divisional playoff matchup, beating the two-time defending Super Bowl champion
Miami Dolphins
in the Sea of Hands game. Still, the Raiders did take a 10-3 lead into the fourth quarter.
But Pittsburgh's rushing attack simply wore Oakland down late (Franco Harris ran for 111 yards and Rocky Bleier added 98 yards) as the Steelers scored three fourth-quarter touchdowns to pull away.
Stabler completed 19 of 36 passes for 231 yards and a touchdown, a 38-yard score to Cliff Branch, but he was also picked off three times, twice by Jack Ham and once by J.T. Thomas, while Bradshaw was just 8-for-17 for 95 yards with a TD and an interception, by Nemiah Wilson.
Jan. 4, 1976, Three Rivers Stadium
Steelers 16, Raiders, 10
Oakland never led and the Raiders were slipping and sliding the entire game as, they contended, the artificial turf field was watered down and, thus, frozen only outside of the hashmarks, which negatively affected the Raiders more than the Steelers. The thinking being that the Raiders more than the Steelers utilized the vertical passing game down the sidelines with the speedy Branch, who was, with the ice on the field, not so speedy.
Not that it mattered much, but Stabler again outdueled Bradshaw in the personal stats, throwing for 246 yards on 18 of 42 passing with a TD, a 14-yard strike to Mike Siani, but two INTs, both by Mike Wagner. Bradshaw was 15-of-25 for 215 yards with a TD and three picks, two by Jack Tatum and one by Monte Johnson.
"When we lost to the Steelers in '75, I just couldn't believe it," Raiders linebacker Phil Villapiano told NFL Network. "I actually started getting a little spooked."
And why not? After all, between 1968 and 1975, the Raiders had played in six AFL/AFC title games and lost all six -- to the team that would eventually go on to win the Super Bowl.
Dec. 26, 1976, Oakland Coliseum
Raiders 24, Steelers 7
The two-time defending champion Steelers were without running backs Franco Harris and Rocky Bleier, both of whom had been injured the week before in Pittsburgh's playoff victory at the Baltimore Colts.
"Woulda, shoulda, coulda," Stabler said in that same NFL Network special on the 1976 Raiders team. "Take the guys that you've got and go win. The games that we lost [to the Steelers], we didn't have any excuses. I mean, they beat us. They beat the devil out of us. Dance with the girl that you brought."
Said Villapiano: "I wanted Franco and I wanted Rocky. I wanted everybody. I wanted the coach [Chuck Noll] to suit up. I wanted to get them all.
"All of a sudden Mr. Big Shot Frenchy Fuqua was not good enough for them anymore. He was good enough when Jack Tatum nailed him and the ball bounced over to Franco [for the Immaculate Reception four years earlier]. But now he wasn't good enough. They had their people, and we stuck it to them."
Indeed, Oakland never trailed and its defense limited Pittsburgh to a mere 72 yards rushing while the Raiders pounded out 157 yards on the ground. Ironically, Bradshaw threw for 176 yards on 14 of 35 passing, though he was picked off by Willie Hall.
Stabler, meanwhile, passed for just 88 yards on 10 of 16 attempts, but threw a pair of TDs, a 4-yarder to Warren Bankston and a 5-yarder to Pete Banaszak, and was not intercepted.
The Raiders also sacked Bradshaw three times.
"I wish that game could have gone on for 17 quarters," said Villapiano, who had a sack. "The Steelers got what they deserved; they got a nice butt-kicking that afternoon."