Oakland Raiders:

2013 Week 11 OAK at HOU
November, 17, 2013
11/17/13
8:57
PM ET
HOUSTON -- Stop me if you've heard this before ...
The
Oakland Raiders
are clinging to a five-point lead against the
Houston Texans
, who are inside the 10-yard line with less than 80 seconds to play.
Two years ago, and on the day after Al Davis passed away,
Michael Huff
stepped in front of
Matt Schaub
's game-winning attempt to
Jacoby Jones
in the end zone on second-and-goal from the 5-yard line with only 10 players on the field. Huff's interception sealed the win and unleashed a torrent of emotions with six seconds left.
This time, with the Texans facing a 4
th
-and-2 from the Raiders' 3-yard line, they were called for a false start and moved back to the eight, before
Usama Young
knocked away Schaub's game-winning attempt to
Andre Johnson
in the back of the end zone. There were 70 seconds to go.
Raiders 28, Texans 23.
Déjà vu, much?
"The ghost of Al Davis is still around," former Raiders coach Tom Flores said on the radio broadcast.
Well, maybe … that and the Raiders defense stepping up when needed most.
"I was proud of us finishing in the second half," said defensive end
Lamarr Houston
, who had three tackles with a sack, his team-leading fifth.
The Raiders had leads of 14-0, and let it slip into a 17-14 deficit, before jumping ahead 28-17, and having to hold on at the end.
"One of the big things we did a good job on was just mixing it up," said middle linebacker
Nick Roach
, who had his first career interception. "We would bring some pressure, then we would be in coverage. It was really a mix of both.
"It's huge because that has been our thing all year -- not being able to finish is what we're trying to overcome."
Even with Schaub replacing
Case Keenum
late in the third quarter.
"At that point, we were doing what we were going to do," said free safety
Charles Woodson
, who forced a fumble. "I don't think we anticipated that happening, but we just tried to keep the ball in front of us. We had that lead and we wanted to protect it."
And just like on Oct. 9, 2011, in the same end zone, the Raiders accomplished it.
November, 17, 2013
11/17/13
7:51
PM ET
HOUSTON --
Oakland Raiders
owner Mark Davis has a game he likes to play with the likes of old pals George Atkinson and Willie Brown.
It's more of a pool, really, because when the gaggle of nameless, faceless undrafted rookie free agents flood training camp in Napa, the trio surveys the scene of 90 players. The goal? To guess which nameless, faceless undrafted rookie will make the initial 53-man roster.
For seven straight years, Davis beat Atkinson, Brown and others. Then, this year, he had an inkling about the "camp arm" brought in from Penn State, despite the presence of several more high-profile undrafted free agents.
Yes, Davis chose
Matt McGloin
and won the pool for an eighth straight year. And McGloin, with the help of the Raiders defense, gave Davis something even more valuable and satisfying in
his first NFL start
-- a
28-23 victory
against the
Houston Texans
.
"This is what happens when preparation meets opportunity," said McGloin, who was pressed into action with
Terrelle Pryor
nursing a sprained right knee, as well as a cold, back in Oakland.
[+] Enlarge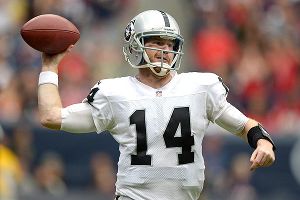 Kirby Lee/USA TODAY SportsRaiders QB Matt McGloin said he's determined not to repeat the same mistakes he made in a loss to Dallas last week.
"I've been prepared for a while now to get in there. My team really supported me. That's one of the big reasons why I prepared as hard as I could this week and gave everything I had."
The individual payoff in becoming the first undrafted player to start under center for the Raiders since Larry Lawrence in 1975: a 105.9 QB rating on 18 of 32 passing for 197 yards and three touchdowns.
In fact, McGloin became the first undrafted rookie QB to throw three TDs in a game since
Erik Kramer
did it for the
Atlanta Falcons
in 1987.
"You know what? Some of these guys just have it," Raiders coach Dennis Allen said of McGloin. "You know what I mean? Some of them just, there's something deep down inside of them, that they don't pay any attention to the fact that people say they can't do it.
"As far as playing the quarterback position, he throws the ball with timing, he throws the ball with accuracy, he's really smart. Obviously, again, not everything was perfect. He made mistakes in the game but overall, I was really pleased with the way he went in there and played."
It would be trite to bring up the Happy Valley-sized chip on McGloin's shoulder, to mention how he had to walk on to the Nittany Lions and became the nation's top walk-on player. But to not do it would be to lessen his effect and story.
It's one that began on a lark, really. The Raiders, having jettisoned
Carson Palmer
and acquired
Matt Flynn
while using a fourth-round draft pick on
Tyler Wilson
to join Pryor, simply wanted another arm for camp.
Allen said he and his staff were "really not expecting a whole lot" from McGloin.
And then?
"There was not one question in our mind by the end of the workout, really, by about the third throw that was the guy we wanted to sign. He's continued to do that since he's been here.
"It's not shocking that he was able to come in here and play as well as he did."
Least of all to the confident McGloin himself, or his teammates.
"In my eyes," observed safety
Charles Woodson
, "he played flawless. He played flawless football, especially for this being his first start in the National Football League."
McGloin began the game by completing seven of his first 11 passes, with drops by
Marcel Reece
,
Jacoby Ford
and
Rod Streater
.
But McGloin's first pass as a starter in the league was a five-yard touchdown to
Denarius Moore
.
"He just comes in and steps in as a leader," said Moore, who caught two of the six passes thrown his way. "It was his first start, but he acted like he has been in the league for three years."
McGloin threw passes to seven different targets on the day and truly, it appeared as though the pass catchers were having trouble with the velocity on his ball early.
He was the last player in the locker room, after doing an on-field television interview, and the scene awaiting him was that of a conquering hero as he received tons of atta-boy's and a game ball.
"It doesn't get better than that," McGloin said. "You see your team there after a tough victory. There's so much more to it than you see each and every day, what goes into it, than just going into one game – the preparation, the hard work throughout the course of the week, and the discussions. That feeling you get in the locker room seeing those guys, I think that's something that we have to remember each and every game."
Or before you make you pick in the training camp rookie undrafted free agent pool.
November, 17, 2013
11/17/13
6:15
PM ET
HOUSTON -- Observed in the locker room after the
Oakland Raiders
'
28-23 win
over the
Houston Texans
.
A house of redemption?
Two years ago, the Raiders' locker room was filled with tears after Oakland's last-second win the day after Al Davis' death. This time, it was the scene of a raucous celebration. Undrafted rookie
Matt McGloin
was the last one in the locker room, and he was greeted with salutes, cheers and
a game ball
.
Jennings
Holding court:
McGloin had already spoken at the lectern in a side room, so who better to command the attention of the media than his former college teammate, center
Stefen Wisniewski
? Li'l Wiz waxed poetic about the former walk-on's tenacity.
Oh we, oh we, oh:
Rashad Jennings
, fresh from his 80-yard touchdown run and career-high 150 rushing yards, rocked the suit of the year, a crushed velvet-esque purple (rain?) number. Or, as @SalSilva2 wondered, did he "raid morris day's closet?"
What is bliss?
Linebacker
Kevin Burnett
was the last one to conduct an interview and was expansive at times, unaware at others, like when he said he did not remember his key fourth-quarter tackle. Or when he did not know about the Al Davis game two years ago.
November, 17, 2013
11/17/13
4:37
PM ET
HOUSTON -- A few thoughts on the
Oakland Raiders
'
28-23 victory
against the
Houston Texans
:
What it means
: Despite a beat-up offensive line, a dearth of third-down conversions and blowing a 14-0 lead, the Raiders' defense came up with just enough to win their first road game since October 2012, ending an eight-game road losing streak. A solid performance from undrafted rookie quarterback
Matt McGloin
sparked the Raiders early and, just like two years ago, the day after Al Davis' death, Oakland had to withstand a final play in the end zone to hold on.
Usama Young
, meet
Michael Huff
.
Stock watch
: Rising -- McGloin. His first pass as a starting NFL quarterback went for a touchdown. And he showed tremendous grit throughout, even if, early on, Raiders receivers seemed to have trouble with the velocity on his passes. He finished 18-of-32 for 197 yards -- he was seven-for-his-first-11 with three drops. McGloin, the first undrafted rookie quarterback to start a game for the Raiders since Larry Lawrence in 1975, became the first undrafted rookie quarterback to throw three touchdowns since
Erik Kramer
in 1987. McGloin, the 17th different Raiders starting quarterback since 2003, joined
Bruce Gradkowski
and
Daunte Culpepper
as Oakland quarterbacks to win their first start. What happens if/when
Terrelle Pryor
is healthy?
Jennings to the house
: Who said
Rashad Jennings
was not a home run threat like the perpetually injured
Darren McFadden
? For one play, at least, he was. Jennings put on a show with his 80-yard touchdown burst out of the Wildcat formation, faking the handoff to
Jacoby Ford
before running over Texans safety
D.J. Swearinger
en route to his career-long run. A week after rushing for 88 yards on 20 carries, Jennings had a career-high 150 yards on 22 attempts.
Another costly miss:
With longtime running mate
Shane Lechler
watching from the other sideline,
Sebastian Janikowski
missed a 54-yard field goal in the third quarter, the ball hitting the left upright. It was his fifth miss of the season, with all five coming from the left hashmark.
What's next
: The Raiders (4-6) host the
Tennessee Titans
(4-6) in Oakland's lone home game in a five-week stretch. The Raiders have not beaten the Titans since 2005, Tennessee winning in 2007 and 2010. It will be the Titans' first visit to Oakland since 2004, when the Raiders won 40-35.