Oakland Raiders:

2013 Week 15 KC at OAK
December, 15, 2013
12/15/13
11:15
PM ET
OAKLAND -- Just in case you were wondering,
Matt McGloin
will indeed start at quarterback for the
Oakland Raiders
next week against the
San Diego Chargers
.
At least, that's what coach Dennis Allen said after the Raiders were blown out by the
Kansas City Chiefs
, 56-31, on Sunday and McGloin had a passer rating of 57.1 after throwing four interceptions and losing a fumble.
"Yeah," Allen said, almost incredulously when asked if McGloin would start.
Still, it was a valid question after
McGloin regressed in the game
with every interception and
Terrelle Pryor
, who purportedly lost his starting job to injury, is now healthy.
Then again, it's a long week before the Raiders hit San Diego and much can change before then, right?
Pryor, who made a pair of mid-series appearances in the game before mopping up, was not available in the postgame locker room. McGloin, meanwhile, said he was stunned by the amount of turnovers -- besides his five, the Raiders had two others -- Oakland had against the Chiefs.
"I'm at a loss for words for it," he said. "It's disappointing. It's frustrating. But at the same time, we were still in the game. It was 35-31 at one point still, even with all the turnovers that we had."
Technically, the Raiders had
just
five turnovers when it was 35-31.
But McGloin's four picks and lost fumble cost the Raiders dearly as his turnovers resulted in 28 points for the Chiefs.
He did not look as settled while dropping back as he did earlier in the season and, again, began to drift in the pocket. When he's excelled, he's been decisive and the ball has come out almost from the moment his back foot hit the grass.
It's almost as if he makes worse decision and throws poorer passes when he has time.
"I think that's what happens a lot of times," Allen said. "When you throw the ball late across the middle, those things can happen. Again, there's no excuses. We can't turn the ball over like that, but he is a young player.
"He's got to go through those growing pains and that learning process. It's tough. It's tough on all of us, but that's part of what we've got to do."
Allen would not endure such hardships with a quarterback he did not believe in, right? Just ask Pryor. Or imagine asking Pryor.
For the game, McGloin showed shades of Marc Wilson and
Jay Schroeder
, QBs from Raiders past who would infuriate the Raiders fan base with their maddening brand of inconsistency.
McGloin finished with 297 yards on 18 of 36 passing and two TDs with his five turnovers.
"I'm trying to win games right now," he said, "and I know that's the mindset of everybody else. It's not looking forward to the future, or looking forward to next season and just play this out.
"In this game, in this profession, that's all you can focus on is the next one."
As in next week, apparently.
December, 15, 2013
12/15/13
10:19
PM ET
OAKLAND, Calif. -- Dennis Allen and his four-year contract to coach the
Oakland Raiders
were
seemingly
safe heading into Sunday's home game against the
Kansas City Chiefs
.
Especially if the importance of continuity, in the face of so much upheaval since 2003, was to be taken at face value. Let alone owner Mark Davis' admission to the Bay Area News Group this week that he understood the need to perform a "deconstruction" of the Raiders before overseeing a "reconstruction" of his team.
[+] Enlarge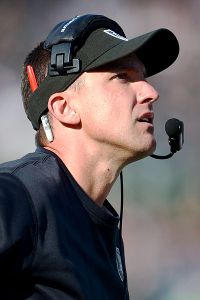 Kirby Lee/USA TODAY SportsDennis Allen's Raiders gave up 56 points in the loss to the Chiefs.
But Davis has also said he wanted to see progress this season.
And what the Raiders put on the field against the Chiefs was anything but progress. It was the kind of effort that could send Allen packing … especially if the Raiders follow up this 56-31 blowout loss with two more similar efforts against the
San Diego Chargers
and
Denver Broncos
to end the season.
The 56 points the Raiders surrendered, thanks in large part to seven turnovers and a leaky defense, were a franchise record, eclipsing the 55 points Oakland had given up to the
Baltimore Ravens
last season, the Chargers in 1981 and the Houston Oilers in 1961.
Allen and the Raiders have lost four straight games and six of their last seven to fall to 4-10. Indeed, according to Associated Press, the Raiders have now given up at least 49 points in two of their last three home games after doing it three times in their first 406 home games, dating to 1960.
Yes, they've looked just as disturbing as it reads.
"The hardest part is, the last few weeks we've looked like what everybody said we'd look like,"
Charles Woodson
said. "That's probably the most disappointing part about it, just because we've shown flashes this year of being a pretty good team and we've just dropped the ball the past few weeks and really just not played good football, good sound football, taking care of your responsibilities and games have gotten away from us."
Acting like they've never seen a screen pass before definitely hurt as
Jamaal Charles
took three for scores from 49, 39 and 16 yards for touchdowns.
Matt McGloin
playing like the second coming of Marc Wilson or Jay Schroeder in showing flashes of brilliance but also throwing four interceptions -- each worse than the one before -- and losing a fumble on a low snap in the shotgun made matters worse.
Allen's head-scratching subbing of
Terrelle Pryor
for McGloin in the middle of a series, and then going back to McGloin in the same possession, seemed reminiscent of Lane Kiffin attempting a 76-yard field goal while wearing white jerseys at home, if you catch my drift. Then it actually resulted in a touchdown.
And yet, the microcosm of this losing skid reached critical mass after the Raiders, who trailed by scores of 21-3 and 35-10, climbed back to within 35-31 late in the third quarter.
That's when Charles broke off a 71-yard catch-and-run TD two plays later and then
Taiwan Jones
fumbled the ensuing kickoff . Four plays after that, and with
Sean McGrath
catching a 6-yard touchdown pass from
Alex Smith
, the score was suddenly 49-31.
"It's a small margin between being good and being bad," said Raiders middle linebacker
Nick Roach
.
Or, a number of plays.
"It's deflating," Allen said of the sudden turn of events.
"We've got to play better and I've got to do a better job of getting them ready to play. We'll do that. We'll be back. We'll get ready for San Diego. Listen, that's what your options are."
There
should
be security in that sentiment. Unless there's not.
December, 15, 2013
12/15/13
7:27
PM ET
OAKLAND, Calif. -- A few thoughts on the
Oakland Raiders
' 56-31
loss
to the
Kansas City Chiefs
:
What it means
: This is the type of game that could cost coach Dennis Allen his job. The Raiders surrendered the most points in franchise history -- they gave up 55 to the
Baltimore Ravens
last season, the
San Diego Chargers
in 1981 and the Houston Oilers in 1961 -- and looked horrendous doing it.
Matt McGloin
was a turnover machine early and late, the defense was a sieve early and late, and to think, the Raiders were actually within 35-31 midway through the third quarter. Allen talked about progress this week; this was total regression.

Stock watch
: Falling -- McGloin. Playing like a bad fever dream featuring the worst of Marc Wilson and Jay Schroeder, McGloin committed five turnovers -- four interceptions, with a pick-six and a fumble -- yet showed flashes of promise ... at times. He was poked in the eye late in the game before throwing his last pick and was replaced by
Terrelle Pryor
.
QB shuffle
: Before coming in for mop-up duty, Pryor appeared in the middle of two series, once for one play. The second time seemed especially disconcerting, considering Pryor replaced McGloin when McGloin had established a rhythm. The drive ended with a McGloin -- yes, he replaced Pryor in the series -- TD pass, so it worked … somewhat.
Someone tackle Charles:
Jamaal Charles
caught eight passes for 195 yards and four touchdowns and carried the ball eight more times for 20 yards and another score, equaling a Chiefs franchise record with five TDs. He was particularly effective on third-down screen passes. As former Raiders coach Tom Flores said on the radio broadcast, "That's just poor defense, either by design or play. They're going to run a screen, what do you think?"
What's next
: The Raiders (4-10) close out the road portion of their schedule by traveling to take on the San Diego Chargers (7-7). Oakland, with Pryor under center, defeated the Chargers, 27-17, in a late-night game at the O.co Coliseum on Oct. 6 as Pryor completed 18 of 23 passes for 221 yards and two touchdowns. With McGloin's struggles, it would not be surprising to see Pryor start against the Chargers.