Oakland Raiders:

Alex Smith
March, 25, 2014
Mar 25
4:45
PM ET
So, you already knew that the recently acquired
Matt Schaub
was earmarked to be the
Oakland Raiders
' starting quarterback this season. And while neither
Terrelle Pryor
nor his fans should be happy about that development, what coach Dennis Allen told reporters Tuesday will perk up more than a few ears.
Schaub
"We have a quarterback now," Allen said at the NFL owners meetings, per the Bay Area News Group, "that's on par with the quarterbacks in the division."
Got it?
Schaub = Kansas City's
Alex Smith
. Sure.
Schaub = San Diego's
Philip Rivers
. Meh.
Schaub = Denver's
Peyton Manning
. Um ...
If nothing else, Allen is a glass-half-full kind of guy. He has to be. After consecutive 4-12 seasons in which his teams folded spectacularly down the stretch both times, Allen knows this is a make-or-break type of year in which the Raiders need to show improvement.
And for the purposes of this discussion, it all begins under center ... with a new quarterback who is a two-time Pro Bowler coming off a nightmarish season. So what kind of quarterback does Allen prefer, exactly?
"Guys that can move the team down the field, guys who can put points on the board," Allen said. "I think there's certain qualities you look at in the quarterbacks that have been able to be successful over the years. I'm talking about guys like
Drew Brees
, who I was with [in New Orleans]. I'm talking about guys like Peyton Manning. I'm talking about guys like
Tom Brady
. Guys [whose] work ethic is unmatched; they're the first ones in the building, they're the last one to leave.
"They have the ability to process information quickly and they can throw the ball with timing and accuracy. And those are the things you have to be able to do to play the quarterback position."
And water is wet.
Of course, that's the goal of every team -- to find a franchise quarterback. It's been a tortuous journey for the Raiders the past three years as they've used first- and second-round picks (
Carson Palmer
), a third-round supplemental pick (Pryor), a fourth-round pick (
Tyler Wilson
) a fifth-round pick (
Matt Flynn
) and now a sixth-rounder (Schaub) in their search for a savior.
The new regime of Allen and general manager Reggie McKenzie is responsible for the last three on the list.
"It's pretty obvious that we feel good about Matt Schaub as our starting quarterback," Allen said. "We feel comfortable with
Matt McGloin
as a back up. But we'll see what happens in the next few days, next couple weeks.
"Everybody has down seasons. Everybody has down years. It's not a shame to get knocked down; it's a shame to not get back up. [Schaub] is a guy that's been a two-time Pro Bowl player, he's been a top 10 quarterback in the National Football League over the last five years and we believe, and he believes, that he's still that. And I don't think that changes overnight, I really don't."
Schaub had a career-worst total quarterback rating of 43.65 last season, losing his starting job midway through the season and throwing 14 interceptions, including a stretch of four straight games with a pick-6, with 10 touchdowns and a 61.1 completion percentage rate.
"Do I think he's going to have a little bit of a chip on his shoulder? Yeah, I really do," Allen said. "I think there's going to be a little bit of added incentive for him to kind of prove what he can do? Yeah, I think there will be, and I think that's a good thing."
December, 13, 2013
12/13/13
10:00
AM ET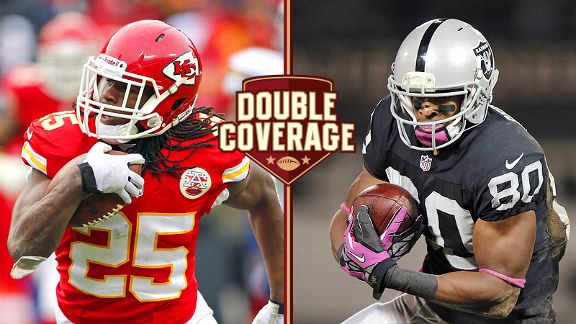 Getty ImagesJamaal Charles, left, and the Chiefs hope to avoid an upset against Rod Streater and the Raiders.
ALAMEDA, Calif. -- The last time the
Oakland Raiders
and
Kansas City Chiefs
met,
Terrelle Pryor
was under center for the Raiders and his legs did the running quarterback little good as he was sacked nine times in a 24-7 Chiefs victory at Arrowhead Stadium on Oct. 13, a game in which Oakland held a 7-0 lead in the second quarter and trailed by only a 14-7 count late in the fourth quarter.
Matt McGloin
, who is more of a pocket passer, is now the Raiders quarterback, and he has received a baptism by fire in going 1-3 for Oakland (4-9).
The Chiefs (10-3), meanwhile, ended a three-game losing streak last week by thumping Washington 45-10 and have their eyes set on a playoff berth, which they can clinch by beating the Raiders and/or getting some help elsewhere.
Chiefs reporter Adam Teicher and Raiders reporter Paul Gutierrez break down the upcoming matchup at the O.co Coliseum.
Gutierrez:
Hey Adam, the Raiders are looking desperately at every angle to win a football game and end a three-game losing streak. Though they hung with the Chiefs in Kansas City for more than a half earlier this season, many are wondering if the Chiefs could sit a few starters this weekend, especially since that playoff spot will have been clinched before kickoff in Oakland if the
Miami Dolphins
lose earlier in the day against the
New England Patriots
. Do you envision that possibly happening, or is Game 14 too soon for coach Andy Reid and Co. to start thinking that way?
Teicher:
Reid hasn't tipped his hand on this, but it's difficult to picture him backing off this early, or at least until they no longer can win the AFC West championship. And no matter what happens, the Chiefs can't be eliminated from winning the division title before Sunday's kickoff. As it looks, the Chiefs will have plenty of time over the final two games to provide rest to some of their key players. If this is any clue, the Chiefs had a 38-10 lead late in the third quarter last week against Washington, but all of their key players, including running back
Jamaal Charles
and quarterback
Alex Smith
, were still in the lineup. So I would expect that on Sunday, the Chiefs will do what they feel they have to do to win this game.
McGloin will start against the Chiefs for the first time. Give us a little scouting report with the things he has and hasn't done well, and what he might be capable of that could give an aggressive defense like Kansas City's some trouble.
Gutierrez:
McGloin is the anti-Pryor -- that is, he is the prototypical pocket passer who is most comfortable running a West Coast offense, even if he is a little on the short end at 6-foot in his cleats. His biggest backers compare the undrafted rookie to a poor man's
Drew Brees
. Pretty heady stuff. Still, what the Raiders lose in athleticism in going from Pryor to McGloin they gain in pocket presence. McGloin learns from his mistakes quickly, and his coaches say he rarely, if ever, makes the same mistake twice. He has made a few, though: a jump ball in the end zone to the 5-9
Jacoby Ford
that was picked off on Thanksgiving in Dallas, trying to force a pass deep in his own territory that was picked off by the New York Jets'
Ed Reed
. Where he might be able to give the Chiefs' aggressive defense fits is his ability to stay in the pocket until the last possible moment, take the hit and still get the ball off, as he did for a 27-yard go-ahead touchdown pass against the
Tennessee Titans
.
Against Pryor, the Chiefs had nine sacks. But they had only two total in their previous five games before getting Washington's quarterbacks six times this past weekend. Was it merely a matter of flipping the switch for the Chiefs' pass rush?
Teicher:
It was a combination of things, really. The main thing is that they got a big lead early and were able to get after
Robert Griffin III
and
Kirk Cousins
without having to truly honor Washington's running game. They were able to make the Redskins one-dimensional that way. Another factor is that the Redskins are a mess. I think a lot of teams are capable of making their pass protection look bad. Also, I think the Chiefs were due. While their pass rush isn't as good as it looked in the last game against the Raiders or in many of the other early season games, it is too good to go long stretches without getting a sack. Opposing quarterbacks had changed their game to get rid of the ball quickly against the Chiefs. Washington's quarterbacks didn't use that strategy much.
The Chiefs allow some big pass plays every week because of the aggressive style they play.
Denarius Moore
was Oakland's deep threat the last time these teams met. Is he healthy enough to play this week and, whether he is or not, do the Raiders have any other big-play receivers who can give the Chiefs something to worry about?
Gutierrez:
Moore has not played since Nov. 17, but he did practice Wednesday for the first time since injuring a shoulder in Houston. And, perhaps coincidentally, that was the last time the Raiders won a game. When healthy, he is definitely their most electric playmaker, but Oakland might have found something in a couple of undrafted guys --
Andre Holmes
, who lit up the
Dallas Cowboys
for seven catches and 136 yards on Thanksgiving, and
Rod Streater
, who is 213 yards away from becoming the first Raiders receiver to turn in a 1,000-yard season since Randy Moss in 2005. They are both much larger targets than Moore, but not as fast or explosive.
Despite finishing with the league's worst record last season at 2-14, the Chiefs still had six Pro Bowlers, so the talent was obviously there. And with the 9-0 start this season, it seems obvious the biggest change was in coaching. But at the risk of offending Smith, is it really that simplistic?
Teicher:
With the exception of general manager, coaching staff and quarterback, the Chiefs aren't much different in key spots than they were last season, when they finished 2-14. So most of the credit for their turnaround has to go to GM John Dorsey, Reid and Smith. Dorsey's best offseason moves came through free agency, when the Chiefs added productive role players like tight end
Anthony Fasano
, defensive end
Mike DeVito
and cornerback
Sean Smith
. Reid has done a nice job with the X's and O's, but perhaps his best move was to turn around a rotten, losing culture and get everyone within the organization to fall in behind him. Alex Smith has picked up his game of late. He's going down the field more with the ball, and the passing game has perked up. He has been solid enough not to ruin a good thing for the Chiefs. Smith has committed just six turnovers this season.
Matt Cassel
and
Brady Quinn
combined to turn it over 27 times last season.
The Chiefs had one of their worst offensive games of the season against Oakland the last time. Since then, the Raiders have been allowing a lot of yards and a lot of points. Is there an easy explanation for what has happened to their defense?
Gutierrez:
An easy explanation? Sure, the defense is simply worn down ... and a lack of depth behind the starting 11 has made the drop off all the more stunning. Especially in the past three games. Against the Tennessee Titans, the Raiders' defense allowed an 80-yard drive in six minutes that culminated with a 10-yard touchdown pass on third-and-goal with 10 seconds remaining to give the Titans a 23-19 victory. On Thanksgiving Day, the Raiders blew a 21-7 first-half lead in Dallas, and last week against the Jets, they "peed down" their legs, per the loquacious
Charles Woodson
, in forcing only two punts all day, the last after the game was decided. Then there is this: Over those past three games, the Raiders have allowed those opponents to convert an NFL-worst 54.6 percent of their third downs. If Dennis Allen's seat is warm, it's because the defense -- his purported forte -- has been so bad of late.
.
October, 10, 2013
10/10/13
12:00
PM ET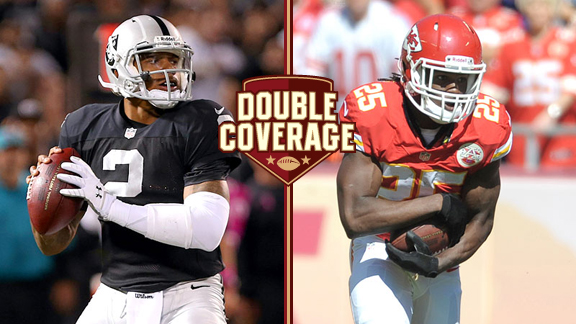 USA TODAY SportsThe Raiders are reborn with Terrelle Pryor under center, but the Chiefs have been flawless this season and are looking to end a six-game home losing streak at the hands of their division rival.
The
Kansas City Chiefs
last beat the
Oakland Raiders
at Arrowhead Stadium on Nov. 19, 2006. The 17-13 victory was secured only in the final moments, when safety
Jarrad Page
intercepted a pass from quarterback
Aaron Brooks
in the end zone.
Since then, the Raiders have won six straight games in Kansas City. The 5-0 Chiefs and 2-3 Raiders have exceeded expectations, which could make for an interesting game Sunday when the teams meet in Kansas City.
Here, ESPN.com Chiefs reporter Adam Teicher and Raiders reporter Paul Gutierrez take a look at the matchup:
Teicher:
It only seems like forever since the Chiefs have beaten the Raiders at Arrowhead Stadium. What chance do you think Oakland has of making it seven in a row?
Gutierrez:
Indeed, the Raiders are riding a six-game winning streak in Kansas City, their longest such streak in this rivalry that stretches back to the dawn of the AFL in 1960. The last time the Chiefs beat Oakland at Arrowhead was on Nov. 19, 2006, when Aaron Brooks, who rocked No. 2, was under center for the Raiders and
Larry Johnson
was busy rushing for 154 yards and two TDs. That 17-13 loss, ahem, helped the Raiders solidify that No. 1 overall draft pick the following spring, a pick that became
JaMarcus Russell
, who also wore No. 2. But I digress. Things have changed in Oakland as far as optimism regarding QBs wearing No. 2, and that's where
Terrelle Pryor
comes in. He was not allowed to wear the number coming out of college but switched back to his old Ohio State digit this year. Al Davis' final draft pick has brought an excitement to a fan base thirsting for it. Pryor can extend plays and if the defense can bottle up
Alex Smith
, I would not be surprised if Oakland made it seven in a row in Middle America.
Speaking of Smith, from the outside looking in it appears as though he should be the toast of the town in leading the Chiefs to that 5-0 record. But have there been rumblings about his being a one-dimensional game manager? Did fans not read the scouting report, or is it all much ado about nothing?
Teicher:
Fans are difficult to please. The Chiefs, to their credit, have tried to play to Smith's strengths by using in large part a shorter passing game. Smith, to his credit, has mostly done what has been asked of him. The Chiefs have opened up their passing game in the past couple of weeks by going downfield more. Smith has thrown only three interceptions and really just one could be pinned on him, so he's not putting the Chiefs in bad situations. The Chiefs trailed in the fourth quarter for the first time this season in last week's game against Tennessee and Smith responded by taking the Chiefs on what proved to be the winning touchdown drive, so he delivered in the clutch in his first try. One area where Smith needs to improve is completion percentage. With so many short throws, he needs to be way better than 58 percent. That's an area of growth for their offense.
Pryor is off to a nice start for the Raiders but has any opponent tried to pressure him like the Chiefs no doubt will? If not, how do you think he responds?
Gutierrez:
The Colts tried to pressure him in the opener, and he responded with 112 yards rushing -- a record for a Raiders quarterback. Granted, much of that came on zone-read option plays, though he was able to take off for long runs on busted coverages when Indy overloaded the pursuit. Truly, his mobility and ability to extend plays has made a makeshift offensive line look pretty solid. Lately, though, teams have been putting a spy on him and his rushing totals have gone down. And really, while the Raiders want him to use his athleticism to make things happen, they don't want him running for his life, either. I'm curious to see how he responds if the Chiefs make it a priority to stop him from rolling out to his right, which is where and how he made a lot of his plays Sunday night, when most of the rest of the country was sleeping. Pryor's play has been surprising, especially to general manager Reggie McKenzie and coach Dennis Allen. The raw talent was there, but how quickly it's come together has been impressive to watch.
Same thing in Kansas City, I suppose. After all, the last-place Chiefs did have six Pro Bowlers a year ago. How has Andy Reid been able to get the Chiefs to buy into his system and philosophy so quickly?
Teicher:
That's been one of the more underrated things he's done. He walked in with instant credibility as the most accomplished head coach almost all of the current players have been under, at least while they were with the Chiefs. That helps. But unlike with several of their other recent head coaches, there's been no whining or complaining about how bare the cupboard was or what a lousy situation he inherited. He just rolled up his sleeves and got to work like a pro does, and I think a lot of players saw that as a refreshing change. Players recognized they had a lot of talent here that was just waiting for some competent direction. They were receptive when they received it.
Looking at Oakland defensively, I can't figure out how the Raiders don't allow more points. I know they do a very good job against the run, but the Raiders haven't forced a high number of turnovers and opposing quarterbacks are completing a high percentage of throws with a high passer rating. How do you explain the way Oakland is playing defensively, and who are some of the defenders playing well?
Gutierrez:
It's the epitome of the bend-but-don't-break philosophy ... and being patient. True, entering Week 5, the Raiders had yet to have an interception. But then they picked off
Philip Rivers
three times. Four of his completions of at least 16 yards came in the fourth quarter, when the Raiders led by 10 and were in a prevent defense. Just don't call it that to the Raiders. Dennis Allen prefers "situational" defense. Hence, a lot of Rivers' completions and yardage came in what the layman would call "garbage time." Individually,
Charles Woodson
has been more than the Raiders could have hoped for when they signed him -- he's been their best overall player. Against the Chargers, he had an interception and a fumble scoop and 25-yard run for a TD.
Lamarr Houston
has made the transition nicely from left defensive end to the right side. He leads Oakland with three of its 13 sacks.
Nick Roach
has been solid at middle linebacker, a far cry from the bust that was
Rolando McClain
. Even rookie cornerback
D.J. Hayden
flashed Sunday night, picking off Rivers in the end zone after a rough go of it against
Keenan Allen
. Observers were wondering when Hayden -- the No. 12 overall draft pick the Raiders loved so much they would have taken him third had they not been able to trade down -- was going to make an impact play.
Small sample size, obviously, but does the Chiefs' top pick, the No. 1 overall,
Eric Fisher
have the look of an impact, i.e., cornerstone offensive tackle, even as he missed last week's game with that concussion and is playing on the right side rather than the left? I know the Raiders were enthralled with him after coaching him at the Senior Bowl.
Teicher:
He's off to a rough start. Fisher has been so bad at times that the Chiefs should have at least considered replacing him. He was playing his best game of the season two weeks ago against the Giants when he left the lineup because of a concussion. The Chiefs are still confident Fisher will become the player they envisioned when they drafted him. It's just taking some time. Opponents have been able to get Fisher off balance and use leverage against him, so his technique needs to be refined. He also needs more strength than a full offseason in the Chiefs' weight room would provide.
.
September, 11, 2013
9/11/13
9:00
AM ET
A weekly analysis of the Oakland Raiders' quarterback play.
Pryor
Rewind:
Terrelle Pryor
termed his play "awful." His coach would not go that far. And, really, Pryor was closer to revelation than reclamation in the Raiders' 21-17 defeat at Indianapolis. He said the loss was on him, after throwing two red-zone interceptions and taking a costly sack. But were it not for his play-making skill set, Oakland would not have had a chance to win at all. And with his 112 yards on the ground, Pryor leads the AFC in rushing.
Fast-forward:
The knock on Pryor was his downfield passing, as he completed just one of seven attempts of at least 20 yards. Might visiting Jacksonville provide a tonic, especially with first-year Raiders offensive coordinator Greg Olson having worked with the Jaguars last season? The Jags gave up but 173 yards through the air to Kansas City's
Alex Smith
on Sunday, on 21 completions, so he averaged just 8.2 yards per. Pryor averaged 11.4 yards per completion against the Colts. Expect Olson to call more short passing plays, at least early, to get Pryor comfortable. Pryor can always take off and run if he doesn't like what he sees.
Reading the zone read:
Speaking of taking off, Pryor did just that every time the zone read was called against Indianapolis. According to ESPN Stats & Information, Pryor kept the ball on all five of the Raiders' zone-read option calls, gaining 33 of his 112 rushing yards that way.
Prediction:
The Jaguars, like the Colts, reside in the AFC South, meaning that there's not a lot of familiarity there with running QBs and the zone-read option. So the play should be there for Pryor on Sunday. Expect Olson to use it, and the threat of
Darren McFadden
breaking a long run, to set up the play-action for deeper Pryor throws later in the game.