Oakland Raiders:

Andrew Luck
September, 10, 2013
9/10/13
12:45
PM ET
A weekly examination of the Raiders' ESPN.com Power Ranking:
Preseason
: 29 |
Last Week
:: 31 |
ESPN.com Power Ranking since 2002

A feel-good defeat in Indianapolis was just that for the Raiders -- a loss. To a man, the players said there is no such thing as a moral victory. And as such, there was no movement in Oakland's standing in these rankings.
Still, there is hope after the manner in which
Terrelle Pryor
moved the offense -- he is, after all, the NFL's No. 2-ranked rusher after Week 1 with 112 yards, and he passed for 217 more but had two costly red zone interceptions -- and the way the defense shut down
Andrew Luck
in the middle of the game.
However, there were lengthy TD drives of 89, 69 and 80 yards that the Raiders allowed the Colts. The key for the Raiders, then, is to learn and grow from the experience, especially with the No. 32 Jaguars coming to town next for Oakland's home opener.
September, 8, 2013
9/08/13
6:32
PM ET
INDIANAPOLIS --
Terrelle Pryor
's self-assessment of his play in the Raiders'
21-17 loss
to the Colts?
"I did awful, I thought," he said. "Two interceptions. Could have won the game. Had them on the ropes down there.
"I'm disappointed in myself, for one, taking a sack in the red zone. Coach talks to me about that all the time and it's unacceptable. This loss is on me and we'll get better next week."
[+] Enlarge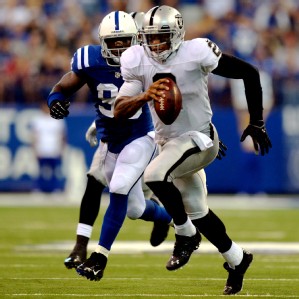 Kirby Lee/USA TODAY SportsTerrelle Pryor rushed for 112 yards and passed for another 217 against the Colts, but "there's still a lot of things that we've got to get cleaned up with him," coach Dennis Allen said.
True, Pryor did have two costly mistakes in the game's final 70-plus seconds, after the Raiders had moved the ball to the Indianapolis 8-yard line. But the quarterback was being much too hard on himself.
Without his ability to extend plays and make things happen with his mobility, the Raiders would not have been in any position to pull the upset. He rushed for a game-high 112 yards, on 13 carries, and threw for 217 yards -- completing 19 of 29 passes including a 5-yard touchdown pass to
Denarius Moore
that gave Oakland a 17-14 lead with 11:09 to play.
Pryor's game was a microcosm of his skill set that can be maddening to both opposing defenses and his own offense.
"He played good football," fullback
Marcel Reece
said. "He played TP football and he gave us a chance to win. That's what we want and that's what we need. He gave us a chance to win."
Pryor became the 25
th
player since the 1970 NFL merger to hit triple digits in both rushing and passing yards and his running total was an Oakland franchise record for a quarterback.
Colts outside linebacker
Robert Mathis
said he ran "about 5.3 miles" chasing Pryor.
"That's what we made adjustments for," Mathis said. "That guy is fast. He definitely showed up to play today. We just had to make one more play."
Said Colts quarterback
Andrew Luck
: "I'll tell you, Terrelle Pryor is a stud. He made some unbelievable plays."
Yes, Raiders coach Dennis Allen proclaimed Pryor the starter and praised his play.
And yet...
"There's still a lot of things that we've got to get cleaned up with him and that's what, anytime you have a young guy, you're going to have to make some corrections," Allen said, "and you're going to have to have some things get cleaned up."
Like the first-quarter interception he threw to
Greg Toler
in the end zone from 32 yards out trying to hit
Rod Streater
.
"It was under-thrown," Allen said.
And the deep ball he under threw to a wide open Reece down the right side in the third quarter.
"We practiced that play a few times," Reece said after a heavy sigh. "We just needed to execute it better; that's just what it comes down to. I've got to make a play."
But the plays that stuck in Pryor's craw?
The 16-yard sack on 1st-and-goal from the 8-yard line when Mathis finally caught him. And, two plays later, his game-sealing interception while trying to find Streater again for a touchdown on third-and-goal from the 24.
Antoine Bethea
picked him off.
"At the end of the day," Pryor said, "I learned a couple of things today, and I can put it in my bag of treats and bring it out for next week and keep learning."
Yeah, the Raiders have something to build on here.
September, 2, 2013
9/02/13
8:00
AM ET
Darrius Heyward-Bey
is one of the poster children for the
Oakland Raiders
' recent woes.
The speedy, but not so sure-handed receiver was the No. 7 overall pick of Raiders in the 2009 NFL draft. But Heyward-Bey, despite having a decent third season with Oakland, never panned out. Oakland, in a salary-cap crisis, dumped Heyward-Bey this winter. He then turned around and signed with the
Indianapolis Colts
-- the very team the Raiders open the 2013 season against on Sunday.
After a somewhat disappointing career thus far, Heyward-Bey has been impressive and has worked his way into being a starter. With
Andrew Luck
as his quarterback, Heyward-Bey could be on the cusp of big things.
This ESPN.com Insider piece suggests

Heyward-Bey could enjoy a career resurgence.
Here is a piece of the article:
In 2012, DHB was graded out as 68th among WRs in drop rate by Pro Football Focus after he caught only 41 of the 77 passes that came his way. As it turns out, though, that wasn't all on him, because only 47 of those 77 passes were classified as catchable, which means he actually only dropped six of 47 passes. This month, Heyward-Bey took part in two preseason games and caught seven of the nine balls targeted for him -- the two he didn't catch were deemed not catchable. In other words, he didn't drop any balls in exhibition action.
It will be interesting to see how Heyward-Bey starts his Colts' career against his former club.