Oakland Raiders:

Antonio Smith
August, 14, 2014
8/14/14
3:15
PM ET
NAPA, Calif. -- Late last season,
Pat Sims
sat at his stall in the
Oakland Raiders
' locker room and seemed resigned that his time with the team was coming to an end.
He was about to play the final game under his one-year deal and while the defensive tackle would play in a career-high 16 games, starting all of them, the workload wore on him, as did a slow start due to injury.
Still, there was that electric game at San Diego on Dec. 22 in which he had 13 tackles, eight solo, with a sack.
[+] Enlarge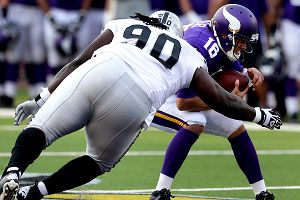 AP Photo/Jim MonePat Sims is excited about the outlook for the upcoming season.
"Hey, man, you can't predict the future," Sims said with a laugh recently. "We started something last year. I just wanted to finish it. We brought some new people in here and they wanted me to be a part of it so I said, 'Why not come back and finish it?'"
The 6-foot-2, 310-pound Sims signed a one-year, $1.45 million contract to return. And he has been a steady presence on the interior, whether at a tackle or on the nose.
"I think it was important to be able to get Pat Sims back," Raiders coach Dennis Allen said. "I thought at times he played really well last year and there were some games that he was dominant in the games.
"I've seen a different demeanor out of Pat Sims this year, maybe a little bit different focus. He's come in and really competed hard and he's playing well for us right now, so we're excited about Pat Sims."
Part of that may be because while Sims enjoyed playing in a career-high number of snaps and games, it was also uncharted territory for him. Yes, he would get gassed. The 693 plays were nearly 150 more than in any of Sims' previous five seasons.
Now? The Raiders have fortified the defense with the likes of
Justin Tuck
,
LaMarr Woodley
and
Antonio Smith
up front while drafting Justin "Jelly" Ellis to play down low -- "Jelly's big, quick, strong, kind of like me, know what I'm saying?" Sims said. "Man, he's going to be a great player ... he ain't quicker than me, though." -- and linebacker
Khalil Mack
-- "Best rookie in the draft," Sims said. "Period." -- to help clean things up.
"It was good, but now I don't have to take all those snaps," Sims said. "We've got depth this year, something we didn't have last year. Some packages last year, we only had a first team and we didn't have anybody to come in after us. It's great to have somebody to come in and give you a breather here and there."
In Tuck and Woodley, the Raiders imported two guys with Super Bowl rings.
"It's a hell of a lot of fun," Sims said, "just the opportunity to play with these guys, knowing what they've accomplished and are trying to accomplish again. It's great."
Plus, there's versatility with the likes of
C.J. Wilson
and
Stacy McGee
, both of whom can also play tackle or end.
And as any defensive player worth his salt would tell you, Sims is of the mind that the play of the defense will tell the team's tale.
"I don't give a care how good the offense is or how bad the offense is, defense is always going to be the identity," he said. "That's our goal. ... If we've got the best defense, it really doesn't matter what kind of offense you have.
"Well, it does but, hey, Baltimore did it."
August, 6, 2014
8/06/14
4:15
PM ET
NAPA, Calif. --
Marcel Reece
was about to be presented with the
Oakland Raiders
"Commitment to Excellence Award" in March and NFL free agency was about to begin.
The two-time Pro Bowl fullback wanted general manager Reggie McKenzie to make "Raider-ass moves" with his signings, fearless moves, though Reece, who has been in Oakland since 2008, was also leery
"I'm not expecting them to come in and set the tone on how to be a Raider; they don't know how to be a Raider," Reece said that evening. "I'm looking forward to setting that tone and whoever comes in that locker room is going to work like us."
[+] Enlarge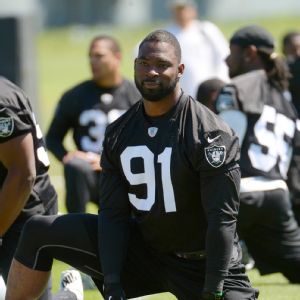 Kirby Lee/USA TODAY SportsJustin Tuck is one of a handful of new Raiders who has been to and won a Super Bowl.
Paging the likes of
Justin Tuck
,
LaMarr Woodley
,
Antonio Smith
,
James Jones
, Maurice Jones-Drew,
Kevin Boothe
and
Donald Penn
, while summoning the acquired-in-a-trade
Matt Schaub
.
Together, the eight tote a combined six Super Bowl rings and 10 Pro Bowl appearances. Yeah, they know how to win.
The likes of Reece,
Darren McFadden
,
Tyvon Branch
and
Jon Condo
, meanwhile, know what it means to represent the Raiders, but they have never experienced a winning season in Oakland.
"In years past, the leadership was not the best," Condo said. "Guys that are coming in…the young guys are looking at them and the vets are showing them, this is how you practice. This is how you study. This is how you prepare your bodies for the 16-game season. The way people go about their business, you see true professionalism on and off the field, doing the right things.
"Not to rag on what's been here in the past, but it just seems like there was just a cycle with how veterans would act and young guys would look at that and think, 'That's what it takes to be a pro.' And it wasn't really the right way to be a pro.
"Now, you bring in the right guys and they are teaching the young guys how to be a pro and they're going to carry it on three, four, five, six seven, eight, 10 years … to the draft classes."
According to Tuck, there has been no push back from the older Raiders players.
"It's not like we're coming in here acting like we know everything; we don't," Tuck said. "We're still learning ourselves. It's never going to be a situation where, 'Oh, y'all doing this wrong.' We're trying to work together
"At the end of the day, it has to be the Raider way … all the guys that they brought in know the history of the Raiders. … You found yourself fascinated by the silver and black and all the great players that played here and Al Davis and all the characters in Raider history.
"Now, it's just a work in progress."
Jones-Drew grew up in the East Bay a Raiders fan. So his coming home carried extra meaning, even if it meant playing for a team that has not been to the playoffs or won more than eight games in a season since 2002.
"The Raider way has always been winning," he said. "But I think every franchise goes through some tough times. The guys they brought in had that Raider mentality already … doing whatever it takes to win. It was a great mix of guys, the correct mix of guys."
And it's not just the longer-tenured Raiders or youngsters who are paying attention to the new silver and black Jedi in town.
"We won one year in Jacksonville, so if Tuck comes in and says something, I'm going to listen … regardless if it's against what I want to do or not," Jones-Drew said. "They know what it takes to get to that next level, so you've got to be selfess and listen. And I think we've got a lot of guys that are doing that and it's awesome."
But will it translate into more than moral victories?
July, 31, 2014
7/31/14
2:30
PM ET
NAPA, Calif. --
Matt Schaub
smirked when asked if all the story lines about his confidence level were amusing to him.
As if it's ever been a question in the new
Oakland Raiders
quarterback's mind.
"Yeah," he said following Wednesday's practice, "because you can't make it anywhere in this game without having confidence through the roof. You're going to go through ups and downs as a player. It's [about] how you bounce back from it … how you move forward.
"You've got to put everything behind you, whether it's good or bad. It's about the next thing in front. I'm just excited about this training camp and to get going with the regular season here shortly."
You could not really blame observers for wondering, though, after his nightmarish final season as a member of the
Houston Texans
. It was a campaign in which the two-time Pro Bowler lost his job, started just eight games, was intercepted 14 times and tossed a pick-six in four straight games.
A fresh start to soothe the soul is what the Raiders are banking on and Schaub has impressed thus far in camp, not only with his leadership but with his skills.
After a particularly impressive bullet he threw to
Andre Holmes
on Monday for a touchdown, a Raiders team official told me, "That looked like a
Carson Palmer
throw."
The way defensive lineman
Antonio Smith
, a former Texans teammate put it, "Schaubby's getting his mojo back."
The question, then, did it ever leave?
Again, a fair query, considering how Schaub's tenure in Houston ended.
"That's a great compliment, coming from a teammate," Schaub said. "I've known Antonio now six, seven years. For him to say that, it's one of my guys. We've been together through thick and thin.
"You know, I've never lost it. It never went anywhere. But for him to notice that, we're heading in the right direction."
Much like the offense Schaub led in a two-minute drill near the end of practice on Wednesday, finishing the drive with a touchdown strike to a streaking
Denarius Moore
across the back of the end zone.
"It's coming around," Schaub said. "It's our second or third time going through the installations since I've been a Raider and things start to become second-nature, and especially the more you do them and you understand where your guys are and where they're going to be and how they run their routes. I'm becoming much more comfortable at things."
June, 20, 2014
6/20/14
8:00
AM ET
ALAMEDA, Calif. -- The
Oakland Raiders
' offseason workouts began on April 22. They concluded Thursday with the end of a mandatory three-day minicamp.
So what did Dennis Allen, entering his third season as the Raiders' head coach, glean from nearly two months of being around his team as it begins its reconstruction in earnest, especially with training camp about five weeks away?
Consider: Every Raiders draft pick is signed and every Raiders player under contract was in attendance for the minicamp. No contract haggling, squabbling or unnecessary drama.
"I like the direction we're headed as a football team," Allen said. "I think we've got a group of guys that are committed to winning. I think they're committed to this organization, and I think we have a lot of guys who have a lot to prove. That's an exciting thing for a football coach. That's an exciting thing for these football players.
"So I like our direction, I like our commitment and we've just got to keep working."
An infusion of veteran talent with past success, especially on the defensive side of the ball, such as
Justin Tuck
,
LaMarr Woodley
and
Antonio Smith
-- as well as Oakland taking linebacker
Khalil Mack
with the No. 5 overall draft pick -- has given the team a new identity.
And on offense, the Raiders have a seasoned, new quarterback in
Matt Schaub
and a hot prospect in second-round draft pick
Derek Carr
, who has overtaken
Matt McGloin
as Oakland's second-string signal-caller.
Injury-wise, guard
Lucas Nix
(knee) is the only player Allen sees as potentially missing the start of training camp, even though cornerback
D.J. Hayden
(foot) participated in just one organized team activities (OTAs) session and linebacker
Kevin Burnett
(ankle) and Smith (undisclosed) missed them all while recovering from injuries.
Allen was asked if there was a palpable feel on the practice field that this was, indeed, a better team than he had the previous two years.
"I don't think there's any question you can feel that," Allen said. "You guys have been around here too, so I think you've seen these practices around here for a while.
"I think we've had an outstanding offseason and I think our team from the day that we started the offseason program to where we're at now, we've improved tremendously. But we've still got to go out there and do it when we get to training camp and do it when we get to the regular season."
May, 29, 2014
5/29/14
8:00
AM ET
Howie Long may have spent only one of his 13 Hall of Fame seasons in Oakland -- the other 12 years were when the Raiders called Los Angeles home -- but he still keeps tabs on the East Bay goings-on by his old team, and likes what he's seen thus far this offseason.
I caught up with Long on the phone Wednesday for my upcoming book, "100 Things Raiders Fans Should Know & Do Before They Die," and I also got the eight-time Pro Bowl defensive lineman's take on current issues surrounding Oakland.
His eldest son, Chris, was the No. 2 overall pick of the 2008 NFL draft and is a standout defensive end with the St. Louis Rams, while his middle son, Kyle, was named to the Pro Bowl as a rookie right guard last season with the
Chicago Bears
. His youngest, Howie Jr., works in football operations for the
Oakland Raiders
.
So, yeah, Long feels a certain kinship with Raiders owner Mark Davis.
"I'm really happy for Mark," said Long, who is a longtime NFL host on Fox. "Having sons that are following a famous dad, I understand some of the pressures that we are under and he is under. He's smart enough to understand the history [of the franchise], but he's also smart enough to know what he doesn't know. He wants to put the team in the best position to succeed. We had dug ourselves a big hole."
Yes, Long said "we" and was referring to the salary-cap hell faced by his former teammate, general manager Reggie McKenzie, as well as a dearth of draft picks. Long said the Raiders had to take "four steps back just to get even" over the past few years.
And with Oakland going out and signing a cast of veterans who may have already seen their best days but still seemingly have something left in the tank, Long sees a certain similarity to the Raiders' halcyon days when they found the likes of Ted Hendricks, John Matuszak, Jim Plunkett and Lyle Alzado.
"At a good price," Long said of the current Raiders' relatively cheap signings of
Justin Tuck
,
LaMarr Woodley
,
Antonio Smith
and
James Jones
.
"But you build through the draft. Would they have liked to have gotten that big receiver? Sure. But I don't think they could have scripted it any better. To get [Khalil] Mack and then the quarterback [
Derek Carr
] in the second round? Wow, that kid throws a good ball."
And after saying the Raiders' offensive line and quarterback situations were "all over the place" last season, Long added, "now, it's stable.
"I really like the direction we're heading. We've got to get a stadium, though. That's paramount. That's paramount to success. Playing half your games on a baseball field? That was fine in 1981, when a number of teams were doing it."
Long laughed. Oakland is the lone team in the 32-team NFL to share a stadium with a Major League Baseball team. In Long's rookie season of 1981, 15 of the NFL's then-28 teams shared a stadium with an MLB franchise.
Long, whose 84 sacks rank second in franchise history to Greg Townsend's 107.5, even as the sack did not become an official statistic until Long's second season, also had a challenge for current Raiders players.
"You want to be rich? You want to be famous? Win in that uniform," he said. "That brand is as good as it gets.
"I'm a Raider for life, and I don't apologize for it. That may be hard for some people to understand. But that's how it is."
#TBT a pensive #Raiders DE #HowieLong preps for #Bengals on 1-13-91, @BoJackson's final game, in pic I took. pic.twitter.com/xTIQpUTIeb

— Paul Gutierrez (@PGutierrezESPN) May 1, 2014
May, 23, 2014
5/23/14
10:00
AM ET
»
NFC Wrap:
East
|
West
|
North
|
South
»
AFC:
East
|
West
|
North
|
South
»
Grades

With free agency and the draft in the rearview mirror and training camp just a couple of months away, we assess the
Oakland Raiders
' offseason moves.
[+] Enlarge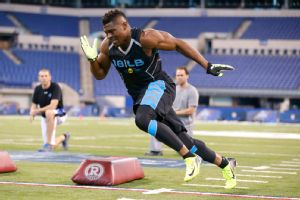 AP Photo/Michael ConroThe Raiders were happy to land versatile linebacker Khalil Mack in the first round.
Best move:
Letting the NFL draft come to them. By sitting tight in the first round, the Raiders saw playmaking linebacker
Khalil Mack
fall into their laps at No. 5 overall. By sitting tight in the second round, the Raiders saw their quarterback of the future fall into their laps at No. 36 overall. General manager Reggie McKenzie gets high marks for not overthinking things and staying true to his gut and drafting for need as well as snagging the best player available a year after trading down and taking injured cornerback
D.J. Hayden
.
Riskiest move:
Call it semantics or claim that someone -- either McKenzie or the player's mom -- was not telling the whole truth as to whether the Raiders presented a respectable offer, but the Raiders allowing left tackle
Jared Veldheer
to leave and reunite with quarterback
Carson Palmer
in Arizona was not a good way to begin free agency. In Veldheer, the Raiders had a known commodity. In his wake Oakland had to rebuild the offensive line. Replacing Veldheer was seemingly an unnecessary distraction, and though
Donald Penn
seems a suitable replacement, left tackle will be a need again soon enough.
Most surprising move:
Getting an established, respected and accomplished veteran like two-time Super Bowl-winning defensive end
Justin Tuck
to buy in early and sign with a rebuilding team in the Raiders. The signing of Tuck, who put pen to paper a day after
Austin Howard
was signed, gave legitimacy to Oakland's efforts in free agency and opened the doors for the likes of other vets
LaMarr Woodley
,
Antonio Smith
,
James Jones
and
Maurice Jones-Drew
to also choose Oakland as their destination ... without Oakland overpaying. They are all on the back ends of their careers, but they should have enough left in the tank.
About face?
Early in his tenure, McKenzie spoke of signing "high character" players with little to no baggage. So it was a surprise when he spent the third day of the draft taking players with questionable pasts, be it legal spats or getting kicked out of school or off a team. It reached a crescendo with this week's signing of oft-troubled receiver
Greg Little
. But McKenzie believes he has built a strong enough locker room to withstand a wild card or two. Besides, if a guy can contribute and has convinced McKenzie he has changed, he deserves another shot, right?
May, 14, 2014
5/14/14
8:00
AM ET
On one hand, most observers believe the
Oakland Raiders
had a good, bordering-on-great, draft. Even ESPN's Mel Kiper Jr. awarded the Raiders a B+ after their haul of eight players included the likes of linebacker
Khalil Mack
and quarterback
Derek Carr
and addressed needs with value.
So how does a successful draft, combined with Oakland's strategy of signing successful-if-older free agents, jibe with
our offseason power rankings
?
Well, not how you'd think ... or necessarily like.
The Raiders actually fell one spot from the season-ending power rankings, checking in at No. 31 on Tuesday. Only the
Cleveland Browns
were lower as they fell four spots from February.
The comment on the Raiders' placing: "Justin Tuck,
Antonio Smith
,
LaMarr Woodley
, now Khalil Mack. ... The pieces are in place to improve Oakland's anemic pass rush. The defense could quietly be solid next year."
The
Houston Texans
, who drafted
Jadeveon Clowney
first overall, improved from 32nd to 26th, the third-best improvement in the poll.
You can see the
entire rankings here
. But if you don't believe in such things as grading drafts before said draftees have taken one NFL snap, then an offseason power ranking based on such a thing should not get your goat either, right?
May, 9, 2014
5/09/14
6:15
PM ET
ALAMEDA, Calif. --
Oakland Raiders
general manager Reggie McKenzie confirmed to ESPN.com Friday that newly acquired defensive lineman
Antonio Smith
recently underwent a "minor" surgery after a weight-lifting mishap during the team's voluntary workout program.
"He'll be fine," McKenzie said, without elaborating on the body part.
Smith, 32, played defensive end for the
Houston Texans
the previous five seasons, racking up 27 sacks for the Texans. He signed with Oakland as an unrestricted free agent on March 14 and many expect him to see time inside at left defensive tackle in the Raiders' 4-3 defense, or to rotate with
Justin Tuck
at left defensive end.
March, 27, 2014
3/27/14
8:00
AM ET
Fans and media types alike wondered why
Oakland Raiders
general manager Reggie McKenzie was suffering from what seemed like paralysis by analysis at the onset of free agency.
Why was McKenzie, with close to $65 million in salary-cap room, seemingly sitting out the first day or so of the frenzy, allowing the likes of division rival Denver to swoop in and sign players with aplomb, while his two best young players -- left tackle
Jared Veldheer
and defensive end
Lamarr Houston
-- walked?
[+] Enlarge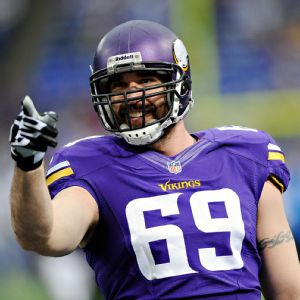 Hannah Foslien/Getty ImagesJared Allen signed a deal with Chicago that could be worth up to $32 million.
It was, the harsher critics suggested, as if McKenzie was fiddling while Silver and Blackdom burned.
But all the while there was a thought that no one wearing silver-and-black-colored glasses wanted to face: What if, no matter how financially enticing an offer, a prime free agent simply did not want to come to Oakland?
Heresy or reality?
The Raiders got a dose of that Wednesday when NFL Network reported that veteran defensive end
Jared Allen
passed on the largest offer he received -- a $9 million per year bid from the Raiders -- and chose instead to go to the
Chicago Bears
, which, ironically enough, is where Houston went.
Early in the offseason, I suggested the Raiders re-sign Houston and make a run at Allen to play on the right side, while flipping Houston back to the left, his more natural position. Seems like the two will team up after all ... just in the NFC North.
Allen chose the four-year, $32 million deal offered by the Bears, in part because he was reportedly turned off by the Raiders not having a quarterback in place at the time, though
Matt Schaub
was acquired shortly thereafter.
Also, McKenzie has been saying this week that Veldheer and Houston simply did not want to return to Oakland. McKenzie told the San Francisco Chronicle that he struggled with the notion.
Of course, many will say that McKenzie could have simply slapped a franchise tag on either player if he wanted them back that badly or, on the other end of the spectrum, that he low-balled the two.
None of that really matters now, though. Not when McKenzie accomplished what he set out to do by getting high-character, veteran locker room leaders who are still productive such as defensive ends
Justin Tuck
and
Antonio Smith
, linebacker
LaMarr Woodley
, receiver
James Jones
and left tackle
Donald Penn
.
Besides, they all
did
want to be in Oakland.
March, 15, 2014
3/15/14
1:00
PM ET
We are knee-deep in free agency, so let's wade in with an offensive line-themed Twitter mailbag…
March, 14, 2014
3/14/14
10:34
PM ET
After getting egg on his face Wednesday,
Oakland Raiders
general manager Reggie McKenzie went back to work on Friday, signing former
Houston Texans
defensive end
Antonio Smith
, along with cornerback
Tarell Brown
, a day after inking linebacker
LaMarr Woodley
and
Justin Tuck
. Raiders reporter Paul Gutierrez and Houston Texans reporter Tania Ganguli broke down Smith leaving Houston for Oakland to the tune of a reported two-year, $9 million contract.
Paul Gutierrez
: What I'm wondering, Tania, is what kind of defensive end is Smith, the prototypical edge-rusher the Raiders so desperately need, or more of a run-stuffer on the edge?
Tania Ganguli
: He's better at pass rushing than run stuffing. The Texans' scheme under Wade Phillips, one he liked to call the Phillips 3-4, featured an attacking front. Most of their pass-rushing pressure came from their defensive ends, Smith and
J.J. Watt
, rather than their outside linebackers. That's not exactly by design – they would've loved more pressure from those edge guys – but it spoke to the skill they had at their defensive end positions. Smith is strong and can overpower opposing linemen.
[+] Enlarge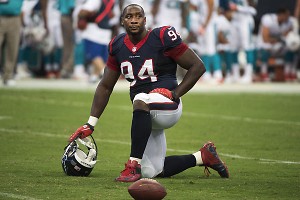 George Bridges/Getty imagesAntonio Smith recorded five sacks for the Texans this past season.
How do you see the Raiders using him?
Gutierrez
: As a pass-rusher/run-stuffer. Cop out, I know. But last season's sack leader, defensive end
Lamarr Houston
, had six sacks and was better at stopping the run, though he left for the
Chicago Bears
, and the Raiders have not had anyone with double-digit sacks since 2006. Still, it is interesting that Smith, Tuck and Woodley ALL play on the left side. They still have to figure out what they're going to do with the right side, unless they switch from a 4-3 to a 3-4 base defense. Then, all bets are off.
Many Raiders fans have been screaming for
Richie Incognito
to join the Raiders and shore up the offensive line. But with Smith here now, kind of hard to see it happening with the bad blood, no? Could you explain it?
Ganguli:
Oh, that would be interesting. Those two have a history going all the way back to college, when both of them played in the Big 12, Incognito at Nebraska and Smith at Oklahoma State. Then they played in the same division in the pros with Smith at Arizona and Incognito at St. Louis. They know each other well and Incognito knows how to goad him. In the 2012 season opener, Incognito engaged in some shenanigans with Smith's ankle, in Smith's view trying to twist and/or break it. He kicked Incognito in the head as he disengaged himself and landed a $21,000 fine. The fine was reduced to $11,000 after an appeal, but still went on Smith's permanent record with the league. When they suspended him for what they viewed as him ripping off Incognito's helmet and using it as a weapon during the 2013 preseason, they sent him a note detailing his history of discipline. Smith was again reacting to Incognito's shenanigans, this time with his face mask and so his face, head and neck. Again, it cost him. It wasn't the smartest move, taking off Incognito's helmet, but I thought the talk that he "could have killed" Incognito was a little overwrought. One thing to know about Smith: He's not the type of guy who gets into scuffles like this with everyone he faces. This is a specific deal between those two guys.
Another thing to know about Smith: He created an alter-ego called the Ninja Assassin while in Houston. Wore a ninja mask during pregame introductions. His sack celebration was him pulling out an imaginary sword from an imaginary sheath and brandishing it. Other times he'd say he was Tonestradamus, and make predictions about whatever came into his head. He's silly, and even in the bad times I didn't sense Texans fans tiring of it. How do you think Raider fans will respond to that?
Gutierrez
: Put it this way: Raider Nation is going to love it. Or have you not seen how every home game is Halloween on Hegenberger, what with so many costumes and characters filling the Black Hole. He will be a fan favorite, so long as he produces. That being said, how much of his success was his being on the other side of Watt, and, with Smith, a 10-year vet turning 33 in November, how much tread does the Ninja Assassin have left on his tires?
Ganguli
: I should note, unless he's changed his mind, the Ninja Assassin is dead. Smith said that if he didn't return to Houston he was going to leave it behind and find another character. I'm sure he'd love suggestions. I think a two-year deal was smart on the part of the Raiders. He's got plenty left right now, but beyond 2015, that'd be tough to say. I think his fit, rather than his age, is why the Texans let him go. Watt and Smith had a symbiotic relationship. Two of Smith's most productive seasons, sack wise, came after the Texans drafted Watt, but one of those was 2011, a season during which Watt hadn't yet turned into what he is today.
Wrapping up, Smith was always happy to help younger teammates in Houston, taking an active mentoring role with some. Can you see that developing with anyone on the Raiders' roster?
Gutierrez
: Poor Ninja Assassin. My dad actually toured the Far East on a martial arts expedition with Sho Kosugi, who starred in all of those ninja movies of the early 1980s. But I digress ... to answer your question, most definitely. Sure, the Raiders went the vet route with Smith, Tuck and Woodley, but they do have high hopes for defensive end
Jack Crawford
, who will be entering his third season and was initially drafted in the fifth round as a project, of sorts, out of Penn State. Plus, they kept undrafted rookie
Ryan Robinson
a year ago over seventh-round draft pick
David Bass
. So if Smith is up for some mentoring, the Raiders have some young bucks who would be wise to sit and learn at his knee. So long as they don't ask any ninja-related questions, I surmise.