Oakland Raiders:

Austin Howard
July, 31, 2014
Jul 31
11:00
PM ET
NAPA, Calif. -- A daily review of the hot topics coming of of
Oakland Raiders
training camp:
Charles Woodson has always been a fan favorite of Raider Nation and he endeared himself further on Thursday. First, he celebrated mightily an interception of Matt Schaub along the left sideline by running into the stands to revel in the pick with the fans. It was a high-arcing floater that was easily Schaub's worst throw of camp, granted, in real time he would have been sacked by Khalil Mack so he threw up a duck instead. One play later, Woodson picked off Schaub again, stepping in front of a bullet to the left flat, and, yes, taking it to the house for a , wait for it, pick-six. "I know how this whole thing is going to work," bristled Raiders coach Dennis Allen. "Anytime Schaub throws an interception, everybody's going to want to try to hit the panic button and act like the sky is falling ... I'll let you guys push the panic button. I'm not going to. He's still doing a great job." So there.
It was the third straight practice in pads -- the Raiders were off Tuesday -- and it was also the chippiest and hardest-hitting practice of camp thus far. No, there have not been any fights ... yet, but we finally got a glimpse of rookie linebacker Khalil Mack's power. Tight end Mychal Rivera had the task of blocking Mack on a handoff to Darren McFadden, but Mack popped Rivera so hard he ran into McFadden in the backfield.
Austin Howard returned to practice a day after leaving early with a tight back and showed no ill effects. In fact, the 6-foot-7, 330-pounder looked the part of an absolute beast as a pulling right guard. In one drill, he swallowed up Mack and cleared space for Maurice Jones-Drew to pick up a sizeable gain.
A day after LaMarr Woodley gave right tackle Menelik Watson the business, fellow defensive end Justin Tuck was putting on an exhibition against left tackle Donald Penn. Yes, you could say the defense won the day, because besides Woodson's two picks of Schaub, safety Brandian Ross also had an interception of rookie Derek Carr. And rookie Jonathan Dowling had an interception in individual drills. Defensive coordinator Jason Tarver was more than pleased following practice.
Linebacker Kaelin Burnett called his hard hit on running back George Atkinson III a "get-back shot" for a blow the rookie delivered to Burnett a few days earlier on what was supposed to be a slower walkthrough kickoff return drill. "I said, 'I'm going to get him back,'" Burnett said with a smile. "Nah, we're all just out here competing to make us all better."
Receiver Juron Criner (hamstring), linebackers Kaluka Maiava (hamstring) and Marshall McFadden (hip) and safety Usama Young (quad) worked on the side with a trainer before practice. Receiver Greg Little (hamstring) did not participate, nor did defensive lineman Antonio Smith, who underwent sports hernia surgery this offseason and tweaked his groin on Wednesday. Defensive lineman C.J. Wilson (hamstring) came off the non-football injury list and practiced for the first time.
The Raiders practice again Friday at 3 p.m. PT
May, 23, 2014
May 23
10:00
AM ET
»
NFC Wrap:
East
|
West
|
North
|
South
»
AFC:
East
|
West
|
North
|
South
»
Grades

With free agency and the draft in the rearview mirror and training camp just a couple of months away, we assess the
Oakland Raiders
' offseason moves.
[+] Enlarge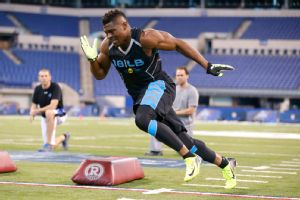 AP Photo/Michael ConroThe Raiders were happy to land versatile linebacker Khalil Mack in the first round.
Best move:
Letting the NFL draft come to them. By sitting tight in the first round, the Raiders saw playmaking linebacker
Khalil Mack
fall into their laps at No. 5 overall. By sitting tight in the second round, the Raiders saw their quarterback of the future fall into their laps at No. 36 overall. General manager Reggie McKenzie gets high marks for not overthinking things and staying true to his gut and drafting for need as well as snagging the best player available a year after trading down and taking injured cornerback
D.J. Hayden
.
Riskiest move:
Call it semantics or claim that someone -- either McKenzie or the player's mom -- was not telling the whole truth as to whether the Raiders presented a respectable offer, but the Raiders allowing left tackle
Jared Veldheer
to leave and reunite with quarterback
Carson Palmer
in Arizona was not a good way to begin free agency. In Veldheer, the Raiders had a known commodity. In his wake Oakland had to rebuild the offensive line. Replacing Veldheer was seemingly an unnecessary distraction, and though
Donald Penn
seems a suitable replacement, left tackle will be a need again soon enough.
Most surprising move:
Getting an established, respected and accomplished veteran like two-time Super Bowl-winning defensive end
Justin Tuck
to buy in early and sign with a rebuilding team in the Raiders. The signing of Tuck, who put pen to paper a day after
Austin Howard
was signed, gave legitimacy to Oakland's efforts in free agency and opened the doors for the likes of other vets
LaMarr Woodley
,
Antonio Smith
,
James Jones
and
Maurice Jones-Drew
to also choose Oakland as their destination ... without Oakland overpaying. They are all on the back ends of their careers, but they should have enough left in the tank.
About face?
Early in his tenure, McKenzie spoke of signing "high character" players with little to no baggage. So it was a surprise when he spent the third day of the draft taking players with questionable pasts, be it legal spats or getting kicked out of school or off a team. It reached a crescendo with this week's signing of oft-troubled receiver
Greg Little
. But McKenzie believes he has built a strong enough locker room to withstand a wild card or two. Besides, if a guy can contribute and has convinced McKenzie he has changed, he deserves another shot, right?
April, 3, 2014
Apr 3
8:00
AM ET
Last month, with the
Oakland Raiders
immersed in free agency, we broke out a list of the top five free-agent signings in franchise history, moving up from Jerry Rice to John Matuszak to Rich Gannon to George Blanda to Jim Plunkett.
So in the interest of, ahem, fair play, we figured it only right to look at the flip side of free agency in Silver and Blackdom. It's not pretty.
Checking in at No. 5 on the bottom five Raiders free-agent signings is right guard Mike Brisiel…
Too soon? Perhaps. Because it was not as if Brisiel was terrible; far from it. He was an absolute warrior for Oakland in his two years, fighting through countless injuries. Through the week, he could barely move in the Raiders' locker room, yet there he was on Sunday. He only missed two games in two years.
But he was not terribly effective. Again, not entirely his fault.
You see, Brisiel was the centerpiece of cash-strapped general manager Reggie McKenzie's first free-agent class, signing a five-year, $20 million contract in 2012 to help with the Raiders' transition to a zone-blocking scheme with Greg Knapp at offensive coordinator. It was a move made by then-rookie coach Dennis Allen that backfired.
Brisiel, who had been a dependable run-blocker with the
Houston Texans
, was hampered by an ankle injury that required surgery in the offseason and the Raiders' run game had trouble adjusting to the new scheme as running back
Darren McFadden
averaged a career-low 3.3 yards per carry.
Brisiel restructured his contract in 2013 and the Raiders, under new O.C. Greg Olson, started to show more power blocking, which was not exactly Brisiel's strong suit. But Brisiel never complained. He just went about his business and, in Week 6 at the
Kansas City Chiefs
, Brisiel was pressed into service at center with
Stefen Wisniewski
already out with a knee injury and
Andre Gurode
tweaking a knee in the game.
Brisiel said after the game he had last played center in 2007, "in NFL Europe. Maybe in preseason, but not in an NFL game."
"Mike Brisiel," quarterback
Terrelle Pryor
said at the time, "he could barely walk. But I appreciate him."
Such was Brisiel's legacy in Oakland.
The Raiders began rebuilding their O-line in free agency, adding
Donald Penn
,
Kevin Boothe
and
Austin Howard
while re-signing
Khalif Barnes
and still having Wisniewski,
Menelik Watson
,
Tony Bergstrom
,
Matt McCants
and
Lamar Mady
on the roster.
The writing was on the wall. While many thought Brisiel might retire, the Raiders instead cut him on Monday.
March, 24, 2014
Mar 24
4:00
PM ET
Richie Incognito
as a member of the
Oakland Raiders
is so, well,
last
regime. Or have you not noticed the trend and type of player general manager Reggie McKenzie has been signing thus far this offseason?
Incognito
They are guys not only with championship pedigrees but also locker room leaders. Guys like
Justin Tuck
and
LaMarr Woodley
and
James Jones
, and yes, the re-signed
Charles Woodson
.
Incognito exhibits none of those traits.
Sure, the left guard is a mauler on the offensive line who would have fit in nicely on the old-school Raiders' island of misfit toys (imagine him and Lyle Alzado going at it in practice), but McKenzie is veering away from those types of players.
Asked at the NFL owners meetings in Orlando on Monday if he had seen the NFL.com report in which Incognito said he was "100 percent into" the prospect of playing for the Raiders, McKenzie smiled.
"I've heard about it," McKenzie said, per the Bay Area News Group.
Asked what he thought about it, McKenzie smiled and said nothing.
Asked if he was interested in Incognito, McKenzie again smiled and was mute.
From a pure playing standpoint, Incognito does have relationships with Raiders offensive coordinator Greg Olson and assistant head coach/offensive line coach Tony Sparano.
"I'm a loyal guy," Incognito told NFL.com, "and I'd love to play for them again. And, of course, the Raiders have that aura."
But again, that aura is from a different generation. I'm not saying it's right or wrong, it just is.
Because the notion of Incognito -- who may still face league discipline for his role in the bullying episode in Miami involving
Jonathan Martin
-- joining the Raiders gave pause to even the progeny of Al Davis.
"I'd have to think about that," Mark Davis told reporters.
He'd probably be wise to check in with recently signed defensive end
Antonio Smith
, who has a longstanding feud with Incognito going back to their college days in the Big 12, a bad blood grudge that's included kicks to the head, helmets being ripped off and more-than-salty threats.
Yeah, Incognito would be a great fit for the old Raiders ... just not McKenzie's Raiders, who have already added offensive linemen
Donald Penn
,
Kevin Boothe
and
Austin Howard
, to go along with center
Stefen Wisniewski
, the re-signed
Khalif Barnes
, second-year tackle
Menelik Watson
, veteran right guard
Mike Brisiel
,
Matt McCants
,
Lamar Mady
and McKenzie's first-ever draft pick,
Tony Bergstrom
.
As one anonymous Raiders player told me last season when I asked which player, Incognito or Martin, he would rather have as a teammate, "Neither," was the reply.
March, 24, 2014
Mar 24
10:00
AM ET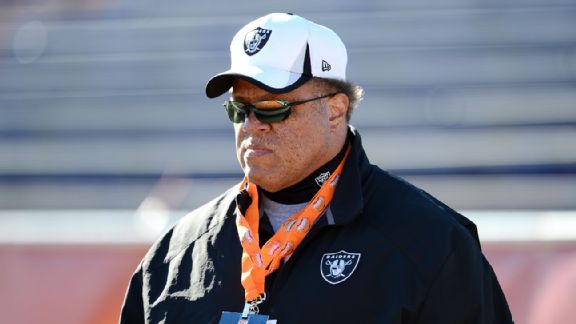 AP Photo/Johnny VyOakland Raiders general manager Reggie McKenzie is doing what he can to bring in veteran leaders.
What started out as nothing short of embarrassing -- the
Rodger Saffold
debacle -- has leveled out quite nicely for the
Oakland Raiders
and third-year general manager Reggie McKenzie, thank you very much.
No, McKenzie has not made what Pro Bowl fullback
Marcel Reece
called for the weekend before free agency began, when he told me he wanted McKenzie to eschew "safe" signings in favor of "smart, calculated, fearless, Raider-ass moves."
As in bold, outside-the-box transactions that would make opponents once again quake in their cleats at the thought of the Silver and Black. But anyone who thought McKenzie was going to make a splash, like some reckless spendthrift at worst or high-stakes poker player at best, with the near $65 million in salary-cap space was simply not paying attention.
Besides his words -- he said last year he was not necessarily going shopping at Macy's -- his actions have had a decided "Moneyball" feel to them, almost as if the bargain-hunting ways for undervalued vets of the Raiders' Coliseum co-tenants, Major League Baseball's Athletics, have been transferred to McKenzie from Billy Beane by some sort of East Bay osmosis.
For the Oakland faithful, then, the Raiders losing free agents
Jared Veldheer
,
Lamarr Houston
and
Rashad Jennings
was akin to the A's saying adios to the likes of Jason Giambi, Miguel Tejada and Barry Zito. Kind of.
And with that as your backdrop, and in not only signing eight veteran free agents, plus re-signing three of their own in safeties
Charles Woodson
and
Usama Young
and running back
Darren McFadden
, and acquiring quarterback
Matt Schaub
in a trade for a sixth-round draft pick before he restructured his contract to make it more cap-friendly this season, McKenzie is following his blueprint to a T.
Now, whether that translates to something better than a third straight 4-12 record remains to be seen. But McKenzie is doing what he set out to do, Saffold be damned.
"What we're trying to do is add some veteran leadership, guys who have some production, and just make sure we upgrade this team," McKenzie told the Bay Area News Group last week. "And that's the bottom line, trying to upgrade the team through production and the leadership."
Defensive end
Justin Tuck
comes with two Super Bowl rings and turns 31 on March 29. Linebacker
LaMarr Woodley
has a ring in two trips to the Super Bowl and turns 30 in November. Receiver
James Jones
beat Woodley in the Super Bowl and he turns 30 on March 31.
Offensive linemen
Kevin Boothe
, originally a Raiders draft pick who won two rings with the
New York Giants
, and
Donald Penn
, a Pro Bowl left tackle, both turn 31 before the season opens.
[+] Enlarge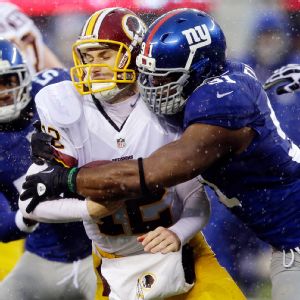 AP Photo/Julio CortezThe Raiders hope Justin Tuck still has something left in the tank.
Defensive end
Antonio Smith
, who has 27 sacks the past five seasons and has gone to a Pro Bowl, turns 33 in October, while cornerback
Tarell Brown
, who has started 42 of his past 45 games, is 29 and right tackle
Austin Howard
, seen as a rising star on the line with only two sacks allowed last season, is the relative babe at 27.
Even Schaub -- a two-time Pro Bowler who was due to make $11 million this season before the restructure lowered his base salary for 2014 but still enables him to make between $15 and $20 million the next two years, per ESPN NFL Insider Adam Schefter -- turns 33 in June.
"I definitely can see Matt Schaub being the quarterback of the Oakland Raiders for more than just a year or two," coach Dennis Allen said. "You look at
Tom Brady
,
Drew Brees
,
Peyton Manning
,
Ben Roethlisberger
, all these guys are beginning to get up there in age, so I think that [Schaub] can play for a while."
Yes, things have quieted down a bit around the Raiders' compound since that initial Saffold fiasco angered more than a few at 1220 Harbor Bay Parkway and had more wondering what, exactly, McKenzie was doing in the initial hours of free agency. He had lost the Raiders' two best free agents in Veldheer and Houston and agreed to a massive five-year, $42.5 million deal, with $21 million guaranteed, with an injury-prone right guard in Saffold before the Raiders medical staff flunked him with a bad shoulder and the deal was off.
With McKenzie already having a bad run with injured players in drafting
D.J. Hayden
last year as well as acquiring a sore-armed quarterback in
Matt Flynn
, throwing so much cash at an offensive lineman who may have required surgery and missed the offseason programs was too much to stomach.
And while one report had owner Mark Davis vetoing the Saffold deal amid rumors of "buyer's remorse," a Raiders source told ESPN.com that Davis merely let his feelings be known that he was not entirely on board with signing another injured player, but the personnel staff could do whatever it, ahem, liked.
Semantics? No doubt. But this much is true: McKenzie has rebounded after a rough start to free agency two weeks ago and stayed his course as he and Allen prepare for what could be a make-or-break season for both.
"The good news is that we've had some experience in that area," Allen said of roster turnover. "When you look at the guys that we're bringing in here, they're guys that have been a part of championship teams and they understand what it takes to win and win at a high level in this league. They're guys that can help us bring along some of these young players that we feel like have a chance to develop into good football players for us.
"It's a challenge, but that's the fun part."
It was 1960s activist Jack Weinberg who made popular the slogan, "Don't trust anyone over 30." McKenzie, though, is seemingly putting
all
of the Raiders' trust there ... and in guys about to turn 30. It's part of his plan, for better or worse.
March, 15, 2014
Mar 15
1:00
PM ET
We are knee-deep in free agency, so let's wade in with an offensive line-themed Twitter mailbag…
March, 14, 2014
Mar 14
4:32
PM ET
New
Oakland Raiders
right tackle
Austin Howard
said assistant head coach/offensive line coach Tony Sparano was one of the main reasons he decided to sign with the Raiders.
Howard
"He is a familiar guy, familiar coach, and I really love his style of coaching," Howard said in a conference call Thursday. "Once we got that call, it was honestly a no-brainer decision to get on the plane and make the trip out to Oakland."
Howard, who entered the NFL with the
Philadelphia Eagles
as an undrafted free agent out of Northern Iowa, figures to be the Raiders' right tackle. He signed a reported five-year, $30 million deal with $10.8 million in guarantees to come to Oakland after starting his past 32 straight games with the
New York Jets
.
It was in New York where Sparano was the Jets' offensive coordinator in 2012, Howard's first year as a starter.
"We all believe that the game is won and lost up front in the trenches," Howard said. "It's a tough position to play, offensive line. We want to be a powerful, dominant force. What else can you say? We want to go out there and we want to beat the guys up front, we want to lead this offense up front and we want to have guys in this group that can collectively play together and win together."
Howard models his game after that of former Eagles teammate
Jason Peters
, a left tackle, and last season Howard was credited with only giving up two sacks.
And the attraction of the Raiders?
"Honestly, I was excited to meet all the guys here," he said. "I understand that they have a very good group of guys here on the offensive line. It was probably the biggest attraction for me and my fiancÚ to come just because we know Coach Sparano and they presented a great opportunity to us. There's going to be some changes when you move from team to team and we expected that; getting to know the guys and getting to know the area, so we were honestly just excited to get out here."
March, 12, 2014
Mar 12
1:15
PM ET
The
Oakland Raiders
reaching an agreement late Tuesday night with former
New York Jets
right tackle
Austin Howard
on a five-year, $30-million contract, with $15 million guaranteed, per ESPN NFL Insider Adam Schefter, was the Raiders' second "acquisition" of the day.
Though it is early in the free agency game, it's never too early to throw out a lineup, right? So how does this grab you for a rebuilt offensive line?
LT
Menelik Watson
-- Yeah, that's putting a lot on his plate, but it's March.
LG
Khalif Barnes
-- Performed admirably after making switch in November.
C
Stefen Wisniewski
-- The anchor of the line.
RG
Rodger Saffold
-- True, a lot of coin for a guard, but Raiders like his versatility.
RT Austin Howard -- Has previous relationship with offensive line coach Tony Sparano.
Four wild cards -- RT
Matt McCants
, G/T
Tony Bergstrom
, RG
Mike Brisiel
, G
Lamar Mady
.