Oakland Raiders:

Carson Palmer
March, 11, 2014
Mar 11
4:23
PM ET
Oakland Raiders
letting their two best free agents walk says many things. The biggest message to glean? General manager Reggie McKenzie did not believe left tackle
Jared Veldheer
and defensive end
Lamarr Houston
were as indispensable as you did and, obviously, not worth the money they were commanding.
And yet, McKenzie and coach Dennis Allen's claims that each was a building block for the future of the franchise ring hollow now, no?
Veldheer, who played the final five games last season after undergoing left triceps surgery in training camp, agreed to a reported five-year, $35-million contract with the
Arizona Cardinals
and will reunite with quarterback
Carson Palmer
.
Houston moved to the right side last year and responded with a career-high six sacks, though only two after Week 7, and is seen as more of a run-stuffer than a pass-rusher. He agreed to a reported five-year, $35-million deal with the
Chicago Bears
.
The Raiders, with almost $65 million in cap space, have holes to fill and are set to replace Veldheer with
Rodger Saffold
, who agreed to a five-year, $42.5-millin deal with $21 million guaranteed.
The
January, 28, 2014
Jan 28
4:06
PM ET
ALAMEDA, Calif. --
Oakland Raiders
quarterbacks coach John DeFilippo will interview Thursday for the
Cleveland Browns
offensive coordinator position, a league source has confirmed.
ESPN NFL Insider Adam Schefter first reported the news Tuesday afternoon.
DeFilippo, considered a young and bright offensive mind, is in his second tour of duty as the Raiders QB coach and was one of the first assistants on Dennis Allen's staff to agree to a one-year contract extension this offseason.
In his first go-around in Oakland, from 2007 through 2008, DeFilippo had
JaMarcus Russell
before going to the
New York Jets
as their assistant QB coach in 2009 and helped tutor then-rookie
Mark Sanchez
as the Jets played in the AFC title game.
In 2010 and 2011, DeFilippo was the QB coach at San Jose State before returning to the Raiders as part of Allen's first staff in 2012 and working with
Carson Palmer
.
This past season, DeFilippo, 35, helped to mold
Terrelle Pryor
and undrafted rookie
Matt McGloin
after veteran
Matt Flynn
washed out.
"All spring [Pryor] was very hesitant to run the football," DeFilippo told ESPN.com after the Raiders' season opener at the
Indianapolis Colts
. "He wanted to prove to everyone that he was going to be a pocket-passer guy, and that's not his game. His game is bringing his God-given athletic ability to the field and to this football team and that's what's going to help this football team win a lot of games."
DeFilippo was also a candidate for the head coaching job at his alma mater, James Madison, before it went to Ohio State assistant Everett Withers.
Others reportedly up for the Browns gig under coach Mike Pettine, who was also with the Jets when DeFilippo was there, are Kyle Shanahan and Matt Cavanaugh. If DeFilippo, who grew up in Youngstown, Ohio, leaves Oakland for Cleveland, it could be seen as a blow to the continuity Allen is trying to maintain as he approaches his critical third year in Oakland.
January, 22, 2014
Jan 22
11:00
AM ET
The rules were simple, really, but the choice was not. The question all 32 of our NFL Nation reporters asked 10 anonymous players on the teams they cover was this: Which player would you most like to see play in the Super Bowl ... and he could not be a teammate, nor could he have already played on Super Sunday.
By a margin of just three votes, the players chose
Minnesota Vikings
running back
Adrian Peterson
(59 votes) over retiring
Atlanta Falcons
tight end
Tony Gonzalez
(56).
And yes, the
Oakland Raiders
players I surveyed felt the same -- about Peterson. Two voted for Peterson and two others went with Washington quarterback
Robert Griffin
III. One did, however, cast his lot with Gonzalez, who was
this close
to going to the Super Bowl last season. Alas ...
In our league-wide vote, 88 players received votes, with
Detroit Lions
receiver
Calvin Johnson
(26) finishing a distant third.
No Raiders player finished in the top six, with
Seattle Seahawks
quarterback
Russell Wilson
fulfilling the wishes of 15 players surveyed,
Houston Texans
receiver
Andre Johnson
picking up 14 votes and
Philadelphia Eagles
quarterback
Michael Vick
11 votes.
The most interesting player to get a vote in the Oakland locker room?
Carson Palmer
.
January, 17, 2014
Jan 17
8:00
AM ET
ALAMEDA, Calif. -- The
Oakland Raiders
traded away
Carson Palmer
after a 4,018-yard passing season in 2012 ... and he threw for a career-high 4,274 yards with the
Arizona Cardinals
in 2013.
The Raiders traded for
Matt Flynn
in hopes he would become a franchise quarterback ... and he washed out and was cut in October, after one start.
Oakland used a fourth-round draft pick to select Arkansas quarterback
Tyler Wilson
... only to waive him twice, sign him to the practice squad twice and watch him leave when the
Tennessee Titans
picked him up.
[+] Enlarge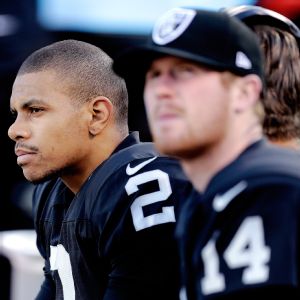 AP Photo/Tony AvelarNeither Oakland coach Dennis Allen nor GM Reggie McKenzie is sure if the Raiders' QB of the future is on the roster.
With so much QB carnage in such a short amount of time, is general manager Reggie McKenzie confident in his staff's ability to identify and properly scout a quarterback?
"Yes I am," McKenzie said Thursday in a 45-minute sit down with six reporters who cover the team regularly.
The differing skill sets of
Terrelle Pryor
and
Matt McGloin
essentially split the season, and in his final media conference of the season coach Dennis Allen said he was not sure if the quarterback of the future was in the building.
I asked McKenzie if he shared Allen's view and, if so, how he attacks that shortcoming.
McKenzie nodded.
"I'm not sure either," he said. "We've got two young players who played this year (and) from an experience standpoint there wasn't any, so neither one of them stepped up and said, 'I'm the franchise quarterback.' So absolutely, we're going to always continue to upgrade and find that guy. Now how we find them, we'll figure that out in the next few months, to what's available to us."
McKenzie allowed that with so much youth and inexperience under center last season, the Raiders need a veteran presence. And, perhaps, that is why they recently signed
Trent Edwards
to a reserve/future contract.
"He's a senior guy that's been there, done that," McKenzie said. "You're talking about what we have in place now, even around the building here in the next month or so, you've got a guy that our young guys can bounce stuff off of. And starting that process ASAP, I think, is important for the young guys."
That does not mean, however, that the Raiders are done tinkering with the position. Far from it. Not when the Raiders still have the No. 5 overall pick in May's draft.
Yes, McKenzie was asked about Texas A&M's polarizing
Johnny Manziel
.
"He's a playmaker," McKenzie said with a smile. "Whether it's him or whether it's any one of these other guys, when you can add a playmaker to your team that's what you're shooting for. Be it the draft, be it (a) free agent. It doesn't matter. And Johnny is a playmaker."
Still, McKenzie said he'd be reluctant to start a rookie quarterback again and would rather build the team up around one until he was ready to play.
"You have to make sure you surround those young players like that with good football players, whether it's weapons, protection from an offensive line standpoint, run game," McKenzie said. "If you're going to talk about playing a rookie, I think the fair way to do it is surround him (with talent), not just ride his shoulders. It's hard. I don't care how good the rookie is.
"To make him do everything his first year is not an easy task. You'd rather not. You'd rather have a guy in place who can get you through the season, especially the early part of the season."
Hence the addition of someone like an Edwards. And McKenzie said he has no true preference for a style of quarterback, be it a runner like Pryor, who rushed for a franchise single-season record 527 yards, including a 93-yard TD run that set an NFL record, or a pocket passer like McGloin, who had a QB rating of 76.1.
Still, neither Pryor, who started nine games and threw for 1,7,98 yards on 57.4 percent passing with 7 TDs and 11 INTs, nor McGloin, who was 1-5 as the starter, truly commandeering the job last season left room for introspection.
"With Terrelle I thought he started out pretty good," McKenzie said. "But it was the inconsistency and making the decisions, whether to throw, whether to run, avoid (the pass rush) and get rid of the ball. Whatever it is, that needs to continue to improve and he was too inconsistent there.
"Terrelle's got a ways to go with the decision making and the timing of throwing (to) guys (who are) open in that regard."
And McGloin, who completed 55.9 percent of his passes for 1,547 yards with 8 touchdowns and 8 interceptions in seven games?
"I thought he came in and I thought he did a pretty good job for what he was asked to do," McKenzie said. "He was confident in where he could throw the ball, his timing, his decision-making. Kind of sputtered a little bit, trying to throw the football when he shouldn't have.
"I thought McGloin showed some positive things that looked like a real quarterback from a standpoint of getting the ball out of his hands and, not being the greatest of mobile, moving, running guys, he didn't take a lot of sacks. So ... to be looked at as one of the non-athletic quarterbacks, per se, he did a good job of getting the ball out of his hand and not putting us in a negative yard-situation. So, you like some of the things there. If you can build on it and get better with the throws and the timing and all that, he should be solid."
January, 13, 2014
Jan 13
8:00
AM ET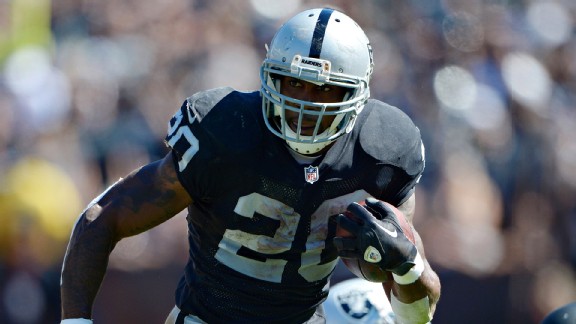 Kirby Lee/USA TODAY SportsDarren McFadden is confident he can still be a productive running back in the NFL.
ALAMEDA, Calif. -- Truly, over the course of
Darren McFadden
's star-crossed six-year career with the
Oakland Raiders
, the only coach to get consistent production out of the running back was Hue Jackson.
And it began with Jackson simply asking McFadden what kind of plays he liked to run upon Jackson's arrival as the Raiders' offensive coordinator prior to the 2010 season.
Of course, a litany of injuries turned Run DMC into Limp DMC over time and Jackson, who was the Raiders' offensive coordinator under Tom Cable in 2010 and Oakland's head coach in 2011, sent packing by Reggie McKenzie altered things.
But with the Raiders apparently tired of being unable to count on McFadden, McFadden due to become an unrestricted free agent on March 11 and Jackson just promoted as the
Cincinnati Bengals
' offensive coordinator, might McFadden find a new home in Ohio?
"You guys know how I feel about Darren McFadden; he's still one of my favorite players," Jackson told ESPN affiliate 95.7 The Game in San Francisco on Friday.
"What a tremendous talent. But I really like my little guy Gio [Bernard]. He had a real good season. But I don't think you can ever have too many good backs."
The 5-foot-9, 208-pound Bernard, a second-round draft pick from North Carolina, averaged 4.1 yards per carry for 695 yards and five touchdowns and caught 56 passes for 514 yards and three scores as a rookie this past season. But he had a costly fumble for the Bengals in their wild-card weekend loss to the
San Diego Chargers
.
It's also interesting to note that Bernard was selected with a pick the Bengals gained from the Raiders -- in the infamous "greatest trade in football" that sent quarterback
Carson Palmer
from Cincinnati to Oakland.
Of course, it was a deal engineered by Jackson himself.
And it should be noted that McFadden and Palmer never ran a single play together under Jackson as McFadden, who had been playing at a league-MVP level, was lost for the season with a Lisfranc injury to his right foot before Palmer debuted.
So does Jackson still think McFadden, who missed six games this past season with an assortment of ailments, can be a game-changing player?
"I would have to be around him again but I think it's still no different with Darren," Jackson said. "Darren is still a downhill runner, he's a one-cut runner. He has the ability to split out and catch balls and do those things but I think, with any football player, you've just got to build their confidence and let them know you believe in them and create an environment for them to be as good as they can be and normally good things happen. And I don't think it's any different with him.
"Somebody's going to get a really good football player here in the future if he doesn't stay there in Oakland and I just wish him the best."
McFadden's agent, Ian Greengross, has represented him since the Raiders took the two-time Heisman Trophy runner-up fourth overall in 2008. Greengross acknowledged his client has had injury issues, though there is a silver (and black?) lining since it's not the same injury every time.
"Unfortunately, it's always been a little knickknack of injuries here and there at different body parts," Greengross told 95.7 The Game. "So, injury prone? Sure. I mean, unfortunately, in six years he has yet to play 16 games [in a season]."
McFadden has never appeared in more than 13 games, which he did as a rookie and in 2010. And before suiting up for the Raiders' last two games this season, he had missed 19 of Oakland's previous 39 games.
In his career, McFadden has missed 29 games with toe, knee, hamstring, toe, foot, ankle, hamstring and ankle injuries.
"I don't want to say he's unlucky, but at some point you've got to figure that he's just not going to have that bad luck," said Greengross, who added that his agency would look into McFadden's history to see if his offseason training program should be modified. "It's not like there's one weak spot that's always being injured and will never be healthy."
Greengross said McFadden would "certainly love" to return to Oakland but that no conversations had taken place.
"He's always been a Raider at heart, he's never looked to leave so he would certainly come back," Greengross said. "A lot's going to depend upon the circumstances and how he sees [himself] fitting in, and how they see him fitting in. And certainly we'd probably be wise to talk to some other teams as well once free agency begins."
Even if the Raiders did have interest, McFadden's price tag would seemingly have to be lower than the $5.8 million he made this past season, when he also had a salary-cap number of $9.6 million and ended with a second consecutive per-rush average of 3.3 yards -- equaling his career low.
But under Jackson, McFadden's average went from 3.4 the year before Jackson arrived to 5.2 and then 5.4.
"When they ran that straight power [blocking scheme], for running backs that had 200 or more carries over those two seasons in total, Darren led the league in rushing average," Greengross said.
But since then, with the Raiders going back to more of a zone-blocking scheme in 2012 and a combo this past season? Not so much.
"As long as he gets a little hole, I know that speed is still there," Greengross said. "Even though he hasn't been out there as much as he would have liked to be because of the injures, the one thing the injuries haven't done is taken away that speed."
And yes, Greengross said McFadden is open to playing a complementary role.
Which brings us back to Jackson and the Bengals -- when the time is right, of course.
"I think Darren can play with anybody," Jackson said. "If it's the Darren McFadden that I used to know, there's no question -- whether it's in Cincinnati, Oakland or San Francisco or anywhere. He's talented enough to play anywhere in the National Football League."
But will he be healthy enough?
December, 16, 2013
12/16/13
7:10
PM ET
ALAMEDA, Calif. --
Oakland Raiders
coach Dennis Allen has said from Day 1 that the NFL is a results-oriented business. He also pounds the pulpit by saying he'll use the players that give the Raiders the best chance to win.
So why, then, is
Matt McGloin
still the Raiders' starting quarterback after he threw four interceptions, lost a fumble and seemed to force throws when he drifted in the pocket in the Raiders' record-breaking 56-31 loss to the
Kansas City Chiefs
on Sunday?
McGloin's record as a starter is now 1-4.
Terrelle Pryor
is 3-5.
Matt Flynn
was 0-1.
[+] Enlarge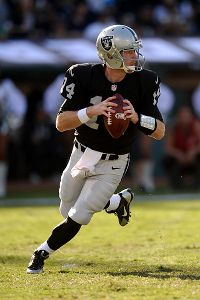 Thearon W. Henderson/Getty ImagesSince he became the Raiders starter, Matt McGloin leads the NFL in completions of at least 25 yards.
Part of it is because McGloin has given Allen enough glimpses of positive plays, particularly explosive plays.
Consider: Since McGloin became the Raiders' starter against the
Houston Texans
on Nov. 17, he has an NFL-high 15 completions of at least 25 yards. The QB with the second-highest number of such throws in that time frame? Some dude in the Arizona desert named
Carson Palmer
, with 13.
And Allen insisted the Raiders would continue with the QB Carousel, so to speak.
"Well, listen, we're still looking at it," Allen said. "We're still looking at it. We want to still be able to use Terrelle in certain situations, but Matt's our starting quarterback. I think he's earned that right and he's gone in and played well.
"He didn't play well (against the Chiefs). He made some mistakes ... it's tough to learn from those rookie mistakes and those young mistakes. Those are, it hurts for all of us."
The questions, then, are these: is either McGloin or Pryor the Raiders' QB of the future? And if not, with the poor track record of this regime in an admittedly small sample size of identifying a quarterback, can Allen and general manager Reggie McKenzie be trusted in finding one?
Or have you forgotten how Palmer was shipped out of town in favor of Flynn? Or how the Raiders drafted Tyler Wilson in the fourth round and then cut him not once, but twice? How Pryor looked legit early and then faded? How McGloin basically earned the starting gig as a street free agent?
"Hey, listen, sometimes things don't work out," Allen said. "Sometimes mistakes are made. But I don't think that's, listen, I'm confident in Reggie McKenzie and the personnel staff in being able to evaluate football players, quarterbacks, offensive linemen, defensive linemen, I'm very confident in his ability to do that, I'm very confident in our ability as a coaching staff to be able to do that.
"Obviously, we've seen something in Matt McGloin that we like, that we think, there's something there as a quarterback. I think he's proven that. I think he's also proven that he's still a young player and he's going to make some mistakes. But I'm very confident in our ability to evaluate all positions."
McGloin has a season QB rating of 78.8 in completing 55.7 percent of his passes for 1,341 yards and eight touchdowns with seven interceptions.
Pryor's rating is 66.3 on a 57.9 completion percentage as he has passed for 1,591 yards with five TDs and 11 picks. He has also rushed for 527 yards on 74 carries, including a record-for-a-QB 93-yard touchdown run. He also has nine passes of at least 25 yards, with eight runs of 20-plus yards.
Allen was in his first year as an assistant coach with the
New Orleans Saints
when the Saints brought in
Drew Brees
.
"You look at all the great teams in the league that have been at the top of the league for a long period of time," Allen said, "all of them have that great franchise quarterback. And that's what all of them are striving to get."
Yes, including the Raiders.
November, 17, 2013
11/17/13
7:51
PM ET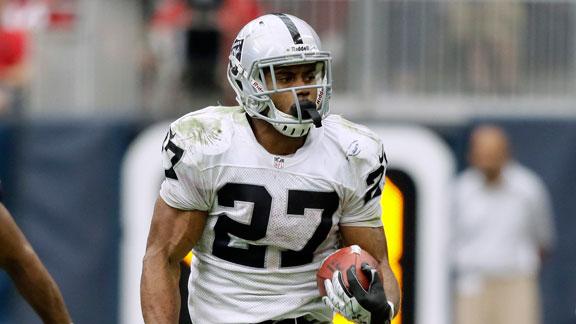 HOUSTON --
Oakland Raiders
owner Mark Davis has a game he likes to play with the likes of old pals George Atkinson and Willie Brown.
It's more of a pool, really, because when the gaggle of nameless, faceless undrafted rookie free agents flood training camp in Napa, the trio surveys the scene of 90 players. The goal? To guess which nameless, faceless undrafted rookie will make the initial 53-man roster.
For seven straight years, Davis beat Atkinson, Brown and others. Then, this year, he had an inkling about the "camp arm" brought in from Penn State, despite the presence of several more high-profile undrafted free agents.
Yes, Davis chose
Matt McGloin
and won the pool for an eighth straight year. And McGloin, with the help of the Raiders defense, gave Davis something even more valuable and satisfying in
his first NFL start
-- a
28-23 victory
against the
Houston Texans
.
"This is what happens when preparation meets opportunity," said McGloin, who was pressed into action with
Terrelle Pryor
nursing a sprained right knee, as well as a cold, back in Oakland.
[+] Enlarge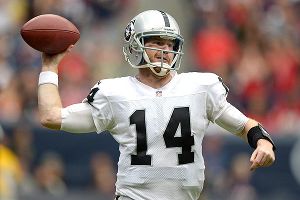 Kirby Lee/USA TODAY SportsRaiders QB Matt McGloin said he's determined not to repeat the same mistakes he made in a loss to Dallas last week.
"I've been prepared for a while now to get in there. My team really supported me. That's one of the big reasons why I prepared as hard as I could this week and gave everything I had."
The individual payoff in becoming the first undrafted player to start under center for the Raiders since Larry Lawrence in 1975: a 105.9 QB rating on 18 of 32 passing for 197 yards and three touchdowns.
In fact, McGloin became the first undrafted rookie QB to throw three TDs in a game since
Erik Kramer
did it for the
Atlanta Falcons
in 1987.
"You know what? Some of these guys just have it," Raiders coach Dennis Allen said of McGloin. "You know what I mean? Some of them just, there's something deep down inside of them, that they don't pay any attention to the fact that people say they can't do it.
"As far as playing the quarterback position, he throws the ball with timing, he throws the ball with accuracy, he's really smart. Obviously, again, not everything was perfect. He made mistakes in the game but overall, I was really pleased with the way he went in there and played."
It would be trite to bring up the Happy Valley-sized chip on McGloin's shoulder, to mention how he had to walk on to the Nittany Lions and became the nation's top walk-on player. But to not do it would be to lessen his effect and story.
It's one that began on a lark, really. The Raiders, having jettisoned
Carson Palmer
and acquired
Matt Flynn
while using a fourth-round draft pick on
Tyler Wilson
to join Pryor, simply wanted another arm for camp.
Allen said he and his staff were "really not expecting a whole lot" from McGloin.
And then?
"There was not one question in our mind by the end of the workout, really, by about the third throw that was the guy we wanted to sign. He's continued to do that since he's been here.
"It's not shocking that he was able to come in here and play as well as he did."
Least of all to the confident McGloin himself, or his teammates.
"In my eyes," observed safety
Charles Woodson
, "he played flawless. He played flawless football, especially for this being his first start in the National Football League."
McGloin began the game by completing seven of his first 11 passes, with drops by
Marcel Reece
,
Jacoby Ford
and
Rod Streater
.
But McGloin's first pass as a starter in the league was a five-yard touchdown to
Denarius Moore
.
"He just comes in and steps in as a leader," said Moore, who caught two of the six passes thrown his way. "It was his first start, but he acted like he has been in the league for three years."
McGloin threw passes to seven different targets on the day and truly, it appeared as though the pass catchers were having trouble with the velocity on his ball early.
He was the last player in the locker room, after doing an on-field television interview, and the scene awaiting him was that of a conquering hero as he received tons of atta-boy's and a game ball.
"It doesn't get better than that," McGloin said. "You see your team there after a tough victory. There's so much more to it than you see each and every day, what goes into it, than just going into one game – the preparation, the hard work throughout the course of the week, and the discussions. That feeling you get in the locker room seeing those guys, I think that's something that we have to remember each and every game."
Or before you make you pick in the training camp rookie undrafted free agent pool.
October, 29, 2013
10/29/13
8:00
AM ET
On one end of the
Oakland Raiders
' in-season trade spectrum rests the deal from two years ago that brought
Carson Palmer
to town for what turned out to be a first-round draft pick and a second-rounder and a whole lot of what-ifs ... but no playoffs.
On the other end, the 1983 deal that landed the Raiders cornerback Mike Haynes from the
New England Patriots
for a first- and second-rounder and, it turns out, a Super Bowl ring.
[+] Enlarge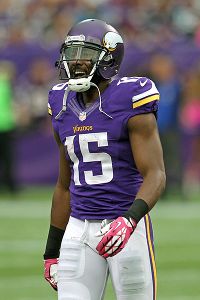 Brace Hemmelgarn/USA TODAY SportsWould the Raiders go after a receiver such as Minnesota's Greg Jennings?
Somewhere in the middle, the 1988 swap with Washington that saw
Jay Schroeder
go from perceived savior to perceived villain, and it cost the Raiders offensive tackle
Jim Lachey
.
So with the NFL trade deadline at 4 p.m ET Tuesday, where do these 3-4 Raiders sit in terms of deal philosophy? It doesn't sound like they're all that interested.
"Well, there's a reason why you go to training camp ... a reason why you have an offseason program," Raiders coach Dennis Allen said in his weekly news conference Monday. "It's so that you can install your schemes and what you want to do offensively, defensively, in the kicking game, how you're going to build the culture of your football team.
"It's just hard to bring a guy in in the middle of the year and think that he's going to come in and have a chance to be really effective for you midway through the year. I just think it's a tough proposition to think that you're going to bring somebody in that's going to make a huge difference. But we'll see."
Fans are pounding the drum for
Cleveland Browns
receiver
Josh Gordon
or even
Minnesota Vikings
receiver
Greg Jennings
, the former
Green Bay Packers
wideout who would be well known to Raiders general manager Reggie McKenzie.
Yes, the Raiders, who have six straight games against teams that currently do not have a winning record, are angling to go on a little run. But if one thing was made evident in Sunday's 21-18 win over the
Pittsburgh Steelers
, Oakland needs a veteran presence at wide receiver.
Denarius Moore
was rendered moot by
Ike Taylor
for the most part.
Jacoby Ford
had the worst game of his NFL career, as did rookie
Brice Butler
.
"I just think we've got to get better production overall from that position," Allen said. "Again, it's the consistency factor. We've got to be a lot more consistent in doing our job and making the plays we've got the opportunity to make, whether it be in the run game blocking, whether it be running our routes exactly right and catching the football.
"That will be an area we're going to emphasize to make sure we improve in that area."
Now, Allen was not talking about a trade specifically. But what could the Raiders offer in trade value?
McKenzie loves his draft picks and it's hard to imagine him parting with anything above a fourth-rounder. And even running back
Darren McFadden
, who is in a contract year and would seemingly be prime trade bait, seems to be rounding into shape after missing a game with a strained hamstring.
The Raiders, though, like the rest of the NFL, seem ready to stand pat for the most part as the trade deadline comes and goes.
Besides, health appears to be on their side, as they should soon regain the services of linebacker
Miles Burris
(knee), rookie left tackle
Menelik Watson
(calf), right tackle
Tony Pashos
(hip), left guard/center
Andre Gurode
(quad) and possibly left tackle
Jared Veldheer
(left triceps).
And a combo of those guys might be better than any trade the Raiders could swing in the current climate.
October, 22, 2013
10/22/13
8:00
AM ET
ALAMEDA, Calif. -- As the purportedly rested and rejuvenated
Oakland Raiders
come out of their bye weekend and prepare for the
Pittsburgh Steelers
, one fact hovers over Oakland.
The Raiders have lost their last 10 first games after a bye -- by a combined score of 271-139.
"I think we're all aware of that, but like I told the players today, the past has no relevance to the future," Raiders coach Dennis Allen said Monday. "Any of the outcomes that have happened after a bye in the past won't dictate how we go out and play against Pittsburgh. What's going to dictate how we go out and play against Pittsburgh is how well we prepare during the week, and then how well … we go out and execute that plan on Sunday."
Fair enough, but what's that old saying about those who do not remember the past are doomed to repeat it?
Sure enough, a look back at the Raiders' decade of post-bye blues reveals some interesting moments:
Nov. 2, 2003, Raiders at Detroit:
Marques Tuiasosopo
, Oakland's second-round pick in 2001, makes his first NFL start and has a QB rating of 34.3 in completing six of 11 passes for 65 yards and an interception in a 23-13 loss to the Lions. "Tui" would start only one more game in his career, at the
New York Jets
in 2005.
Oct. 16, 2005, Raiders vs. San Diego:
Randy Moss
, in his first season in Oakland, went up for a
Kerry Collins
pass late in the first half and was hit hard by strong safety
Terrence Kiel
in a 27-14 loss to the Chargers. The groin injury would linger and it was the first time Moss was held without a catch in his career.
Oct. 12, 2008, Raiders at New Orleans:
It was an inauspicious debut for Tom Cable as Oakland's interim coach in the wake of the memorable overhead projector presser announcing Lane Kiffin's firing. An ashen-faced Cable had no answers as the Saints ran all over the Raiders in a 34-3 blowout.
Nov. 21, 2010, Raiders at Pittsburgh:
Richard Seymour
had seen enough, so the Raiders defensive tackle went and got himself kicked out of the Raiders' eventual 35-3 blowout loss to the Steelers. Seymour's open-hand palm strike to the facemask of
Ben Roethlisberger
was as swift as it was pretty as Roethlisberger went down like a sack of Primanti Brothers sandwiches.
Oct. 14, 2012, Raiders at Atlanta:
Playing their most complete game under rookie coach Dennis Allen, the Raiders were tied at 13-13 and driving for a potential winning field goal when
Carson Palmer
threw a 79-yard pick-six to
Asante Samuel
. Palmer responded by driving Oakland 80 yards for a game-tying touchdown. Alas, Atlanta kicked a 55-yard field goal with one second to play for the win.
So what should be expected out of Sunday's game at the O.co Coliseum? The Raiders have won the last two meetings in Oakland -- 34-31 last season and 20-13 in 2006 -- and the last time the Steelers won in the East Bay was in 1995.
The Raiders' main goal in their weekend break was getting healthy, while getting revived.
"I think we had a good plan in the bye," Allen said. "I think we got some guys freshened up a little bit. Now the key is, we've got to focus in on the preparation. We've got to do the things that are necessary to go out and play well on Sunday."
October, 21, 2013
10/21/13
5:20
PM ET
ALAMEDA, Calif. --
Terrelle Pryor
did not head to Los Angeles to work with quarterback guru Tom House over the Raiders' bye this past weekend.
Pryor
Instead, House came up to Oakland to work with the Raiders quarterback on Sunday.
"We went to a local field and got in some good work," Pryor said after a light practice Monday as the team began preparations for Pryor's favorite team growing up, his hometown
Pittsburgh Steelers
.
Pryor was not able to work out with Raiders coaches during the bye -- players are guaranteed four days off due to the CBA -- but Pryor said he did come into the facility to study film on his own after Oakland's final team practice on Wednesday.
"You know me," he said, "steady trying to get better."
House, a former big league pitcher who is now a pitching coach at USC, has worked with quarterbacks from
Drew Brees
to
Tom Brady
to
Carson Palmer
to
Tim Tebow
on throwing mechanics.
Raiders offensive coordinator Greg Olson said last week he was the one who recommended House to Pryor this past offseason.
October, 2, 2013
10/02/13
6:50
PM ET
ALAMEDA, Calif. -- He was acquired to be the
Oakland Raiders
starting quarterback, but after being beaten out in training camp and one disastrous regular-season start,
Matt Flynn
, and his $6.5-million salary, has been demoted to third string.
This obviously was not what Oakland had in mind when general manager Reggie McKenzie shipped a fifth-round pick in the 2014 NFL draft and a 2015 conditional pick to Seattle for Flynn on April 1, the day before
Carson Palmer
was traded to Arizona.
Talk about your bad April Fool's jokes.
"Listen, it is what it is," Raiders coach Dennis Allen said Monday. "It hasn't worked out like we anticipated and we've got to make decisions and we've got to move forward and continue to go. And Matt's going to continue to battle and scratch and claw, and I still believe that he's a capable quarterback. But we're going to give McGloin a chance."
As in undrafted rookie
Matt McGloin
, who came out of Penn State and has risen from fourth on the Raiders' depth chart to overtake fourth-round draft pick Tyler Wilson, who was waived in camp before being signed to the practice squad, and Flynn to become
Terrelle Pryor
's backup.
"I rep the same plays that Terrelle reps, and Coach Flip [quarterback coach John DeFilippo] does a good job of making sure I understand what we're doing with Terrelle and, at the same time, understanding what we would do if I was in there," McGloin said. "So the different plays like that, I'll be prepared for; and just in case they want to run some of the similar stuff we run with Terrelle, I'll be able to run as well."
Flynn, meanwhile, had little to no success running the offense Sunday in a 24-14 loss to Washington. He was sacked seven times, fumbled twice, threw a pick-six interception and showed a shocking lack of pocket awareness, even as he had an 18-yard touchdown pass that gave the Raiders a 14-0 lead.
Granted, Flynn played most of the game without running backs
Darren McFadden
and
Marcel Reece
, who were lost to injury.
After a Washington field goal, Flynn was intercepted by
David Amerson
on a slant pass that was thrown late and behind
Denarius Moore
. Forty-five yards later, Washington was within 14-10.
"I thought we had a good play, they were in man-to-man coverage," Flynn said after the game. "We have to clean up the execution of that. All 11 of us have to clean it up."
Now, it appears the Raiders have to clean up this mess of a deal. Especially if Flynn is the odd man out if/when they decide to activate receiver
Andre Holmes
off the exemption list.
September, 7, 2013
9/07/13
10:45
PM ET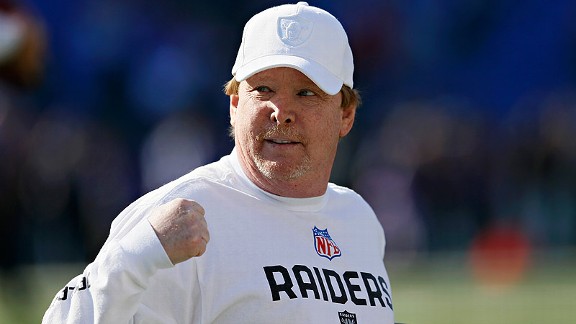 Rob Carr/Getty ImagesRaiders owner Mark Davis said he's more than ready to see how this year's team will do on the field.
CARMEL, Ind. -- Hope springs eternal before the first kickoff of a regular season, perhaps nowhere more than in the streets of Silver and Blackdom. The
Oakland Raiders
may not have had a winning season since 2002 but the slate is clean for Oakland as it prepares for Sunday's opener at Indianapolis.
It's Year 2 of the Raiders' new regime and owner Mark Davis is as enthused as any fan, but he is also realistic. I sat down with Davis for a brief Q&A Saturday evening at the team hotel, and we discussed topics as varied as Davis' hopes for the season, his desires for a new stadium and what impresses him about quarterback
Terrelle Pryor
, who is expected to start against the Colts.
Paul Gutierrez:
Eve of opening day, everyone except for the Broncos and Ravens are 0-0. Where are you right now in terms of where this team is and your expectations? Is there promise, hope?
Mark Davis:
I don't know. I want to see what we've got. We've got nine new guys on defense with a quarterback that I'll call
Charles Woodson
, which I think really's going to help guys like Tyvon (Branch) and I think the defense is really going to be the interesting part for me just to see what we've got. It's the second year with (defensive coordinator Jason) Tarver, Jason's system, and Coach (Dennis) Allen and I want to see if we have a defense coming on. The past, whatever, six, seven years, everybody was always saying we don't have one. It was a tough thing to overcome so let's see what happens with nine new guys.
PG:
From an organizational standpoint, though, are you still in rebuild mode, or is there more promise involved here, or are you just, let's wait and see what we do have?
September, 5, 2013
9/05/13
8:00
AM ET
Coach Dennis Allen might not yet be ready to proclaim publicly that
Terrelle Pryor
will start under center for the
Oakland Raiders
in their season opener at Indianapolis on Sunday. But Pryor's former mentor in Oakland is taking an interest just the same.
Palmer
Pryor
"I'm fired up for T.P.," Arizona quarterback
Carson Palmer
told ESPN.com. "I know he has patiently waited for his opportunity and has never lost confidence or focus while sitting patiently. He has worked as hard, or harder, than every other starter in the league and I believe he will play with a passion and intensity that the entire Raider Nation will be proud of."
Palmer, acquired by the Raiders from Cincinnati on Oct. 18, 2011, for what turned out to be a first-round draft pick in 2012 and a second-rounder in 2013, was due to make $13 million in Oakland this season.
But after balking at a pay cut and restructured contract that reportedly included no guarantees, Palmer, whose 4,018 yards passing in 2012 represented the second-highest single-season mark in Raiders history, was traded to the Cardinals on April 2. The Raiders also shipped a seventh-round choice in this year's draft for Arizona's sixth-rounder this year and a conditional pick in 2014.
A day earlier, Palmer's fate was sealed when the Raiders picked up
Matt Flynn
from Seattle for a fifth-round selection in 2014 and a conditional pick in 2015.
Flynn was Oakland's presumptive starter throughout offseason workouts and until the last week of training camp before ineffectiveness and a sore elbow felled him, reportedly in favor of Pryor.
Palmer was 8-16 as the Raiders' starter, and Pryor's lone start, in last season's finale at San Diego, came after Palmer suffered broken ribs and a bruised lung on a helmet-to-back hit by Carolina defensive end
Greg Hardy
.
Pryor was 13-of-28 passing for 150 yards with two touchdowns and an interception and also ran nine times for 49 yards and a 3-yard touchdown in the Raiders' 24-21 loss to the Chargers.
"Whatever [Allen's] choice is, I'll be ready," said Pryor, who added that he heard from Palmer last week.
"Even back in my first year, when Carson first came here, even last year when I was nowhere in sight to even play, I still studied, and I still was in the room with him and trying to understand defenses and trying to get better."