Oakland Raiders:

Cliff Branch
August, 2, 2014
Aug 2
2:00
PM ET
It only seems natural that Ray Guy chose his first NFL coach to present him Saturday when the longtime
Oakland Raiders
punter is
introduced for induction into the Pro Football Hall of Fame
.
John Madden, who is already an enshrinee in Canton, Ohio, will do the honors. But Guy also said there was a certain pecking order to who he wanted introducing him.
The late Al Davis, who presented eight previous Raiders Hall of Famers, would have been Guy's first choice, followed by Madden and, if Madden would have been unavailable, Guy's only other head coach with the Raiders, Tom Flores.
"I wanted Al to do it, of course," Guy said earlier this week. "We're only here for a little while, basically, but I wanted him to do it and then, of course, he's not going to be able to be there. He is there but he's not there verbally introducing me.
"I wanted to keep it within the family, and when I say family, I'm talking about the Raiders, so the next obvious choice would be John."
Madden was the Raiders' coach when Oakland used an unheard of first-round draft pick on Guy in 1973, and under whom the Raiders won their first championship, Super Bowl XI in the 1976 season.

"John is going to be a great inspiration to me when he's standing up there," Guy added. "I don't know what he's going to say, because nobody knows what he's going to say, but you know, I wanted to keep it through the chain of command. And then, if John was not available, it would have stepped right down to Tom because Tom was there as the (receivers coach) all of my years until John retired and then Tom took over, so there was no change there, there wasn't a change in anything it just kept the same thing."
Under Flores, the Raiders won Super Bowl XV and then, with the franchise relocated to Los Angeles, the Raiders won Super Bowl XVIII.
Guy retired following the 1986 season with back issues
.
Guy is one of just six Raiders players to be on all three Raiders title teams, along with Hall of Fame linebacker Ted Hendricks, receiver Cliff Branch, center Dave Dalby, offensive tackle Henry Lawrence and offensive lineman Steve Sylvester.
Guy will also be the first pure punter enshrined
.
"So, I just wanted to keep it in the Raider family," Guy said. "I could not have asked for a better presenter than John Madden, because he's part of my family."
July, 29, 2014
Jul 29
9:45
PM ET
It is no surprise that
Oakland Raiders
owner Mark Davis was recently in San Antonio. In fact, the
teams's official website posted a photo of him there
on July 20, along with former San Antonio mayor Henry Cisneros and former Raiders receiver Cliff Branch.
What is somewhat surprising is that it took so long -- nine days in the 24/7 news cycle supported by citizen journalists -- for this rumor/report to go viral: Are the Raiders looking to potentially move to the Alamo City?
[+] Enlarge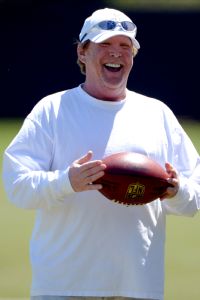 Kirby Lee/USA TODAY SportsMark Davis said in a statement released by the Raiders that he was in San Antonio earlier this month to honor Cliff Branch and see his friend Henry Cisneros.
Surely Davis had to know that by being in San Antonio, which already has a stadium that might be NFL-ready by 2015 in the Alamodome, it would cause waves of speculation, even if officially he was there to support one of his closest friends.
"I was in San Antonio to honor Cliff Branch on his induction into the PVILCA [Prairie View Interscholastic League Coaches Association] Hall of Fame," Davis said in a team-released statement Tuesday afternoon.
"Former San Antonio Mayor Henry Cisneros is a friend, and Henry suggested I take the opportunity to meet with some of the city officials while we were in town. I have nothing further to discuss on the topic."
According to the
report in the San Antonio Express-News
, Davis "and two top lieutenants" met with several city officials about the "potential" of moving his team from Oakland to San Antonio. Among said officials: Cisneros, who was behind the Alamodome project as San Antonio mayor, mayor Julián Castro, city manager Sheryl Sculley, Mario Hernandez of the San Antonio Economic Development Foundation, and both Richard Perez and David McGee, the president and chairman of the San Antonio Chamber of Commerce, respectively, per the report. Davis also talked with San Antonio Spurs owner Peter Holt and Red McCombs, "who both showed interest in having a stake in the team if it were to move here," according to the report.
The Raiders need a new stadium -- the current lease at O.co Coliseum expires at the conclusion of this upcoming season -- and had previously, in a roundabout way, been linked to San Antonio, Los Angeles and Portland, Oregon, as well as nearby Concord and Dublin in the East Bay.
According to the San Antonio Express-News, Davis took an aerial tour of the city by helicopter. The Alamodome would be considered a temporary home as it is 21 years old and Davis had repeatedly talked of building a stadium fit for the Raiders, its history, fans and his late father's legacy. In fact, the report said Davis wanted "a small, intimate" stadium in front of which he could place "a statue of his father" Al Davis.
Still, San Antonio is considered
Dallas Cowboys
' turf, and the
Houston Texans
might want to have a say as well.
July, 9, 2014
Jul 9
10:00
AM ET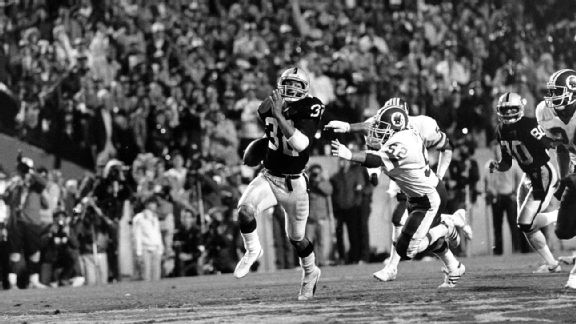 AP Photo
»
VOTE HERE
»
NFC Plays:
East
|
West
|
North
|
South
»
AFC:
East
|
West
|
North
|
South
This is one of three nominations for the most memorable play in Raiders' history. In the previous two days we featured the Sea of Hands, when Clarence Davis somehow came down with Ken Stabler's flip in the end zone to upend the defending two-time Super Bowl champion Miami Dolphins in the AFC divisional playoffs in 1974; and the Holy Roller, which gave the Raiders a "zany" victory in San Diego on the final play of regulation when Ken Stabler purposely fumbled forward while being sacked and, after Pete Banszak batted the ball even further forward, Dave Casper recovered in the end zone for a touchdown in 1978. Please vote for your choice as the Raiders' most memorable play.
Score
: Raiders 38, Washington 9
Date
: Jan. 22, 1984.
Site
: Tampa Stadium
The Raiders, then calling Los Angeles home, were already trouncing defending champion Washington 28-9 in Super Bowl XVIII when their offense lined up for the final play of the third quarter.
What happened next has gone down in NFL lore as "Marcus Allen, running with the night," courtesy of legendary NFL Films voice John Facenda.

Because it was a busted play, one in which Allen had to improvise, it is seen in many corners as the greatest run in Super Bowl history, a reverse-field 74-yard scamper that put the dagger in Washington.
"Yeah, I called it, but Marcus made it work," Raiders quarterback Jim Plunkett told me with a laugh as he recounted the play.
"It was one of our steady plays: When in doubt, call 'Bob Trey O.' It was always solidly blocked where you shouldn't lose any yards on it. But their safety messed it up."
The play was supposed to be a simple power run to the left, right guard Mickey Marvin pulling to clear space for Allen. But Allen went too far wide of Marvin and safety Ken Coffey blew it up by closing in. Allen stopped on a dime, spun to his left and reversed field. A hole had opened on the right side of the line and Allen sped through it, after Coffey lunged for the ball and Allen's waist in the backfield.
Accelerating through the gap, Allen ran past defensive end Todd Liebenstein and linebacker Rich Milot. "After I made that turn, everything slowed down," Allen told ESPN radio affiliate 95.7 The Game during Super Bowl Week this past winter. "I remember Neal Olkewicz just grasping [at midfield]. I could almost see the anxiety on their faces and the tension as I was running by. And then, about 20 yards from the goal line, everything came back to normal speed."
The lone Washington player with a shot at Allen past the 50-yard line was cornerback Anthony Washington, but he was cut off by Raiders receiver Cliff Branch. Allen, who was supposedly too slow to be a game-breaking running back coming out of USC as the 1981 Heisman Trophy winner, had nothing but open field to the left pylon. After the score, which was then the longest run in Super Bowl history, Allen was joined in celebration in the end zone by nearly the entire Raiders team.
"You can't teach that kind of running," John Madden, the former Raiders coach-turned-broadcaster, said while describing the replay. "You don't
teach
that. You don't
practice
that. You don't
see
that on film.
That
happened."
@PGutierrezESPN @ESPN_NFLNation Good, Marcus Allen SB run. Bad, Tuck Rule. Ugly, Farve & Foles career high TD passes in the Black Hole

— Sheriff of Thotinham (@Snack_Machine) June 10, 2014
July, 8, 2014
Jul 8
10:00
AM ET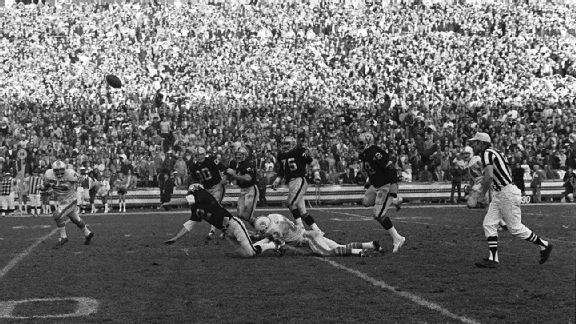 AP Photo
»
VOTE HERE
»
NFC Plays:
East
|
West
|
North
|
South
»
AFC:
East
|
West
|
North
|
South
This is one of three nominations for the most memorable play in Raiders history. Yesterday, we featured the Holy Roller, which gave the Raiders a "zany" victory in San Diego on the final play of regulation when Ken Stabler purposely fumbled forward while being sacked and, after Pete Banaszak batted the ball even further forward, Dave Casper recovered it in the end zone for a game-winning touchdown in 1978. Tomorrow, we'll look at 17 Bob Trey O, Marcus Allen authoring the greatest run in Super Bowl history when he reversed field and went 74 yards to put the dagger in defending champion Washington in 1984. Please vote for your choice as the Raiders' most memorable play.
Score
: Raiders 28, Dolphins 26
Date
: Dec. 21, 1974
Site
: Oakland-Alameda County Coliseum
The Raiders finished the 1974 season with the best record in the NFL at 12-2. The visiting
Miami Dolphins
were the two-time defending Super Bowl champions who had also won the last three AFC titles.
In expected fashion, this divisional playoff game was a back-and-forth affair that featured six lead changes. So it was with 35 seconds to play, and the Raiders facing a first-and-goal situation from the Dolphins' 8-yard line and trailing by five when Oakland made history.

Stabler took the snap and backpedaled about 10 yards to his right. Miami's rush closed in so Stabler stepped up in the pocket to his left and seemed primed to make a run for the goal line. But that's when Miami defensive end Vern Den Herder gained on Stabler and dived at his legs from behind.
A falling Stabler lofted a wobbly pass into the left-center of the end zone, into an aptly-named Sea of Hands, between three Dolphins in linebackers Mike Kolen and Larry Ball and defensive back Charlie Babb. "That ball looked like it was going end-over-end," Dolphins linebacker Nick Buoniconti told NFL Films. "There was no way in hell that anybody was going to catch that thing."
Kolen, though, thought otherwise. "I thought I had a clear interception," he said. "I mean, it was just wide open."
Yet in the middle of that white jersey-clad Sea of Hands was a silver and black uniform, worn by Raiders running back Clarence Davis. After Kolen got his right hand on the ball first, Davis wrestled it away. "He was coming toward the ball and had the leverage and, obviously, a better grip than I had," Kolen said.
Davis yanked the ball toward his chest, took a facemask-first hit from Babb and rolled to the grass for the touchdown at the feet of teammate Cliff Branch, taking a shot from defensive lineman Manny Fernandez for good measure. "I mean, this guy couldn't catch a cold," Fernandez said. "It was probably the only pass he caught in his career. It was a lousy pass, a lucky reception [and] I've never forgotten it."
Neither would the foolhardy Raiders fan who ran on the field to celebrate the play by giving Buoniconti a shot in the stomach before getting absolutely pummeled by Fernandez & Co.
Davis' catch and George Blanda's extra point gave the Raiders the 28-26 lead. "Clarence has a huge heart," Stabler said. "Great runner, tough kid, wonderful person. Worst hands on the team.
"Clarence made the play because he wanted the ball more than anybody else, and it was a throw that probably should have been intercepted."
@PGutierrezESPN I will never forget #SeaofHands game! Hard to believe Clarence Davis came up with the Ball. #Raiders

— RaiderPJ (@raiderpj) June 12, 2014
May, 2, 2014
May 2
4:30
PM ET
Our countdown of the best Oakland Raiders draft picks since the 1970 AFL-NFL merger continues with tight end Dave Casper checking in at No. 3 ...
Dave Casper (Notre Dame, second round, No. 45 overall, 1974)
The Raiders already had a serviceable tight end on the roster in Bob Moore when their turn came up in the second round of the 1974 draft. No matter, the call was made, even as Kent State linebacker Jack Lambert was on the board and went next to the Pittsburgh Steelers.
I'm pretty sure neither team regretted the decision.
Casper, a former second-team All-America offensive tackle, redefined the tight end position for the Raiders as both a brutal blocker and a soft-handed pass-catcher, even if it took him a couple of years to become a threat as a receiver. (He caught only nine balls for 97 yards in his first two seasons combined.)
But in 1976, he erupted with 53 catches for 691 yards and 10 touchdowns in helping lead the Raiders to the Super Bowl XI championship. A year later, he authored one of the most famous catches in franchise history, the Ghost to the Post 42-yard over-the-shoulder catch from Ken Stabler that set the Raiders up for a late game-tying field goal in a playoff victory at the Baltimore Colts.
"I played a lot of outfield as a kid," Casper later told NFL Films, "and I used to practice running where I'd just put my head down real quick, run to a spot and quickly look back up. When I looked up, the ball, thank God, was coming right down into my hands. If I had looked up a second later I wouldn't have seen it."
Errol Mann's 22-yarder tied the game and the Raiders won in sudden death on the second play of the second overtime when Stabler hit Casper for a 10-yard TD. It was Casper's fourth catch of the game, his third TD.
Casper would also recover the "Holy Roller" fumble in San Diego to stun the Chargers in 1978. He was sent to the Houston Oilers on Oct. 14, 1980, in a deal for picks that eventually became Ted Watts, Howie Long and Jack Squirek. Casper also spent part of the 1983 season with the Minnesota Vikings. He returned to the Raiders, in Los Angeles, in 1984. But with Todd Christensen firmly entrenched as the tight end, Casper appeared in just seven games, catching four passes for 29 yards and two scores.
The five-time Pro Bowler and four-time All-Pro retired after that season with 378 career catches for 5,216 yards and 52 TDs in 11 seasons. He was elected to the Pro Football Hall of Fame in 2002.
Honorable mentions
No. 5: WR
Cliff Branch
No. 4: P
Ray Guy
No. 3: TE Dave Casper
No. 2: ?
No. 1: ?
April, 30, 2014
Apr 30
8:00
AM ET
Our countdown of the best
Oakland Raiders
draft picks since the 1970 AFL-NFL merger continues with punter Ray Guy checking in at No. 4 ...
Ray Guy (Southern Mississippi, first round, No. 23 overall, 1973)
Too high for a punter, even if he is headed for enshrinement this summer in the Pro Football Hall of Fame? No. Not at all. In fact, I toyed with the idea of making Guy the Raiders' best draft pick overall since the merger.
Guy was certainly the most unconventional, what with his draft slot as the first pure punter to be taken in the first round of the NFL draft. But he also may have been the most dependable.
"He was so good and had such an immediate impact on our team from Day 1," said former Raiders coach Tom Flores. "He was part of our game approach. We always knew, with his help, we would win field position.
"He changed the game."
Guy was named to seven Pro Bowls and six times was all-Pro. Just three of his 1,049 career punts were blocked and he never had one returned for a touchdown. And he was one of just six players to have been on all three Raiders Super Bowl title teams, along with Cliff Branch, Ted Hendricks, Henry Lawrence, Dave Dalby and Steve Sylvester.
Guy's career average of 42.4 yards per punt over his 14-year career may seem humdrum by today's booming numbers, but it was his accuracy, his ability to pin opponents deep in their own territory and his athleticism that separated Guy. And it was all on display on a single punt early in Super Bowl XVIII, when he leaped high to snag Todd Christensen's errant snap to avert a disastrous situation against Washington.
So when Guy, a seniors committee candidate for Canton, was voted in this past winter, it seemed to validate his place in history, even if the Raiders were already certain of his legacy.
"I didn't try to put myself up on a pedestal just because I did something very well," Guy said. "I did it because of the team. It's like my dad always said to me and my two brothers, the three of us, he said, 'Whatever you do, give it your best shot.' That's what I did."
Honorable mentions
No. 5:
WR Cliff Branch
No. 4: P Ray Guy
No. 3: ?
No. 2: ?
No. 1: ?
April, 29, 2014
Apr 29
8:00
AM ET
Now that we've listed our "
honorable mentions
" for the best
Oakland Raiders
draft picks since the 1970 merger, let's start our countdown of the Top 5 best draftees with receiver Cliff Branch checking in at No. 5…
Cliff Branch (Colorado, fourth round, No. 98 overall, 1972)
Of those listed on my Top 5, Branch is the only Raiders player not enshrined in the Pro Football Hall of Fame, though many see Branch just as deserving of a bust and yellow jacket as his contemporary Lynn Swann.
Branch may have been overshadowed earlier in his career by Canton-bound Fred Biletnikoff in Oakland but the speedy Branch was the epitome of Al Davis' vertical passing game. After Branch retired following the 1985 season, Davis spent the last quarter of his life searching for the next Cliff Branch to stretch the field and keep defenses honest.
All Branch did was average 17.3 yards per catch in his career, catching 501 passes for 8,685 yards and 67 touchdowns, including an NFL record 99-yarder from Jim Plunkett at Washington in 1983.
Branch, a four-time Pro Bowler and three-time All-Pro who led the NFL with 1,092 receiving yards and 13 touchdown receptions in 1974, is also one of just six players to have been on all three Raiders Super Bowl title teams. The others: center Dave Dalby, right tackle Henry Lawrence, reserve offensive lineman Steve Sylvester and Hall of Famers Ted Hendricks, the versatile linebacker, and game-changing punter Ray Guy.
Yes, Branch was fast. He was a track star who kept in shape in the offseasons by playing tennis with strong safety George Atkinson. But Branch was also a football player, one whose 12 touchdown receptions led the league in 1976 as he also averaged a mind-boggling 24.2 yards per catch.
And in those three Super Bowl wins, Branch caught a combined 14 passes for 181 yards and three touchdowns.
As a fourth-rounder, the Raiders got a lot of value out of the pick. Three rings worth, you could say.
February, 8, 2014
Feb 8
11:00
AM ET
The Super Bowl is done so the season is officially over. Let's get our Twitter mailbag going ...


February, 7, 2014
Feb 7
11:30
AM ET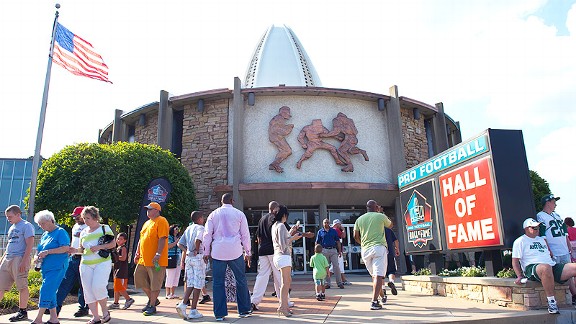 Jason Miller/Getty ImagesEach of the Hall of Fame voters often has his or her own criteria for who's worthy of enshrinement.
ALAMEDA, Calif. -- Of course Tom Flores was happy for Ray Guy. After all, Flores was the transcendent punter's head coach with Oakland and then the Los Angeles Raiders for eight of Guy's 15 years in the NFL. And Flores long has championed his cause as a player who, despite his specialist position, changed the game.
Yet when Guy was elected to the Pro Football Hall of Fame on Saturday, more than 27 years after he boomed his final punt -- a 51-yard fourth-quarter beauty against the Indianapolis Colts at the L.A. Memorial Coliseum on Dec. 21, 1986 -- something else bubbled up to the surface.
Something bittersweet.
"I don't know if it's a wrong being made right as much as it's long overdue," Flores said of Guy's election. "It's not easy to be voted into the Hall of Fame, especially with the pulse of today's voters who seem to want to just vote in guys who retired five years ago, rather than taking the time to see the history of the game.
"At least we got one more in."
And there it is. With the endless controversies and snubs (real and perceived) that come about in the immediate wake of each new Hall class, the system in which those new Hall members are fitted for yellow jackets and sized for bronze busts in Canton has come under renewed fire.
Just about every team in the league thinks it has a legitimate gripe, that it has one, two or more Canton-worthy candidates who, year after year, get left by the wayside.
No, Flores was not pounding his chest for himself -- his two Super Bowl titles as a head coach, his standing as the first minority head coach to win a championship and his history as a player, assistant and general manager (OK, the GM part in Seattle didn't work out so well as he drafted Dan McGwire and Rick Mirer, though he did select a future Hall of Famer in Cortez Kennedy) and four total Super Bowl rings should speak for themselves.
But for every Flores, there's a Marv Levy already enshrined after coaching the Buffalo BiLLLLs (yes, one 'L' for every Super Bowl loss). And for every Thurman Thomas, there's a Roger Craig, the first running back in history with 1,000 yards rushing and 1,000 yards receiving in the same season and part of three Super Bowl titles in San Francisco. And for every Andre Reed, voted in this year, there's a Tim Brown, whose stats trump those of his contemporary.
No, this is not a Bills versus Raiders harangue. More likely, it's a rage against the machine, the system itself, one that lends itself to so much second-guessing and rumor-mongering and yes, a log-jamming of worthy candidates.
One that the Pro Football Hall of Fame itself embraces and wants.
"There have been over 18,000 players in the NFL," Joe Horrigan, the Hall's vice president of communications and exhibits, told me a few years ago. "And there are [287] players in the Hall of Fame. It's a pretty exclusive club. For a lot of guys, it's not a matter of if [they get enshrined], but when."
The process begins on a grassroots level as anyone can nominate any player, so long as said player has been retired at least five years. The 46-member selection committee -- comprised of one voter from each NFL city with New York having two because it has two teams, a representative of the Pro Football Writers of America and 13 at-large delegates -- is polled by mail ballot to reduce a list of 126 nominees to 25 modern-era semifinalists. Then, those 25 are cut to 15 finalists by another mail ballot for a face-to-face discussion by the selectors the day before the Super Bowl.
In addition, two senior committee candidates, taken from a pool of players inactive for at least 25 years and named by a nine-person committee among the already existing 46 in late summer, join the 15 finalists for a separate conversation that involves a simple yes-or-no vote. An 80 percent affirmative gains Hall inclusion.
That's when things can get heated in the room. The 15 finalists are presented respectively by the selector from the city in which he played the bulk of his career. The news hunters and gatherers become newsmakers, or sponsors in a way.
A vote is taken and the list of 15 is reduced to 10. Then, because Hall bylaws stipulate that between four to seven new members are selected each year, with a maximum of five modern-era candidates, the 10 are cut to five. A secret ballot of the final five is taken and whoever gets 80 percent of the votes in that group joins the senior nominee(s), who also must get 80 percent of the vote.
This part of the process is called "getting in the room" and if it evokes images of dimly lit cigar smoke-filled joints with seedy you-vote-for-my-guy-and-I'll-vote-for-your-guy deals, then so be it.
Some see this part of the progression as the most transparent and credible Hall voting process in all of sports; others see it as a joke that 46 people sit in a room for seven hours once a year to determine history. Besides, what if a presenter believed his appointed "candidate" was not as worthy as other guys on the same team? Wouldn't human nature lead to a less-than-spirited advocacy? One writer told me he disliked the process so much he took a pass when asked to join the committee.
Those back-room deals may have been the old-school norm but, as ESPN Insider Mike Sando puts it, "I've never seen anything like that in my five years on the committee."
Sando presented the case for former Seattle Seahawks left tackle Walter Jones, whose career spoke for itself and he was elected in his first year of eligibility.
The Hall debate is especially subjective for pro football. Each of the 46 selectors can, and often do, have his or her own set of criteria.
"Did he dominate for a decade? That's a good place to start," Sando said.
Jeff Legwold, who covers the Denver Broncos for ESPN.com's NFL Nation and is also a member of the Hall committee, agrees with his colleague.
"I'm looking for greatness, the best of the best," he said. "Now, that can be longevity, or did he have four historical seasons in a row? Was he groundbreaking? I think that's the problem, sometimes. We all have different ideas."
Which is why the Hall wants the selectors sequestered to make the final picks. And it's anything but easy. As 15-year committee veteran Legwold noted, of their final 15 one year, 10 were all-decade players. And that was not counting the contributors (non-players) who were on the ballot.
Therein lays the backlog problem ... and a potential solution. While the selectors essentially have only five spots to fill, they are going to lean toward a player more than a coach or an owner. Legwold hopes a contributors division, like the senior committee, is added soon.
"This process is what the Hall wants," Legwold said. "I'm sure that everyone that's willing to participate takes it seriously and puts in the time to make sure we're doing the best we can.
"What used to be the watercooler is now the world."
So go ahead, scream about your favorite player, coach or contributor getting snubbed until you lose your voice. The way the system is set up, if the candidate is truly worthy, he'll get in ... eventually.
Be angry at the system, in other words, not the selectors. And if you want to put someone in Canton, who are you going to take out?
"Judge it by who makes it in," Sando said, "rather than by who might not get in in any given year. The Hall is not embarrassed by anyone who gets in."
But shouldn't it be a tad discomfited if the Hall is seen as an incomplete shrine because of who's missing, and whose time is running out ... in every sense of the word?
As such, the senior committee route seems to be the best way now for former Raiders Jim Plunkett and Cliff Branch, both of whom now belong to the senior committee pool (Flores, who coached until 1994, has a few years yet to reach the 25-year threshold for senior committee eligibility). Brown, meanwhile, has fallen behind Marvin Harrison in the receiver pool, as Brown was eliminated in the cut from 15 to 10.
Even Guy, frustrated with the two-decade wait since he first became eligible for Canton, unloaded in the week before he was selected.
"Sooner or later, we're going to get all the pioneers in there," Guy said, "and we're really going to see football, what it was, what it started and what it is now."
Until then, the bittersweet waiting game continues.
January, 29, 2014
Jan 29
12:00
PM ET
ALAMEDA, Calif. -- Former
Oakland Raiders
receiver
Tim Brown
assuredly has Hall of Fame-worthy stats.
When he retired, following the 2004 season, Brown ranked second in NFL history in receiving yards (14,934), third in receptions (1,094) and tied for third in receiving touchdowns (100), figures that, nine years later, rank sixth, fifth and tied for seventh.
Plus, the nine-time Pro Bowler, who was twice selected as a kick returner, ranked fifth in league history with 19,682 combined net yards.
And still, this is the fifth time Brown has been a finalist.
A year ago, in the wake of his "sabotage" comments about former Raiders coach Bill Callahan and Super Bowl XXXVII again coming to the forefront, Brown was among the first wave of cuts when the 46 Hall selectors reduced the finalists from 17 to 12. Receiving contemporaries
Cris Carter
and
Andre Reed
made that initial cut with Carter being voted into Canton.
Now, Brown not only faces competition as a receiver from Reed again, but
Marvin Harrison
is also a finalist. Plus, former Raiders punter Ray Guy is also one of two senior candidates, and 15 of the past 18 such nominees have been elected.
In a certain pecking order, it would seem that Reed is ahead of Brown, based on last year's vote. And Harrison could be a first-ballot Hall of Famer. A look, then, at the trio's career pass-catching numbers:
Harrison:

1,102 receptions, 14,580 yards, 128 TDs, 190 games, 13 seasons.

Reed:

951 receptions, 13,198 yards, 87 TDs, 234 games, 16 seasons.

Brown:

1,094 receptions, 14,934 yards, 100 TDs, 255 games, 17 seasons.
Then there's this: Reed, an eight-time Hall finalist who caught his first career TD pass from Vince Ferragamo on Sept. 22, 1985, played in four Super Bowls, while Harrison won a ring in 2007. Brown, meanwhile, caught just one pass, for nine yards, in the Raiders' 48-21 loss to the
Tampa Bay Buccaneers
in Super Bowl XXXVII.
Still, a case could be made that Brown's accomplishments are more noteworthy considering the motley assortment of quarterbacks he had throwing him the ball. Meanwhile, the bulk of Reed's and Harrison's careers were spent catching passes from future Hall of Famers in
Jim Kelly
and
Peyton Manning
.
Brown? From Brown's rookie season of 1988 in Los Angeles through his last year in Oakland in 2003, the Raiders had 12 starting quarterbacks --
Steve Beuerlein
,
Jay Schroeder
,
Vince Evans
, Todd Marinovich,
Jeff Hostetler
,
Billy Joe Hobert
,
Jeff George
,
Donald Hollas
,
Wade Wilson
,
Rich Gannon
,
Rick Mirer
and
Marques Tuiasosopo
.
In the Bay Area, many Brown supporters say he would have had
Jerry Rice
's career had he played in San Francisco with 49ers quarterbacks
Joe Montana
and
Steve Young
.
There are 22 receivers enshrined in Canton, and Brown's career intersected or missed by two years with eight of them -- Carter, Michael Irvin, Charlie Joiner, Steve Largent, James Lofton, Art Monk, Jerry Rice and John Stallworth. Of that group, Brown's career receiving yardage is higher than all but Rice and only Rice and Carter had more TD catches than Brown, whose 100 equaled that of Largent in that era.
But if the Hall simply is a case study in stats, then yes, Brown deserves to rock a yellow jacket. It just seems like Brown is in for a wait, especially with
Terrell Owens
and
Randy Moss
coming down the pike soon and selectors seeming to have a relatively short memory.
Or have you forgotten that former
Pittsburgh Steelers
receiver Lynn Swann was a 13-time finalist before his 14
th
year was the one?
Which brings us back to other -- if not just as worthy but perhaps even more deserving -- Raiders candidates than Brown, whose Heisman Trophy at Notre Dame matters not in this discussion.
Guys like, well, Guy, a punter who revolutionized the game. And Tom Flores, who was the first minority coach to win a Super Bowl and actually has four rings. And Jim Plunkett, who won two Super Bowls and has a comeback story for the ages. And Cliff Branch, who has three rings. And Lester Hayes, a four-time Hall finalist who once had 13 interceptions in a season. And Ken Stabler, a former league MVP. And Dave Dalby, who was a starting center on three title teams. And Steve Wisniewski, a first-time semifinalist this year.
Alas, in an era in which the receiver pipeline to Canton seems clogged, Brown's proponents should seemingly push his early-career success as a kick returner as he had a combined 1,542 return yards as a rookie -- his first career touchdown was a 97-yard kickoff return -- and he finished his career with a combined 4,555 yards with four TDs returning kickoffs (one) and punts (three) while rushing for another score.
The Raiders currently recognize 21 Hall of Famers to have played for them in
Marcus Allen
, Fred Biletnikoff, George Blanda, Bob Brown, Willie Brown, Dave Casper, Al Davis,
Eric Dickerson
, Mike Haynes, Ted Hendricks,
James Lofton
,
Howie Long
,
Ronnie Lott
, John Madden, Ron Mix, Jim Otto, Jerry Rice,
Warren Sapp
, Art Shell, Gene Upshaw and
Rod Woodson
.
January, 10, 2014
Jan 10
8:00
AM ET
ALAMEDA, Calif. -- While Tim Brown is a finalist for the Pro Football Hall of Fame for the fifth consecutive year and is deserving of being inducted, the former Oakland Raiders receiver may not be the most, let's say,
worthy
candidate of former Raiders.
Now, that's not a slap at Brown, who certainly had a Canton-worthy career with eye-popping stats. It's just that the manner in which the Hall's 46-member selection committee chooses the enshrinees sets up a logjam that have many just-as-deserving candidates biding their time and waiting for the seniors committee to come their way with a life preserver.
That's how Ray Guy, the punter who changed the game, is likely to get in this year ... as one of two senior candidates to join the 15 finalists the committee votes on to elect its class the day before the Super Bowl. It will be a class of between four and seven members.
One observer's opinion, then, of 10 Raiders deserving of having busts in Canton, and garish gold jackets in their wardrobe ...
[+] Enlarge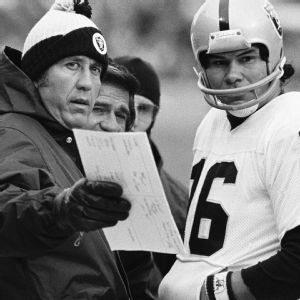 AP PhotoCoach Tom Flores and QB Jim Plunkett won Super Bowl XV and XVIII together.
1) Jim Plunkett
-- The ultimate Lazarus tale who won not one, but two Super Bowl titles after being given up on by not one, but two franchises. The quarterback's career stats compare to those of Joe Namath's and, oh yeah, Plunkett won twice as many titles as Broadway Joe. You cannot tell the story of the NFL in full without mentioning Plunkett's tale. His fate now rests with the seniors committee.
2) Tom Flores
-- The first minority coach to win a Super Bowl (I bet you thought that title went to Tony Dungy, right?), Flores won two titles as the Raiders' head coach and, truly, it's hard to separate him from Plunkett as they accomplished so much together. Still, Flores owns four rings total (two as head coach, a third as an assistant on John Madden's SB XI-winning staff and the fourth as Len Dawson's backup in SB IV).
3) Ray Guy
-- A trailblazer who made opponents plan for a punter, Guy likely gets in this year as a seniors committee nominee. If so, it would be an honor long overdue and he would be the first true punter to get into Canton. Oh yeah, and he was also a first-round draft pick, was on all three Raiders Super Bowl championship teams and his athletic punt in SB XVIII was a game-saving play.
4) Cliff Branch
-- Speed kills, right? A key member of all three of the Raiders' Super Bowl title teams, the receiver's snub remains a mystery. Especially when you compare his stats to those of Hall of Famer Lynn Swann. Branch caught 501 passes for 8,685 yards (17.3 yards per catch average) and 67 TDs in 14 seasons; Swann had 336 catches for 5,462 yards (16.3) and 51 TDs in nine seasons.
[+] Enlarge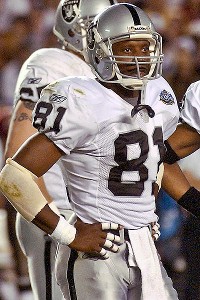 AP Photo/Al GolubTim Brown is No. 5 all-time in receptions (1,094) and No. 6 in career receiving yards (14,943).
5) Tim Brown
-- Spare the "what if Tim Brown switched places with Jerry Rice" arguments and simply admire Brown's body of work. No, he never won a Super Bowl, but he did amass 1,094 receptions for 14,943 yards and 100 TDs in 17 years. He deserves a spot in Canton, no doubt. It's just, among former Raiders, he should take a number.
6) Ken Stabler
-- The Snake was the embodiment of the 1970s Raiders as an unorthodox left-handed quarterback. Winning only one Super Bowl shouldn't be held against him, right? He's already been a finalist for the Hall three times but his legend is getting lost in the fog of time. Someone had to throw all those passes to the already-enshrined Fred Biletnikoff and Branch in the Disco Decade.
7) Lester Hayes
-- The Judge was a self-described Jedi Knight of Silver and Blackdom. Opponents simply saw him as a physical cornerback dripping with Stickum who intercepted 13 passes in 1980. He's been a Hall finalist four times already, but not since 2004, and was second-team all-1980s by the Hall despite retiring in 1986. With two rings, he was an impact player.
8) Dave Dalby
-- He replaced Jim Otto and started at center for all three of the Raiders' title teams. Dalby, though, was unappreciated as he was selected to just one Pro Bowl, in 1977. He was the anchor of a line early in his 14-year career that had Hall of Famers on his left in guard Gene Upshaw and tackle Art Shell.
9) Steve Wisniewski
-- "Wiz" was a Hall semifinalist this past year for the first time and the left guard is sure to get more love in the future as the selection committee gives the grunts on the O-line longer looks. The eight-time Pro Bowler and two-time All-Pro only missed one game in his 13-year career.
10) Jack Tatum
-- One of the most ferocious and intimidating hitters of any era, hence the "Assassin" nickname, the free safety also had 37 interceptions in his 10-year career. Many critics, though, think he did not show enough remorse after his paralyzing hit of New England receiver Darryl Stingley in a 1978 preseason game.