Oakland Raiders:

Dave Dalby
April, 30, 2014
4/30/14
8:00
AM ET
Our countdown of the best
Oakland Raiders
draft picks since the 1970 AFL-NFL merger continues with punter Ray Guy checking in at No. 4 ...
Ray Guy (Southern Mississippi, first round, No. 23 overall, 1973)
Too high for a punter, even if he is headed for enshrinement this summer in the Pro Football Hall of Fame? No. Not at all. In fact, I toyed with the idea of making Guy the Raiders' best draft pick overall since the merger.
Guy was certainly the most unconventional, what with his draft slot as the first pure punter to be taken in the first round of the NFL draft. But he also may have been the most dependable.
"He was so good and had such an immediate impact on our team from Day 1," said former Raiders coach Tom Flores. "He was part of our game approach. We always knew, with his help, we would win field position.
"He changed the game."
Guy was named to seven Pro Bowls and six times was all-Pro. Just three of his 1,049 career punts were blocked and he never had one returned for a touchdown. And he was one of just six players to have been on all three Raiders Super Bowl title teams, along with Cliff Branch, Ted Hendricks, Henry Lawrence, Dave Dalby and Steve Sylvester.
Guy's career average of 42.4 yards per punt over his 14-year career may seem humdrum by today's booming numbers, but it was his accuracy, his ability to pin opponents deep in their own territory and his athleticism that separated Guy. And it was all on display on a single punt early in Super Bowl XVIII, when he leaped high to snag Todd Christensen's errant snap to avert a disastrous situation against Washington.
So when Guy, a seniors committee candidate for Canton, was voted in this past winter, it seemed to validate his place in history, even if the Raiders were already certain of his legacy.
"I didn't try to put myself up on a pedestal just because I did something very well," Guy said. "I did it because of the team. It's like my dad always said to me and my two brothers, the three of us, he said, 'Whatever you do, give it your best shot.' That's what I did."
Honorable mentions
No. 5:
WR Cliff Branch
No. 4: P Ray Guy
No. 3: ?
No. 2: ?
No. 1: ?
April, 29, 2014
4/29/14
8:00
AM ET
Now that we've listed our "
honorable mentions
" for the best
Oakland Raiders
draft picks since the 1970 merger, let's start our countdown of the Top 5 best draftees with receiver Cliff Branch checking in at No. 5…
Cliff Branch (Colorado, fourth round, No. 98 overall, 1972)
Of those listed on my Top 5, Branch is the only Raiders player not enshrined in the Pro Football Hall of Fame, though many see Branch just as deserving of a bust and yellow jacket as his contemporary Lynn Swann.
Branch may have been overshadowed earlier in his career by Canton-bound Fred Biletnikoff in Oakland but the speedy Branch was the epitome of Al Davis' vertical passing game. After Branch retired following the 1985 season, Davis spent the last quarter of his life searching for the next Cliff Branch to stretch the field and keep defenses honest.
All Branch did was average 17.3 yards per catch in his career, catching 501 passes for 8,685 yards and 67 touchdowns, including an NFL record 99-yarder from Jim Plunkett at Washington in 1983.
Branch, a four-time Pro Bowler and three-time All-Pro who led the NFL with 1,092 receiving yards and 13 touchdown receptions in 1974, is also one of just six players to have been on all three Raiders Super Bowl title teams. The others: center Dave Dalby, right tackle Henry Lawrence, reserve offensive lineman Steve Sylvester and Hall of Famers Ted Hendricks, the versatile linebacker, and game-changing punter Ray Guy.
Yes, Branch was fast. He was a track star who kept in shape in the offseasons by playing tennis with strong safety George Atkinson. But Branch was also a football player, one whose 12 touchdown receptions led the league in 1976 as he also averaged a mind-boggling 24.2 yards per catch.
And in those three Super Bowl wins, Branch caught a combined 14 passes for 181 yards and three touchdowns.
As a fourth-rounder, the Raiders got a lot of value out of the pick. Three rings worth, you could say.
January, 10, 2014
1/10/14
8:00
AM ET
ALAMEDA, Calif. -- While Tim Brown is a finalist for the Pro Football Hall of Fame for the fifth consecutive year and is deserving of being inducted, the former Oakland Raiders receiver may not be the most, let's say,
worthy
candidate of former Raiders.
Now, that's not a slap at Brown, who certainly had a Canton-worthy career with eye-popping stats. It's just that the manner in which the Hall's 46-member selection committee chooses the enshrinees sets up a logjam that have many just-as-deserving candidates biding their time and waiting for the seniors committee to come their way with a life preserver.
That's how Ray Guy, the punter who changed the game, is likely to get in this year ... as one of two senior candidates to join the 15 finalists the committee votes on to elect its class the day before the Super Bowl. It will be a class of between four and seven members.
One observer's opinion, then, of 10 Raiders deserving of having busts in Canton, and garish gold jackets in their wardrobe ...
[+] Enlarge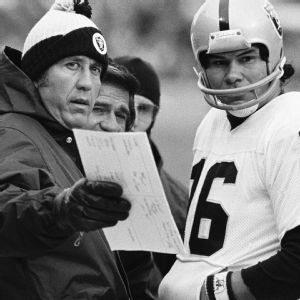 AP PhotoCoach Tom Flores and QB Jim Plunkett won Super Bowl XV and XVIII together.
1) Jim Plunkett
-- The ultimate Lazarus tale who won not one, but two Super Bowl titles after being given up on by not one, but two franchises. The quarterback's career stats compare to those of Joe Namath's and, oh yeah, Plunkett won twice as many titles as Broadway Joe. You cannot tell the story of the NFL in full without mentioning Plunkett's tale. His fate now rests with the seniors committee.
2) Tom Flores
-- The first minority coach to win a Super Bowl (I bet you thought that title went to Tony Dungy, right?), Flores won two titles as the Raiders' head coach and, truly, it's hard to separate him from Plunkett as they accomplished so much together. Still, Flores owns four rings total (two as head coach, a third as an assistant on John Madden's SB XI-winning staff and the fourth as Len Dawson's backup in SB IV).
3) Ray Guy
-- A trailblazer who made opponents plan for a punter, Guy likely gets in this year as a seniors committee nominee. If so, it would be an honor long overdue and he would be the first true punter to get into Canton. Oh yeah, and he was also a first-round draft pick, was on all three Raiders Super Bowl championship teams and his athletic punt in SB XVIII was a game-saving play.
4) Cliff Branch
-- Speed kills, right? A key member of all three of the Raiders' Super Bowl title teams, the receiver's snub remains a mystery. Especially when you compare his stats to those of Hall of Famer Lynn Swann. Branch caught 501 passes for 8,685 yards (17.3 yards per catch average) and 67 TDs in 14 seasons; Swann had 336 catches for 5,462 yards (16.3) and 51 TDs in nine seasons.
[+] Enlarge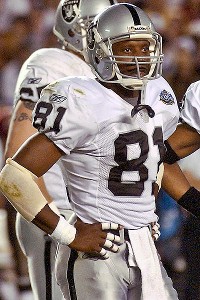 AP Photo/Al GolubTim Brown is No. 5 all-time in receptions (1,094) and No. 6 in career receiving yards (14,943).
5) Tim Brown
-- Spare the "what if Tim Brown switched places with Jerry Rice" arguments and simply admire Brown's body of work. No, he never won a Super Bowl, but he did amass 1,094 receptions for 14,943 yards and 100 TDs in 17 years. He deserves a spot in Canton, no doubt. It's just, among former Raiders, he should take a number.
6) Ken Stabler
-- The Snake was the embodiment of the 1970s Raiders as an unorthodox left-handed quarterback. Winning only one Super Bowl shouldn't be held against him, right? He's already been a finalist for the Hall three times but his legend is getting lost in the fog of time. Someone had to throw all those passes to the already-enshrined Fred Biletnikoff and Branch in the Disco Decade.
7) Lester Hayes
-- The Judge was a self-described Jedi Knight of Silver and Blackdom. Opponents simply saw him as a physical cornerback dripping with Stickum who intercepted 13 passes in 1980. He's been a Hall finalist four times already, but not since 2004, and was second-team all-1980s by the Hall despite retiring in 1986. With two rings, he was an impact player.
8) Dave Dalby
-- He replaced Jim Otto and started at center for all three of the Raiders' title teams. Dalby, though, was unappreciated as he was selected to just one Pro Bowl, in 1977. He was the anchor of a line early in his 14-year career that had Hall of Famers on his left in guard Gene Upshaw and tackle Art Shell.
9) Steve Wisniewski
-- "Wiz" was a Hall semifinalist this past year for the first time and the left guard is sure to get more love in the future as the selection committee gives the grunts on the O-line longer looks. The eight-time Pro Bowler and two-time All-Pro only missed one game in his 13-year career.
10) Jack Tatum
-- One of the most ferocious and intimidating hitters of any era, hence the "Assassin" nickname, the free safety also had 37 interceptions in his 10-year career. Many critics, though, think he did not show enough remorse after his paralyzing hit of New England receiver Darryl Stingley in a 1978 preseason game.