Oakland Raiders:

Jared Allen
March, 27, 2014
Mar 27
8:00
AM ET
Fans and media types alike wondered why
Oakland Raiders
general manager Reggie McKenzie was suffering from what seemed like paralysis by analysis at the onset of free agency.
Why was McKenzie, with close to $65 million in salary-cap room, seemingly sitting out the first day or so of the frenzy, allowing the likes of division rival Denver to swoop in and sign players with aplomb, while his two best young players -- left tackle
Jared Veldheer
and defensive end
Lamarr Houston
-- walked?
[+] Enlarge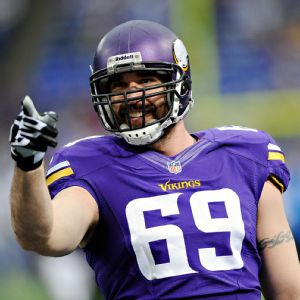 Hannah Foslien/Getty ImagesJared Allen signed a deal with Chicago that could be worth up to $32 million.
It was, the harsher critics suggested, as if McKenzie was fiddling while Silver and Blackdom burned.
But all the while there was a thought that no one wearing silver-and-black-colored glasses wanted to face: What if, no matter how financially enticing an offer, a prime free agent simply did not want to come to Oakland?
Heresy or reality?
The Raiders got a dose of that Wednesday when NFL Network reported that veteran defensive end
Jared Allen
passed on the largest offer he received -- a $9 million per year bid from the Raiders -- and chose instead to go to the
Chicago Bears
, which, ironically enough, is where Houston went.
Early in the offseason, I suggested the Raiders re-sign Houston and make a run at Allen to play on the right side, while flipping Houston back to the left, his more natural position. Seems like the two will team up after all ... just in the NFC North.
Allen chose the four-year, $32 million deal offered by the Bears, in part because he was reportedly turned off by the Raiders not having a quarterback in place at the time, though
Matt Schaub
was acquired shortly thereafter.
Also, McKenzie has been saying this week that Veldheer and Houston simply did not want to return to Oakland. McKenzie told the San Francisco Chronicle that he struggled with the notion.
Of course, many will say that McKenzie could have simply slapped a franchise tag on either player if he wanted them back that badly or, on the other end of the spectrum, that he low-balled the two.
None of that really matters now, though. Not when McKenzie accomplished what he set out to do by getting high-character, veteran locker room leaders who are still productive such as defensive ends
Justin Tuck
and
Antonio Smith
, linebacker
LaMarr Woodley
, receiver
James Jones
and left tackle
Donald Penn
.
Besides, they all
did
want to be in Oakland.
March, 7, 2014
Mar 7
11:00
AM ET
»
AFC Free-Agency Primer
:
East
|
West
|
North
|
South
»
NFC
:
East
|
West
|
North
|
South
Key free agents:
LT
Jared Veldheer
, DE
Lamarr Houston
, RB
Rashad Jennings
, FS
Charles Woodson
, CB
Tracy Porter
, RB
Darren McFadden

Where they stand
: With 17 remaining unrestricted free agents -- Oakland re-signed offensive tackle
Khalif Barnes
last week -- the Raiders chose not to use the franchise tag on Veldheer or Houston. That should not surprise anyone; general manager Reggie McKenzie said he wanted to avoid using it, and Veldheer said he did not want to be tagged. With nearly $65 million in cap space, the Raiders are primed to be players during free agency. They need help especially on the defensive line -- all four starters are free agents -- and in the secondary, and ditto with both cornerbacks and the free safety. The primary need on defense is a prototypical edge rusher.
What to expect
: As McKenzie said last year, just because he has money to spend does not mean he's going shopping at Macy's. And as he restated this year, just because he has money does not mean he's going to spend it on junk. True, it's time for McKenzie to make like Macklemore and "pop some tags," but don't expect him to break the bank. He'll use the money judiciously, and although the Raiders have the most cap space, they also have the most needs. It makes sense for Oakland to find a veteran quarterback to serve as a bridge, of sorts, while McKenzie strengthens to team around said quarterback, someone the staff trusts and already knows. Targets could include
Josh Freeman
,
Josh McCown
and
Mark Sanchez
(if and when the Jets cut him). Defensively,
Jared Allen
could fit the bill at defensive end.
March, 4, 2014
Mar 4
12:00
PM ET

Looking for a blueprint for the Raiders' offseason as they try to turn the corner after consecutive 4-12 seasons under general manager Reggie McKenzie and coach Dennis Allen?
Our ESPN.com NFL Insiders
have you covered

. With more than $60 million in salary cap space, to 18 scheduled unrestricted free agents, the Raiders have more than a few franchise-altering decisions to make. From finding a franchise quarterback (neither
Terrelle Pryor
nor
Matt McGloin
seem to be the answer) to looking at a potential starting lineup (is
Mychal Rivera
the truth at tight end?) to who the Raiders should target in free agency (
Jared Allen
, anyone?) to what they should do with the No. 5 overall pick (QB or DE, DE or QB?) to McKenzie's top picks from a year ago needing to step up (are you listening,
D.J. Hayden
and
Menelik Watson
?). It's all here.
February, 22, 2014
Feb 22
12:00
PM ET
And here we are with an NFL combine-style mailbag…
February, 15, 2014
Feb 15
12:00
PM ET
Let's get right to the mailbag, shall we?
February, 1, 2014
Feb 1
12:00
PM ET
ALAMEDA, Calif. -- The
Oakland Raiders
last played a game on Dec. 29, and the final game of the 2013 season -- Super Bowl XLVIII -- goes down Sunday with the
Denver Broncos
facing the
Seattle Seahawks
in New Jersey. So with that as our backdrop, let's get our first offseason Raiders Twitter mailbag party started ...
January, 17, 2014
Jan 17
2:30
PM ET
ALAMEDA, Calif. -- In his 45-minute end-of-the-season sitdown with six reporters who regularly cover the team on Thursday,
Oakland Raiders
general manager Reggie McKenzie acknowledged that his team does not have a biggest need.
"We have biggest
needs
," McKenzie said, "with an 'S.'"
As in the Raiders
need
a franchise quarterback, a playmaking receiver, a solid piece to the offensive line, and a prototypical edge pass-rusher, to name a few.
[+] Enlarge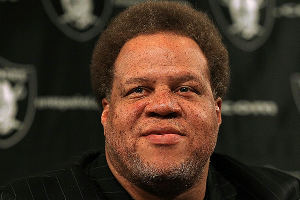 Justin Sullivan/Getty ImagesRaiders GM Reggie McKenzie will have plenty of salary-cap space as free agency approaches.
Among the league's pending free agents: quarterback
Josh Freeman
, receivers
Eric Decker
and
Golden Tate
, offensive tackles
Michael Oher
and
Branden Albert
, center
Alex Mack
and defensive ends
Greg Hardy
,
Justin Tuck
, and
Jared Allen
.
The Raiders will also have more than $60 million in cap space.
The trick, then, is convincing a top-tier free agent to come to Oakland and play for a team that is not only coming off consecutive 4-12 seasons in which it lost eight of its final nine games in both years under coach Dennis Allen, but has not been to the playoffs or had a winning record since 2002.
"It's the opportunity to play and be a part of something," McKenzie said of his sales pitch. "We're going to turn this thing around. We're going to try and sell the Raiders. That's the No. 1 thing. It's not trying to attract guys by saying an end result like 'we're going to the Super Bowl.'
"We're going to get this thing turned around and we're going to win. If you want to be a part of this, here's what we've got, and here's how we want to play you. Here's what we present offensively and defensively, and here's where you fit in. If the kid wants to come, we'll get more into detail about how he can help that process. When you deal with football players, they just want an opportunity to showcase what they have."
McKenzie does not believe it will be that tough a task, even as he says he will not overspend. He said as much last year, when he eyed this coming offseason by saying he'd have money to spend, but that did not mean he would go shopping at Macy's.
Now?
"We want to accumulate as many good players as possible," he said. "The philosophy is not to dump every dollar and cent into one or two players; that's not what I want. We're not at that point with our team that we're able to do that, because we have more than one or two needs. We're going to do things that make sense for the big picture, which is the overall overhaul of the roster.
"Just because I have $5 in my pocket, that doesn't mean I have to spend all of it ... on junk."
Still, McKenzie's overall philosophy is one of building through the draft, with an eye on free agency to serve as a bridge after two years in salary-cap hell.
"(It's) not necessarily a weight being lifted," he said, "but it's an excitement about what's to come, that we're ready to move forward with this Raider team."