Oakland Raiders:

Jay Schroeder
June, 26, 2014
6/26/14
8:00
AM ET
I caught part of a replay of Super Bowl XXII the other day on NFL Network, and it was the start of the third quarter between the
Washington Redskins
and the
Denver Broncos
when announcer Al Michaels said something that caught my attention.
It actually made me pause the DVR, hit rewind and play again so I could hear Michaels one more time. And then another.
Sure, there had been rumors that Al Davis had been enamored with quarterback Doug Williams. But in the third quarter of that Super Bowl, after Williams had essentially won the game for Washington with an epic second quarter that featured five touchdowns, Michaels told the tale.
[+] Enlarge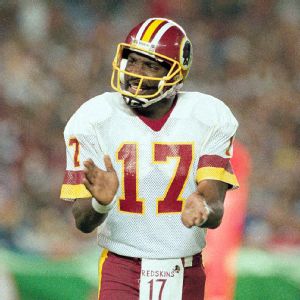 AP Photo/Amy SancettaThe Raiders and Redskins reportedly discussed a swap for quarterback Doug Williams before the 1987 season.
He reported that Williams had been ticketed to the then-Los Angeles Raiders the Monday before the NFL's 1987 regular season was to begin. Then-Washington coach Joe Gibbs had even told Williams he was on his way to the Raiders.
But then, according to Michaels, the Raiders balked at Washington's price -- a first-round draft pick, or a very good player.
Now, we've already heard the tales of John Elway coming so close to being a Raider, and how the Raiders
should
have drafted Dan Marino in that same 1983 draft after the purported draft-day trade to land Elway fell through. And while the Williams-to-the-Raiders story might not have that same intrigue as either Elway or Marino wearing Silver and Black, it is interesting nonetheless.
Especially when you consider what Williams accomplished later that strike-torn season, and when you realize who the Raiders instead used that first-round pick on in the 1983 draft.
Williams, who had been the Tampa Bay Buccaneers' starting quarterback from 1978 through 1982 and had helped author three playoff appearances for them, was also a pioneer as an African American quarterback, following in the footsteps of James Harris and Joe Gilliam.
And we know that Davis looked beyond skin tone when it came to players he believed could play --Davis selected QB Eldridge Dickey in the first round of the 1968 draft -- and Williams had the big arm Davis was always in search of.
But after a contract dispute ended his time in Tampa Bay, Williams played two seasons in the USFL before resurfacing in Washington in 1986 as Jay Schroeder's backup.
Williams had not started an NFL game since Jan. 9, 1983, a playoff loss to the
Dallas Cowboys
, so yeah, you could imagine the Raiders not wanting to give up a first-rounder for him less than a week before the 1987 season.
Still, the Raiders were relatively unsettled under center entering that season as Jim Plunkett had retired and Marc Wilson and Rusty Hilger were the returners.
But even as the Raiders got off to a 3-0 start, the wheels quickly fell off, thanks in part to the strike, which cancelled one week of games and led to three weeks of replacement player games. The Raiders finished 5-10, their worst record since going 1-13 in 1962, the year before Davis arrived in Oakland. And two-time Super Bowl-winning coach Tom Flores resigned following the season.
Would Williams have saved the season and steadied the Raiders' ship?
Meanwhile, in Washington, Williams still had to bide his time. Sure, he relieved Schroeder a few times in 1987 and even started two regular-season games, but he did not become Washington's starter for good until there was 6:51 remaining in the third quarter of its regular-season finale against Minnesota.
Williams, a huge team favorite, led Washington on its playoff run, upsetting the
Chicago Bears
in the divisional round and then upending the Vikings in the NFC title game.
Then came Super Sunday, in which he threw all four of his touchdown passes in the historic second quarter and passed for a then-Super Bowl record 340 yards in Washington's 42-10 victory over Elway's Broncos as Williams became the first African-American starting quarterback to win a Super Bowl, a feat not matched until
Russell Wilson
did it with the
Seattle Seahawks
this past February.
The trade that never happened between Oakland and Washington seemed to work out best for Washington, at least on the surface.
But if the Raiders had given up their first-rounder in 1988, they probably would have missed out on Tim Brown, though the Raiders did do some wheeling and dealing later to acquire three first-rounders, which they used on Brown, Terry McDaniel and Scott Davis.
So, with hindsight always being 20/20, do you essentially trade Doug Williams for Tim Brown if you're the Raiders?
Whatever your answer, remember this: the Raiders and Washington would get together for a trade in 1988, a deal that would haunt the Raiders as they sent offensive tackle Jim Lachey to Washington for… wait for it … Schroeder.
Williams would only play 15 more games over the next two seasons before retiring, while Schroeder could not fully win over the hearts and minds of the Raiders' locker room in five seasons.
June, 12, 2014
6/12/14
8:10
AM ET
If it's Thursday, it must be #ThrowbackThursday pic time, a chance to go into my archives from my days as a junior college student and Barstow
Desert Dispatch
correspondent and post some pictures I took while covering
Oakland Raiders
games when they called Los Angeles home.
Bo Jackson could do a lot of things on the field, as he did in averaging 5.5 yards per carry in 1989, but in this game against the Denver Broncos on Dec. 3, 1989, he was limited to 44 yards on 14 carries. Vance Mueller, meanwhile, did not have a carry, but returned two kickoffs for 41 yards in the Raiders' 16-13 overtime victory.
Last #TBT of the night...#Raiders RB @BoJackson gives way to #PrideOfOccidental #VanceMueller in 1989 vs #Broncos pic.twitter.com/vX5r5KDUqW

— Paul Gutierrez (@PGutierrezESPN) June 6, 2014
Same game and, despite Marcus Allen wearing his helmet here, he did not play. Neither did Jay Schroeder.
#TBT #Raiders @MarcusAllenHOF, Jay Schroeder,@stevebeuerlein & @BoJackson take in @Raiders defense vs #Broncos in '89 pic.twitter.com/bLjqG3kRmC

— Paul Gutierrez (@PGutierrezESPN) June 5, 2014
This was at the postgame media conference following Todd Marinovich's NFL debut, against the Kansas City Chiefs, on Dec. 22, 1991. He had a QB rating of 100.3 after completing 23 of 40 passes for 243 yards and three touchdowns without an interception in the Raiders' season-ending 27-21 loss. Haunted by the look in his eyes yet?
#TBT #Raiders QB @ToddMarinovich, rockin an Indiana Jones Fedora, seems to notice me after his first NFL start in '91 pic.twitter.com/xogXukGgda

— Paul Gutierrez (@PGutierrezESPN) June 5, 2014
OK, back to that Broncos game in 1989. Steve Beuerlein, with some help from right tackle Bruce Wilkerson, stays a step ahead of Broncos linebacker Simon Fletcher, who had 12 sacks that season, but none on this day.
#TBT, ICYMI, #Raiders QB @stevebeuerlein avoids the #Broncos rush in 1989 pic.twitter.com/5e6IC9F0Fn

— Paul Gutierrez (@PGutierrezESPN) June 6, 2014
Bo Jackson may not have had a big game against the Broncos on this day, but in his career, his five TDs against Denver, in four games, were his most against any team. You have to wonder what was on his mind here.
#TBT #Raiders RB @BoJackson catches his breath on @Raiders bench vs #Broncos in pic I shot in 1989 pic.twitter.com/5uxK0MnlEC

— Paul Gutierrez (@PGutierrezESPN) June 5, 2014
May, 5, 2014
5/05/14
3:00
PM ET
Our countdown of the worst
Oakland Raiders
draft picks since the 1970 AFL-NFL merger continues with offensive tackle John Clay checking in at No. 2…
OT John Clay (Missouri, first round, No. 15 overall in 1987)
Who else was available?
WR Haywood Jeffires, OT Harris Barton, OT Bruce Armstrong
To be fair, the 1987 draft from top to bottom was probably overshadowed by its supplemental cousin later in terms of excitement -- paging Brian Bosworth -- and production -- future Hall of Famer Cris Carter.
That's not to say this draft was without its pearls, though -- Bo Jackson in the seventh round, 183
rd
overall? Yes please.
But the Raiders paid dearly for the sin of missing so badly so early.
Clay was supposed to be the cornerstone left tackle for the next decade, a supposed upgrade from the aging Bruce Davis, who helped anchor a pair of Super Bowl championship O-lines with the Raiders.
Clay, though, could barely get on the field, let alone stay on it. He started nine games at right tackle as a rookie during the strike-ravaged 1987 season, including the season opener and finale.
Seemed promising enough, right? Yet before he had a second shot with the then-L.A. Raiders, Clay was shipped to the
San Diego Chargers
for an upgrade in fellow offensive tackle Jim Lachey, for a third-round pick and a fourth-round pick in the 1989 draft.
But here is where the initial pick of Clay becomes infamous in the streets of Silver and Blackdom. After just one game with the Raiders, the season opener, Lachey was flipped and sent to Washington for Jay Schroeder. While Clay's NFL career lasted only two more games with the Chargers and Schroeder would rival Marc Wilson for most reviled Raiders QB in franchise history this side of
JaMarcus Russell
, Lachey was named first-team All-Pro left tackle in Washington from 1989 through 1991.
Bottom 5-plus Raiders draft picks since 1970 merger
Dishonorable mentions
No. 5:
WR Darrius Heyward-Bey
No. 4:
DE Bob Buczkowski
No. 3:
MLB Rolando McClain
No. 2: OL John Clay
No. 1: ?
December, 19, 2013
12/19/13
8:00
AM ET
ALAMEDA, Calif. -- Mark this one in the "small victories" column. And then get out of the way.
Per The Associated Press, the
Oakland Raiders
last weekend became the first team since the
Green Bay Packers
in 1986 to commit seven turnovers in a game and not take a sack.
So go ahead, find Vince Ferragamo (two interceptions) and Randy Wright (five picks) and ask those old Packers how their "accomplishment" of Sept. 14, 1986 against the
New Orleans Saints
stacks up against what
Matt McGloin
(four interceptions, one lost fumble),
Terrelle Pryor
(one pick) and
Taiwan Jones
(a lost fumble on a kick return) did versus the
Kansas City Chiefs
fares.
For one thing, those Packers lost, 24-10, while the Raiders were bludgeoned, 56-31.
Or, just get McGloin's read on not being sacked in a blowout, despite throwing the ball 35 times (as a team, Oakland attempted 41 passes; Green Bay threw the ball 59 times in that game 27-plus years ago).
"I call it a silent alarm," McGloin said Wednesday. "Obviously, against the Chiefs, that was something we were prepared for. We knew they had great pass rush. I think they sacked us nine or 10 times the last time we played them."
Initially, Pryor was ruled to have been sacked 10 times on Oct. 13 at Arrowhead Stadium, though the number was later reduced to nine after a review.
"Our protection plan was solid last week, but as a quarterback standing in there, you have a clock in your head," McGloin added. "It kind of gets to a point where it's, 'OK, I've had this ball for a few seconds now, I need to get rid of it, or I'm going to get hit pretty hard here.'
"So you need to be decisive. You need to know what you're doing on each play. You need to know what your progressions are and what routes are good against what coverages. There's always a clock in the back of your mind."
And, as the saying goes, time waits for no one.
So speaking of time, how long ago was Sept. 14, 1986?
The then-Los Angeles Raiders fell that day at Washington, 10-6, as
Jay Schroeder
beat Marc Wilson, and
Darrell Green
, whose son Jared is now a practice squad receiver for Oakland, picked off Wilson in the end zone with 30 seconds remaining.
Neither Schoeder nor Wilson was known for having internal clocks. Big arms, yes. But not internal clocks.
December, 15, 2013
12/15/13
11:15
PM ET
OAKLAND -- Just in case you were wondering,
Matt McGloin
will indeed start at quarterback for the
Oakland Raiders
next week against the
San Diego Chargers
.
At least, that's what coach Dennis Allen said after the Raiders were blown out by the
Kansas City Chiefs
, 56-31, on Sunday and McGloin had a passer rating of 57.1 after throwing four interceptions and losing a fumble.
"Yeah," Allen said, almost incredulously when asked if McGloin would start.
Still, it was a valid question after
McGloin regressed in the game
with every interception and
Terrelle Pryor
, who purportedly lost his starting job to injury, is now healthy.
Then again, it's a long week before the Raiders hit San Diego and much can change before then, right?
Pryor, who made a pair of mid-series appearances in the game before mopping up, was not available in the postgame locker room. McGloin, meanwhile, said he was stunned by the amount of turnovers -- besides his five, the Raiders had two others -- Oakland had against the Chiefs.
"I'm at a loss for words for it," he said. "It's disappointing. It's frustrating. But at the same time, we were still in the game. It was 35-31 at one point still, even with all the turnovers that we had."
Technically, the Raiders had
just
five turnovers when it was 35-31.
But McGloin's four picks and lost fumble cost the Raiders dearly as his turnovers resulted in 28 points for the Chiefs.
He did not look as settled while dropping back as he did earlier in the season and, again, began to drift in the pocket. When he's excelled, he's been decisive and the ball has come out almost from the moment his back foot hit the grass.
It's almost as if he makes worse decision and throws poorer passes when he has time.
"I think that's what happens a lot of times," Allen said. "When you throw the ball late across the middle, those things can happen. Again, there's no excuses. We can't turn the ball over like that, but he is a young player.
"He's got to go through those growing pains and that learning process. It's tough. It's tough on all of us, but that's part of what we've got to do."
Allen would not endure such hardships with a quarterback he did not believe in, right? Just ask Pryor. Or imagine asking Pryor.
For the game, McGloin showed shades of Marc Wilson and
Jay Schroeder
, QBs from Raiders past who would infuriate the Raiders fan base with their maddening brand of inconsistency.
McGloin finished with 297 yards on 18 of 36 passing and two TDs with his five turnovers.
"I'm trying to win games right now," he said, "and I know that's the mindset of everybody else. It's not looking forward to the future, or looking forward to next season and just play this out.
"In this game, in this profession, that's all you can focus on is the next one."
As in next week, apparently.
October, 29, 2013
10/29/13
8:00
AM ET
On one end of the
Oakland Raiders
' in-season trade spectrum rests the deal from two years ago that brought
Carson Palmer
to town for what turned out to be a first-round draft pick and a second-rounder and a whole lot of what-ifs ... but no playoffs.
On the other end, the 1983 deal that landed the Raiders cornerback Mike Haynes from the
New England Patriots
for a first- and second-rounder and, it turns out, a Super Bowl ring.
[+] Enlarge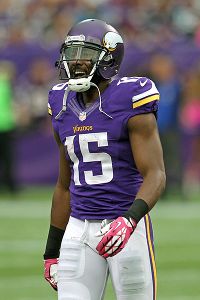 Brace Hemmelgarn/USA TODAY SportsWould the Raiders go after a receiver such as Minnesota's Greg Jennings?
Somewhere in the middle, the 1988 swap with Washington that saw
Jay Schroeder
go from perceived savior to perceived villain, and it cost the Raiders offensive tackle
Jim Lachey
.
So with the NFL trade deadline at 4 p.m ET Tuesday, where do these 3-4 Raiders sit in terms of deal philosophy? It doesn't sound like they're all that interested.
"Well, there's a reason why you go to training camp ... a reason why you have an offseason program," Raiders coach Dennis Allen said in his weekly news conference Monday. "It's so that you can install your schemes and what you want to do offensively, defensively, in the kicking game, how you're going to build the culture of your football team.
"It's just hard to bring a guy in in the middle of the year and think that he's going to come in and have a chance to be really effective for you midway through the year. I just think it's a tough proposition to think that you're going to bring somebody in that's going to make a huge difference. But we'll see."
Fans are pounding the drum for
Cleveland Browns
receiver
Josh Gordon
or even
Minnesota Vikings
receiver
Greg Jennings
, the former
Green Bay Packers
wideout who would be well known to Raiders general manager Reggie McKenzie.
Yes, the Raiders, who have six straight games against teams that currently do not have a winning record, are angling to go on a little run. But if one thing was made evident in Sunday's 21-18 win over the
Pittsburgh Steelers
, Oakland needs a veteran presence at wide receiver.
Denarius Moore
was rendered moot by
Ike Taylor
for the most part.
Jacoby Ford
had the worst game of his NFL career, as did rookie
Brice Butler
.
"I just think we've got to get better production overall from that position," Allen said. "Again, it's the consistency factor. We've got to be a lot more consistent in doing our job and making the plays we've got the opportunity to make, whether it be in the run game blocking, whether it be running our routes exactly right and catching the football.
"That will be an area we're going to emphasize to make sure we improve in that area."
Now, Allen was not talking about a trade specifically. But what could the Raiders offer in trade value?
McKenzie loves his draft picks and it's hard to imagine him parting with anything above a fourth-rounder. And even running back
Darren McFadden
, who is in a contract year and would seemingly be prime trade bait, seems to be rounding into shape after missing a game with a strained hamstring.
The Raiders, though, like the rest of the NFL, seem ready to stand pat for the most part as the trade deadline comes and goes.
Besides, health appears to be on their side, as they should soon regain the services of linebacker
Miles Burris
(knee), rookie left tackle
Menelik Watson
(calf), right tackle
Tony Pashos
(hip), left guard/center
Andre Gurode
(quad) and possibly left tackle
Jared Veldheer
(left triceps).
And a combo of those guys might be better than any trade the Raiders could swing in the current climate.