Oakland Raiders:

Jeremy Stewart
August, 8, 2014
Aug 8
12:00
PM ET
The
Oakland Raiders
(0-0) and
Minnesota Vikings
(0-0) open their respective preseasons Friday night at TCF Bank Stadium in Minneapolis.
1. First-team reps
: The obvious question for a preseason opener revolves around playing time for starters, because no coach in his right mind wants to subject a front-line player to unnecessary risk. Yet, he also has to find a balance to get his guys some serious run in a game situation. A series or two? "All these things can change based on how the game goes, but we'll put the first team out there for a few plays and see how things go," Raiders coach Dennis Allen said. "I really want to get the ones some work, but I really want to have an opportunity in this first preseason game to see a lot of these young players go out and play … you're trying to use this as an evaluation process."
2. Khalil Mack
: The No. 5 overall draft pick has already shown a preternatural ability to fly to the ball in camp, but while the Raiders have been in pads most of the time, they are not tackling to the ground. This will be the first time we see how he responds and if the hype is real. Granted, it's an exhibition game, but it will be his first live hitting since college. "I can't tell you what kind of player I am, or what kind of player I'm going to be," Mack said. "But I can show you." He will also show the Vikings, if only for a few plays.
3. The running backs
: Neither
Maurice Jones-Drew
nor
Darren McFadden
will be exposed to many hits, so expect a healthy dose of
Latavius Murray
,
Jeremy Stewart
and CFL Grey Cup MVP
Kory Sheets
, which might lead some to believe a roster spot could be won in a crowded backfield. Perhaps, but probably not. Stewart and Sheets will probably lead the team in rushing in the preseason and it's possible neither will make the initial 53-man roster. Think Louis Rankin. "I want both of them to play in the game," Allen said of Jones-Drew and McFadden. "I want both of them to get a couple of touches in the game.We'll see how many that is … there are a lot of new players that we have and we need to see them go out and perform. They need to work together because there is a lot to be said about getting out on the field and having a good feel for what the other 10 guys around you are doing."
July, 30, 2014
Jul 30
8:00
AM ET
NAPA, Calif. -- Midway through the
Oakland Raiders
' Monday practice in full pads, during 11-on-11 drills,
Kory Sheets
broke off a long run up the middle.
Sheets
The Canadian Football League Grey Cup MVP showed a preternatural burst of speed as he hit the hole and bounced off linemen and linebackers. But he limped back to the huddle, seemingly tweaking his groin on the run. Surely, his day was done.
No even close. The next time he touched the ball, Sheets broke off another long gainer.
"This is my last shot," Sheets told me after practice. "As a 29-year-old unproven running back in the NFL, you don't really get too many chances to mess up. So whenever you do get the ball ... the opportunity to make a play, you've got to go out there and make it."
Sheets, who played at Purdue, has been on the practice squads of the
San Francisco 49ers
and
Carolina Panthers
and has appeared in two games with the
Miami Dolphins
since 2009. He spent 2012 and 2013 in the CFL with the Saskatchewan Roughriders, rushing for a combined 2,875 yards and 23 touchdowns on 516 carries.
His 197 rushing yards, on 20 attempts, against the Hamilton Tiger-Cats on Nov. 24, 2013, were a Grey Cup record.
After signing with the Raiders on Feb. 12, Sheets is trying to impress Oakland's staff enough to warrant inclusion on its 53-man roster.
"I'm seeing some nice run skills," Raiders coach Dennis Allen said. "Kory's a guy that, he's still got some work to do from the protection standpoint.
"But as far as (being) a turn-around, hand-him-the-ball-and-let-him-go-run-with-it (running back), he's got some very good run instincts and he's got an exceptional burst when he gets into open space."
Allen said the battle to make the team as a running back is one that intrigues him. Because beyond veterans
Darren McFadden
and
Maurice Jones-Drew
, there is also
Latavius Murray
, who was drafted last year but spent the season on injured reserve,
Jeremy Stewart
and undrafted rookie/legacy
George Atkinson III
, whose calling card is returning kickoffs.
That is why Sheets was excited he was asked to field some punts after a recent practice; he knows special teams might be his key to winning a roster spot. And "getting the opportunity to show the coaches that I can make those blocks in those pressure situations" without having to be told his assignment is another of Sheets' training camp goals.
Still, running the ball is his forte, and he is getting more comfortable in his own skin.
"There's less thinking involved, so now I'm able to move fluidly without hesitation," he said. "In the springtime, I was hesitant to move because I wasn't sure what I was doing."
In Canada, Sheets said he ran mostly between the tackles and there were not many "outside stretch plays" so the narrower NFL field should not negatively affect him. Unless ...
"When you're breaking a run, you've got an extra five, 10 yards on the sidelines," in Canada, he said. "There's a little more wiggle room."
True, Sheets is hoping for just enough room to make the Raiders roster.
March, 28, 2014
Mar 28
5:15
PM ET
The biggest question regarding the
Oakland Raiders
signing free-agent running back
Maurice Jones-Drew
to a three-year contract on Friday is this: How exactly do they plan to use him in their retooled offense? As the bellcow? In tandem? As insurance?
Jones-Drew said he was told by the Raiders he was coming in to compete.
"We have different running abilities," he said in a conference call Friday. "But the competition is what's going to make us better. We'll push each other."
He joins a crowded if somewhat unsettled backfield.
Since being the No. 4 overall draft pick in 2008,
Darren McFadden
has been the Raiders' starter ... when healthy. And Oakland re-signed him to an incentive-laden deal to do just that in 2014, even though he has missed 19 of the Raiders' previous 41 games and has never played more than 13 games in a season.
The Raiders are also high on
Latavius Murray
, who missed all of last season with an ankle injury after being drafted in the sixth round. Plus, they signed Canadian Football League Grey Cup MVP
Kory Sheets
, and the Raiders still have
Jeremy Stewart
on the roster.
Or, as Murray tweeted:
one dangerous backfield @dmcfadden20 @Sheets24K @J_Stew32 @Jones_Drew32 #RaiderNation @RAIDERS

— Latavius Murray (@LataviusM) March 28, 2014
Jones-Drew, a diminutive three-time Pro Bowler who has a lot of mileage on his powerful legs, has had health issues himself of late. It just so happens that in the past two seasons, those injuries occurred in Oakland.
In 2012, after holding out in the preseason, the 5-foot-8, 205-pound Jones-Drew broke his left foot on the Jaguars' second play from scrimmage against the Raiders in Week 7 and did not play another down all season. He underwent what he termed "major" surgery that offseason.
Last season, Jones-Drew sprained his left ankle on a touchdown-saving flying tackle by
Charles Woodson
in the first quarter of the Week 2 game.
"It was a hell of a tackle," Jones-Drew said, "there's nothing I can say."
Jones-Drew, 29, missed the rest of that game but played the rest of the season, rushing for 803 yards while averaging a career-low 3.4 yards per carry. His previous low was his 4.2 in 2008.
"I feel like I have a ton left in the tank," he said, and maybe splitting time with McFadden would keep both off the injury report. Or perhaps it limits their efficiency and productivity in smaller-than-usual roles.
Whatever the case may be, Jones-Drew grew up in the East Bay a fan of the Raiders, prepped at high school powerhouse De La Salle and has lived in the Bay Area every offseason since Jacksonville selected him in the second round of the 2006 draft out of UCLA. Playing home games in front of his grandmother now, he said, would be a bonus.
Jones-Drew said the other teams that reached out to him wanted him to join them in a mentor role, or as a backup.
"But the Raiders," he said, "gave me an opportunity to compete.
"It just feels like home."
March, 12, 2014
Mar 12
5:40
PM ET
As strange as it seemed for the
Oakland Raiders
to re-marry oft-injured running back
Darren McFadden
while allowing
Rashad Jennings
to leave for the
New York Giants
, it is interesting to hear McFadden's take on why he chose to return.
Especially since he apparently had other, higher-paying offers on the table.
"We did have real interest from four or five other teams -- one offered more money," McFadden's agent, Ian Greengross, told the Bay Area News Group. "Darren wanted to stay a Raider. He felt like he still had something to prove in silver and black."
Indeed, and many would see McFadden's stance as refreshing, given he chose not to chase the money as he re-signed with Oakland on a one-year, $4-million deal, with $2.25 million of it in incentives and $100,000 guaranteed.
Since being drafted with the No. 4 overall pick in 2008, McFadden's potential has outweighed his production as he has missed 19 of the Raiders' last 41 games, 29 in his six-year career, due to injuries.
Plus, McFadden has averaged 3.3 yards per carry (career lows) in each of the past two seasons after going for a career-high 5.4 yards per carry in a truncated 2011.
McFadden, who has never played more than 13 games in a season, presumably would be atop a depth chart at tail back that includes
Latavius Murray
,
Jeremy Stewart
and CFL Grey Cup MVP
Kory Sheets
.
March, 5, 2014
Mar 5
12:45
AM ET
February, 24, 2014
Feb 24
2:30
PM ET
Oakland Raiders
special teams ace
Taiwan Jones
, who has made the transition from running back to cornerback and back again, signed a three-year contract extension to keep him with the Raiders through 2017, the team announced Monday.
Jones
Jones, a Raiders fourth-round pick (No. 125 overall) in 2011 out of Eastern Washington, went to Deer Valley High in nearby Antioch.
"I was excited when they came to me about the extension," Jones said in the release. "It is definitely a blessing for a local kid to be part of the Raiders' turnaround. I've been an underdog all my life, so I think it's very fitting for me to remain here. I'm definitely excited about it."
Jones was being promoted for the Pro Bowl by the Raiders last year as a "gunner" and, after making the switch to cornerback last year, went back to running back when
Darren McFadden
,
Rashad Jennings
and
Jeremy Stewart
were all injured.
In his career, Jones has 117 yards rushing on 27 carries with six catches for 91 yards and 810 yards on 36 kickoff returns. He also has 32 special teams tackles and has recovered two fumbles.
"It's rare to see and to know that my local team wants me to stay home, and it's just a blessing," Jones added. "I'm glad to be a part of it, happy to remain here and there are big things coming that I am happy to be part of it. I feel good about next year. Obviously, I was able to do a lot of good things on special teams last year. Unfortunately, I didn't make the Pro Bowl last year, but that is something I'm shooting for this year."
December, 27, 2013
12/27/13
5:15
PM ET
ALAMEDA, Calif. -- Sure,
Nnamdi Asomugha
is signing a ceremonial one-day contract to retire a member of the
Oakland Raiders
, but couldn't he be convinced to suit up for one last game?
I kid, of course. Kinda. Because while the Raiders are as healthy as they've been all season -- when it comes to players available on the 53-man active roster -- their starting cornerbacks are a bit dinged up as they prepare for Sunday's season finale against the
Denver Broncos
at the O.co Coliseum.
Tracy Porter
was added to the injury report Friday with a hip issue and
Mike Jenkins
remained limited with a hamstring injury. Both cornerbacks were officially listed as being questionable to play against the Broncos.
Raiders coach Dennis Allen said Friday that
Chimdi Chekwa
has moved ahead of
Phillip Adams
on the cornerback depth chart and would start if Jenkins is unable to go Sunday. Chekwa had already been playing in place of Adams in Oakland's nickel defense, with Porter sliding into the slot.
Also, rookie offensive tackle
Menelik Watson
practiced a day after sitting out with a sore calf, meaning all 53 active players practiced for the second time this week, and season.
Following, then, is the Raiders' status report for Sunday:
Out
: None
Questionable
: CB Mike Jenkins (hamstring), CB Tracy Porter (hip)
Probable
: RG
Mike Brisiel
(knee), WR
Denarius Moore
(shoulder), RB
Jeremy Stewart
(ankle/knee), OT Menelik Watson (calf)
December, 26, 2013
12/26/13
6:43
PM ET
ALAMEDA, Calif. -- Two days after the
Oakland Raiders
had their first perfect attendance by the 53-man roster at a practice, rookie offensive tackle
Menelik Watson
missed Thursday with a recurrence of his calf issue that first flared up in training camp.
Watson, the Raiders' second-round draft pick who also underwent a knee procedure just before the season began and did not make his NFL debut until Week 9, has appeared in five games this season, starting three. He was active for the Raiders' game at the
San Diego Chargers
last weekend but did not play in Oakland's 26-13 loss.
"It's the same thing that's been troubling him," coach Dennis Allen said of Watson's calf.
Following, then, the Raiders' injury report for Thursday:
Did not participate
: OT Menelik Watson (calf)
Limited practice
: CB
Mike Jenkins
(hamstring)
Full practice
: RG
Mike Brisiel
(knee), WR
Denarius Moore
(shoulder), RB
Jeremy Stewart
(knee/ankle)
December, 24, 2013
12/24/13
5:59
PM ET
ALAMEDA, Calif. -- Because the
Oakland Raiders
are taking Wednesday off for the Christmas Day holiday, they practiced Tuesday instead.
But with it not being the "official" start of the NFL week, the Raiders did not have to submit an official injury report on Tuesday. Still, coach Dennis Allen did give an update.
"For the first time in a while, we had everybody out there (practicing)," Allen said.
Asked if he's had all 53 players on the roster on the practice field at the same time this season, Allen said, "I don't think so. I'd have to go back and check the records, but it's been awhile, for sure."
It was the first time running back/special teams standout
Jeremy Stewart
practiced since getting injured on the road against the
Dallas Cowboys
on Thanksgiving Day.
Following, then, the Raiders' "unofficial" official injury report for Tuesday:
Did not participate
: None
Limited practice
: CB
Mike Jenkins
(hamstring), RB Jeremy Stewart (knee/ankle), RG
Mike Brisiel
(knee).
Full practice
: WR
Denarius Moore
(shoulder).
December, 8, 2013
12/08/13
8:40
PM ET
EAST RUTHERFORD, N.J. –
Marcel Reece
, the Pro Bowl fullback for the
Oakland Raiders
, rumbled for a career-high 123 yards rushing, including a career-long 63-yard touchdown run in the third quarter Sunday. He also caught two passes for 38 yards.
And while Reece was playing tailback out of necessity and making his first start there this season because of injuries to
Rashad Jennings
,
Darren McFadden
and
Jeremy Stewart
, it raises the question: Is Reece a special player in the NFL, or simply a very good one on a bad team?
Then there's this: Whatever the answer to the above, why has it taken the Raiders so long to figure it out and make him a feature of this offense?
[+] Enlarge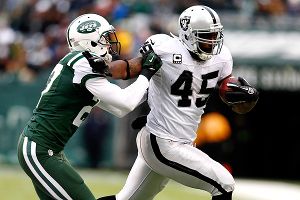 Jeff Zelevansky/Getty ImagesFilling in at tailback, Marcel Reece rushed for a career-high 123 yards, including a 63-yard TD.
For a 4-9 team slipping backward after a
37-27 loss
to the
New York Jets
, there are always more questions than answers. And as far as Reece is concerned, he'd turn in those gaudy individual stats for a team victory.
"If we lose," Reece said, "it's irrelevant. We worked too hard to have the outcome be like this. We need 'W's.' This game is about winning. It's about production. Stats don't matter. The numbers don't matter unless you win, and we didn't do it."
But it was not for a lack of Reece.
The "matchup nightmare" who was a wide receiver in college, also had a big game starting at tailback in place of the injured McFadden last season, albeit in blowout loss to the
New Orleans Saints
, going for 103 yards on the ground and catching four passes for 90 yards.
Yet, Marcel Reece had been as silent as Marcel Marceau in the offense this season despite the front office thinking enough of him to sign him to a three-year contract extension in September. In the Raiders' previous four games, Reece had a total of 20 touches. Sunday, he had 21 (19 carries and two receptions on five targets).
"That doesn't surprise me at all," said rookie quarterback
Matt McGloin
. "He does what we ask of him. He busts his tail day in and day out. He catches the ball well, runs the ball well, blocks well. He's an all-around guy, a great guy and a great player and we're lucky to have him [as] part of this organization."
Especially when his deceptive speed was on display in outrunning the Jets' secondary on a power run up the gut.
"It was a routine run," Reece claimed. "The O-line stepped up and did a great job and made my job easy."
The touchdown, the longest run against the Jets' top-ranked rush defense this season, got the Raiders to within 20-10 on the second play of the second half. Things were looking up.
Oakland's defense, though, could not hold up, and the offense and special teams –
Sebastian Janikowski
missed another field-goal try, this one from 52 yards, and the Jets took advantage of the short field to score a touchdown three plays later, and the Jets blocked a
Marquette King
punt for a TD – had just enough misfires to keep the game out of reach.
Reece could not put his finger on when the game flipped, though.
"If I could put a finger on it, he said, "I would have changed it."
That task, invariably, falls to coach Dennis Allen.
"The big run was a huge run and a huge play in the football game," Allen said. "I thought, overall, he did a nice job of running the football. I'll have to go back and look and see exactly how well he played. But I thought, overall, he did a nice job."
Not exactly a ringing endorsement, but then again, as Reece said, it doesn't matter much without a victory, right?
December, 8, 2013
12/08/13
11:57
AM ET
EAST RUTHERFORD, N.J. --
Rashad Jennings
, who suffered a concussion in the Thanksgiving Day game at Dallas, was among the seven inactive
Oakland Raiders
players for Sunday's game against the
New York Jets
.
As such, the Raiders will be without all three running backs from that loss to the Cowboys as Jennings,
Darren McFadden
(ankle) and
Jeremy Stewart
(ankle/knee) are all inactive.
Fullback
Marcel Reece
is expected to move over to tailback and
Taiwan Jones
, who converted from running back to cornerback this season, should spell Reece.
Following are the Raiders' inactives: SS
Tyvon Branch
, RG
Mike Brisiel
, RB Darren McFadden, WR
Denarius Moore
, RB Jeremy Stewart, RB Rashad Jennings, OL
Lamar Mady
.