Oakland Raiders:

John Elway
July, 18, 2014
7/18/14
8:00
AM ET
What had been an offseason semi-staple -- #ThrowbackThursday pictures from Raiders games I covered when they called Los Angeles home – has taken residence on another day.
Let's call it #FlashbackFriday. At least for today. Following, then, are shots I took while stringing for my local newspaper, the Barstow (Calif.) Desert Dispatch.
In this black and white pic taken during the Raiders' 16-13 overtime victory over the eventual AFC champion Denver Broncos on Dec. 3, 1989, Howie Long tries to apply pressure on John Elway, who would be sacked three times (by Long, Scott Davis and Thomas Benson) and throw a pair of interceptions (both picks coming courtesy of Lionel Washington).
#Raiders #TBT pic from my @DDispatchNews days, #HowieLong rushes #Broncos @johnelway in 1989, @Ky1eLong, @JOEL9ONE. pic.twitter.com/d7ZiGcWWyX

— Paul Gutierrez (@PGutierrezESPN) July 4, 2014
Here, following that same game, Long processes a reporter's question at his locker. Hey, he did have a sack, after all.
Final #Raiders #TBT pic of day, Howie Long is not amused with ur line of questioning, @JOEL9ONE @Ky1eLong pic.twitter.com/I7aCsvZqTq

— Paul Gutierrez (@PGutierrezESPN) July 4, 2014
This is from Marcus Allen's final home game as a Raider, a 36-14 loss to the San Diego Chargers on Dec. 20, 1992. Allen, who was drafted by the Raiders in 1982, carried the ball just two times for 12 yards on this day, including in this picture, and caught one pass for 13 yards.
#Raiders #TBT, @MarcusAllenHOF looks to turn the corner behind Steve Smith's block against the #Chargers. pic.twitter.com/Cc5seme439

— Paul Gutierrez (@PGutierrezESPN) July 4, 2014
Hey, Arsenio Hall was still running things in 1992, so file this under Hall's "Things that make you go Hmmm." As in, future Hall of Fame running back/Raider-for-a-season Eric Dickerson lining up as a receiver in, yes, 1992. Hmmm, indeed.
#TBT #Raiders pic I took of @EricDickerson in my @DDispatchNews correspondent days lining up...as a receiver? pic.twitter.com/DF85OePBob

— Paul Gutierrez (@PGutierrezESPN) July 10, 2014
June, 26, 2014
6/26/14
8:00
AM ET
I caught part of a replay of Super Bowl XXII the other day on NFL Network, and it was the start of the third quarter between the
Washington Redskins
and the
Denver Broncos
when announcer Al Michaels said something that caught my attention.
It actually made me pause the DVR, hit rewind and play again so I could hear Michaels one more time. And then another.
Sure, there had been rumors that Al Davis had been enamored with quarterback Doug Williams. But in the third quarter of that Super Bowl, after Williams had essentially won the game for Washington with an epic second quarter that featured five touchdowns, Michaels told the tale.
[+] Enlarge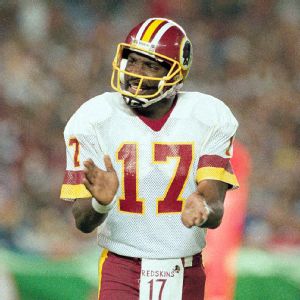 AP Photo/Amy SancettaThe Raiders and Redskins reportedly discussed a swap for quarterback Doug Williams before the 1987 season.
He reported that Williams had been ticketed to the then-Los Angeles Raiders the Monday before the NFL's 1987 regular season was to begin. Then-Washington coach Joe Gibbs had even told Williams he was on his way to the Raiders.
But then, according to Michaels, the Raiders balked at Washington's price -- a first-round draft pick, or a very good player.
Now, we've already heard the tales of John Elway coming so close to being a Raider, and how the Raiders
should
have drafted Dan Marino in that same 1983 draft after the purported draft-day trade to land Elway fell through. And while the Williams-to-the-Raiders story might not have that same intrigue as either Elway or Marino wearing Silver and Black, it is interesting nonetheless.
Especially when you consider what Williams accomplished later that strike-torn season, and when you realize who the Raiders instead used that first-round pick on in the 1983 draft.
Williams, who had been the Tampa Bay Buccaneers' starting quarterback from 1978 through 1982 and had helped author three playoff appearances for them, was also a pioneer as an African American quarterback, following in the footsteps of James Harris and Joe Gilliam.
And we know that Davis looked beyond skin tone when it came to players he believed could play --Davis selected QB Eldridge Dickey in the first round of the 1968 draft -- and Williams had the big arm Davis was always in search of.
But after a contract dispute ended his time in Tampa Bay, Williams played two seasons in the USFL before resurfacing in Washington in 1986 as Jay Schroeder's backup.
Williams had not started an NFL game since Jan. 9, 1983, a playoff loss to the
Dallas Cowboys
, so yeah, you could imagine the Raiders not wanting to give up a first-rounder for him less than a week before the 1987 season.
Still, the Raiders were relatively unsettled under center entering that season as Jim Plunkett had retired and Marc Wilson and Rusty Hilger were the returners.
But even as the Raiders got off to a 3-0 start, the wheels quickly fell off, thanks in part to the strike, which cancelled one week of games and led to three weeks of replacement player games. The Raiders finished 5-10, their worst record since going 1-13 in 1962, the year before Davis arrived in Oakland. And two-time Super Bowl-winning coach Tom Flores resigned following the season.
Would Williams have saved the season and steadied the Raiders' ship?
Meanwhile, in Washington, Williams still had to bide his time. Sure, he relieved Schroeder a few times in 1987 and even started two regular-season games, but he did not become Washington's starter for good until there was 6:51 remaining in the third quarter of its regular-season finale against Minnesota.
Williams, a huge team favorite, led Washington on its playoff run, upsetting the
Chicago Bears
in the divisional round and then upending the Vikings in the NFC title game.
Then came Super Sunday, in which he threw all four of his touchdown passes in the historic second quarter and passed for a then-Super Bowl record 340 yards in Washington's 42-10 victory over Elway's Broncos as Williams became the first African-American starting quarterback to win a Super Bowl, a feat not matched until
Russell Wilson
did it with the
Seattle Seahawks
this past February.
The trade that never happened between Oakland and Washington seemed to work out best for Washington, at least on the surface.
But if the Raiders had given up their first-rounder in 1988, they probably would have missed out on Tim Brown, though the Raiders did do some wheeling and dealing later to acquire three first-rounders, which they used on Brown, Terry McDaniel and Scott Davis.
So, with hindsight always being 20/20, do you essentially trade Doug Williams for Tim Brown if you're the Raiders?
Whatever your answer, remember this: the Raiders and Washington would get together for a trade in 1988, a deal that would haunt the Raiders as they sent offensive tackle Jim Lachey to Washington for… wait for it … Schroeder.
Williams would only play 15 more games over the next two seasons before retiring, while Schroeder could not fully win over the hearts and minds of the Raiders' locker room in five seasons.
May, 15, 2014
5/15/14
8:00
AM ET
So, by the time the smoke clears in two or three years, where will the likes of
Khalil Mack
and
Derek Carr
land when it comes time to account for the best and worst
Oakland Raiders
draft picks in franchise history?
Before the draft, we concluded our best Raiders draft picks with
Marcus Allen
landing at the top spot. But on our other list, the one that includes those whose names must not be mentioned, we only got to No. 2.
As such, our countdown of the worst Raiders draft picks since the 1970 AFL-NFL merger concludes with, yup, quarterback
JaMarcus Russell
closing things out at No. 1.

Russell
QB JaMarcus Russell (LSU, first round, No. 1 overall in 2007)
Who else was available?
WR
Calvin Johnson
, RB
Adrian Peterson
, LB
Patrick Willis
You were expecting someone else?
Really, this was as telegraphed as badly as Russell was at taking accountability. Thing is, it's hard to blame the Raiders for picking him in the first place. Russell was the consensus No. 1 pick, the next John Elway, a huge athlete with a cannon for an arm.
But it was a bad marriage from the start. Russell held out as a rookie and did not join the team until after the season began, signing a six-year, $68 million contract. He did not play until December and did not start a game until the season finale.
In fact, an argument could be made the decision to draft Russell was the wedge between owner Al Davis and rookie coach Lane Kiffin, though those two had many issues. For example, one of Kiffin's plans was to use that No. 1 overall pick on Calvin Johnson, and then come back in the second or third round and draft Stanford quarterback
Trent Edwards
. Alas ...
Russell was the unquestioned starter in 2008, even if questions began to grow about his commitment as a franchise quarterback. There would be flashes of his talent but they would fade away as tales of his off-the-field partying ways grew, along with his waistline.
By 2009, Russell was benched by Tom Cable in favor of
Bruce Gradkowski
and, with his personal life in freefall after his uncle died, Russell reportedly weighed 300 pounds following the season. The Raiders, who had acquired
Jason Campbell
during the 2010 NFL draft, had enough and Davis pulled the cord and cut Russell, who Davis had earlier defended to Kiffin as a "great player."
Two months later, Russell's long-rumored association with "Purple Drank" was confirmed when he was arrested for possession of a controlled substance -- codeine syrup -- without a valid prescription.
Russell, who made about $36 million from the Raiders, later told ESPN that he had tested positive for codeine after Oakland drafted him. And after the money seemingly dried up, Russell attempted a comeback with Jeff Garcia serving as his personal coach. But after the Raiders, who wanted more than $9 million back from him, reportedly settled for about $3 million, Russell's "comeback" ended.
In all, Russell was 7-18 as a starter, completing 52.1 percent of his passes for 4,083 yards with 18 touchdowns and 23 interceptions in 31 games.
The biggest bust in Raiders history? Russell is the biggest bust in NFL history ... so far.
Bottom 5-plus Raiders draft picks since 1970 merger
Dishonorable mentions
No. 5:
WR Darrius Heyward-Bey
No. 4:
DE Bob Buczkowski
No. 3:
MLB Rolando McClain
No. 2:
OT John Clay
No. 1: QB JaMarcus Russell
Top 5-plus Raiders draft picks since 1970 merger
Honorable mentions
No. 5:
WR Cliff Branch
No. 4:
P Ray Guy
No. 3:
TE Dave Casper
No. 2:
DE Howie Long
No. 1:
RB Marcus Allen
April, 24, 2014
4/24/14
4:45
PM ET
It's all the rage in social media -- #ThrowbackThursday -- when people go old school and post photos from, well, simpler times.
As such, I went digging through my archives and found some pics I shot at a
Los Angeles
Raiders games back when I was in junior college and stringing for my hometown newspaper, the Barstow (Calif.) Desert Dispatch.
I've posted them to my Twitter account -- @PGutierrezESPN -- but thought they should be shared here as well. Enjoy ...
.
March, 27, 2014
3/27/14
2:15
PM ET
We conclude our look at the Oakland Raiders' top 5 free agent signings of all time with Jim Plunkett checking in at No. 1 ...
If it truly is all about the rings, then there should be no other choice than Plunkett as the Raiders' top free agent signing of all time after helping lead the team to two of its three Super Bowl titles, in 1980 and 1983.
And yet, there is also the Lazarus effect, which only adds to the legend, Plunkett resurrecting himself after being out of the game following a pair of painful stops in New England and San Francisco. In fact, Plunkett was out of the game in 1978, when the Raiders signed him to hold a clipboard behind Kenny Stabler.
[+] Enlarge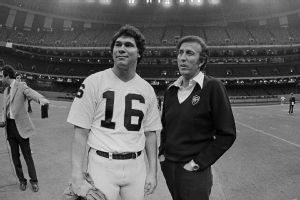 AP PhotoJim Plunkett and former coach Tom Flores at the Superdome in New Orleans during the week leading up to Oakland's 27-10 win in Super Bowl XV.
But when the Raiders traded Stabler to the Houston Oilers for Dan Pastorini in 1980, Plunkett was frustrated that he did not have the opportunity to compete for the starting job. He went to coach Tom Flores and told him he wanted out. But after Flores spoke with Al Davis, the Raiders owner was not about to ship out his only veteran presence behind Pastorini (Oakland had just used a first-round draft pick on Marc Wilson).
Plunkett, the 1970 Heisman Trophy winner out of Stanford and the top pick of the 1971 draft, bided his time. Five games into the season, the
Kansas City Chiefs
broke Pastorini's leg and Plunkett took over as the Raiders sat at just 2-3.
"One of the things that's always stuck with me when I took over in '80, Mr. Davis told me, 'It doesn't matter if you play well; it's only important of we win the game. We can play well next time,'" Plunkett said.
The Plunkett-led Raiders ran off a six-game winning streak and Oakland claimed a wild-card spot, beating Stabler's Oilers in the playoffs, the Kardiac Kid
Cleveland Browns
and the high-powered
San Diego Chargers
before pasting the
Philadelphia Eagles
in Super Bowl XV, 27-10.
Plunkett's Cinderella season came to fruition as he was named the game's MVP.
The Raiders were again champs three years later, this time with Los Angeles serving as the team's home, when they went 12-4 and beat the
Pittsburgh Steelers
and
Seattle Seahawks
by a combined 68-24 before thumping defending champion Washington, 38-9, in Super Bowl XVIII.
That 1983 season, though, was not without drama for Plunkett, not when he was benched with the Raiders sitting at 5-2 in favor of Wilson in the wake of Wlison getting a reported five-year, $4-million deal to keep him away from Donald Trump and the USFL's New Jersey Generals.
"You know, having played quarterback, it's pretty hard to bench your quarterback, your starter, especially a guy that's won a Super Bowl for you," Flores told Silver and Black Productions. "But he was beat up pretty good early in the year, and Jim was the kind of quarterback that he was, just such a warrior that he didn't avoid too much contact, so we did make a change and we put Marc Wilson in."
Wilson had a good game on national television against the
Dallas Cowboys
, but the Chiefs again came to Plunkett's rescue, so to speak, this time breaking Wilson's shoulder. A recharged Plunkett never looked back, though he did cause a stir by skipping the team's championship parade in L.A.
Some saw it as his silent protest against being benched that season.
"Who knows, maybe it was, but I don't want to be petty," Plunkett told me for my upcoming book, "100 Things Raiders Fans Should Know & Do Before They Die."
"There were a lot of reasons; I was living up north and it was a long year for me. My rent was up. It was time to go home."
Plunkett laughed, though not too hard lest the pain return. He is still recovering from a left shoulder replacement surgery, one of 16 football-related procedures he's undergone, including both knees being replaced.
He retired after the 1986 season and has remained close to the Raiders' organization. And in his last years, Davis pumped Plunkett for the Pro Football Hall of Fame.
"I said it then and I believe it now," Davis said in 2008, "that Jim Plunkett was one of the truly great players of our time. He won two Super Bowls and has never gotten the acclaim he desires or deserves. He was a Heisman Trophy winner, he was a Super Bowl winner, he did as much in pro football as John Elway did, who it took 15 years to win a Super Bowl."
January, 15, 2014
1/15/14
8:00
AM ET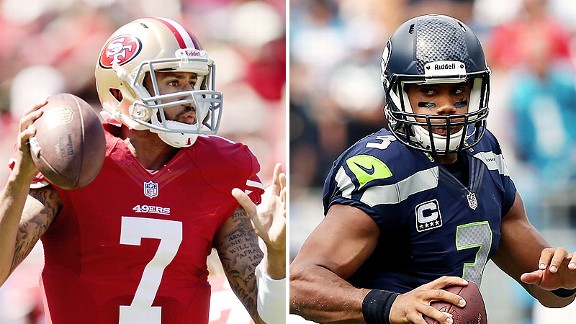 Getty Images49ers quarterback Colin Kaepernick and Seahawks quarterback Russell Wilson will square off for the third time this season.
ALAMEDA, Calif. -- When the
San Francisco 49ers
and
Seattle Seahawks
meet Sunday for the NFC title, it will mark the 18
th
time since the AFL/NFL merger of 1970 that teams from the same division play in a conference championship game.
But it's only happened four times since 2002, when the Seahawks moved from the AFC West to the NFC West as part of the league's realignment. This year marks No. 5.
Still, when the Raiders were a mainstay of the AFC title game – they played in eight such games between 1970 and 1983 – they faced a team from their division, the AFC West, a mere one step away from the Super Bowl three times.
It's interesting to note that all three of those meetings would have happened in the divisional round today because, from 1970 through 1989, two teams from the same division could not meet in the playoffs until the conference title game.
A look, then, at those three meetings ...


Jan. 1, 1978, Mile High Stadium
Denver Broncos 20, Oakland Raiders 17
The defending champion Raiders were the AFC's lone wild-card team at 11-3 – in those days, only the then-three division winners and the second-place team with the best record qualified for the playoffs – and were coming in off their breathtaking "Ghost to the Post" double-overtime divisional playoff win at the Baltimore Colts, 37-31.
The top-seeded Broncos, in the heyday of their "Orange Crush" defense, had gone 12-2 with one of their losses at home to the Raiders – the teams split the regular-season series, each winning on the road – and had just handled the
Pittsburgh Steelers
in the divisional round, 34-21.
The Broncos, who allowed an AFC-low 148 points, never trailed the Raiders, who led the NFL in scoring with 351 points, and led by scores of 14-3 and 20-10. But the Raiders, appearing in their fifth straight AFC title game, remember it for a play that never happened. At least, from the officials' perspective.
"(Rob) Lytle's fumble?" the late Al Davis told NFL Films. "No one saw it, so they said."
Leading 7-3 midway through the third quarter, the Broncos set up at the Raiders' 2-yard line and had a first-and-goal when Lytle ran into the pile and was hit by Jack Tatum. The ball popped out, Mike McCoy scooped it up and was off to the races for the game-changing touchdown. Except ...
Lytle was ruled down, the officials explained, saying that his forward progress had been stopped before the ball came free. Replays showed otherwise and then Art McNally, the former head of NFL officials, came clean to NFL Films, albeit, a decade later.
"It was a fumble," he said, "and we were wrong on the call."
Too little, too late for the Raiders as Jon Keyworth punched it in for Denver one play later and the Broncos led, 14-3, en route to the victory and Super Bowl XII, where they were thumped by the
Dallas Cowboys
, 27-10.
It was John Madden's final playoff game as he retired a year later and Oakland would not return to the postseason until 1980.
Jan. 11, 1981, Jack Murphy Stadium


Oakland Raiders 34, San Diego Chargers 27
Five AFC teams finished 11-5 in 1980, the
Buffalo Bills
, the
Cleveland Browns
, the Houston Oilers, the Chargers and the Raiders.
A second wild-card team had been added to the playoff mix two years earlier and the Raiders were the top-seeded wild card. First they beat a familiar face in Kenny Stabler and the Oilers, 27-7, in the conference's wild-card game, then they traveled to Cleveland, where the wind chill was minus-36 degrees, and upset the Browns, 14-12, in the "Red Right 88" game when Mike Davis picked off Brian Sipe in the end zone with less than a minute to play.
The Chargers, meanwhile, were the AFC's top seed due to a better conference record than Cleveland and Buffalo and won the West over the Raiders, with whom they split the regular-season games as each team won at home, based on better net points in division games. San Diego beat the Bills, 20-14, in its first playoff game.
Oakland began the season just 2-3 and recently acquired quarterback Dan Pastorini was lost in Game 5 with a broken leg. Enter Jim Plunkett and his Lazarus act. Under Plunkett, the Raiders had won 11 of 13 games, including the playoffs, and started hot again against the high-scoring Air Coryell Chargers as Oakland opened up a 28-7 first-half lead.
San Diego woke up with 17 unanswered points , creeping to within 28-24 in the third quarter.
"Ted Hendricks grabs me by the jersey and he starts shaking me and says, 'Keep scoring. We can't stop them,'" Plunkett told NFL Network.
A pair of Chris Bahr field goals gave the Raiders some breathing room before Rolf Benirschke's field goal made it a one-score game with less than seven minutes to play.
The Raiders' offense did not heed Hendricks' advice this time; it simply ran out the clock on a 15-play drive that included 14 runs and four first downs.
"That game in the end, when all was said and done, came down to our offensive line and Mark van Eeghen," Matt Millen, then a rookie linebacker, told NFL Network.
The iconic image of the game, then, is of left guard Gene Upshaw's heavily padded right arm holding the game ball aloft as he exited the field. The Raiders went on to beat the
Philadelphia Eagles
, 27-10, in Super Bowl XV as Plunkett was named the game's MVP and Tom Flores became the first minority head coach to win a Super Bowl.


Jan. 8, 1984, Los Angeles Memorial Coliseum
Los Angeles Raiders 30, Seattle Seahawks 14
The 1983 Raiders are considered one of the best teams of all time and yet, they lost four games that season – one at Washington, in which an injured Marcus Allen did not play, a head-scratcher at home in the penultimate week of the season to the St. Louis Cardinals and two to, yes, the Seahawks.
Indeed, all you NFL newbies, the Raiders were in L.A. from 1982 through 1994 and the Seahawks used to live in the AFC West (from 1977-2001) and they were even a little chippy and, yes, lippy back then.
"Seattle knew us so well," Allen told NFL Network. "It's no secret, I mean they even knew our plays. I looked across the line of scrimmage at Kenny Easley, I shook my head, I said, 'I'm coming right there.' I think he shook his head back and said, 'OK.'"
The Seahawks had swept the Raiders that year by scores of 38-36 in Seattle and 34-21 in L.A. over a three-week period. The sweep got the Seahawks into the playoffs as the top wild-card team at 9-7 and they beat rookie John Elway and the Broncos, 31-7, in the wild-card game at Seattle before upsetting another ballyhooed first-year QB in the Miami Dolphins' Dan Marino, 27-20, at the Orange Bowl.
The top-seeded Raiders had just thumped the Pittsburgh Steelers, 38-10, before a crowd of 92,434 at the Los Angeles Memorial Coliseum and awaited the Seahawks.
"We had lost to Seattle twice," Howie Long told NFL Network. "We took that as we had gotten our ass kicked and it was time for redemption."
It was an alley fight of a game and the Raiders, who led the AFC with 442 points scored, dominated Seattle, the conference's second-highest scoring team with 403 points. L.A. jumped out to a 27-0 lead as Allen, playing with a mouse under his right eye, finished with 216 yards from scrimmage, with 154 yards rushing on 25 carries and 62 yards receiving and a TD on seven catches.
"All I remember was coming out with a black eye and seeing stars," Allen said. "But I wasn't going [to stay] out of the game."
L.A.'s defense picked off five passes from Seahawks quarterbacks Dave Krieg and Jim Zorn, with two interceptions from Mike Davis, and the Raiders also had five sacks, two by rookie Greg Townsend.
The Raiders then went to Tampa Bay for Super Bowl XVIII and beat defending champion Washington, 38-9, with Allen winning MVP honors on the strength of a then-record 191 rushing yards on 20 carries, including his reverse-field 74-yard touchdown run.
It is still the Raiders' most recent Super Bowl title.