Oakland Raiders:

John Madden
August, 2, 2014
Aug 2
11:00
PM ET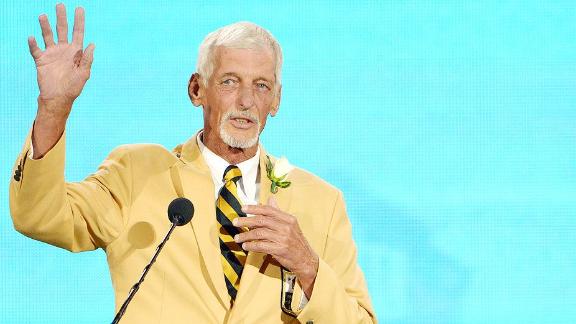 Ray Guy took his place among the game's immortals Saturday night when he was inducted into the Pro Football Hall of Fame in Canton, Ohio. He made a little extra history along the way.
The
Oakland Raiders
' first-round draft pick in 1973 is the first pure punter to be enshrined. He is the 22nd Hall of Famer the Raiders recognize.
"Punters," former Raiders coach and fellow Hall of Famer John Madden said in his introduction of Guy, "are football players, too."
In a speech that lasted nearly 15 minutes, Guy spoke of his long and winding road to Canton from the fields of Georgia.
"There are no more games to play," he said, "no more records to set or championships to win. This is beyond my wildest dreams. I didn't do it alone."
Guy, a seven-time Pro Bowl and three-time All-Pro selection, thanked members of his family first, saying the greatest influences in his life were his late mother and father. He also mentioned his late college coach at Southern Mississippi, P.W. Underwood, as well as late Raiders owner Al Davis, who was represented in Canton by his wife Carole and son Mark, the current Raiders managing general partner. Two-time Super Bowl-winning Raiders coach Tom Flores was also in the audience.
"Playing in the NFL with the Raiders was my destiny," said Guy, one of just six players to have been on all three of their Super Bowl title teams.
Also a safety in college, Guy was an athlete. He was drafted by the
Cincinnati Reds
. He also said he could have played in the NBA.
Just three of Guy's 1,049 career punts were blocked.
"Ray Guy made people in the 'hood say, 'I'm Ray Guy,'" Hall of Fame receiver Michael Irvin said on the NFL Network.
"There was nothing too technical or complicated" about how Guy kicked, he said. "I was taught to keep my ego in its place. I'd rather be in the background, just one of the people.
"I am who I am, and that's all you're ever going to get."
Guy said he was told recently that the biblical meaning of his uniform number, 8, was a new beginning. As such, he hoped his inclusion at Canton was a new beginning for punters, as well as continuing to serve as an inspiration.
"Punters," Guy said, "keep the faith. You are an important part of every game.
"This is long, long overdue. But now, the Hall of Fame has a complete team."
August, 2, 2014
Aug 2
2:00
PM ET
It only seems natural that Ray Guy chose his first NFL coach to present him Saturday when the longtime
Oakland Raiders
punter is
introduced for induction into the Pro Football Hall of Fame
.
John Madden, who is already an enshrinee in Canton, Ohio, will do the honors. But Guy also said there was a certain pecking order to who he wanted introducing him.
The late Al Davis, who presented eight previous Raiders Hall of Famers, would have been Guy's first choice, followed by Madden and, if Madden would have been unavailable, Guy's only other head coach with the Raiders, Tom Flores.
"I wanted Al to do it, of course," Guy said earlier this week. "We're only here for a little while, basically, but I wanted him to do it and then, of course, he's not going to be able to be there. He is there but he's not there verbally introducing me.
"I wanted to keep it within the family, and when I say family, I'm talking about the Raiders, so the next obvious choice would be John."
Madden was the Raiders' coach when Oakland used an unheard of first-round draft pick on Guy in 1973, and under whom the Raiders won their first championship, Super Bowl XI in the 1976 season.

"John is going to be a great inspiration to me when he's standing up there," Guy added. "I don't know what he's going to say, because nobody knows what he's going to say, but you know, I wanted to keep it through the chain of command. And then, if John was not available, it would have stepped right down to Tom because Tom was there as the (receivers coach) all of my years until John retired and then Tom took over, so there was no change there, there wasn't a change in anything it just kept the same thing."
Under Flores, the Raiders won Super Bowl XV and then, with the franchise relocated to Los Angeles, the Raiders won Super Bowl XVIII.
Guy retired following the 1986 season with back issues
.
Guy is one of just six Raiders players to be on all three Raiders title teams, along with Hall of Fame linebacker Ted Hendricks, receiver Cliff Branch, center Dave Dalby, offensive tackle Henry Lawrence and offensive lineman Steve Sylvester.
Guy will also be the first pure punter enshrined
.
"So, I just wanted to keep it in the Raider family," Guy said. "I could not have asked for a better presenter than John Madden, because he's part of my family."
July, 24, 2014
Jul 24
2:40
PM ET
Impressionist Frank Caliendo stopped by ESPN.com's NFL Nation TV Thursday and offered hilarious takes in different voices on the current state of the NFL, joining host Paul Gutierrez (
Oakland Raiders
reporter), co-host Coley Harvey (
Cincinnati Bengals
reporter) and Kevin Seifert (NFL national reporter).
Caliendo broke out many of his impressions, including his staple of staples, John Madden, and advised life-of-the-party rookie
Johnny Manziel
to keep on partying, in Madden's voice, like Madden's Raiders of the 1970s did as one of the league's dominant teams of the era, both on and off the field.
Earlier in the day on ESPN Radio's "Mike and Mike" show,
Caliendo read LeBron James' letter to the fans
, his reason for returning to Cleveland, in the voice of Morgan Freeman. Caliendo shared some of it on the Spreecast as well.
Other NFL personalities Caliendo did impressions of included what is now his newest staple, Jon Gruden, while briefly taking the show into a Gruden family reunion and reminiscing on Harry Potter's school of Hogwarts. He also did Will Ferrell doing Harry Caray.
Caliendo, who has had his own television show in the past, said he stopped counting how many voices he has in his repertoire, though it's been reported he has at least 120 impressions, from former president George W. Bush to Mike Ditka, which he said is all about chewing gum and putting his index finger above his lip as a mustache. He wants to add a
Peyton Manning
impression, saying there's some "Elvis" in the five-time NFL MVP's voice.
And yes, Caliendo did some Charles Barkley while discussing how he comes up with ideas for impressions. Caliendo was on the show for 20 minutes.
Other topics discussed by Gutierrez, Harvey and Seifert included
Ray Rice
getting a reported two-game suspension, Tony Dungy's recent assertion that he would not draft the openly gay
Michael Sam
because he would be too big a distraction, and a new home for the Raiders.
The show can be watched here:
July, 9, 2014
Jul 9
10:00
AM ET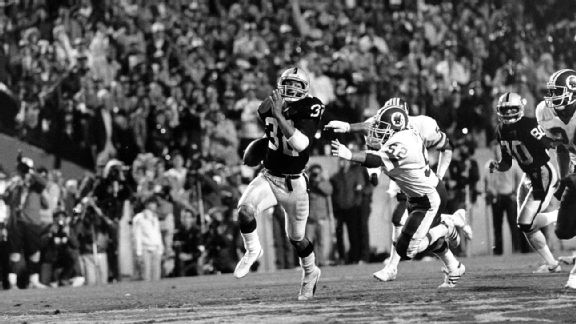 AP Photo
»
VOTE HERE
»
NFC Plays:
East
|
West
|
North
|
South
»
AFC:
East
|
West
|
North
|
South
This is one of three nominations for the most memorable play in Raiders' history. In the previous two days we featured the Sea of Hands, when Clarence Davis somehow came down with Ken Stabler's flip in the end zone to upend the defending two-time Super Bowl champion Miami Dolphins in the AFC divisional playoffs in 1974; and the Holy Roller, which gave the Raiders a "zany" victory in San Diego on the final play of regulation when Ken Stabler purposely fumbled forward while being sacked and, after Pete Banszak batted the ball even further forward, Dave Casper recovered in the end zone for a touchdown in 1978. Please vote for your choice as the Raiders' most memorable play.
Score
: Raiders 38, Washington 9
Date
: Jan. 22, 1984.
Site
: Tampa Stadium
The Raiders, then calling Los Angeles home, were already trouncing defending champion Washington 28-9 in Super Bowl XVIII when their offense lined up for the final play of the third quarter.
What happened next has gone down in NFL lore as "Marcus Allen, running with the night," courtesy of legendary NFL Films voice John Facenda.

Because it was a busted play, one in which Allen had to improvise, it is seen in many corners as the greatest run in Super Bowl history, a reverse-field 74-yard scamper that put the dagger in Washington.
"Yeah, I called it, but Marcus made it work," Raiders quarterback Jim Plunkett told me with a laugh as he recounted the play.
"It was one of our steady plays: When in doubt, call 'Bob Trey O.' It was always solidly blocked where you shouldn't lose any yards on it. But their safety messed it up."
The play was supposed to be a simple power run to the left, right guard Mickey Marvin pulling to clear space for Allen. But Allen went too far wide of Marvin and safety Ken Coffey blew it up by closing in. Allen stopped on a dime, spun to his left and reversed field. A hole had opened on the right side of the line and Allen sped through it, after Coffey lunged for the ball and Allen's waist in the backfield.
Accelerating through the gap, Allen ran past defensive end Todd Liebenstein and linebacker Rich Milot. "After I made that turn, everything slowed down," Allen told ESPN radio affiliate 95.7 The Game during Super Bowl Week this past winter. "I remember Neal Olkewicz just grasping [at midfield]. I could almost see the anxiety on their faces and the tension as I was running by. And then, about 20 yards from the goal line, everything came back to normal speed."
The lone Washington player with a shot at Allen past the 50-yard line was cornerback Anthony Washington, but he was cut off by Raiders receiver Cliff Branch. Allen, who was supposedly too slow to be a game-breaking running back coming out of USC as the 1981 Heisman Trophy winner, had nothing but open field to the left pylon. After the score, which was then the longest run in Super Bowl history, Allen was joined in celebration in the end zone by nearly the entire Raiders team.
"You can't teach that kind of running," John Madden, the former Raiders coach-turned-broadcaster, said while describing the replay. "You don't
teach
that. You don't
practice
that. You don't
see
that on film.
That
happened."
@PGutierrezESPN @ESPN_NFLNation Good, Marcus Allen SB run. Bad, Tuck Rule. Ugly, Farve & Foles career high TD passes in the Black Hole

— Sheriff of Thotinham (@Snack_Machine) June 10, 2014
February, 13, 2014
Feb 13
8:00
AM ET
LeBron James says by the time all is said and done, he will be on the
NBA's Mount Rushmore
. And with the game-winning 3-point dagger he dropped on the Golden State Warriors Wednesday night, James brought out a chisel.
The only massif the Warriors' Oakland neighbors feature, meanwhile, is a tarped-off piece of concrete aptly named Mt. Davis. So if the Raiders
were
to erect a Mount Rushmore of their own, whose four faces would be featured?

It's not an easy answer, not with so many characters, stories and, well, iconic figures in the franchise's history. Go ahead give it a try. Here's my Silver and Black-clad Mount Rushmore.
Al Davis
– Any questions? No other person personified their franchise more than the late Raiders owner. He was a coach, general manager, owner and commissioner of the AFL who, to borrow a line from Paul Anka (look it up), did it his way. And even if he did become a caricature of himself in later years, you'd be doing yourself a disservice if that's all you remembered of him. He was a pioneer in equal opportunity, both in the front office and on the field as he took on the establishment. Just don't ever forget that he was in charge.
John Madden –
Not as slam-dunk a choice as you'd think. Not with five straight trips to the AFC title game and only one Super Bowl trip and victory to show for it. Sure, his regular-season record was impeccable, but to a newer generation of fans he's known more for being a broadcaster than a game-changing coach. Yet, his persona still casts a large shadow over Silver and Blackdom. Make room for Madden. BOOM!
Tom Flores/Jim Plunkett –
Wait, what? Yeah, I know, it's a cop-out. But there simply is no way to separate the two so we need to hire a sculptor who can give us a face that is half Flores, half Plunkett. Not only was Flores the Raiders' first-ever quarterback, predating even Davis' arrival in Oakland, he won twice as many Super Bowls as Madden and was the first minority coach in NFL history to win a title. But he probably does not do it without Plunkett under center, his Lazarus tale becoming reality with the Super Bowl XV MVP trophy and his steady leadership three years later in Super Bowl XVIII.
Jim Otto –
The man has literally given a limb to the franchise – he has shown off his prosthetic leg covered with the Raiders logo – and it's a crying shame that he retired a year before the Raiders finally broke through to win Super Bowl XI. Otto is the ultimate Raider, a 10-time All-AFL selection at center who lasted 15 years in the trenches and even longer as one of Davis' most trusted advisors. He still bleeds Silver and Black. Just listen to him spin a yarn like he spun nose tackles back in the day.
January, 15, 2014
Jan 15
8:00
AM ET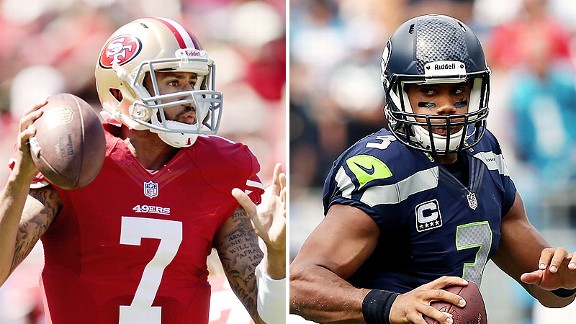 Getty Images49ers quarterback Colin Kaepernick and Seahawks quarterback Russell Wilson will square off for the third time this season.
ALAMEDA, Calif. -- When the
San Francisco 49ers
and
Seattle Seahawks
meet Sunday for the NFC title, it will mark the 18
th
time since the AFL/NFL merger of 1970 that teams from the same division play in a conference championship game.
But it's only happened four times since 2002, when the Seahawks moved from the AFC West to the NFC West as part of the league's realignment. This year marks No. 5.
Still, when the Raiders were a mainstay of the AFC title game – they played in eight such games between 1970 and 1983 – they faced a team from their division, the AFC West, a mere one step away from the Super Bowl three times.
It's interesting to note that all three of those meetings would have happened in the divisional round today because, from 1970 through 1989, two teams from the same division could not meet in the playoffs until the conference title game.
A look, then, at those three meetings ...


Jan. 1, 1978, Mile High Stadium
Denver Broncos 20, Oakland Raiders 17
The defending champion Raiders were the AFC's lone wild-card team at 11-3 – in those days, only the then-three division winners and the second-place team with the best record qualified for the playoffs – and were coming in off their breathtaking "Ghost to the Post" double-overtime divisional playoff win at the Baltimore Colts, 37-31.
The top-seeded Broncos, in the heyday of their "Orange Crush" defense, had gone 12-2 with one of their losses at home to the Raiders – the teams split the regular-season series, each winning on the road – and had just handled the
Pittsburgh Steelers
in the divisional round, 34-21.
The Broncos, who allowed an AFC-low 148 points, never trailed the Raiders, who led the NFL in scoring with 351 points, and led by scores of 14-3 and 20-10. But the Raiders, appearing in their fifth straight AFC title game, remember it for a play that never happened. At least, from the officials' perspective.
"(Rob) Lytle's fumble?" the late Al Davis told NFL Films. "No one saw it, so they said."
Leading 7-3 midway through the third quarter, the Broncos set up at the Raiders' 2-yard line and had a first-and-goal when Lytle ran into the pile and was hit by Jack Tatum. The ball popped out, Mike McCoy scooped it up and was off to the races for the game-changing touchdown. Except ...
Lytle was ruled down, the officials explained, saying that his forward progress had been stopped before the ball came free. Replays showed otherwise and then Art McNally, the former head of NFL officials, came clean to NFL Films, albeit, a decade later.
"It was a fumble," he said, "and we were wrong on the call."
Too little, too late for the Raiders as Jon Keyworth punched it in for Denver one play later and the Broncos led, 14-3, en route to the victory and Super Bowl XII, where they were thumped by the
Dallas Cowboys
, 27-10.
It was John Madden's final playoff game as he retired a year later and Oakland would not return to the postseason until 1980.
Jan. 11, 1981, Jack Murphy Stadium


Oakland Raiders 34, San Diego Chargers 27
Five AFC teams finished 11-5 in 1980, the
Buffalo Bills
, the
Cleveland Browns
, the Houston Oilers, the Chargers and the Raiders.
A second wild-card team had been added to the playoff mix two years earlier and the Raiders were the top-seeded wild card. First they beat a familiar face in Kenny Stabler and the Oilers, 27-7, in the conference's wild-card game, then they traveled to Cleveland, where the wind chill was minus-36 degrees, and upset the Browns, 14-12, in the "Red Right 88" game when Mike Davis picked off Brian Sipe in the end zone with less than a minute to play.
The Chargers, meanwhile, were the AFC's top seed due to a better conference record than Cleveland and Buffalo and won the West over the Raiders, with whom they split the regular-season games as each team won at home, based on better net points in division games. San Diego beat the Bills, 20-14, in its first playoff game.
Oakland began the season just 2-3 and recently acquired quarterback Dan Pastorini was lost in Game 5 with a broken leg. Enter Jim Plunkett and his Lazarus act. Under Plunkett, the Raiders had won 11 of 13 games, including the playoffs, and started hot again against the high-scoring Air Coryell Chargers as Oakland opened up a 28-7 first-half lead.
San Diego woke up with 17 unanswered points , creeping to within 28-24 in the third quarter.
"Ted Hendricks grabs me by the jersey and he starts shaking me and says, 'Keep scoring. We can't stop them,'" Plunkett told NFL Network.
A pair of Chris Bahr field goals gave the Raiders some breathing room before Rolf Benirschke's field goal made it a one-score game with less than seven minutes to play.
The Raiders' offense did not heed Hendricks' advice this time; it simply ran out the clock on a 15-play drive that included 14 runs and four first downs.
"That game in the end, when all was said and done, came down to our offensive line and Mark van Eeghen," Matt Millen, then a rookie linebacker, told NFL Network.
The iconic image of the game, then, is of left guard Gene Upshaw's heavily padded right arm holding the game ball aloft as he exited the field. The Raiders went on to beat the
Philadelphia Eagles
, 27-10, in Super Bowl XV as Plunkett was named the game's MVP and Tom Flores became the first minority head coach to win a Super Bowl.


Jan. 8, 1984, Los Angeles Memorial Coliseum
Los Angeles Raiders 30, Seattle Seahawks 14
The 1983 Raiders are considered one of the best teams of all time and yet, they lost four games that season – one at Washington, in which an injured Marcus Allen did not play, a head-scratcher at home in the penultimate week of the season to the St. Louis Cardinals and two to, yes, the Seahawks.
Indeed, all you NFL newbies, the Raiders were in L.A. from 1982 through 1994 and the Seahawks used to live in the AFC West (from 1977-2001) and they were even a little chippy and, yes, lippy back then.
"Seattle knew us so well," Allen told NFL Network. "It's no secret, I mean they even knew our plays. I looked across the line of scrimmage at Kenny Easley, I shook my head, I said, 'I'm coming right there.' I think he shook his head back and said, 'OK.'"
The Seahawks had swept the Raiders that year by scores of 38-36 in Seattle and 34-21 in L.A. over a three-week period. The sweep got the Seahawks into the playoffs as the top wild-card team at 9-7 and they beat rookie John Elway and the Broncos, 31-7, in the wild-card game at Seattle before upsetting another ballyhooed first-year QB in the Miami Dolphins' Dan Marino, 27-20, at the Orange Bowl.
The top-seeded Raiders had just thumped the Pittsburgh Steelers, 38-10, before a crowd of 92,434 at the Los Angeles Memorial Coliseum and awaited the Seahawks.
"We had lost to Seattle twice," Howie Long told NFL Network. "We took that as we had gotten our ass kicked and it was time for redemption."
It was an alley fight of a game and the Raiders, who led the AFC with 442 points scored, dominated Seattle, the conference's second-highest scoring team with 403 points. L.A. jumped out to a 27-0 lead as Allen, playing with a mouse under his right eye, finished with 216 yards from scrimmage, with 154 yards rushing on 25 carries and 62 yards receiving and a TD on seven catches.
"All I remember was coming out with a black eye and seeing stars," Allen said. "But I wasn't going [to stay] out of the game."
L.A.'s defense picked off five passes from Seahawks quarterbacks Dave Krieg and Jim Zorn, with two interceptions from Mike Davis, and the Raiders also had five sacks, two by rookie Greg Townsend.
The Raiders then went to Tampa Bay for Super Bowl XVIII and beat defending champion Washington, 38-9, with Allen winning MVP honors on the strength of a then-record 191 rushing yards on 20 carries, including his reverse-field 74-yard touchdown run.
It is still the Raiders' most recent Super Bowl title.
October, 4, 2013
10/04/13
6:25
PM ET
ALAMEDA, Calif. -- The image of him is iconic. Lester Hayes is crouched in his stance at the ready, his fingers slowly writhing like snakes coming out of Medusa's head. Gobs of stickum dripping from his arms and his shins and his tongue wags mockingly as his white towel flaps in the wind from the front of his waist band. His eyes pierce through his battle-scarred facemask and his gold No. 37 chain peeps through the top of his jersey as he stares down the unlucky receiver less than five yards away.
[+] Enlarge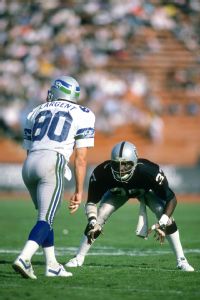 Getty ImagesLester Hayes' iconic pose at cornerback with the Raiders would not have happened had he had his way.
Mention the name of Lester Hayes, and the above comes to mind to any Raiders fan who remembers the physical cornerback imposing his will on opponents in the late 1970s and early 1980s and through a pair of Super Bowl victories.
Sunday night, though, a new snapshot will emerge of Hayes, that of a 58-year-old coulda-woulda-shoulda-been a Hall of Famer at the south end of the O.co Coliseum, admiring the masses while being admired. The Judge will light the Al Davis Flame at the invitation of Mark Davis before Oakland plays host to San Diego two days before the two year anniversary of Davis' passing.
"This is a pleasure," Hayes said this week from his home in Modesto. "I think back to 1977, when Mr. Davis drafted me. He was a great man, a great leader and a great boss. As far as loving your boss, Mr. Davis was loved. A lot of bosses say, I love you. But Mr. Davis made players feel loved. That was an important factor."
***
It was not always that way for Hayes, though, not when he had already been switched from linebacker at Texas A&M for his junior season to strong safety. And not when the Raiders, who had taken him in the fifth round, converted him to cornerback.
"I was 6-2, 230 pounds, I was a linebacker and strong safety," Hayes said. "I'm thinking, You don't move All-Americans; you move other dudes."
So Hayes, in his rookie camp, pleaded with John Madden to take his case up with Davis. Leave him at strong safety. Besides, George Atkinson was winding down and the Raiders could do worse than to ease in an All-American, right?
Hayes watched after practice as Madden approached Davis.
"I'm hoping, wishing, praying that Mr. Davis would say something," Hayes said.
Alas, Davis smiled and walked away and Madden came back to Hayes.
"Son," Madden told Hayes, "you can play bump and run and you can play cornerback."
"My face," Hayes said, "dropped to my knees. I was driving down Santa Rosa Boulevard, crying."
The tears, though, would come from opposing quarterbacks in later years, especially in 1980. Hayes had 13 interceptions, the most since Dick "Night Train" Lane had 14 in 1952, and was the defensive player of the year as Oakland became the first wild card team to win the Super Bowl when the Raiders thumped Dick Vermeil's
Philadelphia Eagles
, 27-10.
In a 10-year career, Hayes had 39 interceptions, with high-profile pick-6's against former teammate Ken Stabler in Oakland's wild-card win over Houston in 1980 and Pittsburgh's Cliff Stoudt on Jan. 1, 1984, when the Raiders called Los Angeles home.
Three weeks later, Hayes had his second Super Bowl ring when the Raiders beat up on Washington, 38-9.
And while his career came to a sudden halt after the 1986 season, Hayes has been a constant observer of all things Raiders. After all, he is a self-styled Jedi Knight of Silver and Blackdom.
So yeah, he's got opinions on things.
Like the job his former teammate Reggie McKenzie is doing as a second-year general manager: "Give him time. Reggie was taught to be a genius in the mold of Ron Wolf. This is not a seamless transition. Give him time."
On Wolf dealing Stabler (for Dan Pastorini), Jack Tatum (for
Kenny King
) and Dave Casper (for picks that turned into Ted Watts,
Howie Long
and Jack Squirek) to Houston in 1980: "Ron Wolf made that trade fit to Tom Flores' system. Ron Wolf was a football genius and he personally taught Reggie McKenzie. Give him time."
On how he does not buy rules today seemingly making it impossible to stop the passing game: "It's about technique. It's the same game. It's about polishing your technique. It's the same five-yard bump zone. If a player polished his technique on a daily basis ... you must shine and polish your technique."
On what he's seen from rookie cornerback D.J. Hayden, a fellow Texan: "He's got sweet feet. There are great feet, but he's got sweet feet. The most important phase of the bump and run is the bump. You must re-route him. No free passes. That's the phase of D.J.'s game that needs to be shined up. Shine it up ... his burst, his hips, it's tremendous. Great feet and flexible joints. Work and work and work and keep shining and work on his bump. Never give a man a free pass."
And, of course, on what's going on at his alma mater and the reigning Heisman Trophy winner, Johnny Manziel: "There is a misconception about Johnny Football. That is not cockiness; that is confidence. That is a confident young football player."
Hayes, who overcame a lifelong stuttering problem, does not like to speak of why the likes of him, Flores, Cliff Branch, Ray Guy and Jim Plunkett are not enshrined in the Pro Football Hall of Fame. Not even after five Pro Bowls and four times being a Hall of Fame finalist.
"In 2025 I will receive a phone call from Canton, Ohio, maybe 2030," Hayes said.
Any reason for those years? Might it have something to do with the veterans committee?
"I just feel it," he said
"I'm a 1960's mentality, I'm a 1960s football soldier. My team consistently won. That is paramount in my mind. A phone call from Canton, Ohio, is secondary."
Hayes then went in another direction: "This is so unfair to coach Tom Flores. That is so, so foul. His second season he was Super Bowl XV champion. His fifth season he was Super Bowl XVIII champion. That is the most unfair, the most unjust omission."
And on the mentality of today's breed of look-at-me cornerbacks: "Cornerbacks today speak of 'I'. No, no, no. What is important is my team consistently won and I was a champion. That's imperative in team sports. Listen now and DBs speak as if there's just them. There's great coaches and great technique coaches."
And that's how Hayes came up with being a Jedi from the Star Wars movies.
The way he sees it, his college teammate and cornerback
Pat Thomas
was his "Obi-Wan Kenobi," teaching him the ways of the force in the secondary. And when Hayes got to the Raiders, there was the master of the bump and run awaiting his arrival.
"Without Willie 'Yoda' Brown's expert technique-teaching on a consistent basis, I would not be asked to light the torch on Sunday."
Indeed, you could say the torch has been passed. But will Hayden receive it?