Oakland Raiders:

Jon Condo
August, 8, 2014
Aug 8
1:00
PM ET
NAPA, Calif. – The moment
Shane Lechler
left the
Oakland Raiders
for the
Houston Texans
last year, long snapper
Jon Condo
knew
Sebastian Janikowski
would have a "down" season.
Even if he was coming off his best season.
The only holder Janikowski had known since entering the NFL as a first-round draft pick in 2000 was headed to the Houston Texans, and the place-kicker known as "SeaBass" had not handled change well in his career. As least, that's what Condo found.
[+] Enlarge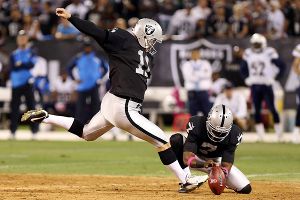 Kelley L Cox/USA TODAY SportsSebastian Janikowski and Marquette King are developing better chemistry after a rocky 2013.
Condo took note that in two of Janikowski's worst field-goal kicking seasons in terms of misses, the Raiders' all-time leading scorer dealt with foreign territory. Janikowski missed 10 field-goal attempts in his rookie season and nine in 2007, Condo's first year as the long snapper.
So with his security blanket gone to Houston and a newbie taking over Lechler's holding duties in
Marquette King
, it made sense that Janikowski would struggle again.
Indeed, a year after converting a career-high 91.2 percent (31 of 34, with misses coming from 51, 61 and 64 yards), Janikowski missed nine field-goal attempts in 2013.
"Bass, he's mentally tough and all that," Condo said, "but it's a comfort thing and it's a trust thing."
Janikowski, who signed a four-year contract extension last summer, still has one of the strongest legs in the NFL, and much of the blame last season fell on King, who grew weary of the talk. Even a few weeks back, on the day the Raiders reported to training camp, King said he could "not really remember" when asked about the purported issues between himself and Janikowski.
Janikowski made just 70 percent (21 of 30) of his field goals in his first year with King as his holder after converting 89.9 percent (62 of 69) in his previous two seasons with Lechler holding. The left-footed Janikowski even missed two attempts from inside 40 yards last season, a distance from which he had only missed one kick since 2007.
The way Condo put it, all it would take to send his kicker down a doubtful path would be just one bad hold from King. Even if everything else went perfect the rest of the game.
Condo's advice? "Trust yourself," he said was his counsel to Janikowski. "Trust your steps."
To the surprise of many at 1220 Harbor Bay Parkway, Janikowski showed up two months early this offseason to get in extra work with King. Two weeks into training camp, and before the Raiders' exhibition opener against the
Minnesota Vikings
on Friday night, the two seem to be connecting.
"Timing," Janikowski told Associated Press, when asked what the issue was with King in 2013. "Our timing was off. Marquette, me and Condo, we hadn't worked much … just timing, the confidence. Just the trust.
"You stay with the same guy for (13) years, the trust is there. You don't have to think about it going on the field."
And now?
"It's much better," Janikowski said. "Marquette's been working his (behind) off. He's holding every day -- 50, 100 times -- so hopefully it shows up on the field."
New assistant special teams coach Chris Boniol, himself a former NFL kicker, has helped bridge the gap between kicker and holder.
"Chris has a way of being able to relate to those guys and talk to them on a level where they can understand what he's trying to get accomplished," said coach Dennis Allen. "To (Janikowski's) credit, he's taken to all of that and done everything that we've asked him to do."
Janikowski, 36, also holds personal goals.
He is within striking distance of the NFL record for most field goals of at least 50 yards -- Jason Hanson had 52 for the Detroit Lions from 1992 through 2012; Janikowski has 45.
And after tying the record for longest field goal with that 63-yarder in Denver in 2011, the Broncos'
Matt Prater
booted a 64-yarder last season to set a new standard.
"It's a challenge," Janikowski said.
Though maybe not as challenging as King attempting to truly break into the inner sanctum of Janikowski, who has twin girls, and Condo, who became a father seven months ago.
"Hey, you want to hang out?" Condo said he told King. "You've got to have a kid."
The 25-year-old King's response, per Condo: "What if I just got a dog?"
Condo laughed.
"The relationship is starting to develop a little bit," he said. "The trust factor, so far in camp, we have a good rhythm going right now."
August, 6, 2014
Aug 6
4:15
PM ET
NAPA, Calif. --
Marcel Reece
was about to be presented with the
Oakland Raiders
"Commitment to Excellence Award" in March and NFL free agency was about to begin.
The two-time Pro Bowl fullback wanted general manager Reggie McKenzie to make "Raider-ass moves" with his signings, fearless moves, though Reece, who has been in Oakland since 2008, was also leery
"I'm not expecting them to come in and set the tone on how to be a Raider; they don't know how to be a Raider," Reece said that evening. "I'm looking forward to setting that tone and whoever comes in that locker room is going to work like us."
[+] Enlarge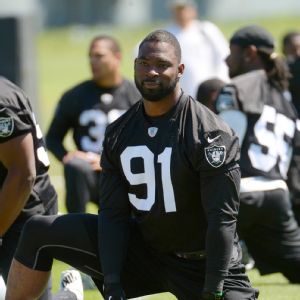 Kirby Lee/USA TODAY SportsJustin Tuck is one of a handful of new Raiders who has been to and won a Super Bowl.
Paging the likes of
Justin Tuck
,
LaMarr Woodley
,
Antonio Smith
,
James Jones
, Maurice Jones-Drew,
Kevin Boothe
and
Donald Penn
, while summoning the acquired-in-a-trade
Matt Schaub
.
Together, the eight tote a combined six Super Bowl rings and 10 Pro Bowl appearances. Yeah, they know how to win.
The likes of Reece,
Darren McFadden
,
Tyvon Branch
and
Jon Condo
, meanwhile, know what it means to represent the Raiders, but they have never experienced a winning season in Oakland.
"In years past, the leadership was not the best," Condo said. "Guys that are coming in…the young guys are looking at them and the vets are showing them, this is how you practice. This is how you study. This is how you prepare your bodies for the 16-game season. The way people go about their business, you see true professionalism on and off the field, doing the right things.
"Not to rag on what's been here in the past, but it just seems like there was just a cycle with how veterans would act and young guys would look at that and think, 'That's what it takes to be a pro.' And it wasn't really the right way to be a pro.
"Now, you bring in the right guys and they are teaching the young guys how to be a pro and they're going to carry it on three, four, five, six seven, eight, 10 years … to the draft classes."
According to Tuck, there has been no push back from the older Raiders players.
"It's not like we're coming in here acting like we know everything; we don't," Tuck said. "We're still learning ourselves. It's never going to be a situation where, 'Oh, y'all doing this wrong.' We're trying to work together
"At the end of the day, it has to be the Raider way … all the guys that they brought in know the history of the Raiders. … You found yourself fascinated by the silver and black and all the great players that played here and Al Davis and all the characters in Raider history.
"Now, it's just a work in progress."
Jones-Drew grew up in the East Bay a Raiders fan. So his coming home carried extra meaning, even if it meant playing for a team that has not been to the playoffs or won more than eight games in a season since 2002.
"The Raider way has always been winning," he said. "But I think every franchise goes through some tough times. The guys they brought in had that Raider mentality already … doing whatever it takes to win. It was a great mix of guys, the correct mix of guys."
And it's not just the longer-tenured Raiders or youngsters who are paying attention to the new silver and black Jedi in town.
"We won one year in Jacksonville, so if Tuck comes in and says something, I'm going to listen … regardless if it's against what I want to do or not," Jones-Drew said. "They know what it takes to get to that next level, so you've got to be selfess and listen. And I think we've got a lot of guys that are doing that and it's awesome."
But will it translate into more than moral victories?
October, 21, 2013
10/21/13
8:00
AM ET
No one is perfect, but
Sebastian Janikowski
, AKA "Automatic SeaBass," has been as sure a thing for the Raiders as the sun rising in the east.
But with the place-kicker's alarming accuracy issues this season, is the sun starting to set on Janikowski as Oakland's most dependable weapon?
Janikowski, the Raiders' first-round draft pick in 2000, entered the 2013 season with a career field-goal conversion rate of 80.6 percent, with 75 attempts from 50 yards or longer. Thus far this season, he is 7-for-11 (a career-worst 63.6 percent) overall, 1-3 from 50 or more.
Knee-jerk reaction? Maybe. Small sample size? Definitely. But this much is true: the 35-year-old Janikowski, who was signed to a four-year contract extension in training camp that will pay him upwards of $19 million through 2017, has already missed more field-goal attempts in six games this season -- four -- than he did all of last year – three.
There has been a common factor as all four misses have come when the left-footed Janikowski has kicked from the left hashmark, and the first three shanks were all wide left.
Then came last week's misfire, the strongest leg in the game coming up short when he "toed" the ball.
Many point to Janikowski potentially having a mental block as the team breaks in a new holder in
Marquette King
after 13 years with
Shane Lechler
. Others wonder if Janikowski is still feeling the effects of calf and hamstring issues from late in camp. Hey, at least the dirt baseball infield should be gone this week, right?
Raiders special teams coach Bobby April, though, told reporters Janikowski was healthy. It all made for some interesting food for thought as the Raiders return to work Monday from their bye week to prepare for the
Pittsburgh Steelers
.
Especially when you consider how costly Janikowski's misses have been and, in the hindsight-is-20-20 world of sports, they could be the difference between the Raiders being 2-4 and 4-2.
A look, then, at Janikowski's misses, and how they factored into the final result:
The game:
Indianapolis Colts
21, Raiders 17
The miss:
Janikowski whiffed from 48 yards as the first half of the season opener at Lucas Oil Stadium came to a close. It was his first miss from under 50 yards since 2011.
Woulda, coulda, shoulda:
Not only do the Raiders pull to within 14-10 of the Colts at the half, but the Raiders would have been within 21-20 at the end of the game. And with
Terrelle Pryor
having led the Raiders to the Colts' 8-yard line in the last 73 seconds, Oakland would have merely needed a chip-shot 26-yard field goal from Janikowski to upset the Colts, rather than a touchdown that never came.
The game:
Raiders 19,
Jacksonville Jaguars
9
The miss:
Janikowski shanked it from 35 yards with 4:11 to play in the first half at the O.co Coliseum in the Raiders' home opener. It was his first miss from under 40 yards in 54 attempts.
Woulda, coulda, shoulda:
The Raiders would have gone up 10-3. No matter, Janikowski made four other field goals after the miss -- from 46, 30, 29 and 29 yards -- as Oakland cruised.
The game:
Washington 24, Raiders 14
The miss:
Janikowski was off from 52 yards at the 6:55 mark of the third quarter as the Raiders' implosion under
Matt Flynn
, with Pryor concussed, continued in Week 4.
Woulda, coulda, shoulda:
Make the 52-yarder, and the Raiders extend what had been a 14-0 lead to 17-10. Instead, Washington took advantage of the relatively short field after the miss and drove 58 yards to score a touchdown and take the 17-14 lead it would not relinquish.
The game:
Kansas City Chiefs
24, Raiders 7
The miss:
Janikowski raised many an eyebrow on both sidelines when he was short on his 51-yarder with 12:26 to play in the first half at Arrowhead Stadium in Week 6. Long snapper
Jon Condo
said he could tell by the sound of foot meeting ball Janikowski had "toed" it.
Woulda, coulda, shoulda:
The 51-yarder would have given the Raiders a 3-0 lead and, coupled with Pryor's 39-yard touchdown pass to
Denarius Moore
on their next offensive series, Oakland would have held a 10-0 advantage on the Chiefs in a game the Raiders were winning in every phase until just before the half.
October, 16, 2013
10/16/13
8:00
AM ET
ALAMEDA, Calif. --
Taiwan Jones
, drafted to be a speedy change-of-pace back for
Darren McFadden
in 2011 before being converted to cornerback this offseason, has found a home on special teams.
And he's made being a gunner on the Raiders' punt-coverage teams somewhat fashionable.
"I think Taiwan Jones, if he's not the best special-teams player in the league, he's one of the best in the league," Raiders coach Dennis Allen said. "He's a difference-maker in all of our coverage units.
Jones
"The type of speed that he's got, his willingness to go down and create contact and make tackles ... those are the things that you have to have and I think he's done an outstanding job."
Besides disrupting punt returners, often while being double-teamed, Jones has also flashed his world-class speed. On a trick play against Washington, he took the direct snap from
Jon Condo
after the Raiders shifted into a formation out of a punt with
Jacoby Ford
just off center. Jones then sped off for a 19-yard gain and a first down.
And, yes, while there was satisfaction in bursting down the left sideline on that play, his main job description is to blow up punt returns. And the way he's been playing the position of late -- he has five tackles on the season, including two at Kansas City last weekend -- he is getting satisfaction out of it.
"I have a lot of pleasure," he said. "I'm having fun out there. Being a gunner, it's one of those positions where it's not too much scheming; it's just man on man,
mano y mano
out there, and whoever has the most effort out there is going to win. That's one thing I enjoy."
Sunday, he limited
Dexter McCluster
to a 1-yard punt return off a
Marquette King
50-yard punt in the third quarter before stopping McCluster for a 7-yard gain on a 51-yard King punt in the fourth.
"You've got to watch film," Jones said. "You've got to learn other team's tendencies, key into some of the clues they give you and use them to your advantage."
Jones said his goal is to make the Pro Bowl as a special-teamer.
"I'm shooting to be the best at what I'm doing right now," he said.
Allen obviously believes Jones will come through on that promise.
"It means a lot because when you're putting it out on the field every day," Jones said, "it's good to see your head coach notice that."
Jones is making it easy for Allen, and opponents, to notice.
October, 14, 2013
10/14/13
12:30
PM ET
An examination of four hot issues from the
Oakland Raiders
'
24-7 loss
to the
Kansas City Chiefs
:
[+] Enlarge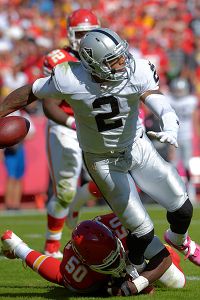 AP Photo/Reed HoffmannDespite what the numbers said, Terrelle Pryor maintained, "I didn't take a beating."
Growing up?
Terrelle Pryor
was sacked 10 times, and the Chiefs registered 14 quarterback hits on him. Pryor carried the ball six times and gained 60 yards, but he was also picked off three times, and those interceptions resulted in 17 points for the Chiefs. You could say Pryor took a physical, as well as a mental, beating, no? "I didn't take a beating," he said. "I'm a big man, a grown man. They just tackled me. They got me and they made great plays. It was not a beating, though." For what it's worth, Pryor is listed at 6-foot-4 and 233 pounds. But you have to wonder how he rebounds from the biggest, ahem,
beating
of his young NFL career.
More SeaBass drama:
Sebastian Janikowski
has now missed more field goals (four) in six games than he did all of last season (three). And each of the left-footed kicker's misses have come from the left hashmark. "I don't know what the deal is with that there," said long-snapper
Jon Condo
. "I mean, it's probably just more coincidence." Sunday's miss, from 51 yards, was short after he seemed to stub his toe on the grass. "Right as soon as he kicks it, I can tell if he strikes it good, and I knew, I heard it," Condo added. "Even the ball flight, you saw it kind of got up. The wind was coming the opposite way, and the rotation on it, we didn't get a drive."
Missed opportunities:
The Raiders are rebuilding, no doubt, but they still need to learn how to tighten their grip. Two crucial mistakes cost them in the first half. First was Janikowski's missed field-goal attempt with 12:26 to play in the first half. One series later, Pryor hit
Denarius Moore
for a 39-yard touchdown, meaning that had Janikowski connected earlier, the Raiders could've been looking at a 10-0 lead with their defense dominating. At least until Mistake No. 2:
D.J. Hayden
's pass-interference penalty while covering
Dwayne Bowe
on third-and-10 from the Oakland 24-yard line. Hayden never turned to look for the ball. Kansas City went on to score a touchdown, and so what could've been a 10-3 halftime lead for Oakland was instead a 7-7 tie.
Of explosive plays VI:
And now for our weekly tracking of "explosive" plays. As deemed by coach Dennis Allen, such a play is one that gains at least 16 yards through the air or 12 yards on the ground. The Raiders had five such plays against Kansas City (two runs and three passes), while the Chiefs had three explosive plays (one run and two passes). In six games, the Raiders have 45 explosive plays (15 runs, 30 passes), with one TD on a run and four passing scores. Oakland's opponents, meanwhile, have 41 explosive plays combined (nine runs and 32 passes) with a touchdown each running and passing.
September, 18, 2013
9/18/13
9:15
PM ET
ALAMEDA, Calif. – Three
Oakland Raiders
players entering their contract years with the team have already been signed to extensions, and Raiders general manager Reggie McKenzie said Wednesday he has reached out to the agents left tackle
Jared Veldheer
and defensive end
Lamarr Houston
.

"Make no bones about it, we want to sign as many of our good players as we can," McKenzie said. "With the cap is the way it is this year, we won't have a chance to do a whole lot with big-money guys like those two guys. It'd be highly unlikely we could do two, but at least we're in a situation next year to retain some of our high-dollar guys."
Veldheer is on the partial-season injured reserve list after undergoing surgery on a torn left triceps during the preseason. He has not had any setbacks and has yet to perform football-related activities, though he is a constant observer at practice.
McKenzie, who held a half-hour roundtable meeting with seven Bay Area-based reporters, signed long-snapper
Jon Condo
and place-kicker
Sebastian Janikowski
to extensions in training camp and announced a three-year extension for fullback
Marcel Reece
on Friday.
"We're working diligently to keep our own," McKenzie said.
Another player in his contract year who has much to prove as he has yet to play more than 13 games in a season: sixth-year running back
Darren McFadden
.
Then how important is it for McFadden to stay healthy this season to be considered a player McKenzie wants back in 2014?
"He knows it's important," McKenzie said. "He wants to be out there, he wants to show what he can do for the year. It's important because contracts are important to players.
"Definitely not going to take that outlook away from him or any other player. Everybody wants to play well so they can get that contract."
September, 8, 2013
9/08/13
5:16
PM ET
INDIANAPOLIS --
Observed in the locker room after the Oakland Raiders' 21-17 loss to the Indianapolis Colts.

No moral victories:
Everyone from coach Dennis Allen to the anointed starting quarterback in
Terrelle Pryor
to the last inactive player sang the same verse -- there are no moral victories in the NFL. And yet, the feeling of promise was palpable in the locker room after such a heart-wrenching loss to a playoff team.
Stimmed up:
Tight end
Jeron Mastrud
cramped up on the second catch of his NFL career, a 41-yard pickup late in the fourth quarter, and went down in a heap on the play. He had electrical stim wires attached to both hamstrings as he conducted postgame interviews.
Some veteran advice:
First-year punter
Marquette King
wishes he had two punts back, as well as his hold on place-kicker Sebastian Janikowski's miss from 48 yards. No wonder, then, he was listening intently to the counsel of long-snapper
Jon Condo
at his locker after the game. "It was kind of weird," King said. "I got blasted; kind of a welcome-to-the-NFL hit."
Pryor soaks it in:
Allen announced Pryor would be the starting quarterback going forward and after his performance, in which he passed for 217 yards and rushed for 112 more, Pryor refused to gloat. He said he was disappointed in himself. Especially his two interceptions. "Geez, man," Pryor said. "We almost had them. Geez."