Oakland Raiders:

Keith McGill
May, 30, 2014
May 30
9:05
PM ET
OAKLAND -- Seven down, one to go.
The
Oakland Raiders
announced the signing of two more draft picks late Friday afternoon -- defensive tackle
Justin Ellis
and cornerback
Keith McGill
, who were both taken in the fourth round, Nos. 107 and 116, respectively.
The only Raiders draft pick yet to sign his rookie contract is third-rounder
Gabe Jackson
, who should compete to start at left guard.
May, 11, 2014
May 11
8:00
AM ET
ALAMEDA, Calif -- The
Oakland Raiders
entered the three-day, seven-round NFL draft with seven picks and ended it with eight players: linebacker
Khalil Mack
(first round, No. 5 overall), quarterback
Derek Carr
(second round, No. 36 overall), guard
Gabe Jackson
(third round, No. 81 overall), defensive tackle
Justin Ellis
(fourth round, No. 107 overall), cornerback
Keith McGill
(fourth round, No. 116 overall), defensive end
Shelby Harris
(seventh round, No. 235 overall), cornerback
T.J. Carrie
(seventh round, No. 219 overall) and safety
Jonathan Dowling
(seventh round, No. 247 overall).
After taking six defensive players and two offensive players, Raiders general manager Reggie McKenzie met with the media to discuss his third draft in Oakland. Following are some of the highlights.
On how tough it was to sit without picks in the fifth and sixth rounds:
"It was extremely difficult. Never want to go through that again. We tried to get some moves in but, had no takers. So, we made our picks and we had to wait until Round 7 … move out of 4 to try to pick up some extra, yes."
On talking about the desire for "high-character" guys but drafting some with off-the-field issues on Saturday:
"It's always a chance to redeem himself … if they learn from it, or sometimes a player really feels remorse when he did make a mistake. The key is, how do you feel after you conversate with the kid and meet with him and talk to all the people that you need to talk to as far as who knows him and just try to get a better feel for that particular player. When you come away from it saying, I'm going to give him a chance, or I'm not. That's when you make a decision. That's why we made the decision on a couple of the guys today."
On how difficult it was to evaluate Shelby, who did not play football last season:
"It was hard from the standpoint that you don't have current film. But he has a ton of film from the year before so you know what kind of player he is from his earlier tape and then we were there at the pro day and we got that on film. So, we kind of know his conditioning and what he looked like at the time and he knew what he played like and that's the only reason we drafted him is because we liked the way he played and we were comfortable with him trying to grow from that situation."
On if the end of this draft feels different than his previous two Oakland drafts:
"Well, from the standpoint, especially the first two days, the way it went when guys fell to us that we liked …when you get it like that, you feel, we felt really good to get Khalil, to get Carr, to get big Gabe, we were very excited because of the way it fell to us. And we felt like we wanted to make today just as good as the other two. And we felt good about today. So, does it feel any different? A little bit, especially early the way it fell. So, we were excited."
On what not drafting a receiver means to the Raiders:
"We like who we have. When the board falls to where the receivers at that time were not high on the board we're not going to reach down and take a receiver. I would have liked to have a receiver. I would have. It just didn't fall that way."
On Michael Sam becoming the first openly-gay player drafted into the NFL and not being on the Raiders' board:
"That's one of those deals that, for one the player as far as we're concerned, we evaluated every player just like one like the other. I was happy to see him get drafted. We just always stay true to our evaluation process. If we deem him this type of player, whether it's free agent, first round or reject, we don't care what his circumstances are. We evaluate the guy and that's where we put him on the board."
On if he expects his draftees to step in and contribute right away:
"I'm hopeful for that. I felt like we got guys that can do more than just compete, that they're gonna fight to try to win the job, whatever it is – whether it's a key backup role or a key special teams role, or really push a starter or try to start. I think we got some guys that are focused on doing that."
On if he found his QB of the future in Carr:
"Not necessarily
the
quarterback of the future. But if a guy showed when we picked, and we felt comfortable when that time came, we was gonna pick him. And going into it, we felt like there was some good players not only at the quarterback position, but a lot of positions. That's why we were ready to take some good players, especially that first, second day."
On if Mack's presence will affect LB Sio Moore:
"It's gonna do a little bit of that. But the one thing our defensive staff can do, they know how to get the best players on the field and figure out different ways to move them around and put them in the best position that they can make plays. So he'll figure -- as long as we give him some good players, let's get them all on the field and figure out where to position them."
May, 10, 2014
May 10
7:45
PM ET
»
NFC wrap-ups
:
East
|
West
|
North
|
South
»
AFC
:
East
|
West
|
North
|
South
ALAMEDA, Calif. -- A wrap-up of the
Oakland Raiders
' draft.
Click here
for a full list of Raiders' draftees.
[+] Enlarge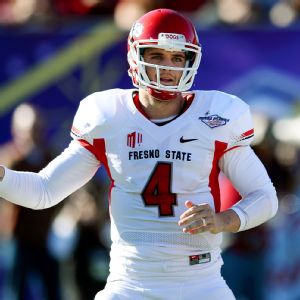 Ethan Miller/Getty ImagesDrafting Derek Carr could be a risky move for the Raiders, as the team sees the quarterback taking more of a back-seat role in 2014.
Best move
: Sitting tight the first two rounds. OK, so, I'm cheating a little bit here but given general manager Reggie McKenzie's proclivity for wheeling and dealing, no one would have been surprised had the Raiders traded down for more picks. But with the way the draft unfolded, they merely had to let linebacker
Khalil Mack
fall into their laps at No. 5 overall and quarterback
Derek Carr
at No. 36 overall. In Mack, the Raiders got an instant difference-maker on the defensive side of the ball, a player who many observers saw as being the potential No. 1 overall pick. In Carr, the Raiders made a gutsy move in taking a player who, if all goes well for them, will not see the field next year, but could be the team's franchise quarterback.
Riskiest move
: Let's go with the Carr selection. No, not because it
shoudn't
pan out; it should. But because as the Raiders embark upon Year 1 of their reconstruction, they needed as many immediate impact players as possible in this draft. And Carr, by the Raiders' own plan and admission, will not contribute much -- if anything -- in 2014. From an immediate on-field impact standpoint, there were other players at other positions available. The risk here, then, is McKenzie and coach Dennis Allen drafting the QB of the future for a future that, if the bottom falls out this year, they will not be a part of in Oakland.
Most surprising move
: Since taking over as Raiders GM, McKenzie has made a point to bring in what he terms high-character, low-maintenance players. Last year, he stuck his neck out for defensive tackle
Stacy McGee
, who had DUI and marijuana incidents, but he stayed out of trouble and began to make an on-field impact late in the season. This year, McKenzie used a fourth-rounder (No. 116 overall) to draft Utah defensive back
Keith McGill
, a huge cornerback at 6-feet-3, 213 pounds who has some personal baggage besides giving up 29 completions on 59 passes his way, per STATS, and getting just one interception in two years at Utah after being converted from free safety. In 2012, McGill was arrested for DUI and possession of stolen property and missed nearly the entire season with a shoulder injury. McGill, 25, was all-Pac 12 last season with 12 pass deflections. "I've been trying to stay clean and trying to show everybody that that was the past and that's exactly what it was," McGill said in a conference call Saturday. "All the teams that passed on me, they're going to realize it was a big mistake and the Oakland Raiders are going to realize that it was a really good draft pick."
File it away
: McKenzie likes to keep things close to his vest, but judging by the size and power of the linemen he's taken in this, his third draft, he showed his hand, especially with the selections of left guard
Gabe Jackson
(6-foot-3, 336 pounds) in the third round and defensive tackle
Justin Ellis
(6-2, 334) in the fourth. The Raiders are returning to a grind-it-out mantra on both sides of the ball. And keep this in mind -- rather than take defensive end
Michael Sam
, the SEC defensive player of the year, the Raiders used the second of their three seventh-round picks on a defensive end who did not play last season after being dismissed from his team for detrimental conduct in Illinois State's
Shelby Harris
.
May, 9, 2014
May 9
8:00
AM ET
ALAMEDA, Calif. -- Minutes after selecting Buffalo linebacker
Khalil Mack
with the fifth pick of the 2014 NFL draft,
Oakland Raiders
general manager Reggie McKenzie was asked if he thought his quarterback of the future might still be available.
Mind you, this was when
Blake Bortles
had been the only quarterback taken.
"Yes," McKenzie said softly, "there's an opportunity for that. Yes."
[+] Enlarge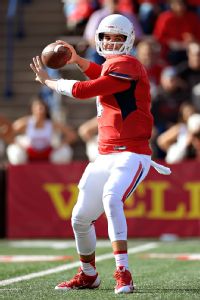 Thearon W. Henderson/Getty ImagesDerek Carr passed for 5,082 yards with 50 TDs and eight interceptions in 13 starts last season.
So by the time the dust cleared on the first round Thursday night, Bortles, who was taken third overall by the
Jacksonville Jaguars
, was joined by
Johnny Manziel
, who fell to 22
nd
and the
Cleveland Browns
, and
Teddy Bridgewater
, who went 32
nd
in the final pick of the night to the
Minnesota Vikings
, who traded up to get him.
Might Fresno State's
Derek Carr
, who has long been linked to the Raiders, still be on the docket when Oakland is scheduled to make the fourth pick of the night, No. 36 overall, or will the
Houston Texans
, who badly need a quarterback and lead off the second round, make it a family affair by drafting the younger brother of the man they made the first overall pick in 2002, David Carr?
From the Raiders' perspective, it's no secret they believe they are set with
Matt Schaub
for at least the next two years, and they even feel comfortable with backups
Matt McGloin
and
Trent Edwards
. But the feeling is also they would like to draft a project in the middle rounds, someone like Pittsburgh's
Tom Savage
. Currently, the Raiders' fourth-round pick is at No. 107 overall.
One plausible scenario has the Raiders, who do not have picks in the fifth or sixth rounds but hold three in the seventh, trading back in the second round to acquire more selections, especially if they are not truly in love with a player at No. 4 in the second round today.
McKenzie, though, said "no deal was presented, only interest" for the No. 5 overall pick on Thursday. With it not clear if there will be a market today for the Raiders' second-rounder, they have options.
Mack certainly addressed a need and was the best player available as well.
So, besides Carr, who passed for 5,082 yards with 50 touchdowns and eight interceptions and completed 68.7 percent of his passes in 13 starts last season, who is a potential target for the Raiders in the second round?
Here is a look at five possible prospects:
USC receiver
Marqise Lee
was the 2012 Biletnikoff Award winner as a sophomore, but had a down junior year. At just under 6-foot and 192 pounds, there are questions about his durability, but he is a playmaker after the catch.
Alabama offensive tackle
Cyrus Kouandjio
is massive at 6-7, 321 pounds, but there are concerns about his surgically repaied knee. He is considered an ideal fit to work in a power-blocking scheme.
Minnesota defensive tackle
Ra'Shede Hageman
is a disruptive if inconsistent force at a tick under 6-6 and 310 pounds. His athleticism might force a move to defensive end.
Utah cornerback
Keith McGill
is big at 6-3, 213 pounds, and his long arms make him an ideal fit for press coverage. Still, he only had one interception in two seasons for the Utes.
Nebraska cornerback
Stanley Jean-Baptiste
is also big for the position at 6-3, 218 pounds and had seven interceptions in 19 starts for the Cornhuskers.