Oakland Raiders:

Lamarr Houston
November, 28, 2013
Nov 28
11:23
PM ET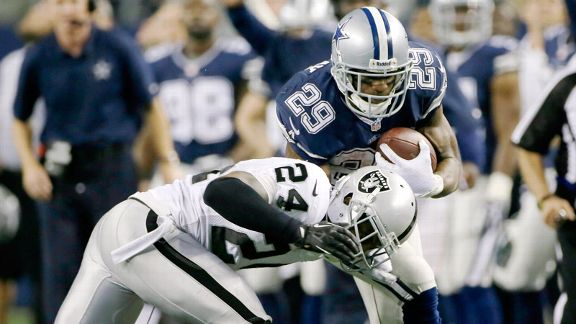 AP Photo/Tim Sharp"I think they've got some guys in here they can build with going forward," Charles Woodson said.
ARLINGTON, Texas -- At least four times following the
Oakland Raiders
' gut-punch
31-24 loss
to the
Dallas Cowboys
,
Charles Woodson
referenced the future and spoke of the Raiders as "they" in said tense.
As in, "they" will be without his services in the future.
Shocking? It should not be. Woodson is a 16-year veteran on a one-year contract in his second tour of duty with the Raiders. A future Hall of Famer who has to be just torn apart by Oakland's weekly meltdowns.
The Raiders (4-8) have dropped no fewer than five shockingly winnable games thus far -- the season opener at Indianapolis, the
Matt Flynn
game against Washington, the
Terrelle Pryor
knee-gate collapse at the
New York Giants
, the home pratfall against Tennessee last week and this Turkey Day flop against the Cowboys.
The rebuild continues in Oakland, and the Raiders, to be blunt, are just not ready for the bright lights and the big stage.
Paging Woodson ...
"I just don't think we're quite there yet, as a team, but we've got some guys that will fight," he said. "That's great to see. Going forward they've got a lot to be happy about, as far as guys that they have, that they can build on, as far as the upcoming seasons to get this thing turned around."
Did you catch it? Here's another ...
"Offensively, we feel like they gave us enough to win, early on," Woodson said of the 21-7 lead the Raiders held with 1:56 to play in the first half.
"When you get leads, you've got to hold on to those leads to come out with victories. We haven't learned how to do that yet. Like I said, I think they've got a great group of guys, some guys here that they can build on and get better."
OK, you
had
to see that one, right?
"We just ain't quite there yet, ain't figured out how to finish it off yet, you know?" Woodson added. "But like I said, we've got guys here, I feel like, they can build on, build with going into the future. I know what these guys go through every day to get out on that field before the game, just the pain that they've got to get through. It's fun to go out there and fight with guys like that."
Alas, it was not simply a matter of the Raiders getting worn down by the Cowboys; it was also Oakland's lack of quality depth getting exposed.
Look, Woodson is no fool. The free safety chooses his words carefully, and if he has a point to make, he makes sure you get it.
And, really, the way coach Dennis Allen put it, the Cowboys simply beat the Raiders. No ifs, ands or buts about it, and the seeming lack of adjustments by Oakland's coaching staff after halftime was exacerbated by injuries.
"It's a challenge," Allen said. "Listen, we made a lot of adjustments. We called everything we had in the [defensive] playbook. They were able to block us, and we weren't able to tackle as well as we needed to. So therefore, they were able to keep the ball."
[+] Enlarge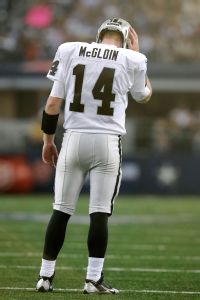 AP Photo/Brandon WadeMatt McGloin and the Raiders struggled after taking a 21-7 lead in the first half.
Consider: After the Raiders took that ill-fated 21-7 lead, they allowed touchdown-scoring drives of 73, 87 and 65 yards on the Cowboys' next three possessions. And in that time frame, Oakland's offense mustered but one first down.
Of course, the critics fillet Allen and defensive coordinator Jason Tarver for going into a passive zone defense after going up 21-7, the approach seemingly energizing the Cowboys while softening up the Raiders.
But Allen insisted they did not change, and if there was a switch, it was "nothing spectacular," defensive end
Lamarr Houston
said.
Yet Cowboys quarterback
Tony Romo
, who started out just 6-for-13 before that last drive of the first half, finished 17-for-19, including 12-of-12 after halftime.
He carved up the Raiders with passes underneath. None of his second-half throws traveled more than 14 yards past the line of scrimmage, according to ESPN Stats & Info. Romo also diced Oakland up when the Raiders brought pressure, completing all seven passes when there were at least five pass-rushers in the second half.
"The excuses are everywhere; you don't have to look hard to find them," said linebacker
Kevin Burnett
, a former Cowboy who nonetheless said he would not use an excuse and pointed to himself for missing a third-down tackle on
Jason Witten
during the Cowboys' game-winning drive.
Then maybe just take a look at Oakland's offense in the second half, or lack thereof.
The Raiders were 7-of-9 in converting third downs in the first half; 0-for-4 in the second half.
Matt McGloin
was 11-of-15 passing before halftime, 7-of-15 after the half.
"That was only one half of football," Burnett said. "Great teams adjust. We didn't adjust when we had to. It's nothing that can be coached. The coaches put us in perfect plays and we didn't tackle. That's what it boils down to.
"We'll hit them in the backfield and we'll have six guys around him and we'll let him go. That starts with myself ... everybody has to be accountable."
Burnett is one of just five current starters on defense who are under contract for next season, along with rookie defensive tackle
Stacy McGee
, rookie linebacker
Sio Moore
, linebacker
Nick Roach
and safety
Brandian Ross
.
Time for some more Woodson knowledge then, right?
"We don't want to sit and make excuses about anything," Woodson concluded. "The opportunity was there ... trust is one thing you've got to figure out as a team, but like I said, I think they've got some guys in here they can build with going forward, and get this thing turned around."
Just not at the moment.
November, 17, 2013
Nov 17
8:57
PM ET
HOUSTON -- Stop me if you've heard this before ...
The
Oakland Raiders
are clinging to a five-point lead against the
Houston Texans
, who are inside the 10-yard line with less than 80 seconds to play.
Two years ago, and on the day after Al Davis passed away,
Michael Huff
stepped in front of
Matt Schaub
's game-winning attempt to
Jacoby Jones
in the end zone on second-and-goal from the 5-yard line with only 10 players on the field. Huff's interception sealed the win and unleashed a torrent of emotions with six seconds left.
This time, with the Texans facing a 4
th
-and-2 from the Raiders' 3-yard line, they were called for a false start and moved back to the eight, before
Usama Young
knocked away Schaub's game-winning attempt to
Andre Johnson
in the back of the end zone. There were 70 seconds to go.
Raiders 28, Texans 23.
Déjà vu, much?
"The ghost of Al Davis is still around," former Raiders coach Tom Flores said on the radio broadcast.
Well, maybe … that and the Raiders defense stepping up when needed most.
"I was proud of us finishing in the second half," said defensive end
Lamarr Houston
, who had three tackles with a sack, his team-leading fifth.
The Raiders had leads of 14-0, and let it slip into a 17-14 deficit, before jumping ahead 28-17, and having to hold on at the end.
"One of the big things we did a good job on was just mixing it up," said middle linebacker
Nick Roach
, who had his first career interception. "We would bring some pressure, then we would be in coverage. It was really a mix of both.
"It's huge because that has been our thing all year -- not being able to finish is what we're trying to overcome."
Even with Schaub replacing
Case Keenum
late in the third quarter.
"At that point, we were doing what we were going to do," said free safety
Charles Woodson
, who forced a fumble. "I don't think we anticipated that happening, but we just tried to keep the ball in front of us. We had that lead and we wanted to protect it."
And just like on Oct. 9, 2011, in the same end zone, the Raiders accomplished it.
October, 27, 2013
Oct 27
11:15
PM ET
OAKLAND -- The thing with
Pittsburgh Steelers
quarterback
Ben Roethlisberger
is he is more ridden down than actually blasted whenever he is sacked.
There's a reason he is known as Big Ben and, at 6-feet-5, 241 pounds, he is hard to take down.
Moore
But the
Oakland Raiders
' defense did just enough to knock him around and, by the time Oakland's 21-18 victory was official, the Raiders matched a season-high with five sacks ... even if Roethlisberger simply shook off at least two others.
"Yeah, you have to hold on for dear life a little bit with Ben Roethlisberger," said Raiders rookie linebacker
Sio Moore
, who led Oakland with two sacks. "He's a good quarterback, and he knows how to escape guys. Half the time you think he's sacked.
"The biggest thing we were saying throughout the week was when he's down, he's not down, so keep going."
The five sacks also equaled a season high for Roethlisberger as the
Tennessee Titans
and
Minnesota Vikings
also got him five times.
Roethlisberger had a passer rating of 70.1, his worst since last Dec. 23 against the
Cincinnati Bengals
. He threw for 275 yards on 29 of 45 passing with a touchdown and two interceptions, one each by
Mike Jenkins
and
Tracy Porter
.
"They're good, good defense," Roethlisberger said of Oakland. "They got after us and they were better than us."
It was also the third time in his career Roethlisberger lost in Oakland.
"This is a great place to come play," he said. "The fans are passionate, and they just beat us."
The Raiders' defense, which also had five hits on Roethlisberger, limited the Steelers to 35 yards rushing, eight yards in the first half.
A year ago, in the Raiders' 34-31 comeback win, Roethlisberger lit the Raiders up for 384 yards, four touchdowns and no interceptions on 36 of 49 passing for a 123.2 QB rating.
The difference this time around?
"We are better in the secondary," Allen said. "We do a better job of covering. We do a better job of keeping the ball in front of us."
All of which allows the front seven to get more of a rush on the quarterback. Besides Moore, defensive end
Lamarr Houston
and defensive tackles
Daniel Muir
and
Vance Walker
had sacks.
"It was important that we were getting him down on the first try," Houston said. "That was one of the goals of our defense."
Added safety
Charles Woodson
: "For the most part, when we got hands on Ben, we got him down. If he was escaping, somebody else would get him down, and that's huge against Ben, because he makes so many plays, shedding guys off him, spinning out of tackles, and today our guys got him to the ground."
October, 18, 2013
Oct 18
8:00
AM ET
ALAMEDA, Calif. -- Raiders defensive coordinator Jason Tarver has a bachelor's degree in chemistry from Santa Clara and a master's degree in biochemistry and molecular biology from UCLA.
So go ahead, call him a mad professor, of sorts, as you imagine the second-year coordinator in a lab within the walls of 1220 Harbor Bay Parkway with a beaker in each hand and electricity flashing about as he concocts a scheme to confuse the next quarterback.
"Yeah, a lab coat, glasses, pens in his pocket," laughed veteran free safety
Charles Woodson
. "I can see the whole thing.
"It's been fun for me playing under him, and I know we can get better with him."
[+] Enlarge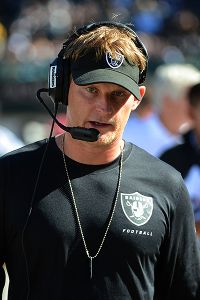 Kyle Terada/USA TODAY SportsJason Tarver's defense has kept opponents off-balance, not through complexity but simplicity.
Tarver has remade the Raiders' defense -- after the broken leg suffered by strong safety
Tyvon Branch
in Week 2, Oakland has just one returning starter on defense in defensive end
Lamarr Houston
, and he switched from the left to the right side -- in his own image.
The defense is as quick and excitable as it is unpredictable and successful. Indeed, it is the strength of the team as it enters the bye week with a 2-4 record that could just as easily be 4-2 … or better with a break here or there.
"You turn bad into good, good into great," Tarver said this week. "You guys have heard that from me before and that's what we're trying to do. The last three weeks it's turned closer to good, but we've got to turn it into great."
Two weeks ago, the Raiders flummoxed San Diego's
Philip Rivers
in a game the Raiders led 17-0 at halftime and won 27-17.
Last week,
Alex Smith
, considered one of the smartest signal-callers in the league, admitted the Raiders confused him at times in Kansas City's eventual 24-7 victory.
"They did a great job mixing it up," said Smith, who was sacked three times in the first quarter.
"I felt like we never could get a read on it, on what they were doing … they just kept rolling through the calls and mixing it. They did a great job. They caught us off guard a few times. They caught me off guard."
Yet Raiders players say the defense has not been overhauled to the liking of a biochemist. Rather, it's been simplified.
"He's able to take something that might seem complicated, break it down and make it as simple as you can for the players," Raiders coach Dennis Allen said of Tarver. "I think us as coaches, sometimes we over-coach. When you over-coach, you tend to slow your players down. You want to try to make it as simple as possible so that your players can play fast."
Six games in, the Raiders have the No. 13-ranked defense in the NFL, No. 10 against the run. They are also on pace for 43 sacks this season after having 25 in 2012.
"I'm not surprised at how well we've played defensively," Woodson said. "I thought, seeing this team in minicamp and then in training camp, the way that we prepared, I thought we'd be a good defense, I really did. And I think we're playing well but again, there's those moments in games where we can get out of situations, and help our team out.
"That's the difference between being a good defense and being a great defense."
The mad scientist in Tarver is not afraid to dial up an exotic blitz in any situation, so long as it's, well, smart.
Then how is Oakland able to confuse a scholarly quarterback like Smith when there's so much subterfuge that is just that? Window dressing?
"It's categories," Tarver said. "We can make the look look totally different by only switching two or three guys and what they do. 'Hey guys, you all know this call, right? Well, you two guys are going to switch.' So now, to an offense, it looks totally different because somebody is blitzing and somebody is dropping when it's the same call to everybody else.
"That's how we function -- we put things in categories and that's how we can learn them. That's where we want to go. We're scratching the surface of where this thing can go, and that's being multiple but still simple for us, but it looks like a lot more than it is to them."
Of course, there is still the rogue quarterback who cares little for what smoke and mirrors the Raiders bring. Guy by the name of
Peyton Manning
, who torched the Raiders for 374 yards on 32-of-37 passing with three touchdowns in Denver's 37-21 victory on Sept. 23.
No surprise then that that was the only game the Raiders were not in position to win.
Going forward, though, the Raiders' next seven opponents have a combined record of 15-26, and none of them has a winning record.
Until the offense finds consistency and special teams brings explosive results, the Raiders' lot will fall on the defense, and the guy who could be working in a lab will keep working on his concoctions.
Beakers -- not to be confused with former linebacker
Greg Biekert
-- or no beakers, it's about that fine line between teaching and over-coaching.
"You don't want to take the feel away from a football player," Tarver said. "It's different for every player. It's different at every level and we really try to go in the room and figure out what the guys need to help them make plays because that's why we're here -- to help these guys make plays."
September, 25, 2013
Sep 25
8:00
AM ET
As Raider Nation turns its eyes to
Terrelle Pryor
's concussion, another concussed Raider could have a similar domino effect on the defense.
Cornerback
Tracy Porter
was injured tackling Denver receiver
Demaryius Thomas
after a 4-yard reception on the final play of the third quarter Monday night. Porter took a
Lamarr Houston
knee to the back of the head and, like Pryor, has to clear the NFL-mandated concussion protocol to practice.
[+] Enlarge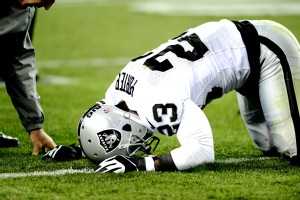 Ron Chenoy/USA TODAY SportsThe Raiders may be without Tracy Porter, who suffered a concussion against the Broncos.
If Porter cannot practice and is unavailable to play against Washington on Sunday, the Raiders will have some shuffling to do in the secondary.
"Obviously, if he's unable to play, yeah, it complicates some things a little bit and we'll have to move some guys around and put some guys in different positions," Raiders coach Dennis Allen said in his news conference Tuesday.
"This is the National Football League, guys are going to be called on to play multiple positions and fill multiple roles for the football team and they have to be able to perform that duty when they're called on."
Porter starts at right cornerback and moves into the slot in Oakland's nickel defense, with rookie
D.J. Hayden
coming in to man the right corner. But with Porter out in the fourth quarter, starting left cornerback
Mike Jenkins
moved to the inside, Hayden stayed on the right and
Phillip Adams
came off the bench to play on the left.
Hayden endured a rough game -- as did the rest of the Raiders defense against
Peyton Manning
-- as the No. 12 overall draft pick was responsible for six of the Raiders' 19 missed tackles, according to Pro Football Focus.
"He's still learning," Allen said of Hayden. "He still has a long way to go. I like the talent, I like the ability. I'd like to see him be more aggressive. I think as the plays begin to come his way and he begins to make a few more plays, I think you'll see that confidence and aggressiveness come out a little bit more.
"You see it at times, but that's really the challenge I have for him is to have that confidence in himself and be a little bit more aggressive as a football player."
The Raiders' pass defense, though, had a rough go of it being aggressive against Manning, who completed 14 of 16 passes for 151 yards and two touchdowns and a 145.6 rating ... when the Raiders blitzed him.
And Oakland did not sack him on a blitz, either. That came when Houston simply beat his man.
"If you don't get to [No.] 18, you're going to have a long night, like we had tonight," safety
Charles Woodson
said of Manning, who completed a career-high 86.5 percent of his passes in the game.
"That's the focal point when you play the
Denver Broncos
; you have to get to him. Offensively, you've got to sustain drives to try to keep the ball out of his hands. If you don't do that, then nights like tonight happen."
Washington brings a different offensive attack with
Robert Griffin
III under center, but if the Raiders' secondary remains in transition -- strong safety
Tyvon Branch
is still out -- Oakland will have more questions than answers if Porter is a no go.
And keep this in mind: the Raiders still have yet to record an interception.
September, 24, 2013
Sep 24
3:13
PM ET
An examination of four hot issues from the Raiders' 37-21 loss to the Broncos:
[+] Enlarge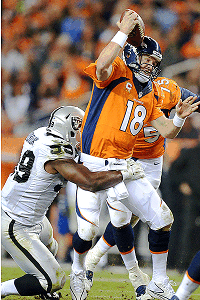 Kirby Lee/USA TODAY SportsWith the exception of this sack by Lamarr Houston, the Raiders weren't able to hound Denver QB Peyton Manning on Monday night.
Not helping themselves:
The Raiders knew they had to get off to a quick start and minimize their mistakes against Denver, in general, and quarterback
Peyton Manning
, in particular. No dice. Not when Oakland had a season-high 77 yards in penalties, and when Manning completed 32 of 37 passes for 374 yards. "Playing a team like the Broncos, you don't really have any room for error," Raiders safety
Charles Woodson
said. "Playing against Jacksonville, you have some room for things and you can make up for it. But with [Manning], you can't. He's going to find whatever weakness you have out there. If you're not fundamentally sound, he's going to find it [and] he's going to exploit it. He did it tonight."
Where's the pass rush?:
With Manning working with a surgeon's precision, no wonder the previously blitz-happy Raiders could not get to him. Oakland entered the game with nine sacks but was able to get Manning only once, though it was a violent blindside hit by defensive end
Lamarr Houston
that resulted in a fumble, the type of hit you rarely see Manning endure. "He has his protection set a certain way and when he drops to five yards he stays right in the middle of the pocket where he's comfortable and wants to throw the ball," Houston said. "So it's kind of hard to get to a quarterback dropping five yards, and not seven or nine."
Polish Cannon under wraps?:
If ever there was a time to attempt a record field goal, this was it. Five seconds remaining in the half, the Raiders at the 50-yard line facing the closed end of a stadium in which
Sebastian Janikowski
made a 63-yarder two years earlier. Alas, coach Dennis Allen went conservative, and
Terrelle Pryor
, who would later suffer a concussion, was sacked. "I thought we had a better chance of being able to get a Hail Mary pass," Allen said, "rather than trying to attempt a 67- or 68-yard field goal." Not sure everyone else in the organization agrees, though.
Of explosive plays III:
And now for our weekly tracking of "explosive" plays -- as deemed by Allen, such a play is one that gains at least 16 yards through the air, 12 yards on the ground. The Raiders had nine such plays against the Broncos, one run and eight passes, while Denver had eight explosive plays, three runs and five passes. In three games, the Raiders have 26 explosive plays (10 runs, 16 passes), with two passes for touchdowns, both in Denver. Oakland's opponents, meanwhile, have 23 explosive plays combined, six runs and 17 passes with a touchdown each way.
September, 19, 2013
Sep 19
6:43
PM ET
ALAMEDA, Calif. -- If it seemed like the Raiders were not addressing their defensive line this offseason in the wake of parting ways with
Richard Seymour
,
Tommy Kelly
,
Desmond Bryant
and
Matt Shaughnessy
, there was a reason.
Oakland was about to go all in with defensive end
Lamarr Houston
and move him from the left side to the right.
[+] Enlarge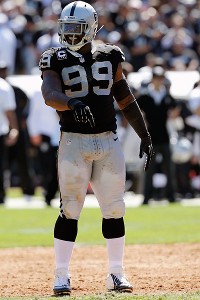 AP Photo/ Bill NicholsLamarr Houston has rewarded the Raiders, who trusted him to anchor their pass rush.
Two games into the season and he's been more than a disruptive force, aside from his one sack, 12 quarterback hurries and three quarterback hits, per Pro Football Focus.
"We thought last year Lamarr was probably our best defensive player," said Raiders general manager Reggie McKenzie. "So we felt good that Lamarr could provide some kind of pass rush. Now, will he be that dominant Lawrence Taylor, Reggie White, one of those kind of guys? We didn't have that in mind, but we thought he could be a disruptive force for our defense.
"We just wanted to fill in some good pieces around and just complement the defense to where we can execute some things."
According to Pro Football Focus, Houston is the third-rated right defensive end in a 4-3 formation when it comes to pass-rushing productivity.
Heading into Denver, he will face a career backup in fourth-year pro
Chris Clark
after three-time Pro Bowl left tackle
Ryan Clady
was lost for the season with a Lisfranc injury.
"I wish Clady a speedy recovery," said Houston, who grew up in Colorado Springs after moving there from Sacramento when he was 5 years old.
"I train with him in the offseason, so I wish him nothing but the best. The backup Clark guy, he's an athletic tackle. He has really good feet. He can keep up with anybody, small, big or fast. I have to get in there and watch some more tape on him and see what he's doing and how he likes to play."
The Raiders are already impressed with Houston's play in his transition thus far. So much that McKenzie acknowledged he has been in talks with Houston's agent about a contract extension. Houston, the Raiders' second-round draft pick in 2010 out of Texas, is in the final year of his rookie contract.
"We'll see how that works out," McKenzie said.
Finances precluded McKenzie from going after an established pass-rusher this past offseason, so the Raiders returned only 5.5 of their 25 sacks from a year ago, with Houston having four and linebacker
Miles Burris
contributing 1.5, though Burris is on the reserve/physically unable to perform list.
"Now, if I had a chance to get a guaranteed 15-sack guy, yeah," McKenzie said. "Whether I had the resources to get that done or not, probably not. But we felt good about Lamarr."
Even if Houston, who will be the only returning starter on defense to play Monday in Denver, is still learning the nuances of the right side on the job.
"I don't think I'm playing as well as I should be playing," he said. "There's a lot of mistakes I've been making that have to be corrected. That's why we're here, working and trying to get better. I think I have improved somewhat in that area, but there's a lot of improvement for me to do."
Like what, exactly?
"I think there's a couple of things I have to work on mechanics wise, our D-line has to work on mechanics wise," Houston said. "We have to execute how we want the pocket to look like. We have to keep working this week and make improvements for us as a line as a whole with our rush game to make a difference on Monday."
September, 18, 2013
Sep 18
9:15
PM ET
ALAMEDA, Calif. – Three
Oakland Raiders
players entering their contract years with the team have already been signed to extensions, and Raiders general manager Reggie McKenzie said Wednesday he has reached out to the agents left tackle
Jared Veldheer
and defensive end
Lamarr Houston
.

"Make no bones about it, we want to sign as many of our good players as we can," McKenzie said. "With the cap is the way it is this year, we won't have a chance to do a whole lot with big-money guys like those two guys. It'd be highly unlikely we could do two, but at least we're in a situation next year to retain some of our high-dollar guys."
Veldheer is on the partial-season injured reserve list after undergoing surgery on a torn left triceps during the preseason. He has not had any setbacks and has yet to perform football-related activities, though he is a constant observer at practice.
McKenzie, who held a half-hour roundtable meeting with seven Bay Area-based reporters, signed long-snapper
Jon Condo
and place-kicker
Sebastian Janikowski
to extensions in training camp and announced a three-year extension for fullback
Marcel Reece
on Friday.
"We're working diligently to keep our own," McKenzie said.
Another player in his contract year who has much to prove as he has yet to play more than 13 games in a season: sixth-year running back
Darren McFadden
.
Then how important is it for McFadden to stay healthy this season to be considered a player McKenzie wants back in 2014?
"He knows it's important," McKenzie said. "He wants to be out there, he wants to show what he can do for the year. It's important because contracts are important to players.
"Definitely not going to take that outlook away from him or any other player. Everybody wants to play well so they can get that contract."
September, 8, 2013
Sep 8
7:43
PM ET
INDIANAPOLIS -- They had the ball rammed down their throats for an 89-yard scoring drive the first time they took the field.
Then the Raiders' defensive players surrendered a 69-yard TD drive the second time Indianapolis had the ball.
Luck
Woodson
It was 14-0 Colts and the rout was surely on, right? This rebuilt Raiders defense, with nine new starters, was being picked apart by
Andrew Luck
. And there was nothing Oakland could do about it. Except ...
"We just started playing football," insisted veteran defensive back
Charles Woodson
.
"We put it together. We feel like we can go out there and stay with anybody."
It could not have been that simple, right? A mere change of demeanor or attitude and, dare I suggest, desire?
Then there's the Jason Tarver theory. The Raiders' second-year defensive coordinator, you'll recall, was a DC at Stanford who used to practice against Luck on The Farm a few years back so he would know the QB's tendencies. Maybe that started to take effect?
Whatever the case, the Raiders clamped down on defense, until Luck's scramble up the gut in the fourth quarter proved to be the deciding points in the Colts' 21-17 victory.
Oakland forced two straight three-and-outs, did not allow the Colts to cross midfield on their first series of the second half and stuffed a fourth-and-1 in the third quarter.
The Raiders, who averaged fewer than 1.6 sacks per game last season, ended up sacking Luck four times, one each by strong safety
Tyvon Branch
, right defensive end
Lamarr Houston
, cornerback
Tracy Porter
and left defensive end
Jason Hunter
.
"Eventually, we got him in a little bit of third-and-longer situations and we were able to get a little bit of pressure on him and I think that's the key," said Raiders coach Dennis Allen. "But with all good quarterbacks, you've got to be on your game on every single play and we've got to do a better job.
"We had a couple of times where we had him dead to rights and couldn't get him on the ground. He's a big, strong quarterback and then, one time, we let him scramble out down there in the red zone."
The two plays in question -- Luck was half-a-second away from being called in the grasp for a sack by Houston but escaped his grasp, then bounded off
Kevin Burnett
to take off for a 10-yard gain on third-and-9 early in the third quarter; and the defense parting like the Red Sea for Luck's game-winning 19-yard scamper with 5:20 to play. It finished an 80-yard scoring drive for the Colts.
"We didn't start fast but we FINISHED strong," Porter tweeted on his way to the airport. "Now we just have to put a whole game together."
They have 15 more chances.
September, 6, 2013
Sep 6
8:00
AM ET
ALAMEDA, Calif. – How different will the
Oakland Raiders
' defense look Sunday?
Houston
Consider: Besides there being nine new starters,
Lamarr Houston
, who is making the switch from left defensive end to the right side, will be the only Raiders defensive player who had a sack last season with Oakland.
Yes, the Raiders had 25 sacks as a team last year, which ranked 31st in the NFL, and Houston tied for the team lead with four. Linebacker
Miles Burris
, who is on the reserve/physically unable to perform list, added 1.5 sacks. And that's it.
It's no surprise, then, that much is expected this season of Houston, who was voted a team captain along with fullback
Marcel Reece
and long-snapper
Jon Condo
.
"Lamarr was a guy that, going into this season, we kind of pegged as a guy that we wanted to be a leader for this team," said Raiders coach Dennis Allen. "He began to take a little bit of that role at the end of last year, and I think he's continued to improve in that regard as we've gone through the offseason and training camp.
"I think he'll continue to develop as a leader for this football team as we go forward."
Selected in the second round of the 2010 draft, Houston immediately made a mark with numerous training camp scraps. But he seemed soft-spoken off the field.
"When I was younger, I had (Richard) Seymour and
Tommy (Kelly
) here, so I thought I was going to be 'little brother' forever," Houston said with a roaring laugh. "Nah, but as the years have gone by, I could see myself being a captain now. A lot of my teammates respect me and it means a lot to me -- and I'm going to do the best I can to fulfill this role for this team."
So what, exactly, does being tabbed a captain mean to Houston?
"It means it's a lot of responsibility, a lot of respect," he said. "It's a big role to play. It means you're a leader. You basically represent the team when you're a captain, so it's a great honor. But it's more about the team."
And still, there are questions about Houston's skill set, and how it translates to the more pass-rush-emphasized right side.
At 6-feet-3, 300 pounds, Houston is not your stereotypical edge rusher, nor is he a bull-rusher.
"To be honest, I think my skill set fits perfect," he said. "Pass-rushing is about technique; it's not about who's the fastest or who's the strongest. I've been working on that a lot this offseason and it's been showing up in this preseason a little bit and in training camp, so I'm just going to try and build on that and do whatever I can to get better at playing on that right end."