Oakland Raiders:

Marc Wilson
May, 10, 2014
May 10
12:30
AM ET
ALAMEDA, Calif. -- The conundrum, for lack of a better word, facing the
Oakland Raiders
as they considered their second-round pick, the fourth choice of the day, went something like this:
Take a player who, if all actually goes well, does not play a down next season, even if he is the presumptive franchise quarterback of the future.
Or ...
[+] Enlarge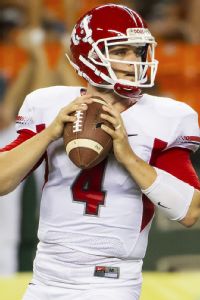 AP Photo/Eugene TannerIf everything goes according to plan, Derek Carr will play little if at all for the Raiders this season.
Select a player who can presumably make an instant impact for the Raiders as they enter Year 1 of their reconstruction.
Oakland went with the former and it makes all the sense in the world, unless it doesn't.
Confused? Don't be, because while tabbing of Fresno State's
Derek Carr
was met with confusion in some corners at 1220 Harbor Bay Parkway, he is part of a long-term plan by the Raiders. It's one that Oakland general manager Reggie McKenzie witnessed firsthand in Green Bay.
Think
Aaron Rodgers
biding his time behind
Brett Favre
for three years with the Packers. Now, I'm not suggesting
Matt Schaub
is Favre, but you get the gist. The Raiders want Carr, who ran a high-octane spread offense his last two years almost exclusively out of the shotgun, to learn the intricacies of an NFL offense at the knee of Schaub.
And with the Raiders going all-in with Schaub as their starter for at least two years -- then again, they also seemed sold on
Matt Flynn
last year -- it gives Carr time to marinate in the NFL game.
"Right, we stayed true to our board," Raiders director of player personnel Joey Clinkscales said. "We think Matt Schaub is our starter. We're confident with that and Derek will come in and he'll learn, and wherever he fits in he'll fit in. We're comfortable with the pick and knowing that he will come in and develop the way we would like to see him develop.
"He's a very mature kid. He's had a lot of life experiences that the regular 22-year-old hasn't had. He has a family, he's married, he has a child also. We're excited to get a guy like that in the program."
The question, then, is this: Is Carr prepared to sit, or does he anticipate competing for the starting gig?
"That's for the coaches to decide," Carr said in a conference call with Bay Area reporters Friday afternoon. "The coaches know who they're getting, and I told them, I appreciate your calling, you know what you're getting. I'm going to come in and work, I'm going to come in and compete and I'm going to try and make the team better. I'm not a selfish guy, that's for sure, and I can't wait to get coached by those coaches."
At Fresno State last season, Carr passed for 5,082 yards with 50 touchdowns and eight interceptions in completing 68.7 percent of his passes. And while his 74 completions of at least 20 yards led the FBS, 237 of his 659 passes were either at or behind the line of scrimmage, with an FBS-high 143 screen passes, per ESPN Stats & Info. "As a result, Carr's average pass attempt traveled 7 yards past the line of scrimmage, the fewest air yards per attempt of any top QB prospect," per ESPN Stats & Info.
Plus, his completion percentage of 30.9 percent while under duress was the lowest of any top QB prospect, per ESPN Stats & Info. It all adds to the notion that Carr could stand to have a redshirt year, so to speak, in the NFL.
Since the 1970 AFL-NFL merger, Carr is the sixth quarterback taken in the first two rounds of the draft by the Raiders, following Jeb Blount (second round, 1976), Marc Wilson (first round, 1980), Todd Marinovich (first, 1991),
Marques Tuiasosopo
(second, 2001) and
JaMarcus Russell
(first, 2007).
Carr, meanwhile, said the Raiders have always been in his family's blood. His uncle Lon Boyett was a training camp tight end with Oakland in 1978.
And watching the trials and tribulations of his brother David, the No. 1 pick of the 2002 NFL draft by the
Houston Texans
, should only help him.
"Oh, my goodness, it's such a blessing," the younger Carr said. "I learned everything that he did right and everything that he did wrong. He's told me. He told me that if he could do anything, he hopes he made the path smoother for me as I transition into the NFL."
Watching from the sideline is probably the best path, at least early in his career.
May, 5, 2014
May 5
3:00
PM ET
Our countdown of the worst
Oakland Raiders
draft picks since the 1970 AFL-NFL merger continues with offensive tackle John Clay checking in at No. 2…
OT John Clay (Missouri, first round, No. 15 overall in 1987)
Who else was available?
WR Haywood Jeffires, OT Harris Barton, OT Bruce Armstrong
To be fair, the 1987 draft from top to bottom was probably overshadowed by its supplemental cousin later in terms of excitement -- paging Brian Bosworth -- and production -- future Hall of Famer Cris Carter.
That's not to say this draft was without its pearls, though -- Bo Jackson in the seventh round, 183
rd
overall? Yes please.
But the Raiders paid dearly for the sin of missing so badly so early.
Clay was supposed to be the cornerstone left tackle for the next decade, a supposed upgrade from the aging Bruce Davis, who helped anchor a pair of Super Bowl championship O-lines with the Raiders.
Clay, though, could barely get on the field, let alone stay on it. He started nine games at right tackle as a rookie during the strike-ravaged 1987 season, including the season opener and finale.
Seemed promising enough, right? Yet before he had a second shot with the then-L.A. Raiders, Clay was shipped to the
San Diego Chargers
for an upgrade in fellow offensive tackle Jim Lachey, for a third-round pick and a fourth-round pick in the 1989 draft.
But here is where the initial pick of Clay becomes infamous in the streets of Silver and Blackdom. After just one game with the Raiders, the season opener, Lachey was flipped and sent to Washington for Jay Schroeder. While Clay's NFL career lasted only two more games with the Chargers and Schroeder would rival Marc Wilson for most reviled Raiders QB in franchise history this side of
JaMarcus Russell
, Lachey was named first-team All-Pro left tackle in Washington from 1989 through 1991.
Bottom 5-plus Raiders draft picks since 1970 merger
Dishonorable mentions
No. 5:
WR Darrius Heyward-Bey
No. 4:
DE Bob Buczkowski
No. 3:
MLB Rolando McClain
No. 2: OL John Clay
No. 1: ?
April, 28, 2014
Apr 28
3:00
PM ET
We begin our countdown of the bottom 5
Oakland Raiders
draft picks since the NFL-AFL merger in 1970 with a
dishonorable
mentions list (our honorable mentions to the
best 5 picks went up this morning
)… and our Bottom 5 countdown of the Raiders' worst draft picks in that time frame begins Tuesday.
Bottom Raiders Draft Picks Since 1970 (dishonorable mention)
QB Marc Wilson (BYU, No. 15 overall in 1980)
Who else was available?
WR Art Monk, LB Otis Wilson, RB Joe Cribbs
Wilson, who lost a 'Worst Quarterback in Los Angeles' popular vote contest to the Rams' Dieter Brock in 1985, was one of the most unpopular players, let alone signal callers, in franchise history.
QB Todd Marinovich (USC, No. 24 overall in 1991)
Who else was available?
QB
Brett Favre
, RB
Ricky Watters
, CB
Aeneas Williams
Personal demons doomed RoboQB, who saw himself as a Snake Stabler clone. He seemed to be the perfect Raider, but drug issues prematurely ended his NFL career after going 3-6 as the L.A. Raiders starter.
SS Patrick Bates (Texas A&M, No. 12 overall in 1993)
Who else was available?
LT
Brad Hopkins
, DT
Dana Stubblefield
, DE
Michael Strahan
Started just nine games and had but one interception over two seasons with the Raiders and quit the team just before the 1995 season opener for the re-born
Oakland Raiders
, never to don the Silver and Black again.
CB Phillip Buchanon (Miami, No. 17 overall in 2002)
Who else was available?
FS
Ed Reed
, CB
Lito Sheppard
, S
Michael Lewis
Sure, "Showtime" had 11 interceptions and added three TDs as a return man in three years, but his inconsistency in the secondary forced the Raiders' hand in giving up on him relatively early.
LT Robert Gallery (Iowa, No. 2 overall in 2004)
Who was available?
WR
Larry Fitzgerald
, QB
Philip Rivers
, QB
Ben Roethlisberger
OK, so, Gallery did have a solid little run as a left guard, but his draft slot demanded so much more. He was seen as a can't-miss left tackle around whom to build a line. Instead, he became a cautionary tale.
March, 27, 2014
Mar 27
2:15
PM ET
We conclude our look at the Oakland Raiders' top 5 free agent signings of all time with Jim Plunkett checking in at No. 1 ...
If it truly is all about the rings, then there should be no other choice than Plunkett as the Raiders' top free agent signing of all time after helping lead the team to two of its three Super Bowl titles, in 1980 and 1983.
And yet, there is also the Lazarus effect, which only adds to the legend, Plunkett resurrecting himself after being out of the game following a pair of painful stops in New England and San Francisco. In fact, Plunkett was out of the game in 1978, when the Raiders signed him to hold a clipboard behind Kenny Stabler.
[+] Enlarge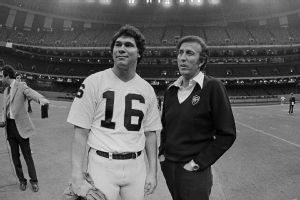 AP PhotoJim Plunkett and former coach Tom Flores at the Superdome in New Orleans during the week leading up to Oakland's 27-10 win in Super Bowl XV.
But when the Raiders traded Stabler to the Houston Oilers for Dan Pastorini in 1980, Plunkett was frustrated that he did not have the opportunity to compete for the starting job. He went to coach Tom Flores and told him he wanted out. But after Flores spoke with Al Davis, the Raiders owner was not about to ship out his only veteran presence behind Pastorini (Oakland had just used a first-round draft pick on Marc Wilson).
Plunkett, the 1970 Heisman Trophy winner out of Stanford and the top pick of the 1971 draft, bided his time. Five games into the season, the
Kansas City Chiefs
broke Pastorini's leg and Plunkett took over as the Raiders sat at just 2-3.
"One of the things that's always stuck with me when I took over in '80, Mr. Davis told me, 'It doesn't matter if you play well; it's only important of we win the game. We can play well next time,'" Plunkett said.
The Plunkett-led Raiders ran off a six-game winning streak and Oakland claimed a wild-card spot, beating Stabler's Oilers in the playoffs, the Kardiac Kid
Cleveland Browns
and the high-powered
San Diego Chargers
before pasting the
Philadelphia Eagles
in Super Bowl XV, 27-10.
Plunkett's Cinderella season came to fruition as he was named the game's MVP.
The Raiders were again champs three years later, this time with Los Angeles serving as the team's home, when they went 12-4 and beat the
Pittsburgh Steelers
and
Seattle Seahawks
by a combined 68-24 before thumping defending champion Washington, 38-9, in Super Bowl XVIII.
That 1983 season, though, was not without drama for Plunkett, not when he was benched with the Raiders sitting at 5-2 in favor of Wilson in the wake of Wlison getting a reported five-year, $4-million deal to keep him away from Donald Trump and the USFL's New Jersey Generals.
"You know, having played quarterback, it's pretty hard to bench your quarterback, your starter, especially a guy that's won a Super Bowl for you," Flores told Silver and Black Productions. "But he was beat up pretty good early in the year, and Jim was the kind of quarterback that he was, just such a warrior that he didn't avoid too much contact, so we did make a change and we put Marc Wilson in."
Wilson had a good game on national television against the
Dallas Cowboys
, but the Chiefs again came to Plunkett's rescue, so to speak, this time breaking Wilson's shoulder. A recharged Plunkett never looked back, though he did cause a stir by skipping the team's championship parade in L.A.
Some saw it as his silent protest against being benched that season.
"Who knows, maybe it was, but I don't want to be petty," Plunkett told me for my upcoming book, "100 Things Raiders Fans Should Know & Do Before They Die."
"There were a lot of reasons; I was living up north and it was a long year for me. My rent was up. It was time to go home."
Plunkett laughed, though not too hard lest the pain return. He is still recovering from a left shoulder replacement surgery, one of 16 football-related procedures he's undergone, including both knees being replaced.
He retired after the 1986 season and has remained close to the Raiders' organization. And in his last years, Davis pumped Plunkett for the Pro Football Hall of Fame.
"I said it then and I believe it now," Davis said in 2008, "that Jim Plunkett was one of the truly great players of our time. He won two Super Bowls and has never gotten the acclaim he desires or deserves. He was a Heisman Trophy winner, he was a Super Bowl winner, he did as much in pro football as John Elway did, who it took 15 years to win a Super Bowl."
December, 19, 2013
12/19/13
8:00
AM ET
ALAMEDA, Calif. -- Mark this one in the "small victories" column. And then get out of the way.
Per The Associated Press, the
Oakland Raiders
last weekend became the first team since the
Green Bay Packers
in 1986 to commit seven turnovers in a game and not take a sack.
So go ahead, find Vince Ferragamo (two interceptions) and Randy Wright (five picks) and ask those old Packers how their "accomplishment" of Sept. 14, 1986 against the
New Orleans Saints
stacks up against what
Matt McGloin
(four interceptions, one lost fumble),
Terrelle Pryor
(one pick) and
Taiwan Jones
(a lost fumble on a kick return) did versus the
Kansas City Chiefs
fares.
For one thing, those Packers lost, 24-10, while the Raiders were bludgeoned, 56-31.
Or, just get McGloin's read on not being sacked in a blowout, despite throwing the ball 35 times (as a team, Oakland attempted 41 passes; Green Bay threw the ball 59 times in that game 27-plus years ago).
"I call it a silent alarm," McGloin said Wednesday. "Obviously, against the Chiefs, that was something we were prepared for. We knew they had great pass rush. I think they sacked us nine or 10 times the last time we played them."
Initially, Pryor was ruled to have been sacked 10 times on Oct. 13 at Arrowhead Stadium, though the number was later reduced to nine after a review.
"Our protection plan was solid last week, but as a quarterback standing in there, you have a clock in your head," McGloin added. "It kind of gets to a point where it's, 'OK, I've had this ball for a few seconds now, I need to get rid of it, or I'm going to get hit pretty hard here.'
"So you need to be decisive. You need to know what you're doing on each play. You need to know what your progressions are and what routes are good against what coverages. There's always a clock in the back of your mind."
And, as the saying goes, time waits for no one.
So speaking of time, how long ago was Sept. 14, 1986?
The then-Los Angeles Raiders fell that day at Washington, 10-6, as
Jay Schroeder
beat Marc Wilson, and
Darrell Green
, whose son Jared is now a practice squad receiver for Oakland, picked off Wilson in the end zone with 30 seconds remaining.
Neither Schoeder nor Wilson was known for having internal clocks. Big arms, yes. But not internal clocks.
December, 15, 2013
12/15/13
11:15
PM ET
OAKLAND -- Just in case you were wondering,
Matt McGloin
will indeed start at quarterback for the
Oakland Raiders
next week against the
San Diego Chargers
.
At least, that's what coach Dennis Allen said after the Raiders were blown out by the
Kansas City Chiefs
, 56-31, on Sunday and McGloin had a passer rating of 57.1 after throwing four interceptions and losing a fumble.
"Yeah," Allen said, almost incredulously when asked if McGloin would start.
Still, it was a valid question after
McGloin regressed in the game
with every interception and
Terrelle Pryor
, who purportedly lost his starting job to injury, is now healthy.
Then again, it's a long week before the Raiders hit San Diego and much can change before then, right?
Pryor, who made a pair of mid-series appearances in the game before mopping up, was not available in the postgame locker room. McGloin, meanwhile, said he was stunned by the amount of turnovers -- besides his five, the Raiders had two others -- Oakland had against the Chiefs.
"I'm at a loss for words for it," he said. "It's disappointing. It's frustrating. But at the same time, we were still in the game. It was 35-31 at one point still, even with all the turnovers that we had."
Technically, the Raiders had
just
five turnovers when it was 35-31.
But McGloin's four picks and lost fumble cost the Raiders dearly as his turnovers resulted in 28 points for the Chiefs.
He did not look as settled while dropping back as he did earlier in the season and, again, began to drift in the pocket. When he's excelled, he's been decisive and the ball has come out almost from the moment his back foot hit the grass.
It's almost as if he makes worse decision and throws poorer passes when he has time.
"I think that's what happens a lot of times," Allen said. "When you throw the ball late across the middle, those things can happen. Again, there's no excuses. We can't turn the ball over like that, but he is a young player.
"He's got to go through those growing pains and that learning process. It's tough. It's tough on all of us, but that's part of what we've got to do."
Allen would not endure such hardships with a quarterback he did not believe in, right? Just ask Pryor. Or imagine asking Pryor.
For the game, McGloin showed shades of Marc Wilson and
Jay Schroeder
, QBs from Raiders past who would infuriate the Raiders fan base with their maddening brand of inconsistency.
McGloin finished with 297 yards on 18 of 36 passing and two TDs with his five turnovers.
"I'm trying to win games right now," he said, "and I know that's the mindset of everybody else. It's not looking forward to the future, or looking forward to next season and just play this out.
"In this game, in this profession, that's all you can focus on is the next one."
As in next week, apparently.