Oakland Raiders:

Michael Vick
August, 18, 2014
Aug 18
10:00
AM ET
ALAMEDA, Calif. -- Every now and then a dangerous thought will creep into
Trent Edwards
' head. It's the one that feels more like a Lane Kiffin fever dream from 2007 than reality, and yet ...
It's the one with Kiffin's fingerprints all over it, where Kiffin, actually believing he had autonomy over football decisions when Al Davis was still running things, was able to pull off a draft plan with an eye to the future.
In it, Kiffin would have used the No. 1 overall pick on a receiver out of Georgia Tech, big guy by the name of
Calvin Johnson
. Then Kiffin would have gone after Edwards out of Stanford in the second or third round and started to build an offense in his own image.

Edwards
Instead, the Raiders selected JaMarcus Russell and then tight end
Zach Miller
in the second round. Edwards went to the
Buffalo Bills
in the third round.
"I definitely think about it; it's crossed my mind a few times, but I'm not one of those people that sit up at night and play the coulda, woulda, shoulda game -- what would have been if I had been drafted by Oakland, or stayed here in 2011?" Edwards said recently.
"I just have too many other things going on in my life, football included, that I just am one of those glass-half full type of people that I'm very optimistic with what I have going for me in the future and I don't really look back too much."
Now, this is not an endorsement of Kiffin's plan -- Davis later said Kiffin also wanted to use that No. 1 pick on Notre Dame's Brady Quinn -- because it's no guarantee an Edwards-Megatron connection would have bloomed under Raiders short-timer Kiffin anyway.
Consider this: Since that 2007 draft, when the Raiders chose Russell, who became the biggest draft bust in NFL history, over Johnson, who is on his way to the Pro Football Hall of Fame, Oakland has had a better overall record than the Lions, 38-74 (.339) to 36-76 (.321).
The storyline just drips with so much irony because, as Edwards mentioned, he chose to return to Oakland after being "terminated" as a vested veteran by the Raiders in 2011.
And Edwards, who has taken few snaps in camp and is behind starter
Matt Schaub
, second-round draft pick
Derek Carr
and second-year player
Matt McGloin
, has little to no chance to making the
Oakland Raiders
' initial 53-man roster.
Still, Edwards feels he is not done -- he was in the same situation in Philadelphia two years ago but eventually made the team and started a game -- and is contributing in the QB room.
"Here's another veteran guy, he hasn't gotten many reps but he's been in all the meetings," said coach Dennis Allen. "He has experience. I think he does a good job of somewhat being a sounding board for some of those quarterbacks. I just think his demeanor and the way he goes about doing his job has been a positive in that quarterback room.
"I'm glad we have him and I think he's been a good addition to our team."
With the Eagles, Edwards was also the token veteran.
"They drafted
Nick Foles
, had
Michael Vick
and they had
Mike Kafka
," Edwards said. "I was the (fourth-stringer). I sat there all camp. Some breaks went my way, I played well in some preseason games and I ended up making the 53-man roster."
Now, with Carr nursing sore ribs and a concussion, might a similar opportunity present itself? It's unlikely, but stranger things have happened. He was the last man on the team bus Wednesday in Oxnard, visiting with friends and fans on the opposite side of the field after practice, as if he was trying to soak it all in, one last time.
A ball boy had to sprint across the field to get him, a day after Edwards approached Hall of Fame baseball manager Tommy Lasorda for a picture.
"I'm just honestly trying to keep myself up to speed, where my game needs to be, but also help the other guys around me," Edwards said "I feel like I've played in the league long enough to know a few of the ins and outs and I'm in a veteran role where I can help out the other guys around me. And I'm learning a lot from Matt Schaub as well.
"Trying to stay in it and then just being ready if my time's called."
March, 24, 2014
Mar 24
8:00
AM ET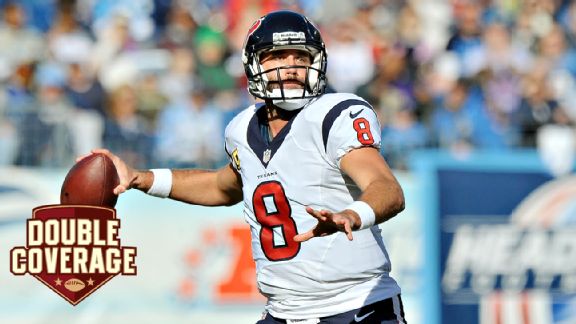 Jim Brown/USA TODAY SportsThe Oakland Raiders believe quarterback Matt Schaub can rebound this season.
The
Oakland Raiders
acquired two-time Pro Bowl quarterback
Matt Schaub
from the
Houston Texans
on Friday and Raiders coach Dennis Allen immediately anointed the 10-year veteran his starter, even as he already had
Trent Edwards
,
Matt McGloin
and
Terrelle Pryor
on his roster.
Schaub, though, is coming off a career-worst year in which he was often booed at home, threw a flurry of interceptions returned for touchdowns, lost his starting job and had a career-low total quarterback rating of 43.65. In fact, Raiders offensive coordinator Greg Olson saw his new quarterback's fall from grace as a blessing in disguise, saying, "Had he not had the season he had last year in Houston, he wouldn't be sitting here today."
ESPN.com Raiders reporter Paul Gutierrez and Texans reporter Tania Ganguli broke down Schaub and his leaving Houston for Oakland.
Paul Gutierrez:
It was obvious that Schaub bottomed out last year. The question is why -- was it more mental or physical?
Tania Ganguli:
There was certainly a physical aspect to it. His arm strength wasn't what it had been. But a bigger part of it was mental. You can't pin everything that went wrong with the Texans' offense on Schaub. But the pick-six is such a catastrophic play that the streak of four games with one thrown was mentally very taxing on both the team and the quarterback. I've heard a lot of people around him say that his pick-six to
Richard Sherman
(his third of last season) was the one that ultimately crushed his confidence.
Do you think Oakland is a place where he can regain his confidence?
Gutierrez:
So long as the offensive line holds up and gives him time. The Raiders have made a concerted effort to overhaul the offensive line since free agency began, picking up left tackle
Donald Penn
, right tackle
Austin Howard
and guard/center
Kevin Boothe
. The Raiders also got a veteran receiver in former Packers wideout
James Jones
, so general manager Reggie McKenzie has been building around the quarterback position, so to speak, to get a veteran signal-caller to serve as a bridge, of sorts. Schaub fits that description, no? Thing is, McKenzie and his scouts have failed thus far at identifying and settling on a franchise quarterback. They inherited
Carson Palmer
, but traded him away in favor of
Matt Flynn
, who bombed. Then they zeroed in on USC's
Matt Barkley
last spring in the draft before the
Philadelphia Eagles
swooped in and took him. They used a fourth-round draft pick on Arkansas'
Tyler Wilson
, who was cut a couple of times and ultimately picked off their practice squad by the
Tennessee Titans
. Finally, they seemed to botch the handling of Terrelle Pryor and undrafted rookie Matt McGloin. With the money owed Schaub, unless he restructures his contract, the Raiders believe he will regain his confidence.
And yet, after last season's debacle, is Schaub the kind of guy who would benefit from a mere change of scenery?
Ganguli:
ESPN Stats & Info passed along some stats that support your skepticism, but I think a change of scenery will be great for Schaub nonetheless. First their points: Schaub has declined over the past three seasons in stats like first down percentage, total QBR, yards per attempt and interception percentage. The dramatic drop in QBR (from 67 in 2011 to 64 in 2012 to 37 in 2013) and dramatic increase in interception percentage (2.1 to 2.2 to 3.9) indicate a statistical anomaly. Given what the Raiders are going to be spending on him, it's clear that's what they believe, too. What made 2013 so bizarre is Schaub had not been a turnover machine historically. If he's in a situation where things around him go well, he can recover. But things have to go well around him. The struggles the Texans had with their running game were a very underrated part of why their offense wasn't working. Schaub had done really well out of play-action in the past, but didn't last year. Is he going to a place where the running game will support his endeavors?
Gutierrez:
Which brings us to the $100,000 question (the amount of money guaranteed to running back
Darren McFadden
). It always comes back to the health of the perpetually injured McFadden. If McFadden is healthy -- he's never played more than 13 games in a season and has missed 19 of the Raiders' past 41 games, including six last season -- and used properly to his skill set, he's a quarterback's best friend. Look at how good and effective he made
Jason Campbell
look in 2011, before both were lost for the season with injuries. As noted above, the overhaul of the offensive line would suggest the Raiders are going to go all-in with a power running game and after McFadden, Oakland has the CFL's Grey Cup MVP in
Kory Sheets
, a virtual rookie in
Latavius Murray
, who missed all of last season with injury, and
Jeremy Stewart
. Obviously, there are more questions than answers when it comes to the Raiders' running game. No doubt, McKenzie & Co. are hoping Schaub brings some answers with him, without weighing him down with unrealistic expectations.
Schaub, you'll recall, is already in the Raiders' annals for his part in the "Divine Interception" play in 2011, when he was picked off in the end zone to seal an Oakland victory in Houston the day after Al Davis died and with the Raiders having only 10 players on the field. How cognizant is Schaub of NFL history in general, the Raiders and that play in particular, or is he simply a football player?
Ganguli:
Wow, I forgot all about that. And it figures, doesn't it? Run off on the heels of an uncharacteristically interception-laden season, Schaub gets traded to a team against which he threw an interception that led to an eerily perfect moment in the franchise's history.
He might be a student of the game's history, but will rarely let the public into any aspect of his being that isn't related to the game immediately in front of him. I challenge you, Paul, to extract the personality we all knew was beneath Schaub's stone exterior. By all accounts, he is interesting, funny and has a great personality. We just never saw it publicly. Schaub went to great lengths to make us believe he was dull, but he isn't.
It won't be long before Schaub faces his old team again. The Texans have a trip to Oakland on their schedule, which is less interesting than if the Raiders were to return to Houston with Schaub at the helm, but it'll be interesting nonetheless. What's your prediction?
Gutierrez:
I accept your challenge, Tania, and look forward to seeing what's underneath said "stone exterior." Many see it as more milquetoast and that was a reason so many fans clamored for the likes of
Michael Vick
because, really, ain't nothing boring about the artist formerly known as Ron Mexico. And actually, for what the Raiders are doing, Schaub is their man. He was their No. 1 target all along, followed by
Mark Sanchez
,
Josh Freeman
and then Vick. Fans may not agree with what McKenzie and Allen are doing but as far as the Raiders are concerned, it's exactly what
they
want to do. As far as a prediction, I'll wait until the roster is completely overhauled and the schedule is out and we see when, exactly, Schaub faces the Texans in Oakland. The cynic will predict a back-breaking and game-changing pick-six for Schaub against his former team. The optimist sees a 400-yard passing day and victory for Schaub and the Raiders against the Texans. Look forward to chatting again then.
March, 21, 2014
Mar 21
11:07
AM ET
OK, this is what I don't want to hear:
Matt Schaub
is going to be the next
Rich Gannon
.
Yeah, yeah, we know the tale: Older guy comes to Oakland with his career on life support. He revitalizes it, along with the entire franchise, goes on to win an MVP and takes Raider Nation to the Super Bowl. It's an awesome story, and that's why it doesn't happen very often.
Vick
Schaub
Instead, what Schaub is likely to become is the next
Jason Campbell
,
Carson Palmer
or
Matt Flynn
. Another so-so, more-problems-than-qualities quarterback who the Raiders traded for in a desperate attempt to find that Gannon magic.
When is this going to end?
Hey Oakland, another Gannon is not walking through those doors. Stop thinking he will in the form of another beat-down old dude.
Schaub was a shell of himself last season in Houston. Why would Oakland, which is trying to build an offense and is far from a ready product, think it can fix him at the age of 32?
If the Raiders were fixated on continuing to get older all over the field -- a weird approach with a team with a ton of salary-cap room that hasn't had a winning record since George W. Bush's first administration -- I guess an argument could be made for
Michael Vick
. He'd be completely free (I know Schaub cost just a late-round pick, but the Raiders need the chance to develop every kid they can get their hands on) and Vick has some ability to make plays happen.
Schaub is a less-talented Palmer. He will occasionally tease, but is more likely to throw a pick-six than a touchdown.
I really hope the Raiders don't think this is the guy who is going to lead them back to the playoffs. All he is going to do it get cut in a couple of years, and then the Raiders will have to start over. Again.
I'd give the the Raiders props if they took a chance on
Johnny Manziel
,
Teddy Bridgewater
or
Blake Bortles
. The only way this woebegone franchise is going to be relevant again is if it finds the right young quarterback. Yes, maybe the Raiders will draft one of those youngsters and Schaub will be the backup. But I'm not sure this trade was made for Schaub to be the backup.
Oh, and this deal, also tells you what the Raiders think of
Terrelle Pryor
. Yep, he's not the answer. Still, the ultimate question in Oakland after this trade: Who is the answer at quarterback?
It wasn't solved Friday morning. Matt Schaub is not Rich Gannon.
March, 15, 2014
Mar 15
2:15
PM ET
Sure, the
Oakland Raiders
already have three quarterbacks on their roster in
Matt McGloin
,
Terrelle Pryor
and
Trent Edwards
. And yes, the Raiders hold the No. 5 overall pick and have been linked with everyone from
Johnny Manziel
to
Blake Bortles
to
Teddy Bridgewater
to
Derek Carr
.
But the feeling has long been that the Raiders want to acquire a veteran signal-caller to guide them through the first few years of "reconstruction" while the rest of the team is upgraded. ESPN.com has learned that Oakland has targeted four such QBs, in this order –
Matt Schaub
,
Mark Sanchez
,
Josh Freeman
and
Michael Vick
. It is interesting to note that Schaub and Sanchez are not yet free agents as neither has been cut by their respective team … yet.
A look at the four QBs and how they relate to the Raiders…
Schaub
Matt Schaub
Silver and Black
– Before
Matt Flynn
and
Kevin Kolb
there was Schaub, the career backup who seemed destined for bigger things. Schaub, though, delivered … at least in the regular season. The two-time Pro Bowler for the Houston Texans could be the prototypical reclamation project for the Raiders as the pure dropback passer coach Dennis Allen craves. Schaub is only two seasons removed from a 4,000-yard passing season and could benefit from a change of scenery.
Silver and Blechh
– If Schaub was a turnover and pick-six machine for the Texans last season, when he lost his job, how ineffective would he be behind an offensive line still getting its footing in Oakland? His confidence no doubt was shaken with how far he fell from grace in Houston, and the Black Hole would be even less forgiving if he stumbled early on.
Sanchez
Mark Sanchez
Silver and Black
– The Southern California native would benefit from a change of scenery, getting out of New York's fishbowl and into a more welcome situation. The former No. 5 overall pick of the Jets has the big arm the Raiders want and is still relatively young enough to groom. Sanchez went to the AFC title game in each of his first two seasons and has already worked with Raiders QB coach John DeFilippo before so there is a comfort level with which to work.
Silver and Blechh
– Remember Hot Dog Gate? Raiders fans most certainly do. And what about the Butt Fumble? Ditto. Sanchez may be gun-shy after his New York experience and is coming off a season-ending shoulder injury suffered last preseason.
Freeman
Josh Freeman
Silver and Black
– The physical tools are there for the 6-foot-6, 240-pound athletic freak. Plus, he has a fan in Raiders offensive coordinator Greg Olson, who coached him in Tampa Bay from 2009 through 2011 as the Buccaneers' OC and QB coach. "I have a lot of respect for him, as a person and a player, and it's unfortunate to me to watch what happened in Tampa … really over the last couple of years," Olson said when Tampa Bay cut Freeman last year. "But I've always had the utmost respect for him and I think he's a great player."
Silver and Blechh
– Questions about Freeman's maturity will continue to dog him and coming to a situation rife with uncertainty, turnover and, potentially, turmoil, would not bode well for him in Oakland.
Vick
Michael Vick
Silver and Black
– The epitome of the Raiders' rehab story, no? Vick has served his time for his role in the infamous dogfighting ring and, after losing his job in Philadelphia last year, he would be motivated to prove he still has something in the tank. Plus, his skillset is similar to that of Terrelle Pryor so he could serve as a mentor. And, at age 34 in June, Vick only has a few years left, so he would be the perfect bridge to the Raiders' next quarterback.
Silver and Blechh
– Well, Vick has never really been known to be a leader and/or mentor and if his not causing a stir when
Nick Foles
took the Eagles job from him last year when Vick was injured is the height of leadership for him, that leaves a lot to be desired. And his style of play leaves him open to injury, as evidenced by his playing more than 12 games in a season only once since his return from prison. Besides, if the Raiders want a run-first quarterback, they have a younger, cheaper and bigger alternative already on the roster in Pryor … or they can potentially draft Manziel … or, gulp, make a run at
Tim Tebow
.
March, 15, 2014
Mar 15
1:00
PM ET
We are knee-deep in free agency, so let's wade in with an offensive line-themed Twitter mailbag…
November, 1, 2013
11/01/13
12:00
PM ET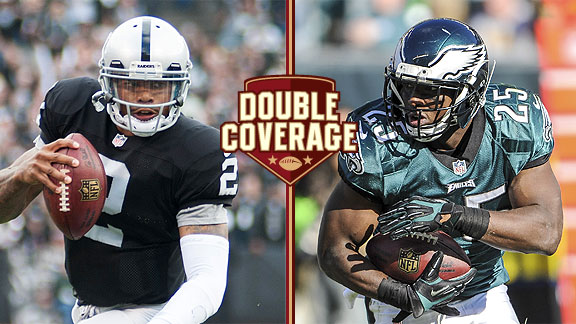 USA Today SportsEmerging Raiders QB Terrelle Pryor meets the NFL's leading rusher in the Eagles' LeSean McCoy.
The rebuilding
Oakland Raiders
were supposed to lay down for opponents this season. The retooled
Philadelphia Eagles
were supposed to revolutionize the NFL with their brand of offense. Both teams have dealt with crippling injuries while bucking expectations.
Meaning what, exactly? Well, Oakland (3-4) is looking to maintain momentum while the Eagles (3-5) are looking to break a two-game losing streak in which they've scored 10 points total.
ESPN.com Raiders reporter Paul Gutierrez and Eagles reporter Phil Sheridan break down the matchup at the O.co Coliseum, a venue in which Philadelphia is 0-3:
Paul Gutierrez:
Hi, Phil. Oakland is riding relatively high after
Terrelle Pryor
and the Raiders upended his childhood heroes last weekend in the
Pittsburgh Steelers
. Now the Western Pa. kid gets a shot at another team from his home state in the Philadelphia Eagles. He's sure to downplay any lingering feelings, but there's no downplaying the Eagles' quarterback situation. With
Michael Vick
and his strained left hamstring sidelined, how different is Chip Kelly's high-octane offense with
Nick Foles
at quarterback, or even rookie
Matt Barkley
, who was a Raiders target in the draft, under center than with Vick running things?
Phil Sheridan:
It's funny, Paul. If you ask Kelly or offensive coordinator Pat Shurmur, they swear blood oaths that the offense is exactly the same no matter who is playing quarterback. It sure doesn't look the same, however. Vick represents a running threat, obviously, that Foles and Barkley just don't. Defenses don't have to account for them when the Eagles run the read-option. But that doesn't mean the offense can't work without Vick. The offense had arguably its best complete game of the season against a pretty good Tampa Bay defense with Foles at the controls. He got the ball out quickly, made good reads and
LeSean McCoy
ran for 116 yards. If Foles is that guy Sunday, the Eagles' offense will be productive.
We all saw the highlight-reel run Pryor broke Sunday against Pittsburgh. Eagles defensive coordinator Bill Davis said he makes a coach say "Wow" a lot while watching the film. But how is Pryor developing as a complete quarterback?
Gutierrez:
The hot button topic in the Bay Area is this: Who is the bigger Raiders surprise thus far, Pryor or the defense, which has 10 new starters? Having seen Pryor's first NFL practice two years ago, and then watching him in the first OTA's this past spring, I'd say Pryor. He's always going to be a running threat -- he erased Bo Jackson's name from the Raiders record books with that 93-yard franchise-best gallop that had right guard
Mike Brisiel
calling him a "dadgum gazelle" -- but his development as a passer has been just as dramatic. True, offensive coordinator Greg Olson admitted the Raiders have changed the offense on the fly (remember, they acquired since-cut
Matt Flynn
to be the franchise QB) to become more zone-read oriented. Yet Pryor's pocket awareness has been a revelation for the Raiders. He still throws the occasional floater that begs to be picked, but he's also shown touch that did not seem possible two years ago. Much credit goes to Olson and QB coach John DeFilippo, but QB guru Tom House has also played a major role in getting Pryor's mechanics in check. But if one thing is off, the whole operation goes out of whack.
Jumping to the defensive side of the ball, the Eagles trading nose tackle
Isaac Sopoaga
to New England would seem, to the outsider anyway, as a sort of white flag being thrown up. Why is it not a sign a surrender?
Sheridan:
Sopoaga was one of a bushel of free agents signed when GM Howie Roseman knew he needed to facilitate a transition from a 4-3 to a 3-4. The Eagles just didn't have a nose tackle type on their roster at that point. They drafted
Bennie Logan
from LSU in the third round and have been pleasantly surprised by the play of
Cedric Thornton
and
Clifton Geathers
. Both of those guys are listed as ends, but Bill Davis moves his linemen around quite a bit. So I think the idea was just to go with the young guys and move the 32-year-old Sopoaga and his salary. Another way to put it: Sopoaga wasn't enough of a difference maker to qualify as a white-flag kind of transaction. He was a stopgap whose gap had closed.
While we're talking defense, you mentioned all the turnover among the Raiders unit. Eagles fans have seen that. How is that defense coming together and can it replicate the success the Giants and Cowboys had shutting down McCoy and, therefore, the entire Eagles offense?
Gutierrez:
Yeah, were it not for the development of Pryor, the Raiders' defense would be the talk in the streets of Silver and Blackdom. And to be fair, tongues are indeed wagging over this rebuilt unit. Consider: After strong safety
Tyvon Branch
went down to injury in Week 2, Oakland has 10 new starters on defense, and the only returner, defensive end
Lamarr Houston
, flipped from the left side to the right. And despite 10 new starters, the Raiders currently have the No. 10 overall defense in the NFL, No. 6 against the run. In fact, the Raiders are the only team to
not
allow a run of at least 20 yards. You could say defensive coordinator Jason "The Mad Scientist" Tarver was giving the finger to the entire league, rather than the refs on Sunday. But I digress ... Raiders coach Dennis Allen tracks what he calls "explosive plays," those that gain at least 16 yards through the air, at least 12 yards on the ground. The Raiders did not allow the Steelers a single explosive play on the ground. In fact, the Raiders have held three of their seven opponents to less than 40 yards rushing -- this after accomplishing that four times in the previous 10 seasons. So can the Raiders bottle up McCoy? Sure. Will they? That will depend on whether Foles can keep them honest through the air.
Speaking of being kept honest, Kelly set the NFL on its ear with his quick-strike offense, but it seems to have petered out a bit of late. Losing Vick to injury would seem to do that. And while it may be a small sample size, and perhaps a bit unfair, I wonder if Kelly is long for the NFL, or if his style of offense is better suited to college?
Sheridan:
Now that's the question that will define the Eagles as long as Kelly is here -- and longer, if he turns out to be another Steve Spurrier or Bobby Petrino. It would take time to recover from that. I'm not sure the answer is apparent yet. It is a small sample size, as you point out, but there is encouraging data in there, too. The Eagles became the first team ever to amass 425 or more yards in their first six games. The offense looked impressive for stretches. The past two weeks, it has been utterly terrible. That coincides with the injuries at quarterback. Vick pulled a hamstring. Foles played well for six quarters, then was just awful until being concussed against Dallas. The crash would be consistent with defensive coordinators figuring Kelly's offense out, but it could also be a result of the quarterback injuries. Or -- and this is the most likely theory -- Kelly does not have the quarterback he needs to win in the NFL and he's learning that the hard way. He seems like a smart guy. I think he can adjust and be successful. But I guess there is a chance he just doesn't like it here and wants to go back to the college game.
Here's a kind of big-picture question: The Eagles are struggling, but they have hope because their division is so bad. It's kind of the opposite for the Raiders, who are stuck dealing with 8-0 Kansas City and 7-1 Denver. What's the mood out there in the post-Al Davis era? Are fans and players feeling like there's a bright future or are the Raiders stuck in quicksand?
Gutierrez:
The mood, at the moment, is one of hope. Being competitive in every game but one -- the Monday Nighter at Denver -- as well as having a sudden Top 10 defense and Pryor, who is as popular here as any Raiders player in the past decade, will do that. Pryor predicted the playoffs after the loss in Kansas City. This week, he said the Raiders would get four wins, "easy," to equal last season's 4-12 mark. Sure, some have said such things in the past, but this feels like more than whistling past the graveyard. In fact, even as the Raiders sit at 3-4, fans are already angling to see where they stand from the second wild card standpoint. Premature, after 10 years of no postseason, let alone a winning record? Probably. But it answers your question ... the feeling among fans is there is a bright future, one that will glow brighter with every competitive game, let alone victory. And here's this to tie it all up: Pryor was Davis' last draft pick.
October, 28, 2013
10/28/13
3:35
PM ET
The
Oakland Raiders
will most likely not face
Philadelphia Eagles
quarterback
Michael Vick
on Sunday at the O.co Coliseum after Vick re-injured his left hamstring against the
New York Giants
.
Vick
"Mike didn't seem like he was going to be ready this week," Eagles coach Chip Kelly said Monday, according to ESPN.com Eagles reporter Phil Sheridan. "He felt like, the first time, that he was going to be back after the (Oct. 6) Giants game.
"This is the first time I've talked to him where he thought he may be out. We'll see after we sit down and visit, after we get the final (MRI) results."
Vick, who originally injured the hamstring on Oct. 6, said he felt the hamstring "pop" when he went down this time.
If Vick is indeed out, the Raiders might face a quarterback they had their sites on in
Matt Barkley
. The Eagles traded in front of the Raiders at the start of the NFL draft's fourth round this past April to select Barkley out of USC, which prompted Oakland to trade back and select Arkansas' Tyler Wilson, who was later cut by the Raiders and re-signed to the practice squad.
Barkley replaced Vick on Sunday and completed 17 of 26 passes for 158 yards and an interception. He was sacked three times and fumbled three times, losing one, in the 15-7 loss to the Giants. Regular backup
Nick Foles
was out with a concussion suffered the week before.
"I wish I knew a lot more than I do now," Kelly said of his quarterbacks. "I don't have the final answer right now."
Foles, according to Sheridan, was taking his concussion protocol tests Monday.