Oakland Raiders:

Nick Foles
November, 3, 2013
11/03/13
10:09
PM ET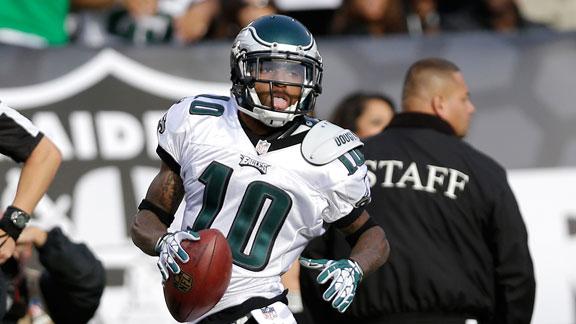 OAKLAND --
Charles Woodson
had just been informed that, despite the Oakland Raidres' 49-20 demolition at the hands of Philadelphia, Eagles receiver
Riley Cooper
had actually praised the Raiders' defense.
"Praised us for what," an incredulous Woodson asked in response, "letting them go off?"
Indeed,
Philadelphia Eagles
quarterback
Nick Foles
equaled the NFL record for most touchdown passes in a game with seven, joining
Peyton Manning
, Joe Kapp, Sid Luckman, Adrian Burk, George Blanda and Y.A. Tittle in the process.
Then was there anything Woodson saw this week on film to suggest Foles would throw seven touchdowns?
"I don't think Nick Foles ever seen anything on film that would give
him
any indication that he'd throw seven touchdowns," Woodson said.
Foles also had a perfect quarterback rating of 158.3 in throwing for 406 yards on 22 of 28 passing -- meaning, he had more touchdown passes than incompletions. Per ESPN Stats & Info, he was 8-for-10 on passes of at least 15 yards for 256 yards and four touchdowns and the Raiders entered the day having allowed just one touchdown pass on a throw of at least 15 yards downfield.
He also became the third quarterback in league history to throw seven touchdowns without an interception, joining Tittle from 1962 and Manning from this season's opener.
Plus, Foles was 17 of 22 for 357 yards against standard pressure and 5 of 6 for 49 yards and three touchdowns against a blitz.
Oh, and Foles in one game equaled the Raiders' number of touchdown passes on the season.
"Hats off to Foles," Raiders quarterback
Terrelle Pryor
said. "Seven touchdown passes? That's phenomenal."
The Raiders' defense allowed Cooper to catch five passes for 139 yards and three touchdowns and
DeSean Jackson
had 150 receiving yards on five receptions with a score.
"It was a wake-up call, basically," Raiders cornerback
Tracy Porter
said. "They came out firing on all cylinders. We couldn't match their tempo. Usually we're the team setting the tempo but they came out ready to play.
"They out-executed us, point blank."
The 49 points allowed were the second-most second-year Raiders coach Dennis Allen's teams have given up, behind the 55 points surrendered last season at Baltimore.
That loss to the Ravens came in the midst of a six-game losing streak that began with a loss as the Raiders looked to improve to 4-4. Sound familiar?
Not to Allen, not even if the 542 yards the Raiders allowed were the fourth-most in franchise history.
"None, totally different football team," Allen said. "We're going to take this loss. We got knocked down. We're going to get back up and we're going back to work. And we're going to keep competing because that's what the men in that locker room are here to do and that's what they've done all year long."
Rookie cornerback
D.J. Hayden
, though, declined to speak to reporters after being targeted by the Eagles and giving up at least 139 yards on three catches to Cooper and Jackson. Entering the day, Hayden had given up 20 receptions on 34 targets for 247 yards and a score.
Still, there were at least two other plays that came on busted coverages, where the Eagles had wide-open looks to the end zone.
And it all happened to a Raiders defense that had become a strength and was ranked No. 10 overall entering this week.
Might the Raiders have gotten a little too comfortable for their own good?
"Well, I think you can read your press clippings, and that can factor into it," Woodson said. "The last couple of weeks there have been a lot of great things said about us, and not just the defense but overall. What we did today was open ourselves up for those attacks going forward. We'll have to hear about it all week long.
"They'll keep replaying this game all week long, so we're going to take a beating, and we've got to stand up to it and accept it for what it is."
November, 3, 2013
11/03/13
7:20
PM ET
OAKLAND -- A few thoughts on the
Oakland Raiders
' 49-20
loss
to the
Philadelphia Eagles
:

What it means:
What was it that Raiders coach Dennis Allen said on Friday? "It's time for us. If we're going to do something, we need to start making some sort of move." Pretty sure he did not mean a move backward. That's exactly what happened, though, as the Raiders were embarrassed in every facet of the game, but especially on defense as they gave up an NFL record-tying seven touchdown passes to
Nick Foles
. A year after winning just four games total, the Raiders were trying to make that next step by improving to 4-4 at the season's halfway point. Not quite. It was reminiscent of last season, when a 3-4 Raiders team was beaten up by Tampa Bay to start a six-game losing streak.
Stock watch:
Falling -- Defense. Remember how high everyone was on the Raiders' D coming into this week? Yeah, well, everyone except for the Eagles' offensive-minded head coach, Chip Kelly. Oakland's defense was torched by the Eagles for 529 yards and Foles' seven touchdown passes through three quarters. Foles equaled
Peyton Manning
, Joe Kapp, Sid Luckman, Adrian Burk, George Blanda and Y.A. Tittle. Defensive coordinator Jason "The Mad Scientist" Tarver, co-DC at Stanford who faced Kelly when Kelly was at Oregon, had no answers this time.
Hayden torched:
Raiders first-round draft pick
D.J. Hayden
endured another baptism by fire, giving up long receptions to
Riley Cooper
and
DeSean Jackson
, as well as a couple of touchdowns. The Eagles picked on Hayden early and often.
Injuries ... again:
Running back
Darren McFadden
was lost again with a right hamstring strain in the first half, while right tackle
Matt McCants
went out with a foot injury in the third quarter, paving the way for rookie
Menelik Watson
's debut. Left guard
Lucas Nix
left in the fourth quarter with an undisclosed injury. Is it time for the Raiders to move on from McFadden?
Rashad Jennings
rushed for a game-high 102 yards, on 15 carries.
What's next:
The Raiders (3-5) make the first of two trips to New Jersey in a month, this time to face the
New York Giants
(2-6), who have won two straight and will be coming off their bye week. Oakland has lost its past 11 games in the Eastern time zone, dating to Dec. 6, 2009, getting outscored by a combined 353-178. The Raiders are 5-28 in games played three time zones away since Dec. 15, 2002.
November, 1, 2013
11/01/13
12:00
PM ET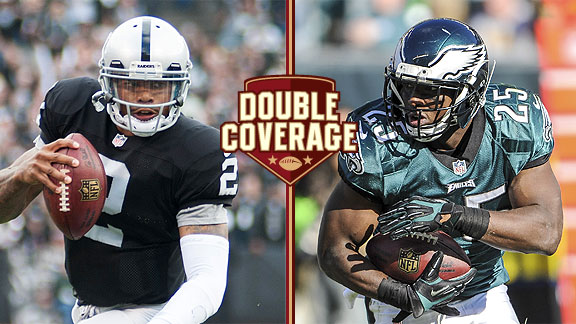 USA Today SportsEmerging Raiders QB Terrelle Pryor meets the NFL's leading rusher in the Eagles' LeSean McCoy.
The rebuilding
Oakland Raiders
were supposed to lay down for opponents this season. The retooled
Philadelphia Eagles
were supposed to revolutionize the NFL with their brand of offense. Both teams have dealt with crippling injuries while bucking expectations.
Meaning what, exactly? Well, Oakland (3-4) is looking to maintain momentum while the Eagles (3-5) are looking to break a two-game losing streak in which they've scored 10 points total.
ESPN.com Raiders reporter Paul Gutierrez and Eagles reporter Phil Sheridan break down the matchup at the O.co Coliseum, a venue in which Philadelphia is 0-3:
Paul Gutierrez:
Hi, Phil. Oakland is riding relatively high after
Terrelle Pryor
and the Raiders upended his childhood heroes last weekend in the
Pittsburgh Steelers
. Now the Western Pa. kid gets a shot at another team from his home state in the Philadelphia Eagles. He's sure to downplay any lingering feelings, but there's no downplaying the Eagles' quarterback situation. With
Michael Vick
and his strained left hamstring sidelined, how different is Chip Kelly's high-octane offense with
Nick Foles
at quarterback, or even rookie
Matt Barkley
, who was a Raiders target in the draft, under center than with Vick running things?
Phil Sheridan:
It's funny, Paul. If you ask Kelly or offensive coordinator Pat Shurmur, they swear blood oaths that the offense is exactly the same no matter who is playing quarterback. It sure doesn't look the same, however. Vick represents a running threat, obviously, that Foles and Barkley just don't. Defenses don't have to account for them when the Eagles run the read-option. But that doesn't mean the offense can't work without Vick. The offense had arguably its best complete game of the season against a pretty good Tampa Bay defense with Foles at the controls. He got the ball out quickly, made good reads and
LeSean McCoy
ran for 116 yards. If Foles is that guy Sunday, the Eagles' offense will be productive.
We all saw the highlight-reel run Pryor broke Sunday against Pittsburgh. Eagles defensive coordinator Bill Davis said he makes a coach say "Wow" a lot while watching the film. But how is Pryor developing as a complete quarterback?
Gutierrez:
The hot button topic in the Bay Area is this: Who is the bigger Raiders surprise thus far, Pryor or the defense, which has 10 new starters? Having seen Pryor's first NFL practice two years ago, and then watching him in the first OTA's this past spring, I'd say Pryor. He's always going to be a running threat -- he erased Bo Jackson's name from the Raiders record books with that 93-yard franchise-best gallop that had right guard
Mike Brisiel
calling him a "dadgum gazelle" -- but his development as a passer has been just as dramatic. True, offensive coordinator Greg Olson admitted the Raiders have changed the offense on the fly (remember, they acquired since-cut
Matt Flynn
to be the franchise QB) to become more zone-read oriented. Yet Pryor's pocket awareness has been a revelation for the Raiders. He still throws the occasional floater that begs to be picked, but he's also shown touch that did not seem possible two years ago. Much credit goes to Olson and QB coach John DeFilippo, but QB guru Tom House has also played a major role in getting Pryor's mechanics in check. But if one thing is off, the whole operation goes out of whack.
Jumping to the defensive side of the ball, the Eagles trading nose tackle
Isaac Sopoaga
to New England would seem, to the outsider anyway, as a sort of white flag being thrown up. Why is it not a sign a surrender?
Sheridan:
Sopoaga was one of a bushel of free agents signed when GM Howie Roseman knew he needed to facilitate a transition from a 4-3 to a 3-4. The Eagles just didn't have a nose tackle type on their roster at that point. They drafted
Bennie Logan
from LSU in the third round and have been pleasantly surprised by the play of
Cedric Thornton
and
Clifton Geathers
. Both of those guys are listed as ends, but Bill Davis moves his linemen around quite a bit. So I think the idea was just to go with the young guys and move the 32-year-old Sopoaga and his salary. Another way to put it: Sopoaga wasn't enough of a difference maker to qualify as a white-flag kind of transaction. He was a stopgap whose gap had closed.
While we're talking defense, you mentioned all the turnover among the Raiders unit. Eagles fans have seen that. How is that defense coming together and can it replicate the success the Giants and Cowboys had shutting down McCoy and, therefore, the entire Eagles offense?
Gutierrez:
Yeah, were it not for the development of Pryor, the Raiders' defense would be the talk in the streets of Silver and Blackdom. And to be fair, tongues are indeed wagging over this rebuilt unit. Consider: After strong safety
Tyvon Branch
went down to injury in Week 2, Oakland has 10 new starters on defense, and the only returner, defensive end
Lamarr Houston
, flipped from the left side to the right. And despite 10 new starters, the Raiders currently have the No. 10 overall defense in the NFL, No. 6 against the run. In fact, the Raiders are the only team to
not
allow a run of at least 20 yards. You could say defensive coordinator Jason "The Mad Scientist" Tarver was giving the finger to the entire league, rather than the refs on Sunday. But I digress ... Raiders coach Dennis Allen tracks what he calls "explosive plays," those that gain at least 16 yards through the air, at least 12 yards on the ground. The Raiders did not allow the Steelers a single explosive play on the ground. In fact, the Raiders have held three of their seven opponents to less than 40 yards rushing -- this after accomplishing that four times in the previous 10 seasons. So can the Raiders bottle up McCoy? Sure. Will they? That will depend on whether Foles can keep them honest through the air.
Speaking of being kept honest, Kelly set the NFL on its ear with his quick-strike offense, but it seems to have petered out a bit of late. Losing Vick to injury would seem to do that. And while it may be a small sample size, and perhaps a bit unfair, I wonder if Kelly is long for the NFL, or if his style of offense is better suited to college?
Sheridan:
Now that's the question that will define the Eagles as long as Kelly is here -- and longer, if he turns out to be another Steve Spurrier or Bobby Petrino. It would take time to recover from that. I'm not sure the answer is apparent yet. It is a small sample size, as you point out, but there is encouraging data in there, too. The Eagles became the first team ever to amass 425 or more yards in their first six games. The offense looked impressive for stretches. The past two weeks, it has been utterly terrible. That coincides with the injuries at quarterback. Vick pulled a hamstring. Foles played well for six quarters, then was just awful until being concussed against Dallas. The crash would be consistent with defensive coordinators figuring Kelly's offense out, but it could also be a result of the quarterback injuries. Or -- and this is the most likely theory -- Kelly does not have the quarterback he needs to win in the NFL and he's learning that the hard way. He seems like a smart guy. I think he can adjust and be successful. But I guess there is a chance he just doesn't like it here and wants to go back to the college game.
Here's a kind of big-picture question: The Eagles are struggling, but they have hope because their division is so bad. It's kind of the opposite for the Raiders, who are stuck dealing with 8-0 Kansas City and 7-1 Denver. What's the mood out there in the post-Al Davis era? Are fans and players feeling like there's a bright future or are the Raiders stuck in quicksand?
Gutierrez:
The mood, at the moment, is one of hope. Being competitive in every game but one -- the Monday Nighter at Denver -- as well as having a sudden Top 10 defense and Pryor, who is as popular here as any Raiders player in the past decade, will do that. Pryor predicted the playoffs after the loss in Kansas City. This week, he said the Raiders would get four wins, "easy," to equal last season's 4-12 mark. Sure, some have said such things in the past, but this feels like more than whistling past the graveyard. In fact, even as the Raiders sit at 3-4, fans are already angling to see where they stand from the second wild card standpoint. Premature, after 10 years of no postseason, let alone a winning record? Probably. But it answers your question ... the feeling among fans is there is a bright future, one that will glow brighter with every competitive game, let alone victory. And here's this to tie it all up: Pryor was Davis' last draft pick.