Oakland Raiders:

Nick Roach
July, 24, 2014
7/24/14
6:10
PM ET
NAPA, Calif. – The big news the day before the
Oakland Raiders
' first training camp practice revolved around cornerback
D.J. Hayden
's
pending trip to the physically unable to perform list
.
But there was other injury news announced by coach Dennis Allen at the Napa Valley Marriott Hotel & Spa at a lunch attended by five media outlets and the team's website.

Burnett
Allen said the Raiders will cut linebacker
Kevin Burnett
, as the nine-year veteran was not cleared for participation by the Raiders' medical staff. Burnett, who was dealing with an ankle issue in the second organized team activities session in early June, started 16 games at weakside linebacker last season and had 129 tackles with 2½ sacks and an interception.
The Raiders drafted
Khalil Mack
with the No. 5 overall pick and the rookie is slotted to start on the strong side, with
Sio Moore
moving toWill linebacker to battle
Miles Burris
for the starting job.
Nick Roach
, who played every defensive snap last season, returns at middle linebacker.
"Where we're at at the linebacker position, with some young talented players, Miles Burris and Sio Moore,
Kaluka Maiava
being a main guy, I think we feel good with that position," Allen said, "and we're going to move on from Kevin Burnett."
Burnett had a salary cap value for 2014 of nearly $4.14 million and was due to make $3.5 million.
Also, Allen said tight end
Nick Kasa
(hip flexor) and guard
Lucas Nix
(knee) would join Hayden (foot) on the PUP list, with safety
Usama Young
(quad) and rookie cornerback
Keith McGill
(ankle) potential adds. Young and McGill were injured Thursday during the team's conditioning tests.
Defensive end
C.J. Wilson
(hamstring) and defensive tackle
Stacy McGee
(broken thumb) will be placed on the non-football injury list after being hurt away from the Raiders' facility.
Defensive lineman
Antonio Smith
, meanwhile, is "good to go" after not practicing at all in the offseason programs while recovering from an undisclosed procedure following a weight-room mishap.
"You'd love to be able to start with everybody healthy and everybody on the field, but obviously, injuries are part of this game and it's something we've got to be able to deal with and something that we've got to be able to overcome," Allen said. "We'll take it day by day and try to attack the rehab as fast as possible and see when we can get those guys back out there."
The Raiders' first training camp practice is Friday at 3 p.m. PT, with the first padded practice on Sunday.
June, 6, 2014
6/06/14
8:00
AM ET
ALAMEDA, Calif. --
Khalil Mack
falling into the
Oakland Raiders
' lap at No. 5 overall in last month's NFL draft perhaps affected no one already on the team more than
Sio Moore
.
As a rookie taken in the third round a year earlier, Moore was somewhat of a revelation. He started 11 games and played in 15. (The lone game he missed came after he suffered a concussion in a car accident.) He led the Raiders' first-year players with 55 tackles (33 solo), 4.5 sacks and a forced fumble.
But Mack joining the team has forced Moore to switch positions, at least for the time being, as Mack has settled in at strongside linebacker and Moore has flipped over to the weak side in Oakland's base 4-3 defense.
And really, that's just fine with Moore.
[+] Enlarge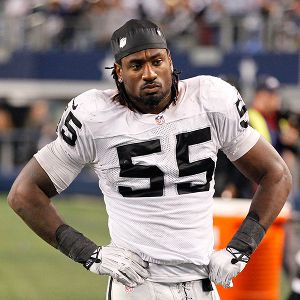 Tim Heitman/USA TODAY Sports"I just try to use my versatility and continue to show our coaches and my teammates that I can do anything on the field," said Sio Moore.
"I did this in college," he said of his time at UConn this week, at the onset of organized training activities (OTAs).
"I started out as a Will and then moved to Sam, where the Sam was an outside linebacker and a down free safety. Moving from Sam to Will here again, it's nothing that's abnormal. I just try to use my versatility and continue to show our coaches and my teammates that I can do anything on the field and I want to continue to work at it, no matter the position."
Of course, being on the weak side will mean Moore's pass-coverage skills will be under more scrutiny, right?
"Based on what the call is," coach Dennis Allen said. "All of our linebackers are going to have to be able play the run. All of our linebackers are going to have to be able to play the pass. All of our linebackers are going to have to rush the passer.
"We'll find ways to get guys that can do those things. We'll find ways to get them on the field."
Besides, while the Raiders' base defense is a 4-3, the personnel may actually suggest a 3-4 is a better fit and defensive coordinator Jason Tarver has promised to show even more multiple looks this season.
"We believe in versatility," Allen added. "When you get into games, the more things guys can do, the better you are going to be able to adjust, change the game plan, make the defense work based on what the offense is doing to you. There will be times where you need more linebackers on the field based on what the offense is doing. Sometimes, you may not need as many.
"Yes, (Moore) has the skill set for that (Will) position and we'll continue to work with him throughout the rest of these OTAs and training camp. Again, we're going to put the best three guys on the field. Whoever those best three guys are, we're going to put them on the field and we're going to go play."
If those best three are indeed Moore, Mack and middle linebacker
Nick Roach
, the odd man out would be last year's starting weakside linebacker,
Kevin Burnett
, who is working through an ankle injury.
But Moore has developed a kinship with Roach, one that goes beyond the field.
"Nick has been one of those guys for me that's been a big brother and like a father figure-type role," Moore said. "I've never had a father and to hear a lot of wisdom and guidance that he provides as a friend, and as somebody who I really look [at] as family and a brother, it means a lot to you."
It means almost as much as, if not more than, Moore's on-field objective. Remember, this is the guy who famously said the Raiders drafted the best linebacker in college within an hour of Oakland tabbing him in 2013.
"Right now, my goal is not to be just a linebacker," he said, "it's to be the best linebacker there is. The more that I can do, the more that I can learn, and the faster that I can learn it and the faster that I can produce and be a part of something, then we have a situation."
A positive one, at that.
February, 12, 2014
2/12/14
8:00
AM ET
For the first time since Reggie McKenzie became the
Oakland Raiders
' general manager two years ago, he does not have to spend his offseason figuring out which players to cut, how to slash salary cap numbers to get under the salary cap.

Indeed, in past years, the fact that two guys no longer with the team would account for more than $8.8 million in dead money would cause much handwringing. But the financial footprints left by
Michael Huff
($6,208,750) and McKenzie acquisition
Matt Flynn
($2,625,000) are palatable with Oakland boasting more than $61.7 million in cap space,
per overthecap.com
.
McKenzie need not go through any couch cushions to find spare change to re-sign those of his 18 unrestricted free agents he deems worthy, or make runs at front-line free agents on the market. But it is interesting to see which players currently under contract boast the largest cap numbers for 2014.
Tyvon Branch ($7.157 million)
-- the strong safety appeared in all of two games a year ago, breaking his lower right leg in the first quarter of the Raiders' home opener. He attempted a late-season comeback but could not get right and was placed on injured reserve before appearing in another game.
Mike Brisiel ($5.310 million)
-- a potential cut? The right guard was a warrior in 2013, albeit a wounded one.
Tony Bergstrom
, McKenzie's first-ever draft pick, beating out Brisiel would not necessarily be a bad thing for the future of the franchise.
Kevin Burnett ($4.142 million)
-- Veteran presence in the linebacker corps, a potential place to save money ... if the Raiders needed to save money.
Marcel Reece ($3.980 milion) --
The face of the franchise's future, an absolute bargain for a two-time Pro Bowl fullback.
Nick Roach ($3.771 million)
-- Played every defensive snap in his first year as a Raider, team defensive MVP, made fans forget about Rolando What's His Name.
Sebastian Janikowski ($3.060 million)
-- Highest-paid kicker in the game has a lot to prove after struggling with nine missed field goals in his first season with new contract.
-financial figures from overthecap.com
January, 2, 2014
1/02/14
10:00
AM ET
»
NFC Teams
:
East
|
West
|
North
|
South
»
AFC
:
East
|
West
|
North
|
South
Tracy Porter
and
Lamarr Houston
are scheduled to become unrestricted free agents. The
Oakland Raiders
would be wise to re-sign both as the cornerback and defensive end were named to our all-AFC West first-team defense in a vote by the four ESPN.com NFL Nation reporters who cover the division.

That the Raiders were the lone team in the division to not qualify for the playoffs should speak volumes for Porter, who also slid into the slot on nickel defense and whose 67 tackles ranked third among AFC corners, and Houston, whose 69 tackles led the division's defensive ends.
Still, Houston, who had a team-high six sacks after moving to the right side after playing the first three years of his career on the left, raised many eyebrows following the Raiders' 34-14 season-ending loss to the
Denver Broncos
on Sunday when he said he did not expect to return to Oakland.
"I believe that Dennis Allen and the Raiders might be looking to move on and have me go to another team and find something more what they want for their system and their scheme," Houston said. "Who knows? It's a rough business, and nothing's guaranteed, and everything changes from day to day."
Later that night, though, Houston took to Twitter to blame the Fourth Estate for taking him out of context.
"I would love to b back in Oakland if they will take me," Houston tweeted. "best fans in the league…u listen to the media u a fool."
So there.
"I did see that quote, and that's not the case," Allen said of his purported desire to move on from Houston. "Obviously, I sat down with Lamarr today and had a nice discussion with him. We'd love to have him back. We think he fits our system and what we're trying to do and we think he's a guy that we can build with."
There has been no such drama with Porter, who had two interceptions, including a pick-six of the New York Giants'
Eli Manning
, becoming the only player in league history to return an interception for a touchdown against both Manning brothers.
Porter said during the regular season he was not necessarily thinking about next year ... yet.
"I'm not saying I
don't
want to come back," Porter said in mid-December, "I would. Otherwise I wouldn't have come here from the start."
A case could be made that two other Raiders players should have been named all-AFC West in fullback
Marcel Reece
and punter
Marquette King
.
Despite being underutilized in Oakland's offense, Reece was named to his second consecutive Pro Bowl. He also started at tailback at the
New York Jets
when
Rashad Jennings
and
Darren McFadden
were injured. He rushed for a career-high 123 yards, including a career-long 63-yard touchdown run. On the year, he averaged 4.6 yards per rush and scored two TDs while also catching 32 passes for 331 yards and two scores.
So how was Reece snubbed? The voting system asked us to vote for three receivers and no fullbacks -- and with the season turned in by
Jamaal Charles
, there you have it. I'm sure Reece will be fine, though, lounging in the Honolulu sun for the NFL's reimagined all-star game.
King, meanwhile, led the NFL in gross average (48.9 yards) in his first year replacing
Shane Lechler
and had an AFC West-long punt of 66 yards this season.
Then there was middle linebacker
Nick Roach
, who led the NFL's MLBs in sacks (5.5) and forced fumbles (4).
December, 15, 2013
12/15/13
10:19
PM ET
OAKLAND, Calif. -- Dennis Allen and his four-year contract to coach the
Oakland Raiders
were
seemingly
safe heading into Sunday's home game against the
Kansas City Chiefs
.
Especially if the importance of continuity, in the face of so much upheaval since 2003, was to be taken at face value. Let alone owner Mark Davis' admission to the Bay Area News Group this week that he understood the need to perform a "deconstruction" of the Raiders before overseeing a "reconstruction" of his team.
[+] Enlarge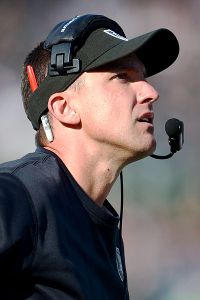 Kirby Lee/USA TODAY SportsDennis Allen's Raiders gave up 56 points in the loss to the Chiefs.
But Davis has also said he wanted to see progress this season.
And what the Raiders put on the field against the Chiefs was anything but progress. It was the kind of effort that could send Allen packing … especially if the Raiders follow up this 56-31 blowout loss with two more similar efforts against the
San Diego Chargers
and
Denver Broncos
to end the season.
The 56 points the Raiders surrendered, thanks in large part to seven turnovers and a leaky defense, were a franchise record, eclipsing the 55 points Oakland had given up to the
Baltimore Ravens
last season, the Chargers in 1981 and the Houston Oilers in 1961.
Allen and the Raiders have lost four straight games and six of their last seven to fall to 4-10. Indeed, according to Associated Press, the Raiders have now given up at least 49 points in two of their last three home games after doing it three times in their first 406 home games, dating to 1960.
Yes, they've looked just as disturbing as it reads.
"The hardest part is, the last few weeks we've looked like what everybody said we'd look like,"
Charles Woodson
said. "That's probably the most disappointing part about it, just because we've shown flashes this year of being a pretty good team and we've just dropped the ball the past few weeks and really just not played good football, good sound football, taking care of your responsibilities and games have gotten away from us."
Acting like they've never seen a screen pass before definitely hurt as
Jamaal Charles
took three for scores from 49, 39 and 16 yards for touchdowns.
Matt McGloin
playing like the second coming of Marc Wilson or Jay Schroeder in showing flashes of brilliance but also throwing four interceptions -- each worse than the one before -- and losing a fumble on a low snap in the shotgun made matters worse.
Allen's head-scratching subbing of
Terrelle Pryor
for McGloin in the middle of a series, and then going back to McGloin in the same possession, seemed reminiscent of Lane Kiffin attempting a 76-yard field goal while wearing white jerseys at home, if you catch my drift. Then it actually resulted in a touchdown.
And yet, the microcosm of this losing skid reached critical mass after the Raiders, who trailed by scores of 21-3 and 35-10, climbed back to within 35-31 late in the third quarter.
That's when Charles broke off a 71-yard catch-and-run TD two plays later and then
Taiwan Jones
fumbled the ensuing kickoff . Four plays after that, and with
Sean McGrath
catching a 6-yard touchdown pass from
Alex Smith
, the score was suddenly 49-31.
"It's a small margin between being good and being bad," said Raiders middle linebacker
Nick Roach
.
Or, a number of plays.
"It's deflating," Allen said of the sudden turn of events.
"We've got to play better and I've got to do a better job of getting them ready to play. We'll do that. We'll be back. We'll get ready for San Diego. Listen, that's what your options are."
There
should
be security in that sentiment. Unless there's not.
November, 22, 2013
11/22/13
8:00
AM ET
ALAMEDA, Calif. – The improvement of the
Oakland Raiders
' defense has been as stunning as it has been rebuilt.
With 10 new starters, the Raiders just a few weeks ago had the 10th-ranked defense in the NFL (the anomaly that was the blowout loss to Philadelphia has them at No. 17 overall now), and they currently have the No. 6 rushing defense. Last year, Oakland was 18th against the run.
Roach
At the center of this Raiders revival is their new middle linebacker,
Nick Roach
. A year after Oakland finally gave up on a failed first-round draft pick in
Rolando McClain
, Roach has been a model of consistency. And calm.
"Nick is amazing in how fast he can go to the next play," Raiders defensive coordinator Jason Tarver said. "He's just onto the next play. He will align guys and use his rules.
"The guys that can focus in the moment like that are special, and he's special that way. He can just flush whatever has happened [and] go onto the next play, which allows you to do those things. It really does."
Roach spent his first six seasons with the
Chicago Bears
, where he was primarily a strongside linebacker. He signed a free-agent deal with the Raiders in March and moved to the middle, and he now leads the team with 68 tackles (48 solo) and has two sacks.
Perhaps more impressive is the fact that he has yet to come off the field, having played all 688 snaps this season, per Pro Football Focus.
Roach shrugged.
"I feel like that's just part of the job description," he said. "I wouldn't like to come off the field at
any
point. I realize that it's a blessing to be able to play all the snaps because things happen that are out of your control all the time. So hopefully I've been able to take advantage of it to the fullest so far."
There have been no complaints.
"Beyond being a good player, Nick's a good person," said rookie linebacker
Sio Moore
. "I think that's what correlates to his field play and, really, how he prepares, how he goes about his business on the field. I sit next to him every day, so I try and take something from him every day.
"He doesn't say much. He just goes out there and is effective."
Indeed. In last week's win over the
Houston Texans
, Roach got his first career interception when he picked off
Case Keenum
with about four minutes to go in the first quarter. The takeaway set the Raiders up at the Texans' 16-yard line, and one play later,
Matt McGloin
hit
Rod Streater
for a touchdown and a 14-0 lead.
"Every dog has his day," Roach said. "I'll put it that way."
Especially if said dog plays every snap.
November, 17, 2013
11/17/13
8:57
PM ET
HOUSTON -- Stop me if you've heard this before ...
The
Oakland Raiders
are clinging to a five-point lead against the
Houston Texans
, who are inside the 10-yard line with less than 80 seconds to play.
Two years ago, and on the day after Al Davis passed away,
Michael Huff
stepped in front of
Matt Schaub
's game-winning attempt to
Jacoby Jones
in the end zone on second-and-goal from the 5-yard line with only 10 players on the field. Huff's interception sealed the win and unleashed a torrent of emotions with six seconds left.
This time, with the Texans facing a 4
th
-and-2 from the Raiders' 3-yard line, they were called for a false start and moved back to the eight, before
Usama Young
knocked away Schaub's game-winning attempt to
Andre Johnson
in the back of the end zone. There were 70 seconds to go.
Raiders 28, Texans 23.
Déjà vu, much?
"The ghost of Al Davis is still around," former Raiders coach Tom Flores said on the radio broadcast.
Well, maybe … that and the Raiders defense stepping up when needed most.
"I was proud of us finishing in the second half," said defensive end
Lamarr Houston
, who had three tackles with a sack, his team-leading fifth.
The Raiders had leads of 14-0, and let it slip into a 17-14 deficit, before jumping ahead 28-17, and having to hold on at the end.
"One of the big things we did a good job on was just mixing it up," said middle linebacker
Nick Roach
, who had his first career interception. "We would bring some pressure, then we would be in coverage. It was really a mix of both.
"It's huge because that has been our thing all year -- not being able to finish is what we're trying to overcome."
Even with Schaub replacing
Case Keenum
late in the third quarter.
"At that point, we were doing what we were going to do," said free safety
Charles Woodson
, who forced a fumble. "I don't think we anticipated that happening, but we just tried to keep the ball in front of us. We had that lead and we wanted to protect it."
And just like on Oct. 9, 2011, in the same end zone, the Raiders accomplished it.
November, 6, 2013
11/06/13
9:00
AM ET
ALAMEDA, Calif. -- You knew this was going to be a rebuilding year for the
Oakland Raiders
and, before Sunday's embarrassing
49-20 loss
to the
Philadelphia Eagles
, Oakland was playing above expectations. Indeed, after a 4-12 season last year, the Raiders had a chance to win their fourth game at this year's midway points.
Alas, the Eagles and
Nick Foles
, who threw a record-tying seven touchdowns, had different plans and it makes you wonder if these are indeed the same old Raiders who have not been to the playoffs since 2002, let alone had a winning season since that Super Bowl campaign. The difference, at least on the surface, is this team has been in every game save two -- at Denver and against the Eagles.
But the NFL is a results-oriented business and at the midway point, the Raiders sit at 3-5.