Oakland Raiders:

Robert Griffin III
February, 24, 2014
Feb 24
1:35
PM ET
The more macabre faction of Raider Nation tried to get a campaign going for the
Oakland Raiders
last year as the season began to unravel.
Clownin' for Clowney
would have had the Raiders tank, thus giving them the top pick in the NFL draft and the chance to select South Carolina defensive end
Jadeveon Clowney
.
But by finishing 4-12 and getting the No. 5 overall selection, the Raiders likely will search elsewhere, as Clowney's freakish athletic skills probably have him going in the top four especially after his blazing 40-yard dash Monday morning at the combine.
Clowney's unofficial time of 4.47 seconds was faster than every quarterback to have run at the combine since 2006 save for Robert Griffin III. The fact that Clowney's time was later elevated to an official 4.53 may have taken some shine off, but it is still impressive for a 6-foot-5, 266-pounder whose job in the NFL will be to chase down slower and smaller quarterbacks.
"It means he's 266 pounds and he runs like a wide receiver," ESPN draft specialist Todd McShay said. "The average for wide receivers over the last five years (is) a 4.54, and he's 64 pounds bigger than the average wide receiver. It's a remarkable time."
Still, Clowney disappointed by withdrawing from the rest of the day's events, reportedly citing a tight hip flexor a day after getting "only" 21 reps in the 225-pound bench press.
Clowney, who followed up his 13-sack, 23½-tackles-for-loss 2012 season with three sacks and 11½ tackles for a loss in 2013, will have his pro day April 2 at South Carolina.
September, 27, 2013
9/27/13
12:00
PM ET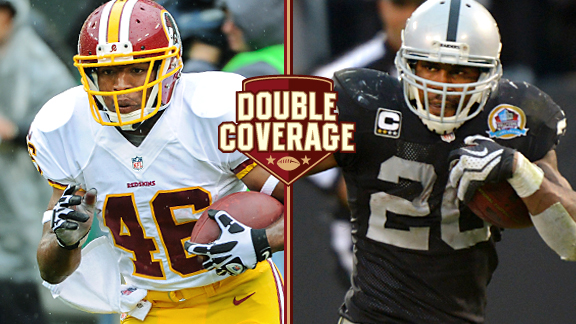 USA TODAY SportsAlfred Morris and Darren McFadden combined to account for three touchdowns in Week 3.
The
Washington Redskins
, with their still-healing franchise quarterback seemingly rounding back into shape, are 0-3 for the first time since 2001.
The
Oakland Raiders
, with their young quarterback in question after a concussion, are coming off a spanking on national television.
Something has to give Sunday at 4:25 p.m. ET in Oakland, right?
Washington team reporter John Keim and Raiders team reporter Paul Gutierrez break down this week's rematch of Super Bowl XVIII.
Paul Gutierrez
: John, there's a lot of uncertainty in the heart of Silver and Blackdom, what with
Terrelle Pryor
's first-ever concussion putting his availability to play Sunday in serious doubt. Many critics of running quarterbacks say this is the risk they take -- more hits. From afar, it seems the shine is off
Robert Griffin III
a bit, and not just because his team is winless and the catcalls have the young QB being called RG0-3. Is he already at a career crossroads, or are we simply seeing a young signal-caller dealing with adversity after a devastating injury?
John Keim:
I think it's a combination of both, Paul. Griffin does not want to rely on his legs as a quarterback, using them only as an occasional weapon. Eventually I think he'll get there, but he's not a refined passer just yet. So he still needs to evolve and that's where the injury comes in: He still needs his legs to be a dynamic player and because of the injury he's still not quite himself. When he was at Baylor they used a rather elementary passing game. I think he'll eventually blossom as a passer because he throws the ball well, is smart and works hard. But he's not at that point yet. Paul, along those lines, the Raiders' defense does not have good stats against the pass. Is that just because they've faced
Andrew Luck
and
Peyton Manning
in two of the first three weeks? Or are there real issues here?
Gutierrez
: True, the Raiders have faced Luck and Manning in two of their first three games and lost both. Yet stats-wise, Oakland is a middle-of-the-pack defense when it comes to defending the pass, ranking 16th in passing yards allowed per game. And really, at this stage, the Raiders will take it, especially after beginning the season with nine new starters on defense and then losing strong safety
Tyvon Branch
in Week 2 against Jacksonville on a blitz. What's really sticking in their craw is the lack of interceptions by the Raiders. As in zero. No picks. None. As
Charles Woodson
put it after the clinic Manning put on against them on "Monday Night Football," it's something the secondary especially has to make a concerted effort on this week. So I'd expect the Raiders to take a page out of Denver's defensive playbook by stacking the box and daring RG III to beat them through the air, rather than on the ground. If that is Oakland's strategy, might that backfire on the Raiders? Or does the threat of RG III turning the corner on a zone read actually open up the play-action pass?
Keim
: That's definitely the strategy I would take right now. Detroit did it last week, daring Griffin to beat them with his arm and not his legs. Actually, they weren't afraid of his legs. On one of the zone read runs he made Sunday, Detroit sent both the end and the linebacker at
Alfred Morris
. They were more worried about him running. It will be this way until Griffin shows that he not only can run, but can hurt a team while doing so. I will say that Griffin was really close to having a good game against Detroit. They were using more play-action -- and a 57-yarder off this play-action was dropped in the end zone. If not for that play and Griffin's late fumble off a 21-yard scramble, his game would look different. But even if the Raiders use eight in the box the Redskins will try to run. Everything works better when that's their focus and it sets up what was a lethal play-action game a year ago. What does your gut tell you about who will play quarterback this week for the Raiders? And could you break down where Pryor's game is, as well as Matt Flynn's? Obviously their offense would look much different with Pryor than with Flynn.
Gutierrez
: The gut, especially with Pryor having yet to be cleared to practice as of Wednesday, tells me that
Matt Flynn
will get the call. And the locals will not be happy. Pryor has become a huge fan favorite and his skills are as raw as he is electrifying. His pocket presence has improved as has his downfield passing. He simply does not look like the same scattershot guy who was a dark-horse favorite to be the Raiders' No. 3 quarterback after the draft. He has a presence about him that did not exist a few months ago and he is improving every week in this small sample size. Flynn, meanwhile, is the prototypical West Coast offense quarterback. He's accurate and mobile enough but needs time to let plays develop. He didn't get that in the exhibition season. He had a sore elbow and was under constant assault by the defense and had no time to pass. So the $6.5 million man was beaten out for the second summer in a row after signing a big-money deal. He admitted he was down but said it did not affect his preparation. And with Washington's defense giving up record-level points thus far, maybe the stars are lining up for the chosen quarterback, or the guy who was supposed to be the franchise quarterback. Then again, sometimes things don't go according to plan. Like Mike Shanahan and the Raiders. Hard to believe it's been a quarter of a century since he was hired by Al Davis in Los Angeles. Not so hard to think he still harbors resentment toward the Raiders. Has that come up at all during Raiders week? After all, he says Al Davis still owed him money.
Keim
: Mike talked about that today and says he had a lot of respect for Al, even though they had their differences. Knowing Mike, he'd still like to stick it to that franchise. He's a competitive guy who loves beating people or teams that he has a grudge with. He used to save articles when he was with Denver and then bring them out after the Super Bowl to remind the writers that they were wrong. And we all know the story about the time he was on the field before the game and one of his players threw a ball at Al (
Steve Young
, I believe). This is also the first time Shanahan has played an AFC West team since he left Denver. I'm sure those old feelings are still there; after all, he spent a brief time there and then spent a number of years wanting to beat them twice a year. Those feelings don't just fade away, especially in a guy like Shanahan. But right now, he has bigger things to worry about than any money Al Davis might have owed him. It seems like the Raiders have been without hope for a while. Where is the hope now -- and what should the Redskins be concerned with?
Gutierrez
: The hope, from the fans' perspective, resides in Pryor's arm and legs. Realistically, it's in the Raiders having some semblance of continuity. Consider: Since Jon Gruden was traded to Tampa Bay following the 2001 season, the Raiders have had seven coaches in 11-plus seasons in Bill Callahan, Norv Turner, Art Shell, Lane Kiffin, Tom Cable, Hue Jackson and now Dennis Allen. The message from general manager Reggie McKenzie is that he's getting closer to putting a product on the field that resembles his vision. The Raiders will have a lot of money to spend in free agency next year but McKenzie said he will not be shopping at Macy's. Hope and change -- you being in the District should be familiar with such talk, no? -- come with gradual improvement, and continuity being allowed to foster, so to speak.
.
September, 27, 2013
9/27/13
8:00
AM ET
ALAMEDA, Calif. -- While it is not known yet if
Terrelle Pryor
will set foot on the field Sunday, the concussed Raiders quarterback's skill set will have already left an impression.
A training camp and early season's worth of practices against Pryor
should
have Oakland's defense in some semblance of readiness for Washington's
Robert Griffin III
.
"Yeah, it helps," Raiders defensive coordinator Jason Tarver said. "Our defenses go in from day one with the responsibilities of what people are calling this 'read-option,' which is option mechanics. It's option football. So from day one this defense is, How do we take care of this? What are your rules? Well, apply your rules.
[+] Enlarge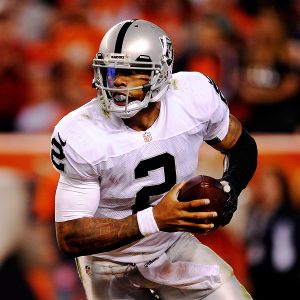 AP Photo/Jack DempseyPracticing against their own quarterback, Terrelle Pryor, should have the Raiders prepared to face Robert Griffin III on Sunday.
"So whatever call we're in, our players need to apply their rules that they've done since day one. And it's always good to see it in camp from a quarterback like T.P., and he did a great job running it and the formations that we used in camp were very hard ones. So that was good for us. It helped."
Of course, there's no substitute for the real thing, even if enough shine has come off RG III in these first three games that he's known derisively in some corners now as RG 0-3.
In his last game, though, Griffin looked closer to the electric rookie he was a year ago. Meanwhile, the Raiders were shredded by Denver's
Peyton Manning
.
"It's a tough defense, they fly to the ball," Griffin said of Oakland on a conference call with Bay Area reporters this week. "People say that they're not that good because of what happened with them Monday night against the Broncos, but watching the tape you can see how aggressive they are and how they fly to the football. I am definitely impressed, and I know it's going to be a challenge for us."
As will containing Griffin, bad knee or not, be for the Raiders.
"I think once he gets out, he can run," Tarver said. "He scrambled last week. People are making a big deal out of his sliding, which that one slide he did fumble the ball and he wants [Washington Nationals outfielder] Bryce Harper to help him or whatever, but he can still run straight ahead. Once he gets going, he's going pretty fast. We need to be correct in our lanes."
According to Pro Football Focus, the Raiders missed 19 tackles Monday night. Griffin would seemingly make Oakland pay a significantly steeper price if the Raiders are unable to wrap him up.
"Again, it's the same thing -- it starts with ourselves," Tarver said. "This starts with ourselves. We played two pretty good games where we took care of what we could control. And we played one where we can obviously tackle better and take care of our own stuff better.
"And that's what we're going to do."
September, 25, 2013
9/25/13
9:00
AM ET
A weekly analysis of the
Oakland Raiders
' quarterback play.
Pryor
Rewind:
With the Raiders falling behind early in Denver and the Broncos stuffing Oakland's running game,
Terrelle Pryor
took it upon himself to get the Raiders' offense kick-started. He did not disappoint. Sure, there were some uneven moments, and he still hangs the occasional receiver out to dry for an oncoming defensive back with bad intentions, but Pryor kept his team's spirit in it, or as much as you can in an eventual 37-21 loss. And until he suffered a concussion running directly into a blitzing
Wesley Woodyard
in the fourth quarter, and was replaced for a series by
Matt Flynn
, Pryor built a career-best QB rating of 112.4 in throwing for 281 yards on 19-of-28 passing, including a 73-yard touchdown to
Denarius Moore
.
Fast-forward:
Not only does Pryor have to go through the concussion protocol to be cleared to play Sunday -- on a short workweek -- he has to be cleared just to practice. Washington, though, has allowed opposing quarterbacks a league-worst passer rating of 120.1. Pryor has to be champing at the bit to keep flinging it after his relative passing success in Denver, no?
Where's the pressure?
A week after getting pressured 12 times in 31 drop-backs by Jacksonville, Pryor was blitzed just five times in 32 drop-backs by Denver, per Pro Football Focus. The thinking being that teams want Pryor in the pocket, rather than running wild. Pryor responded with his most accurate passing day as a pro.
Prediction:
If Pryor is cleared medically, the challenge will be to keep him from trying to lock horns and go play for play with Washington's zone-read specialist under center,
Robert Griffin
III, even if RG III has lost some shine this season. If it's Flynn at quarterback for the Raiders, expect a more traditional, albeit, West Coast offense-style playbook.