Oakland Raiders:

Shane Lechler
August, 8, 2014
8/08/14
1:00
PM ET
NAPA, Calif. – The moment
Shane Lechler
left the
Oakland Raiders
for the
Houston Texans
last year, long snapper
Jon Condo
knew
Sebastian Janikowski
would have a "down" season.
Even if he was coming off his best season.
The only holder Janikowski had known since entering the NFL as a first-round draft pick in 2000 was headed to the Houston Texans, and the place-kicker known as "SeaBass" had not handled change well in his career. As least, that's what Condo found.
[+] Enlarge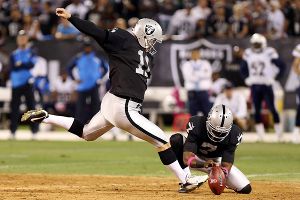 Kelley L Cox/USA TODAY SportsSebastian Janikowski and Marquette King are developing better chemistry after a rocky 2013.
Condo took note that in two of Janikowski's worst field-goal kicking seasons in terms of misses, the Raiders' all-time leading scorer dealt with foreign territory. Janikowski missed 10 field-goal attempts in his rookie season and nine in 2007, Condo's first year as the long snapper.
So with his security blanket gone to Houston and a newbie taking over Lechler's holding duties in
Marquette King
, it made sense that Janikowski would struggle again.
Indeed, a year after converting a career-high 91.2 percent (31 of 34, with misses coming from 51, 61 and 64 yards), Janikowski missed nine field-goal attempts in 2013.
"Bass, he's mentally tough and all that," Condo said, "but it's a comfort thing and it's a trust thing."
Janikowski, who signed a four-year contract extension last summer, still has one of the strongest legs in the NFL, and much of the blame last season fell on King, who grew weary of the talk. Even a few weeks back, on the day the Raiders reported to training camp, King said he could "not really remember" when asked about the purported issues between himself and Janikowski.
Janikowski made just 70 percent (21 of 30) of his field goals in his first year with King as his holder after converting 89.9 percent (62 of 69) in his previous two seasons with Lechler holding. The left-footed Janikowski even missed two attempts from inside 40 yards last season, a distance from which he had only missed one kick since 2007.
The way Condo put it, all it would take to send his kicker down a doubtful path would be just one bad hold from King. Even if everything else went perfect the rest of the game.
Condo's advice? "Trust yourself," he said was his counsel to Janikowski. "Trust your steps."
To the surprise of many at 1220 Harbor Bay Parkway, Janikowski showed up two months early this offseason to get in extra work with King. Two weeks into training camp, and before the Raiders' exhibition opener against the
Minnesota Vikings
on Friday night, the two seem to be connecting.
"Timing," Janikowski told Associated Press, when asked what the issue was with King in 2013. "Our timing was off. Marquette, me and Condo, we hadn't worked much … just timing, the confidence. Just the trust.
"You stay with the same guy for (13) years, the trust is there. You don't have to think about it going on the field."
And now?
"It's much better," Janikowski said. "Marquette's been working his (behind) off. He's holding every day -- 50, 100 times -- so hopefully it shows up on the field."
New assistant special teams coach Chris Boniol, himself a former NFL kicker, has helped bridge the gap between kicker and holder.
"Chris has a way of being able to relate to those guys and talk to them on a level where they can understand what he's trying to get accomplished," said coach Dennis Allen. "To (Janikowski's) credit, he's taken to all of that and done everything that we've asked him to do."
Janikowski, 36, also holds personal goals.
He is within striking distance of the NFL record for most field goals of at least 50 yards -- Jason Hanson had 52 for the Detroit Lions from 1992 through 2012; Janikowski has 45.
And after tying the record for longest field goal with that 63-yarder in Denver in 2011, the Broncos'
Matt Prater
booted a 64-yarder last season to set a new standard.
"It's a challenge," Janikowski said.
Though maybe not as challenging as King attempting to truly break into the inner sanctum of Janikowski, who has twin girls, and Condo, who became a father seven months ago.
"Hey, you want to hang out?" Condo said he told King. "You've got to have a kid."
The 25-year-old King's response, per Condo: "What if I just got a dog?"
Condo laughed.
"The relationship is starting to develop a little bit," he said. "The trust factor, so far in camp, we have a good rhythm going right now."
January, 23, 2014
1/23/14
8:00
AM ET
ALAMEDA, Calif. -- As we continue with our 10 Plays That Defined the
Oakland Raiders
' Season series, and in chronological order, we look at the season opener…
Sept. 8, at Indianapolis: Sebastian Janikowski misses a 48-yard field goal at the end of first half.
Now, to the average leg, a 48-yarder is no sure thing. But for the richest, most powerful gam in the game, it's as close to a done deal as you can get. Or have you not heard his teammates refer to Janikowski as "Automatic SeaBass" over the years?
The rebuilt Raiders were within 14-7 of the host Colts as they drove to the Indianapolis 30-yard line late in the second quarter and coach Dennis Allen allowed the clock to run down to four seconds before calling timeout. Onto the field trotted Janikowski, who had made 36 of his previous 39 field goals, with his only misses coming from 51, 61 and 64 yards.
Something was different, though. For the first time in his NFL career -- Janikowski was Al Davis' polarizing first-round draft pick in 2000 -- he had a new holder.
Marquette King
had replaced
Shane Lechler
, who left as a free agent for the
Houston Texans
, and the relationship between kicker and holder became a major storyline throughout the season.
As would the left-footed Janikowski's issues from the left hash mark. In fact, his first six misses came from the left hash. And this is where he was on this play at Lucas Oil Field.
Janikowski was wide left as the first half ended as the Raiders walked off the field in a fog, and it would prove costly later in the game. On their final drive, the Raiders were within 21-17 and needed a touchdown as they got to the Indianapolis 8-yard line with less than two minutes to play. But
Terrelle Pryor
took a 16-yard sack and threw an incompletion before being picked off by
Antoine Bethea
with 25 seconds left to essentially end the game.
Had Janikowski been successful before the half, the Raiders would have merely needed a 26-yard chip shot field goal to win the game.
Janikowski's issues continued throughout the season as he missed key early field goals in losses to Washington, Kansas City and Tennessee, and his nine misses on the year were more than the seven he missed the previous two seasons combined.
And his 70-percent make mark was the third-lowest of his career.
Check back Friday for Play No. 3 ...
October, 4, 2013
10/04/13
9:00
PM ET
ALAMEDA, Calif. -- Sure,
Sebastian Janikowski
has
only
missed three field-goal attempts thus far this season. So, you can take Raiders coach Dennis Allen at his word, if you'd like.
Or you can imagine Allen in the role of Kevin Bacon in the climactic "Remain calm, all is well" parade scene of "Animal House."
Janikowski
"We've talked and I think it's really just a matter of probably developing that confidence that [the ball is] going to be put in the right spot," Allen said, referencing Janikowski breaking in a new holder in
Marquette King
after 13 years with
Shane Lechler
.
"All he has to do is worrying about just going and kicking it. He's missed three field goals. Let's not make more out of this than what it is. He's missed three field goals; he's going to get better."
Fair enough, it's just that Janikowski has set the bar so high for himself.
Consider: A year ago, he was perfect on all 31 kicks from inside 50 yards as his only misses came from 51, 61 and 64 yards.
This year? His three misses, on eight attempts, have come from 48, 35 and 52 yards.
And they've all been wide left for the left-footed kicker. And all from the left hashmark. So obviously there's a common theme, though there's not much the Raiders can do with that on offense as far as setting up on the right side of the field on third down, is there?
"Well the first thing is you're trying to get a first down," Allen said. "You can't control all the time where the ball ends up. That operation is something we've continued to work on. I think both those guys, all three of those guys [Janikowski, King and long snapper
Jon Condo
] are getting more comfortable working together. I've seen improvement. That's going to get worked out."
Janikowski said earlier this season they were working on getting things better. King has assumed responsibility all along, though it's not clear if King is not spinning the laces on the ball the right way on his holds.
Plus, Janikowski was dealing with a sore right (plant leg) calf in training camp and early in the season. But Allen does not think it has been a factor, either.
"Again, I think it's really just more a product of we're trying to get a new holder in there and that comfort level of you've been working with a guy for as long as he worked with Shane, it takes a little bit of time to get that comfort level," Allen said.
"You look at the one's he's missed, and they've been long field goals, ones that you anticipate he's going to make. But he'll be fine."
Remain calm, all is well?
Or all is truly well?
September, 1, 2013
9/01/13
4:15
PM ET
I commended the
Oakland Raiders
for bringing in veteran punter
Chris Kluwe
to training camp.

And I commend the Raiders for naming
Marquette King
their punter heading into the season. Kluwe tweeted Sunday that King won the job and he is being cut.
I think it is the right call and I give King a lot of credit for putting the Raiders in the position of being comfortable with him moving forward. Longtime star
Shane Lechler
left the team in free agency to go to Houston. King was with the team last year, on injured reserve. King showed a strong leg in the 2012 preseason, but he was green.
Kluwe, who spent eight years in Minnesota, was brought in to give Oakland insurance in case King didn't show the necessary consistency. However, King had a strong preseason and improved his consistency. He answered the bell. Going with the youngster with potential is the way to go for a team that is rebuilding.
I still expect King will have the occasional growing pains as most young punters have. But it will be worth it in the long haul.