Oakland Raiders:

Todd Marinovich
June, 12, 2014
Jun 12
8:10
AM ET
If it's Thursday, it must be #ThrowbackThursday pic time, a chance to go into my archives from my days as a junior college student and Barstow
Desert Dispatch
correspondent and post some pictures I took while covering
Oakland Raiders
games when they called Los Angeles home.
Bo Jackson could do a lot of things on the field, as he did in averaging 5.5 yards per carry in 1989, but in this game against the Denver Broncos on Dec. 3, 1989, he was limited to 44 yards on 14 carries. Vance Mueller, meanwhile, did not have a carry, but returned two kickoffs for 41 yards in the Raiders' 16-13 overtime victory.
Last #TBT of the night...#Raiders RB @BoJackson gives way to #PrideOfOccidental #VanceMueller in 1989 vs #Broncos pic.twitter.com/vX5r5KDUqW

— Paul Gutierrez (@PGutierrezESPN) June 6, 2014
Same game and, despite Marcus Allen wearing his helmet here, he did not play. Neither did Jay Schroeder.
#TBT #Raiders @MarcusAllenHOF, Jay Schroeder,@stevebeuerlein & @BoJackson take in @Raiders defense vs #Broncos in '89 pic.twitter.com/bLjqG3kRmC

— Paul Gutierrez (@PGutierrezESPN) June 5, 2014
This was at the postgame media conference following Todd Marinovich's NFL debut, against the Kansas City Chiefs, on Dec. 22, 1991. He had a QB rating of 100.3 after completing 23 of 40 passes for 243 yards and three touchdowns without an interception in the Raiders' season-ending 27-21 loss. Haunted by the look in his eyes yet?
#TBT #Raiders QB @ToddMarinovich, rockin an Indiana Jones Fedora, seems to notice me after his first NFL start in '91 pic.twitter.com/xogXukGgda

— Paul Gutierrez (@PGutierrezESPN) June 5, 2014
OK, back to that Broncos game in 1989. Steve Beuerlein, with some help from right tackle Bruce Wilkerson, stays a step ahead of Broncos linebacker Simon Fletcher, who had 12 sacks that season, but none on this day.
#TBT, ICYMI, #Raiders QB @stevebeuerlein avoids the #Broncos rush in 1989 pic.twitter.com/5e6IC9F0Fn

— Paul Gutierrez (@PGutierrezESPN) June 6, 2014
Bo Jackson may not have had a big game against the Broncos on this day, but in his career, his five TDs against Denver, in four games, were his most against any team. You have to wonder what was on his mind here.
#TBT #Raiders RB @BoJackson catches his breath on @Raiders bench vs #Broncos in pic I shot in 1989 pic.twitter.com/5uxK0MnlEC

— Paul Gutierrez (@PGutierrezESPN) June 5, 2014
May, 15, 2014
May 15
3:00
PM ET
With the new generation of Oakland Raiders preparing to take the field for their first rookie minicamp beginning Friday, what better time than #ThrowbackThursday to take a look at some pictures I took back in the proverbial day and posted on my Twitter timeline -- @PGutierrezESPN.


May, 10, 2014
May 10
12:30
AM ET
ALAMEDA, Calif. -- The conundrum, for lack of a better word, facing the
Oakland Raiders
as they considered their second-round pick, the fourth choice of the day, went something like this:
Take a player who, if all actually goes well, does not play a down next season, even if he is the presumptive franchise quarterback of the future.
Or ...
[+] Enlarge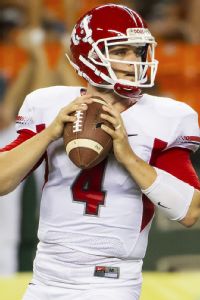 AP Photo/Eugene TannerIf everything goes according to plan, Derek Carr will play little if at all for the Raiders this season.
Select a player who can presumably make an instant impact for the Raiders as they enter Year 1 of their reconstruction.
Oakland went with the former and it makes all the sense in the world, unless it doesn't.
Confused? Don't be, because while tabbing of Fresno State's
Derek Carr
was met with confusion in some corners at 1220 Harbor Bay Parkway, he is part of a long-term plan by the Raiders. It's one that Oakland general manager Reggie McKenzie witnessed firsthand in Green Bay.
Think
Aaron Rodgers
biding his time behind
Brett Favre
for three years with the Packers. Now, I'm not suggesting
Matt Schaub
is Favre, but you get the gist. The Raiders want Carr, who ran a high-octane spread offense his last two years almost exclusively out of the shotgun, to learn the intricacies of an NFL offense at the knee of Schaub.
And with the Raiders going all-in with Schaub as their starter for at least two years -- then again, they also seemed sold on
Matt Flynn
last year -- it gives Carr time to marinate in the NFL game.
"Right, we stayed true to our board," Raiders director of player personnel Joey Clinkscales said. "We think Matt Schaub is our starter. We're confident with that and Derek will come in and he'll learn, and wherever he fits in he'll fit in. We're comfortable with the pick and knowing that he will come in and develop the way we would like to see him develop.
"He's a very mature kid. He's had a lot of life experiences that the regular 22-year-old hasn't had. He has a family, he's married, he has a child also. We're excited to get a guy like that in the program."
The question, then, is this: Is Carr prepared to sit, or does he anticipate competing for the starting gig?
"That's for the coaches to decide," Carr said in a conference call with Bay Area reporters Friday afternoon. "The coaches know who they're getting, and I told them, I appreciate your calling, you know what you're getting. I'm going to come in and work, I'm going to come in and compete and I'm going to try and make the team better. I'm not a selfish guy, that's for sure, and I can't wait to get coached by those coaches."
At Fresno State last season, Carr passed for 5,082 yards with 50 touchdowns and eight interceptions in completing 68.7 percent of his passes. And while his 74 completions of at least 20 yards led the FBS, 237 of his 659 passes were either at or behind the line of scrimmage, with an FBS-high 143 screen passes, per ESPN Stats & Info. "As a result, Carr's average pass attempt traveled 7 yards past the line of scrimmage, the fewest air yards per attempt of any top QB prospect," per ESPN Stats & Info.
Plus, his completion percentage of 30.9 percent while under duress was the lowest of any top QB prospect, per ESPN Stats & Info. It all adds to the notion that Carr could stand to have a redshirt year, so to speak, in the NFL.
Since the 1970 AFL-NFL merger, Carr is the sixth quarterback taken in the first two rounds of the draft by the Raiders, following Jeb Blount (second round, 1976), Marc Wilson (first round, 1980), Todd Marinovich (first, 1991),
Marques Tuiasosopo
(second, 2001) and
JaMarcus Russell
(first, 2007).
Carr, meanwhile, said the Raiders have always been in his family's blood. His uncle Lon Boyett was a training camp tight end with Oakland in 1978.
And watching the trials and tribulations of his brother David, the No. 1 pick of the 2002 NFL draft by the
Houston Texans
, should only help him.
"Oh, my goodness, it's such a blessing," the younger Carr said. "I learned everything that he did right and everything that he did wrong. He's told me. He told me that if he could do anything, he hopes he made the path smoother for me as I transition into the NFL."
Watching from the sideline is probably the best path, at least early in his career.
April, 28, 2014
Apr 28
3:00
PM ET
We begin our countdown of the bottom 5
Oakland Raiders
draft picks since the NFL-AFL merger in 1970 with a
dishonorable
mentions list (our honorable mentions to the
best 5 picks went up this morning
)… and our Bottom 5 countdown of the Raiders' worst draft picks in that time frame begins Tuesday.
Bottom Raiders Draft Picks Since 1970 (dishonorable mention)
QB Marc Wilson (BYU, No. 15 overall in 1980)
Who else was available?
WR Art Monk, LB Otis Wilson, RB Joe Cribbs
Wilson, who lost a 'Worst Quarterback in Los Angeles' popular vote contest to the Rams' Dieter Brock in 1985, was one of the most unpopular players, let alone signal callers, in franchise history.
QB Todd Marinovich (USC, No. 24 overall in 1991)
Who else was available?
QB
Brett Favre
, RB
Ricky Watters
, CB
Aeneas Williams
Personal demons doomed RoboQB, who saw himself as a Snake Stabler clone. He seemed to be the perfect Raider, but drug issues prematurely ended his NFL career after going 3-6 as the L.A. Raiders starter.
SS Patrick Bates (Texas A&M, No. 12 overall in 1993)
Who else was available?
LT
Brad Hopkins
, DT
Dana Stubblefield
, DE
Michael Strahan
Started just nine games and had but one interception over two seasons with the Raiders and quit the team just before the 1995 season opener for the re-born
Oakland Raiders
, never to don the Silver and Black again.
CB Phillip Buchanon (Miami, No. 17 overall in 2002)
Who else was available?
FS
Ed Reed
, CB
Lito Sheppard
, S
Michael Lewis
Sure, "Showtime" had 11 interceptions and added three TDs as a return man in three years, but his inconsistency in the secondary forced the Raiders' hand in giving up on him relatively early.
LT Robert Gallery (Iowa, No. 2 overall in 2004)
Who was available?
WR
Larry Fitzgerald
, QB
Philip Rivers
, QB
Ben Roethlisberger
OK, so, Gallery did have a solid little run as a left guard, but his draft slot demanded so much more. He was seen as a can't-miss left tackle around whom to build a line. Instead, he became a cautionary tale.
April, 24, 2014
Apr 24
4:45
PM ET
It's all the rage in social media -- #ThrowbackThursday -- when people go old school and post photos from, well, simpler times.
As such, I went digging through my archives and found some pics I shot at a
Los Angeles
Raiders games back when I was in junior college and stringing for my hometown newspaper, the Barstow (Calif.) Desert Dispatch.
I've posted them to my Twitter account -- @PGutierrezESPN -- but thought they should be shared here as well. Enjoy ...
.