Oakland Raiders:

Tony Bergstrom
April, 3, 2014
Apr 3
8:00
AM ET
Last month, with the
Oakland Raiders
immersed in free agency, we broke out a list of the top five free-agent signings in franchise history, moving up from Jerry Rice to John Matuszak to Rich Gannon to George Blanda to Jim Plunkett.
So in the interest of, ahem, fair play, we figured it only right to look at the flip side of free agency in Silver and Blackdom. It's not pretty.
Checking in at No. 5 on the bottom five Raiders free-agent signings is right guard Mike Brisiel…
Too soon? Perhaps. Because it was not as if Brisiel was terrible; far from it. He was an absolute warrior for Oakland in his two years, fighting through countless injuries. Through the week, he could barely move in the Raiders' locker room, yet there he was on Sunday. He only missed two games in two years.
But he was not terribly effective. Again, not entirely his fault.
You see, Brisiel was the centerpiece of cash-strapped general manager Reggie McKenzie's first free-agent class, signing a five-year, $20 million contract in 2012 to help with the Raiders' transition to a zone-blocking scheme with Greg Knapp at offensive coordinator. It was a move made by then-rookie coach Dennis Allen that backfired.
Brisiel, who had been a dependable run-blocker with the
Houston Texans
, was hampered by an ankle injury that required surgery in the offseason and the Raiders' run game had trouble adjusting to the new scheme as running back
Darren McFadden
averaged a career-low 3.3 yards per carry.
Brisiel restructured his contract in 2013 and the Raiders, under new O.C. Greg Olson, started to show more power blocking, which was not exactly Brisiel's strong suit. But Brisiel never complained. He just went about his business and, in Week 6 at the
Kansas City Chiefs
, Brisiel was pressed into service at center with
Stefen Wisniewski
already out with a knee injury and
Andre Gurode
tweaking a knee in the game.
Brisiel said after the game he had last played center in 2007, "in NFL Europe. Maybe in preseason, but not in an NFL game."
"Mike Brisiel," quarterback
Terrelle Pryor
said at the time, "he could barely walk. But I appreciate him."
Such was Brisiel's legacy in Oakland.
The Raiders began rebuilding their O-line in free agency, adding
Donald Penn
,
Kevin Boothe
and
Austin Howard
while re-signing
Khalif Barnes
and still having Wisniewski,
Menelik Watson
,
Tony Bergstrom
,
Matt McCants
and
Lamar Mady
on the roster.
The writing was on the wall. While many thought Brisiel might retire, the Raiders instead cut him on Monday.
March, 24, 2014
Mar 24
4:00
PM ET
Richie Incognito
as a member of the
Oakland Raiders
is so, well,
last
regime. Or have you not noticed the trend and type of player general manager Reggie McKenzie has been signing thus far this offseason?
Incognito
They are guys not only with championship pedigrees but also locker room leaders. Guys like
Justin Tuck
and
LaMarr Woodley
and
James Jones
, and yes, the re-signed
Charles Woodson
.
Incognito exhibits none of those traits.
Sure, the left guard is a mauler on the offensive line who would have fit in nicely on the old-school Raiders' island of misfit toys (imagine him and Lyle Alzado going at it in practice), but McKenzie is veering away from those types of players.
Asked at the NFL owners meetings in Orlando on Monday if he had seen the NFL.com report in which Incognito said he was "100 percent into" the prospect of playing for the Raiders, McKenzie smiled.
"I've heard about it," McKenzie said, per the Bay Area News Group.
Asked what he thought about it, McKenzie smiled and said nothing.
Asked if he was interested in Incognito, McKenzie again smiled and was mute.
From a pure playing standpoint, Incognito does have relationships with Raiders offensive coordinator Greg Olson and assistant head coach/offensive line coach Tony Sparano.
"I'm a loyal guy," Incognito told NFL.com, "and I'd love to play for them again. And, of course, the Raiders have that aura."
But again, that aura is from a different generation. I'm not saying it's right or wrong, it just is.
Because the notion of Incognito -- who may still face league discipline for his role in the bullying episode in Miami involving
Jonathan Martin
-- joining the Raiders gave pause to even the progeny of Al Davis.
"I'd have to think about that," Mark Davis told reporters.
He'd probably be wise to check in with recently signed defensive end
Antonio Smith
, who has a longstanding feud with Incognito going back to their college days in the Big 12, a bad blood grudge that's included kicks to the head, helmets being ripped off and more-than-salty threats.
Yeah, Incognito would be a great fit for the old Raiders ... just not McKenzie's Raiders, who have already added offensive linemen
Donald Penn
,
Kevin Boothe
and
Austin Howard
, to go along with center
Stefen Wisniewski
, the re-signed
Khalif Barnes
, second-year tackle
Menelik Watson
, veteran right guard
Mike Brisiel
,
Matt McCants
,
Lamar Mady
and McKenzie's first-ever draft pick,
Tony Bergstrom
.
As one anonymous Raiders player told me last season when I asked which player, Incognito or Martin, he would rather have as a teammate, "Neither," was the reply.
March, 12, 2014
Mar 12
1:15
PM ET
The
Oakland Raiders
reaching an agreement late Tuesday night with former
New York Jets
right tackle
Austin Howard
on a five-year, $30-million contract, with $15 million guaranteed, per ESPN NFL Insider Adam Schefter, was the Raiders' second "acquisition" of the day.
Though it is early in the free agency game, it's never too early to throw out a lineup, right? So how does this grab you for a rebuilt offensive line?
LT
Menelik Watson
-- Yeah, that's putting a lot on his plate, but it's March.
LG
Khalif Barnes
-- Performed admirably after making switch in November.
C
Stefen Wisniewski
-- The anchor of the line.
RG
Rodger Saffold
-- True, a lot of coin for a guard, but Raiders like his versatility.
RT Austin Howard -- Has previous relationship with offensive line coach Tony Sparano.
Four wild cards -- RT
Matt McCants
, G/T
Tony Bergstrom
, RG
Mike Brisiel
, G
Lamar Mady
.
October, 24, 2013
10/24/13
8:30
PM ET
ALAMEDA, Calif. -- Bittersweet, or simply the nature of the business?
I asked Raiders coach Dennis Allen this in the wake of Oakland cutting a member of the first draft class in the Allen/Reggie McKenzie Era: defensive tackle
Christo Bilukidi
. The move was made to to make room for linebacker
Martez Wilson
.
Bilukidi
"Really," Allen said, "it's the nature of the business. This is a production business and we're going to continue to try to do everything we can to upgrade our roster to help our football team. We felt like being able to take a look at Martez was a good chance for us to upgrade the roster."
No doubt Bilukidi was a project when the Raiders used a 2012 sixth-round draft pick on the Georgia State product, the fifth player ever taken by McKenzie and Allen.
And while Bilukidi appeared in 13 games as a rookie and five more this season, getting a sack of Jacksonville's
Chad Henne
in the Raiders' home opener, it was not enough.
"No," Allen said, when asked if he had, indeed, seen enough to warrant keeping Bilukidi and his sack.
In fact, small sample size and health issues be damned, you could say the same about that entire first draft class, which was already stretched thin due to trades under the previous regime that left the Raiders without a pick until the end of the third round.
In fact, two undrafted rookie free agents from 2012 start for Oakland now: receiver
Rod Streater
and left guard
Lucas Nix
.
"I think part of the draft process is picking up some players, and if you have numbers and volumes of players, your percentages of hitting on those guys are pretty good," Allen said.
"I think we'll see some good things, not only out of the 2012 guys, but some of these guys we drafted this past season. I think that as we keep moving down the road, I think those guys will help us."
Just not right away.
October, 24, 2013
10/24/13
8:00
AM ET
ALAMEDA, Calif. -- Tony Sparano once took over a 1-15 team in Miami and had the Dolphins in the playoffs as an 11-5 division champion the next year.
So yeah, the Raiders assistant head coach, who is also Oakland's offensive line coach, knows all about challenges. But his current situation with the Raiders' banged-up O-line is a different animal. A wounded one, so to speak.
"This has been the most moving pieces ... that I've been around," Sparano said Wednesday.
"With the amount of injuries and, at times, the way that they've happened, it's been a challenge, but it's not an excuse. There's no excuse. From our end, we talk about two things -- we make progress, not excuses, and that's what we're doing."
[+] Enlarge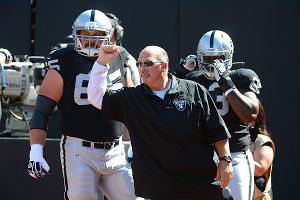 Kyle Terada/USA TODAY SportsRaiders assistant head coach/offensive line coach Tony Sparano has had to cope with a rash of injuries to his O-line.
Could you blame Sparano, though, if he at least quietly asked the football gods for a do-over?
It began in training camp when left tackle
Jared Veldheer
underwent surgery on his left triceps. Then guard
Tony Bergstrom
, the first pick of the Reggie McKenzie/Dennis Allen regime, was lost for the season with a lisfranc injury to his right foot.
"It just trickles down," Sparano said. "The most that I've seen in a long time."
Guard
Lucas Nix
dealt with an ankle sprain and
Stefen Wisniewski
missed two games with a sprained right knee, though he practiced Wednesday for the first time since injuring it on Sept. 29 against Washington. Right tackle
Tony Pashos
, who was signed just before the season opener, has dealt with groin and hip issues and did not practice Wednesday, nor did backup center/left guard
Andre Gurode
, who is nursing a quad injury.
Rookie second-round draft pick
Menelik Watson
has been sidelined with calf problems, then knee problems, and then calf problems again. Coach Dennis Allen surmised the Raiders have had Watson for maybe 10 practices total.
"We have not played with the same unit for two weeks in a row since the third quarter of the Jacksonville game," Sparano said. And that was in Week 2.
It's all made for a couple of baptisms by fire for rookie guard
Lamar Mady
and first-year tackle
Matt McCants
.
"It doesn't really matter who's up front because I believe in all of them," Raiders quarterback
Terrelle Pryor
said. "Some guys may be a little more talented, yes, but I believe in all those guys, and I think they're going to show this Sunday."
If nothing else, the extended playing time for Mady and McCants will only help them down the road, even if the 10 sacks the Raiders surrendered in Kansas City was reduced to nine following a league review.
The versatility of his linemen, Sparano said, has been a saving grace. Gurode has the ability to play left guard and center. Brisiel was able to move from right guard to center.
Khalif Barnes
moved from right tackle to left tackle, and Mady took practice snaps at center.
Doing it all on a game-changing (for the positive) level? Now that's a different story.
Still, Sparano said he told the linemen in camp that whoever made that initial 53-man roster would see playing time in games. That's just the nature of the beast.
This beast, though, has been untamed, what with the rash of injuries.
"There's body blows that go on in our league every single day," Sparano said. "We just happen to be catching a few body blows right now at the wrong time, and you've got to be able to overcome them.
"People that can overcome them the best and the fastest will end up being in the mix at the end of this."
September, 1, 2013
9/01/13
3:45
PM ET
Reggie McKenzie has often said his plan to bring the
Oakland Raiders
back to relevance is through the draft.

For a team that has been in salary-cap jail and that hasn't had a winning record in 11 years, the draft is the way to go. However, this weekend, McKenzie showed his plan is not without its obstacles.
Oakland reportedly is cutting fourth-round pick, quarterback
Tyler Wilson
. Saturday, the Raiders cut seventh-round pick, defensive end David Bass. Bass was claimed on waivers by Chicago on Sunday. Also, guard
Tony Bergstrom
(who was McKenzie's first pick in Oakland last year) was put on the injured reserve Saturday after making no contribution as a rookie.
As for Bass, it is not unusual for a team to cut a seventh-round pick. However, the Raiders are so thin every draft pick should be kept. If not, the pick has to be questioned.
Also, coach Dennis Allen recently said the team was counting on Bass, and this is a team desperate for pass-rush help. Thus, the drafting of Bass has to be considered a mistake.
The Wilson situation is a downright disaster. Yes, I realize the Raiders are keeping undrafted free-agent quarterback Matt McGloin. He may have a nice future. But the Wilson-McGloin move is not a wash.
A thin team like Oakland cannot afford to cut a fourth-round pick. They needed to get a future starter with the pick.
I almost certainly expect Wilson, who was given a meaty signing bonus by the cap-strapped Raiders a month ago, to be claimed. Quarterback is such a high-priority position and there will likely be a few teams that had a high grade on Wilson that will want to give him a chance with a waiver claim.
Again, Oakland has to hit on its picks. McKenzie and Allen are on record saying as much. Sending valuable picks to waivers is not the way to build a roster through the draft.
August, 31, 2013
8/31/13
1:50
PM ET
As we wait for the Raiders to make the final cuts, here are some random thoughts on the team:
It was no shock at all that
Menelik Watson
is going to start at left tackle at Indianapolis. What else were the Raiders going to do?
Alex Barron
? Come on.
Still, it would be na´ve to expect Watson to have a seamless transition to playing left tackle in the NFL. He played there for the first time in his life Thursday night. He is extremely green as a football player to begin with. But make no mistake: The second-round draft pick is immensely talented. I believe he is going to be a fine player. The fact that he didn't embarrass himself against the Seahawks is a good sign.
But expect some growing pains. Top-level defensive ends may have their way with Watson in the early going. When
Jared Veldheer
returns from a triceps injury later in the season, expect Watson to move over to right tackle. The Raiders will eventually have a solid pair of bookend tackles.
Second-year guard
Tony Bergstrom
appears to have a serious foot injury. It may be another lost season for Reggie McKenzie's first draft pick. The fact that Bergstrom is hurt and
Mike Brisiel
played well Thursday should keep Brisiel on the roster.
It sounds like
Andre Carter
may be on the bubble. If Carter is cut it will mean he is done. The Raiders are desperate for pass-rush help. He'll be kept if the team thinks he has anything left.