Oakland Raiders:

Tony Sparano
March, 14, 2014
Mar 14
4:32
PM ET
New
Oakland Raiders
right tackle
Austin Howard
said assistant head coach/offensive line coach Tony Sparano was one of the main reasons he decided to sign with the Raiders.
Howard
"He is a familiar guy, familiar coach, and I really love his style of coaching," Howard said in a conference call Thursday. "Once we got that call, it was honestly a no-brainer decision to get on the plane and make the trip out to Oakland."
Howard, who entered the NFL with the
Philadelphia Eagles
as an undrafted free agent out of Northern Iowa, figures to be the Raiders' right tackle. He signed a reported five-year, $30 million deal with $10.8 million in guarantees to come to Oakland after starting his past 32 straight games with the
New York Jets
.
It was in New York where Sparano was the Jets' offensive coordinator in 2012, Howard's first year as a starter.
"We all believe that the game is won and lost up front in the trenches," Howard said. "It's a tough position to play, offensive line. We want to be a powerful, dominant force. What else can you say? We want to go out there and we want to beat the guys up front, we want to lead this offense up front and we want to have guys in this group that can collectively play together and win together."
Howard models his game after that of former Eagles teammate
Jason Peters
, a left tackle, and last season Howard was credited with only giving up two sacks.
And the attraction of the Raiders?
"Honestly, I was excited to meet all the guys here," he said. "I understand that they have a very good group of guys here on the offensive line. It was probably the biggest attraction for me and my fiancÚ to come just because we know Coach Sparano and they presented a great opportunity to us. There's going to be some changes when you move from team to team and we expected that; getting to know the guys and getting to know the area, so we were honestly just excited to get out here."
February, 22, 2014
Feb 22
12:00
PM ET
And here we are with an NFL combine-style mailbag…
February, 15, 2014
Feb 15
12:00
PM ET
Let's get right to the mailbag, shall we?
January, 10, 2014
Jan 10
8:13
PM ET
ALAMEDA, Calif. -- Despite reports that he was heading to Tampa Bay to join new Buccaneers coach Lovie Smith's staff, Tony Sparano is staying with the
Oakland Raiders
.
The team announced late Friday afternoon that Sparano has signed a two-year contract to remain the Raiders' assistant head coach/offensive line coach.
Heading into the week, only offensive coordinator Greg Olson and linebackers coach
Bob Sanders
had contracts for 2014 among coach Dennis Allen's assistants. At least three other coaches agreed to one-year extensions Tuesday with Allen having two years remaining on his contract.
There had been a potential snag as owner Mark Davis was leaning toward one-year deals for coaches with expiring contracts.
But with Sparano getting two years, his contract length and, thus, job security is now the same as Allen's. And if things start badly next season and Allen goes on the hot seat, keep in mind that Sparano does already have head coaching experience from his days with the
Miami Dolphins
.
In any event, Sparano being retained ensures continuity on the offensive line.
January, 8, 2014
Jan 8
8:00
AM ET
ALAMEDA, Calif. -- Now that the non-story story about Dennis Allen keeping his job as the head coach of the
Oakland Raiders
has run its course -- owner Mark Davis told ESPN.com late Tuesday night that Allen
remains the head man
and his job security was never really an issue -- let's move on to more pressing issues.
Such as, what, exactly, is next?
Davis said the meeting with Allen, who still has two years remaining on his contract, at the Raiders' facility Tuesday night went well and they were already discussing personnel and assistant coaches, as in which ones will be retained. And while Davis did not want to talk specifically about the circumstances surrounding offering one-year contracts versus two-year deals, he did say Allen would have the freedom to rehire whichever members of his staff he wants to retain.
Entering the day, only two assistants -- offensive coordinator Greg Olson and linebackers coach Bob Sanders -- had contracts for 2014. But by the end of the day, "at least a half-dozen" assistants had accepted one-year extensions, according to ESPN senior NFL writer John Clayton, though it could not be confirmed yet which assistants were staying.
One who had not agreed, though, was assistant head coach/offensive line coach Tony Sparano, who is heading to Tampa Bay to join new Buccaneers coach Lovie Smith's staff, according to the San Francisco Chronicle.
The challenge, then, is retaining the likes of defensive coordinator Jason Tarver, special teams coordinator Bobby April, defensive line coach Terrell Williams, quarterbacks coach John DeFilippo and running backs coach Kelly Skipper to maintain a modicum of desperately needed continuity.
And yet, with every coach but Allen in a contract year in 2014, and Oakland about to have $60 million in salary-cap space, how do the Raiders sell stability to quality free agents this offseason?
Plus, the coaches are about to feel what a lot of last year's roster felt as short-timers on one-year deals playing for that next contract.
Davis, who said the meeting with Allen went "well" and called it normal end-of-season protocol, added that he and Allen would meet with general manager Reggie McKenzie on Wednesday to start planning for the immediate future.
January, 7, 2014
Jan 7
3:01
PM ET
ALAMEDA, Calif. -- The gut feeling is
Oakland Raiders
coach Dennis Allen survives Tuesday's meeting with owner Mark Davis, a self-described patient man who, nonetheless, wants to see progress in the wake of back-to-back 4-12 seasons in which the Raiders lost eight of their last nine games both years.

Allen
As a league source told ESPN.com last week, "Dennis Allen is the coach until he's no longer the coach. The only people firing Dennis Allen right now are the media."
But could Allen walk out of the sit-down unemployed? Yes, especially if he essentially fires himself by falling on the sword on behalf of his staff.
Only two of Allen's assistants from this past season -- offensive coordinator Greg Olson and linebackers coach Bob Sanders -- have contracts for 2014. Though Allen wants to re-up the assistants he wants to retain for two years, Davis is only willing to go one year, a different league source said.
Who seems most worthy of such job security and would be essential to the continuity Oakland so desperately needs?
Let's start with defensive coordinator Jason Tarver, who has shown flashes, defensive line coach Terrell Williams, special teams coordinator Bobby April, assistant head coach/offensive line coach Tony Sparano, quarterbacks coach John DeFilippo and running backs coach Kelly Skipper.
If Davis is unwilling to bend, it would seemingly corner Allen. Plus, with the Raiders about to have some $60-plus million to spend in free agency, what kind of message would that send to free agents? It would be hard to tell quality players to commit to Oakland long-term if the coaching staff and its philosophy are relative short-timers.
Or, imagine courting and signing a prototypical 4-3, hand-in-the-dirt speed-rushing defensive end for 2014, and then firing the staff and a new coach switches to a 3-4 defense. Same thing with a press-cornerback who then has to learn how to play soft zone. It just won't work.
Thinking out loud here, but if that is
indeed
the case, Davis should go ahead and part with Allen now to bring in a new coach with a new staff and new schemes to impress upon free agents going forward. And that's not considering the feelings of general manager Reggie McKenzie.
No, I'm not advocating one position over the other. There are seemingly as many pros as cons to each scenario.
November, 27, 2013
11/27/13
7:00
PM ET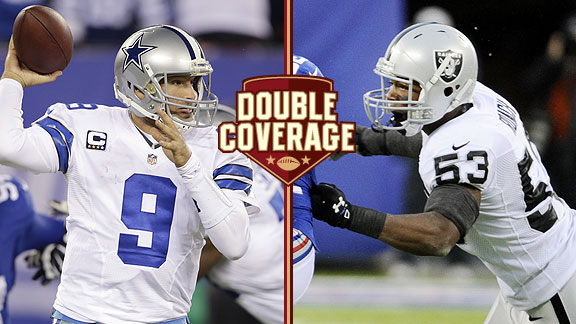 AP PhotoTony Romo's Cowboys host Nick Roach and the Raiders in a Thanksgiving Day duel.
IRVING, Texas -- For the second time in five years, the
Dallas Cowboys
and
Oakland Raiders
meet on Thanksgiving at AT&T Stadium.
The Cowboys won the 2009 matchup 24-7 with
Tony Romo
throwing for 309 yards and two touchdowns and
Miles Austin
catching seven passes for 145 yards. Since that game Austin has had more yards in a game just twice.
ESPN.com's Raiders reporter Paul Gutierrez and Cowboys reporter Todd Archer bring you this week's holiday version of Double Coverage.
Todd Archer:
The Cowboys are bad in most areas defensively, but they have given up 200 yards rushing in three games this season. The Raiders' strength, from afar, seems to be their running game. What makes it so good and how has it differed with
Terrelle Pryor
out?
Paul Gutierrez:
Hey, Todd, it's not just Pryor being out, but also
Darren McFadden
, who has missed three straight games and four overall with a strained right hamstring. He said Monday night he hopes to play after practicing (limited) for the first time since Nov. 1. The run game, though, has not missed a beat with underrated
Rashad Jennings
picking up the slack. In the past four games, he has run for 413 yards while averaging 5.7 yards per carry. In fact, the running game has been so surprisingly solid without McFadden and Pryor that the play-action pass game has picked up with undrafted rookie
Matt McGloin
under center.
Speaking of passing games ... no doubt Tony Romo can rack up stats, but has he decided to assume more of a leadership role yet as the QB of America's Team, or is that just not in his makeup?
Archer:
He has developed over the years as a leader, but there's no question that this has been "his" team the past three seasons. He is the veteran. He is the guy the Cowboys look to. The guys on this team now don't know of the Romo who burst on the scene in 2006 or had to deal with the
Terrell Owens
stuff. He's the guy who led the lockout practices and has been the big voice in the room. This year he has been given the added responsibility of being more involved in the game plan. The Cowboys' past two wins have come on last-minute drives led by Romo to beat Minnesota and the
New York Giants
. I don't think there's anybody questioning his leadership anymore. And if they did, well, the $106 million extension Jerry Jones gave him in the offseason should be more than enough proof to those guys that this is Romo's team.
Let's stick with the quarterback theme. Before the Cowboys lucked into Romo, they ran through a ton of guys after
Troy Aikman
's departure. Is there any reason to believe McGloin or Pryor can be a solution or do the Raiders need to go after one of these guys in next April's draft?
Gutierrez:
Well, the way I put it earlier in the season, before Pryor hit his purported ceiling and sprained his right knee, robbing him of his greatest strength (running) while accentuating his biggest weakness (passing), if Pryor was not the Raiders' Mr. Right, he was their Mr. Right Now. McGloin is a pure quarterback, a pocket passer whom Dennis Allen prefers for what he wants to accomplish offensively. It's hard to give Allen and GM Reggie McKenzie much credit for their evaluation of QBs, though, what with their misses on
Matt Flynn
and
Tyler Wilson
, not caring much for Pryor early on and then, similar to the Cowboys with Romo, stumbling upon McGloin. But it's hard to see them going all in with the undrafted rookie from Penn State, too. At least hard at the moment. Unless McGloin continues to improve and wins a few games, it would behoove the Raiders to draft another QB if they see one as a can't-miss prospect. I know, I know, they really wanted USC's
Matt Barkley
but Philadelphia traded in front of them so they traded back and selected Wilson. Oops. There is no doubt, though, that this Raiders regime prefers McGloin as a prototypical QB over the more electric Pryor.
No matter who is under center for Oakland, though, the Raiders' QB is going to have to keep an eye on
DeMarcus Ware
. Is he rounding back into shape as a dominant pass-rusher, or is he more decoy as he rehabs from his quad strain?
Archer:
I think he's still feeling his way through it. The fact that he made it through the Giants game healthy was a plus. He has been dinged up in just about every game with stinger and back strains earlier in the season before the quadriceps injury. We'll see how he fares on a short week, but the defense is a lot better with even the threat of Ware on the field.
Jason Hatcher
had two sacks against the Giants at least in part because of the attention Ware received. Ware has talked about wanting to make up for lost time. He has five sacks so far, his fewest this late in a season since his rookie year in 2005. Thursday would be a good time to look like the DeMarcus Ware of old.
This game is a homecoming of sorts for guys like
Mike Jenkins
,
Andre Gurode
,
Kevin Burnett
and Tony Sparano, but it's a real homecoming for Dennis Allen. How is he perceived in Oakland and will McKenzie be more patient with him than, say, Al Davis would have been?
Gutierrez:
The jury, so to speak, is still out on Allen in the streets of Silver and Blackdom. Of course, when the Raiders win a game, he's the man. When he loses, the fans turn on him and start pining for Jon Gruden ... again. But isn't that the nature of the beast? Even Allen himself said this was a results-oriented business. Of course, he was referring to the quarterback position at the time, but it still applies. Make no mistake about it, Allen is McKenzie's "guy" and he's going to roll with him and have patience with him. The plan coming in was to give Allen at least three years to right this ship and really, the only thing that could damage Allen's chances of lasting another year would be if the team quit on him, like it did last November before playing hard again at the end. Then again, it might not be McKenzie's choice. Owner Mark Davis is a more patient owner than his father and wants McKenzie to handle all football-related decisions. But a year after stating he was fine with just about anything but regression, Davis wants progress. Stagnancy won't cut it, either. So, stay tuned.
Sticking with the coaching theme, is Jason Garrett in Jerry World for the long haul, or was Jerry Jones' support merely the dreaded vote of confidence?
Archer:
Jerry has publicly backed Garrett, but he's also been a guy who's said, "Just because I say something, doesn't mean it's true." I do know this: He wants Garrett to be the guy. He desperately wants it to work. I really believe that. He believes in Garrett's approach and how he builds a team. Garrett will provide some blow-back to Jerry but not as much as, say, a Bill Parcells. Garrett knows what makes Jerry work and knows how to work around it to a degree or push Jerry in a certain direction. Honestly, Cowboys fans should want the Garrett deal to work out because it might be the best combination to mitigate the bad parts of Jerry and keep the good parts of Jerry.
October, 24, 2013
10/24/13
8:00
AM ET
ALAMEDA, Calif. -- Tony Sparano once took over a 1-15 team in Miami and had the Dolphins in the playoffs as an 11-5 division champion the next year.
So yeah, the Raiders assistant head coach, who is also Oakland's offensive line coach, knows all about challenges. But his current situation with the Raiders' banged-up O-line is a different animal. A wounded one, so to speak.
"This has been the most moving pieces ... that I've been around," Sparano said Wednesday.
"With the amount of injuries and, at times, the way that they've happened, it's been a challenge, but it's not an excuse. There's no excuse. From our end, we talk about two things -- we make progress, not excuses, and that's what we're doing."
[+] Enlarge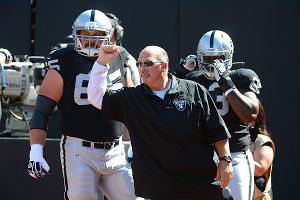 Kyle Terada/USA TODAY SportsRaiders assistant head coach/offensive line coach Tony Sparano has had to cope with a rash of injuries to his O-line.
Could you blame Sparano, though, if he at least quietly asked the football gods for a do-over?
It began in training camp when left tackle
Jared Veldheer
underwent surgery on his left triceps. Then guard
Tony Bergstrom
, the first pick of the Reggie McKenzie/Dennis Allen regime, was lost for the season with a lisfranc injury to his right foot.
"It just trickles down," Sparano said. "The most that I've seen in a long time."
Guard
Lucas Nix
dealt with an ankle sprain and
Stefen Wisniewski
missed two games with a sprained right knee, though he practiced Wednesday for the first time since injuring it on Sept. 29 against Washington. Right tackle
Tony Pashos
, who was signed just before the season opener, has dealt with groin and hip issues and did not practice Wednesday, nor did backup center/left guard
Andre Gurode
, who is nursing a quad injury.
Rookie second-round draft pick
Menelik Watson
has been sidelined with calf problems, then knee problems, and then calf problems again. Coach Dennis Allen surmised the Raiders have had Watson for maybe 10 practices total.
"We have not played with the same unit for two weeks in a row since the third quarter of the Jacksonville game," Sparano said. And that was in Week 2.
It's all made for a couple of baptisms by fire for rookie guard
Lamar Mady
and first-year tackle
Matt McCants
.
"It doesn't really matter who's up front because I believe in all of them," Raiders quarterback
Terrelle Pryor
said. "Some guys may be a little more talented, yes, but I believe in all those guys, and I think they're going to show this Sunday."
If nothing else, the extended playing time for Mady and McCants will only help them down the road, even if the 10 sacks the Raiders surrendered in Kansas City was reduced to nine following a league review.
The versatility of his linemen, Sparano said, has been a saving grace. Gurode has the ability to play left guard and center. Brisiel was able to move from right guard to center.
Khalif Barnes
moved from right tackle to left tackle, and Mady took practice snaps at center.
Doing it all on a game-changing (for the positive) level? Now that's a different story.
Still, Sparano said he told the linemen in camp that whoever made that initial 53-man roster would see playing time in games. That's just the nature of the beast.
This beast, though, has been untamed, what with the rash of injuries.
"There's body blows that go on in our league every single day," Sparano said. "We just happen to be catching a few body blows right now at the wrong time, and you've got to be able to overcome them.
"People that can overcome them the best and the fastest will end up being in the mix at the end of this."
October, 14, 2013
10/14/13
5:17
PM ET
The silver lining around the
Oakland Raiders
' 2-4 record as they head into their bye week?
Perhaps it is the fact that Oakland was in position to win three additional games.
Consider: the Raiders were eight yards away from beating the
Indianapolis Colts
in the season opener; they jumped out to an early lead at home against the
Washington Redskins
before getting
Matt Flynn
ed; they were handling the unbeaten
Kansas City Chiefs
in every phase of the game in the first half Sunday before their offensive line crumbled.
Maybe that's why
Terrelle Pryor
said after the 24-7 loss to the Chiefs, a game in which he was sacked 10 times and threw three interceptions that resulted in 17 points for Kansas City, including a pick-six, that he thought the postseason was still within reach.
Yes, for a franchise that has not had a winning season since 2002.
"Two and four?" Pryor said after the game. "We can get to the playoffs."
If he said it, he meant it, right? But even as he said it, you got the sense that Pryor said it because he thought he
should
say it, and it came across as a pseudo-throwaway line.
And when Raiders coach Dennis Allen was asked about it Monday in his weekly news conference, he did not go all Jim Mora on the assembled reporters.
"I'm not worried about playoffs," Allen said. "That's the last thing I'm worried about. I am worried about trying to get this team better."
Now, to a man, every player in the NFL will tell you that the goal is to qualify for the NFL's postseason tournament, something the Raiders have not been in since Super Bowl XXXVII.
And Allen has long said his long-term goal is to make this club a playoff contender.
But this is still a rebuilding venture and general manager Reggie McKenzie has said it was about a three-year project. We're in Year 2.
And remember Washington? It was 3-6 a year ago before winning seven straight and the NFC East. Then there was Miami, which was 1-15 in 2007 under Cam Cameron and then went 11-5 in 2008 with Tony Sparano as coach. Yes, the same Sparano who is currently the Raiders' assistant head coach and offensive line coach.
"I do like this football team," Allen said. "There's no moral victories in pro football. We're competing. We've had chances to win games. We've got to figure out ways to win games when we have those opportunities. And that's really the bottom line.
"But we are what our record says we are and we've got to get better."
What was more surprising, then, Pryor saying the Raiders could get in the playoffs, or Allen saying he's not worried about the playoffs?