Oakland Raiders:

Trent Edwards
March, 15, 2014
Mar 15
2:15
PM ET
Sure, the
Oakland Raiders
already have three quarterbacks on their roster in
Matt McGloin
,
Terrelle Pryor
and
Trent Edwards
. And yes, the Raiders hold the No. 5 overall pick and have been linked with everyone from
Johnny Manziel
to
Blake Bortles
to
Teddy Bridgewater
to
Derek Carr
.
But the feeling has long been that the Raiders want to acquire a veteran signal-caller to guide them through the first few years of "reconstruction" while the rest of the team is upgraded. ESPN.com has learned that Oakland has targeted four such QBs, in this order –
Matt Schaub
,
Mark Sanchez
,
Josh Freeman
and
Michael Vick
. It is interesting to note that Schaub and Sanchez are not yet free agents as neither has been cut by their respective team … yet.
A look at the four QBs and how they relate to the Raiders…
Schaub
Matt Schaub
Silver and Black
– Before
Matt Flynn
and
Kevin Kolb
there was Schaub, the career backup who seemed destined for bigger things. Schaub, though, delivered … at least in the regular season. The two-time Pro Bowler for the Houston Texans could be the prototypical reclamation project for the Raiders as the pure dropback passer coach Dennis Allen craves. Schaub is only two seasons removed from a 4,000-yard passing season and could benefit from a change of scenery.
Silver and Blechh
– If Schaub was a turnover and pick-six machine for the Texans last season, when he lost his job, how ineffective would he be behind an offensive line still getting its footing in Oakland? His confidence no doubt was shaken with how far he fell from grace in Houston, and the Black Hole would be even less forgiving if he stumbled early on.
Sanchez
Mark Sanchez
Silver and Black
– The Southern California native would benefit from a change of scenery, getting out of New York's fishbowl and into a more welcome situation. The former No. 5 overall pick of the Jets has the big arm the Raiders want and is still relatively young enough to groom. Sanchez went to the AFC title game in each of his first two seasons and has already worked with Raiders QB coach John DeFilippo before so there is a comfort level with which to work.
Silver and Blechh
– Remember Hot Dog Gate? Raiders fans most certainly do. And what about the Butt Fumble? Ditto. Sanchez may be gun-shy after his New York experience and is coming off a season-ending shoulder injury suffered last preseason.
Freeman
Josh Freeman
Silver and Black
– The physical tools are there for the 6-foot-6, 240-pound athletic freak. Plus, he has a fan in Raiders offensive coordinator Greg Olson, who coached him in Tampa Bay from 2009 through 2011 as the Buccaneers' OC and QB coach. "I have a lot of respect for him, as a person and a player, and it's unfortunate to me to watch what happened in Tampa … really over the last couple of years," Olson said when Tampa Bay cut Freeman last year. "But I've always had the utmost respect for him and I think he's a great player."
Silver and Blechh
– Questions about Freeman's maturity will continue to dog him and coming to a situation rife with uncertainty, turnover and, potentially, turmoil, would not bode well for him in Oakland.
Vick
Michael Vick
Silver and Black
– The epitome of the Raiders' rehab story, no? Vick has served his time for his role in the infamous dogfighting ring and, after losing his job in Philadelphia last year, he would be motivated to prove he still has something in the tank. Plus, his skillset is similar to that of Terrelle Pryor so he could serve as a mentor. And, at age 34 in June, Vick only has a few years left, so he would be the perfect bridge to the Raiders' next quarterback.
Silver and Blechh
– Well, Vick has never really been known to be a leader and/or mentor and if his not causing a stir when
Nick Foles
took the Eagles job from him last year when Vick was injured is the height of leadership for him, that leaves a lot to be desired. And his style of play leaves him open to injury, as evidenced by his playing more than 12 games in a season only once since his return from prison. Besides, if the Raiders want a run-first quarterback, they have a younger, cheaper and bigger alternative already on the roster in Pryor … or they can potentially draft Manziel … or, gulp, make a run at
Tim Tebow
.
February, 20, 2014
Feb 20
5:45
PM ET
Oakland Raiders
coach Dennis Allen was asked Thursday at the NFL combine in Indianapolis if his 2014 starting quarterback was already on Oakland's roster.
Manziel
Keep in mind, the Raiders currently have
Terrelle Pryor
, who started nine games last season,
Matt McGloin
, who started six, and veteran
Trent Edwards
, who last started an NFL game in 2010, under contract.
Allen's response? "I don't know the answer to that yet, you know what I mean? I think that's obviously a position we're going to look at to try to improve as well as any other position. But that's obviously a position we have to [evaluate].
"The quarterback position is the backbone of your football team, and so we have to make sure that when we go out there this year that we've put ourselves in the best position to have success with the quarterback position."
Then after reading between the lines and going over the silver and black tea leaves, the answer would be … no.
Which of course, brings us to this year's crop of quarterbacks. You've got the big guns in Louisville's
Teddy Bridgewater
and Central Florida's
Blake Bortles
, the intriguing guys in Fresno State's
Derek Carr
and Alabama's
AJ McCarron
and, of course, the biggest and most intriguing figure of all in the polarizing
Johnny Manziel
, by way of Texas A&M.
Now, the fact that Allen is a Texas A&M alum
should
give the Raiders a leg up in scouting Manziel to see if he's worth the hype, let alone the No. 5 overall pick, right?
Yes, Allen was asked about his fellow Aggie.
"Obviously, he's accomplished a lot at the collegiate level and has been a very good football player, being the first freshman to win the Heisman Trophy," Allen said. "I think that speaks in and of itself about how good a football player he is, so I think he's a very talented football player. I think he is a multi-dimensional football player. I think he's able to throw the ball. I think he's able to throw the ball from the pocket, but he's also able to create things with his feet.
"As we get more into the evaluation process, I think he'll be a fun guy to really evaluate."
January, 17, 2014
Jan 17
8:00
AM ET
ALAMEDA, Calif. -- The
Oakland Raiders
traded away
Carson Palmer
after a 4,018-yard passing season in 2012 ... and he threw for a career-high 4,274 yards with the
Arizona Cardinals
in 2013.
The Raiders traded for
Matt Flynn
in hopes he would become a franchise quarterback ... and he washed out and was cut in October, after one start.
Oakland used a fourth-round draft pick to select Arkansas quarterback
Tyler Wilson
... only to waive him twice, sign him to the practice squad twice and watch him leave when the
Tennessee Titans
picked him up.
[+] Enlarge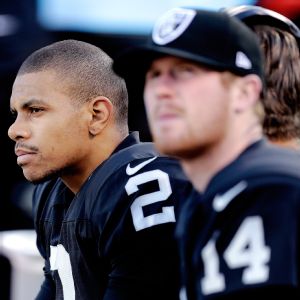 AP Photo/Tony AvelarNeither Oakland coach Dennis Allen nor GM Reggie McKenzie is sure if the Raiders' QB of the future is on the roster.
With so much QB carnage in such a short amount of time, is general manager Reggie McKenzie confident in his staff's ability to identify and properly scout a quarterback?
"Yes I am," McKenzie said Thursday in a 45-minute sit down with six reporters who cover the team regularly.
The differing skill sets of
Terrelle Pryor
and
Matt McGloin
essentially split the season, and in his final media conference of the season coach Dennis Allen said he was not sure if the quarterback of the future was in the building.
I asked McKenzie if he shared Allen's view and, if so, how he attacks that shortcoming.
McKenzie nodded.
"I'm not sure either," he said. "We've got two young players who played this year (and) from an experience standpoint there wasn't any, so neither one of them stepped up and said, 'I'm the franchise quarterback.' So absolutely, we're going to always continue to upgrade and find that guy. Now how we find them, we'll figure that out in the next few months, to what's available to us."
McKenzie allowed that with so much youth and inexperience under center last season, the Raiders need a veteran presence. And, perhaps, that is why they recently signed
Trent Edwards
to a reserve/future contract.
"He's a senior guy that's been there, done that," McKenzie said. "You're talking about what we have in place now, even around the building here in the next month or so, you've got a guy that our young guys can bounce stuff off of. And starting that process ASAP, I think, is important for the young guys."
That does not mean, however, that the Raiders are done tinkering with the position. Far from it. Not when the Raiders still have the No. 5 overall pick in May's draft.
Yes, McKenzie was asked about Texas A&M's polarizing
Johnny Manziel
.
"He's a playmaker," McKenzie said with a smile. "Whether it's him or whether it's any one of these other guys, when you can add a playmaker to your team that's what you're shooting for. Be it the draft, be it (a) free agent. It doesn't matter. And Johnny is a playmaker."
Still, McKenzie said he'd be reluctant to start a rookie quarterback again and would rather build the team up around one until he was ready to play.
"You have to make sure you surround those young players like that with good football players, whether it's weapons, protection from an offensive line standpoint, run game," McKenzie said. "If you're going to talk about playing a rookie, I think the fair way to do it is surround him (with talent), not just ride his shoulders. It's hard. I don't care how good the rookie is.
"To make him do everything his first year is not an easy task. You'd rather not. You'd rather have a guy in place who can get you through the season, especially the early part of the season."
Hence the addition of someone like an Edwards. And McKenzie said he has no true preference for a style of quarterback, be it a runner like Pryor, who rushed for a franchise single-season record 527 yards, including a 93-yard TD run that set an NFL record, or a pocket passer like McGloin, who had a QB rating of 76.1.
Still, neither Pryor, who started nine games and threw for 1,7,98 yards on 57.4 percent passing with 7 TDs and 11 INTs, nor McGloin, who was 1-5 as the starter, truly commandeering the job last season left room for introspection.
"With Terrelle I thought he started out pretty good," McKenzie said. "But it was the inconsistency and making the decisions, whether to throw, whether to run, avoid (the pass rush) and get rid of the ball. Whatever it is, that needs to continue to improve and he was too inconsistent there.
"Terrelle's got a ways to go with the decision making and the timing of throwing (to) guys (who are) open in that regard."
And McGloin, who completed 55.9 percent of his passes for 1,547 yards with 8 touchdowns and 8 interceptions in seven games?
"I thought he came in and I thought he did a pretty good job for what he was asked to do," McKenzie said. "He was confident in where he could throw the ball, his timing, his decision-making. Kind of sputtered a little bit, trying to throw the football when he shouldn't have.
"I thought McGloin showed some positive things that looked like a real quarterback from a standpoint of getting the ball out of his hands and, not being the greatest of mobile, moving, running guys, he didn't take a lot of sacks. So ... to be looked at as one of the non-athletic quarterbacks, per se, he did a good job of getting the ball out of his hand and not putting us in a negative yard-situation. So, you like some of the things there. If you can build on it and get better with the throws and the timing and all that, he should be solid."
January, 13, 2014
Jan 13
7:15
PM ET
ALAMEDA, Calif. -- The
Oakland Raiders
announced the signing of three more players to Reserve/Future contracts on Monday afternoon.
They are: linebacker Frank Beltre, center Jarrod Shaw and cornerback
Neiko Thorpe
, who appeared in nine games with the
Kansas City Chiefs
in 2012.
The trio joins 10 other players earlier signed to such contracts in quarterback
Trent Edwards
, defensive tackles
David Carter
and
Torell Troup
, cornerback
Johnny Adams
, offensive lineman
Jack Cornell
, receiver Jared Green, linebackers Eric Harper and
Justin Cole
, tight end Brian Leonhardt and defensive end Chris McCoy.
January, 8, 2014
Jan 8
1:48
PM ET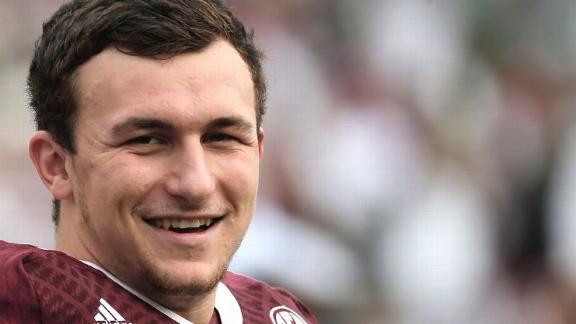 ALAMEDA, Calif. -- The
Oakland Raiders
need a quarterback, a certifiable quarterback of the future, as they say.
No disrespect to the
Terrelle Pryor
disciples or the
Matt McGloin
acolytes, but even coach Dennis Allen said he was not sure if said franchise QB was "in the building right now."
And with Allen now assured of returning to Oakland for his third season, might he look to his alma mater for salvation in the form of a polarizing figure known simply as Johnny Football?
Texas A&M's
Johnny Manziel
, as maddening as he is talented, has
officially declared for the NFL draft
, and the Raiders hold the No. 5 overall pick. And with Allen's connections to College Station running deep, the Raiders probably have an upper hand in scouting the 2012 Heisman Trophy winner. Which means the Raiders either making a run at Manziel or steering clear of him will say all you need to know about an Oakland background check.
Look, the 2014 win-now season in Oakland promises to be a fascinating study in survival. The Raiders have $60-plus million in salary-cap room to chase free agents, a full complement of draft choices to re-stock the roster, the assistants on Allen's staff possibly on one-year contracts, with Allen most likely on a very short leash, and the pressure on general manager Reggie McKenzie to deliver a solid roster.
So what would Manziel, who had his share of off-the-field issues in college, add to the Raiders' potentially volatile mix, besides his own brand of drama?
In two years at Texas A&M, he threw for a combined 7,820 yards and 63 touchdowns and rushed for 2,169 yards and 30 TDs and was the first freshman to win the Heisman, when he set the Southeastern Conference total offense record with 5,116 yards.
And this past season, he established a new Aggies single-season mark with 4,114 passing yards, falling just 11 yards short of becoming the first sophomore on any college campus to have 10,000 career yards.
Still, generously listed at 6-foot-1, 210 pounds, he's a bit small to play the brand of reckless abandon football in the NFL he excelled at in college.
"He possesses unique improvisational skills (his closest resemblance in that regard, at least in my lifetime, is to
Doug Flutie
) and has the quickness, speed and instincts as a runner/scrambler that make him a nightmare to bring down, both in the pocket and in the open field when he takes off," wrote ESPN draft analyst Todd McShay, who had Manziel going to the
Cleveland Browns
at No. 4 in a recent mock draft.
McShay also had Manziel as his third-rated college QB, behind Louisville's
Teddy Bridgewater
and Central Florida's
Blake Bortles
.
"Manziel has also shown significant improvement as a passer this season, displaying more of a comfort level when throwing from the pocket, improved arm strength as a result of better mechanics and more consistency with his ball placement and accuracy," McShay added. "Also, it's worth noting that despite all the comments about his character and leadership ability ... it really does seem as though his teammates feed off the passion and energy with which he plays."
Should the Raiders, then, go all in with Manziel, if he's still on the board at No. 5, or should they sign a veteran quarterback, other than recently inked
Trent Edwards
, and build the rest of the team first?
January, 2, 2014
Jan 2
6:25
PM ET
ALAMEDA, Calif. – Back when the
Oakland Raiders
held the No. 1 overall draft pick in 2007, one of then-coach Lane Kiffin's plans was to use it on some receiver coming out of Georgia Tech, kid by the name of
Calvin Johnson
, and then use a second- or third-round pick on a quarterback from down the road in Stanford's
Trent Edwards
.

Kiffin was also intrigued by
Brady Quinn
, but that's another story.
Instead, the Raiders went with the consensus No. 1 pick in LSU quarterback
JaMarcus Russell
, and the franchise has been trying to recover ever since. In fact, current coach Dennis Allen said himself this week that the Raiders' QB of the future was probably not in the building, and you could hear the moans emanating from
Terrelle Pryor
fans and
Matt McGloin
supporters.
So it is with some intrigue, then, that Edwards was signed by the Raiders Thursday to a Reserve/Future contract, especially since one perceived plan for Oakland, which holds the No. 5 pick for May's draft, is to acquire a veteran QB and build around him as a bridge to said QB of the Future.
Edwards, who was a third-round pick (No. 92 overall) of the
Buffalo Bills
in 2007 and also played for the
Jacksonville Jaguars
, was in camp with the Raiders in 2011, but then-coach Hue Jackson went with Kyle Boller as
Jason Campbell
's backup at the time. Edwards resurfaced with the
Philadelphia Eagles
in 2012.
He also had a workout with the Raiders this season, along with Pat White and
David Carr
.
Edwards has appeared in 38 NFL games in his career, starting 33, and has passed for 6,033 yards on 60.6 percent passing (563-of-929) with 26 touchdowns and 30 interceptions.
In 2008, he had a 2,699-yard passing season, with 11 TDs and a QB rating of 85.4.
Edwards was one of three to sign such contracts Thursday, along with defensive tackles
David Carter
and
Torell Troup
. Earlier in the week, the Raiders announced six Reserve/Future signings, all of whom finished the 2013 season on the Raiders' practice squad: cornerback
Johnny Adams
, offensive lineman
Jack Cornell
, receiver Jared Green, linebacker Eric Harper, tight end Brian Leonhardt and defensive end Chris McCoy.