September, 23, 2014
Sep 23
10:21
PM ET
By
The Associated Press
| ESPN.com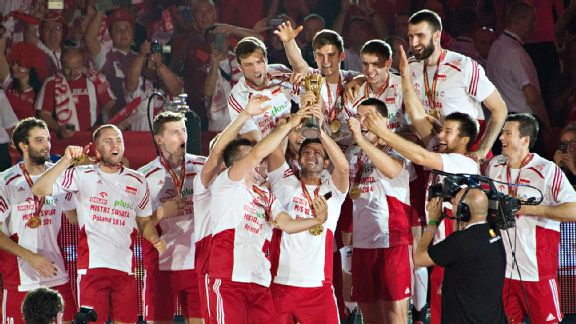 Joe Klamar/AFP/Getty ImagesPoland beat Brazil in this past weekend's final of the FIVB men's world championship.
RIO DE JANEIRO -- Brazil's loss to Poland in the final of the men's volleyball world championship on Sunday was a blow to the South Americans, but should boost the sport in two years at the Rio de Janeiro Olympics.
Poland upset three-time defending champion Brazil 3-1 in Katowice to end an astounding three-week tournament in Poland that drew more than 500,000 fans -- including 62,000 for the tournament's opening match in Warsaw's national stadium.
Poland won its only other men's volleyball title in 1974, and then took Olympic gold in 1976.
"I have no doubt volleyball is going to be a big success at the Olympics," Ary Graca, a Brazilian who heads volleyball's world governing body the FIVB, said in an interview from Poland with The Associated Press.
He suggested it would be among the hottest tickets in Rio.
"I know everybody in Rio," Graca joked. "The politicians are going to asking me for everything."
Brazil is a dominant player in indoor volleyball and beach volleyball, and the sports are probably No. 2 in the country behind football.
The Olympic volleyball venues in Rio are also on schedule. Several others have been facing well-publicized delays.
The Maracanazinho, a 12,000-seat arena located next to the famous Maracana stadium, has already been built and will host indoor volleyball. And beach volleyball will be played at a temporary venue on Copacabana beach.