Olympics:

2020 Olympic Bid
October, 10, 2014
10/10/14
10:59
AM ET
By
The Associated Press
| ESPN.com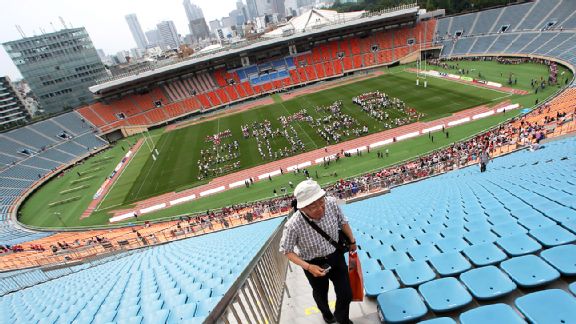 AP Photo/Eugene Hoshiko
TOKYO -- A new round of bidding for the demolition of Tokyo's old Olympic stadium to make way for a new main stadium for the 2020 Games will delay the start of the problematic project.
Some of the bids were reviewed by someone in the decision committee before all bids were in, a violation of the rules, Japan Sport Council official Takayuki Ito said on Tuesday.
Another round of bidding is due this month. But he said work will be fast-tracked, and the stadium will meet its March 2019 deadline.
"We need to revamp the whole system of planning for the Olympic stadium," he said, acknowledging there were too many problems.
Ito declined to say who broke the rules, but suggested it was an error and not a malicious act.
Plans for the stadium, designed by award-winning British-Iraqi architect Zaha Hadid, have been plagued by problems, including complaints from some prominent architects, who say the design is too big and expensive.
September, 7, 2013
9/07/13
5:18
PM ET
By
ESPN.com news services
| ESPN.com
Tokyo was awarded the 2020 Olympics on Saturday, beating out Istanbul in the final IOC vote. Madrid, the third finalist, was eliminated in an earlier vote.
Here is some reaction from all three delegations after the votes: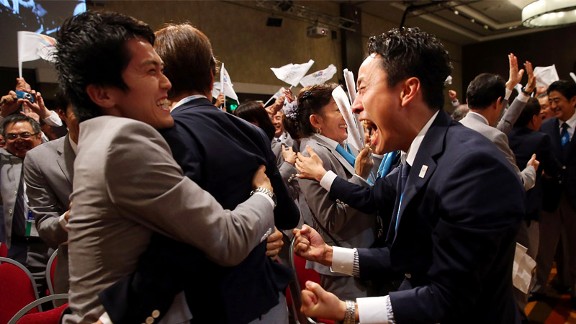 Alexander Hassenstein/Getty ImagesThe Tokyo delegation celebrates its win Saturday. The city also hosted the 1964 Olympics, and billed itself as the safe and reliable choice for the 2020 bid.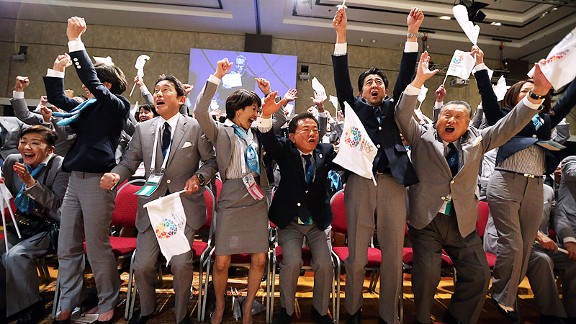 Ian Walton/Getty ImagesThe Tokyo delegation drew criticism during the campaign because of concerns over the leak of radioactive water from the tsunami-crippled Fukushima nuclear plant.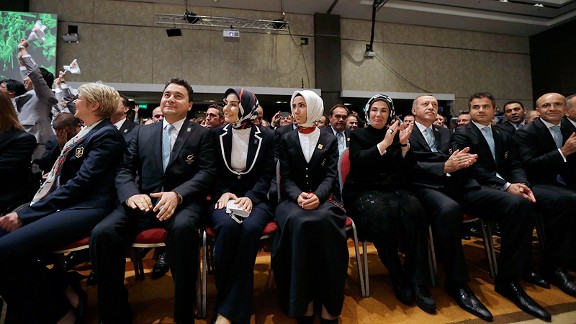 AP Photo/Ivan FernandezTurkey's delegation reacts after losing out on the bid. Tokyo beat Istanbul 60-36 in the final round of secret voting by the IOC.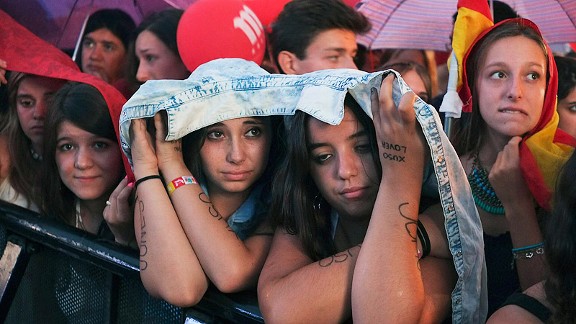 Pedro Armstre/AFP/Getty ImagesLocal residents react after Madrid was eliminated in early voting. One of the concerns surrounding the city was the country's high unemployment rate and overall economic stability.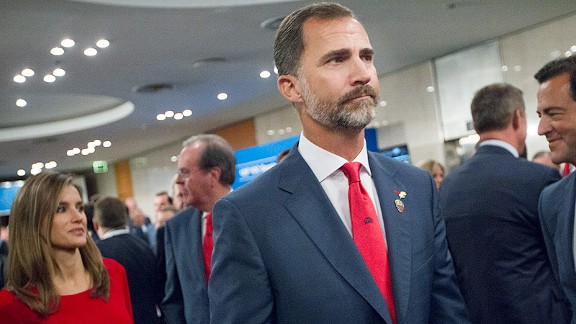 AP Photo/Ivan FernandezSpain's Crown Prince Felipe, who was a former Olympic sailor and the country's flag-bearer at the 1992 Barcelona Games, said he thought holding the event during difficult economic times was an "opportunity" for the country.
September, 5, 2013
9/05/13
9:22
AM ET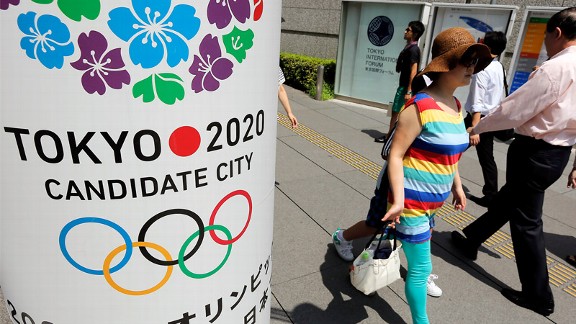 AP Photo/Itsuo InouyeTokyo is the lead favorite to land the 2020 Olympic Games.
President Barack Obama won't be in Buenos Aires this Friday when the International Olympic Committee casts its vote for the host city of the 2020 Summer Games. Vladimir Putin won't be there, either. Nor Tony Blair. Nor perhaps the most famous, influential figure to ever represent a city in its Olympic bid: Oprah (alas, neither she nor Obama swayed the voters during Chicago's 2016 campaign).
But the three contending cities -- Tokyo, Istanbul and Madrid -- will argue their cases with their own powerful representatives for the right to spend billions of dollars, devote seven years of work and disrupt the lives of its citizens for a sporting event that will last 17 days.
All of these cities are well-versed with the Olympic bidding process. Tokyo hosted the 1964 Olympics and it also bid for the 2016 Games. This is Madrid's third consecutive attempt, and Istanbul's fifth in six tries since the 2000 Games were awarded to Sydney in 1993.
Sergey Bubka, the former pole vaulter who hopes to be elected as the new IOC president next week, says all three are capable of hosting a great Olympics. "I think the three are really good," he said. "It's difficult to say who the best right now."
Various bookmakers list Tokyo as the clear favorite with Madrid gaining on Istanbul, but here is a brief glance at some of the pros and cons for each city:
Tokyo
Pros: With so much controversy swirling around Sochi and Rio de Janeiro these days, some consider Tokyo the "safe" choice. Japan's economy, the third largest in the world, is by far the strongest of the three bidders. It also has an excellent infrastructure and transportation system in place.
Cons: There are still some concerns over radiation from the Fukashima nuclear plant disaster. With South Korea hosting the 2018 Winter Games and Beijing having hosted the 2008 Summer Olympics, if Tokyo gets the bid, it would mean Asia will host three Olympics in a 12-year span. Due to time zone issues, that could be a concern for some broadcasters.
Istanbul
Pros: Istanbul is famous as the crossroads of Europe and Asia, and Turkey also would be the first predominantly Muslim country to host a Summer Olympics, a significant factor in its favor.
Cons: Large-scale, anti-government protests this summer did not help the international image of the city or country. Istanbul's projected $19.2 billion overall budget -- significantly more than Tokyo and Madrid combined -- is also a concern. The recent widespread doping violations by Turkish athletes doesn't help, either.
Madrid
Pros: Spain's hosting of 1992 Olympics was an enormous success, leaving a lasting economic and infrastructural legacy in Barcelona, which also benefited greatly as a tourist city. IOC member Juan Antonio Samaranch Jr., the son of the former IOC president, has some pull. By utilizing existing facilities, Madrid's projected budget is the lowest of the three cities and falls into what the IOC claims is its desire to keep Olympic costs down.
Cons: Spain is still suffering through a bad economy. With an unemployment rate higher than 25 percent, the country is not in a good position to spend more money to host an Olympics, even if it plans to spend less than the other two cities.
February, 12, 2013
2/12/13
8:19
PM ET
I am still wrestling with the IOC's shocking and inexplicable decision to drop wrestling from the Summer Olympics while preserving the modern pentathlon (which was expected to get the boot). Wrestling is a sport that is popular worldwide. It goes all the way back to the ancient Games and is even mentioned in the book of Genesis (Jacob wrestles all night with the angel of the Lord).
The modern pentathlon, meanwhile, consists of five events that most people could not name even if Regis gave them a lifeline and a smartphone.
Dropping an inexpensive, global sport that has always been in the Olympics is more of an inexcusable travesty than the London mascots. Here are five obscure/ridiculous sports the IOC should drop instead to get wrestling back on the Olympic roster:
Equestrian: This is an elite sport that requires the backing of such enormous private wealth that I don't think they can afford it even at "Downton Abbey." Despite the presence of Bruce Springsteen's daughter, this is truly the sport of kings. And queens (Queen Elizabeth's granddaughter Zara Phillips competed in London and won a silver medal). Maybe equestrian might hold some appeal to the 99 percenters if we could bet a $2 trifecta on the medal winners, but, until then, I would much rather see the likes of Rulon Gardner and Alexander Karelin battling it out on the mats.
Synchronized swimming: Look, I respect synchronized swimmers. I've even tried the sport. It's hard. It's athletic. But I'm sorry, no one can take this sport seriously after this "Saturday Night Live" parody. It has been 25 years since that spoof aired and it's still the first thing people think of when they hear the words "synchronized swimming."
Trampoline: I've covered 10 Olympics on four continents. I've written on just about every medal event there is. And this is still easily the most ridiculous thing I've ever seen at the Games, with the possible exception of letting George Michael sing two songs at the 2012 London closing ceremonies. When I saw trampoline for the first time, I kept expecting to see an angry father rush in and yell at the kids to stop jumping up and down or they'll break the mattress. Which, frankly, would have improved this event considerably.
Pingpong: Yeah, I know it's called table tennis. But anything you play in your parents' basement can hardly be considered a sport more worthy of the Olympics than wrestling.
Modern pentathlon: The only reason this event exists is that Olympic founder Baron Pierre de Coubertin created it. For the record, the events in the modern pentathlon are laser-pistol shooting, fencing, show-jumping, a 3-kilometer cross country run and a 200-meter swim. In other words, it combines arcade games, very expensive horse riding, a run too short to adequately test endurance and a swimming event that does not include Michael Phelps. Not only does no one want to watch this, but no one wants to compete in it, either. I mean, have you ever met a modern pentathlete? Have you ever gone to a modern pentathlon? Does your high school or college offer modern pentathlon? Of course not. Which is why the modern pentathlon should be dropped and wrestling reinstated.
This whole matter could be solved to everyone's satisfaction by simply replacing the modern pentathlon with the ancient pentathlon that was in the original Olympics B.C. That's because the ancient pentathlon consisted of the long jump, javelin, discus, a foot race and, yes, wrestling.
August, 22, 2011
8/22/11
3:35
PM ET
Good news today for people living in Dallas, New York and Chicago, the three American cities that expressed interest in hosting the 2020 Summer Olympics. The U.S. Olympic Committee revealed it will not submit a bid to host those Games, so residents in those cities dodged the bullet. Count your blessings, folks.
Don't get me wrong. I love the Olympics. I especially love going to the Olympics. But would I want to live in a city hosting the Olympics? No way. I would rather be a volunteer mascot and wander around crowded streets in 95-degree heat and 80 percent humidity while wearing a steaming, furry costume already saturated with the sweat of other volunteer mascots than live in the host city. I receive regular emails from my friend Paul in London ,complaining about the constant budget overruns, increased taxes and hassles ahead of the 2012 Games.
Hosting the Olympics is too costly and too much grief. Chicago's bid for the 2016 Games cost an estimated $48 million, which I'm pretty sure doesn't include the unofficial bribes to the proper International Olympic Committee officials. The estimated cost of actually hosting the Olympics was pegged at $5 billion. Of course, that estimate is like when your contractor estimates the cost of the kitchen remodel; he knows and you know the final cost will far exceed that, but you also both know an honest, accurate estimate would be a non-starter.
[+] Enlarge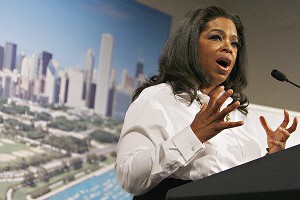 Charles Dharapak/Getty ImagesDespite calling in Oprah and President Obama, Chicago still lost out on the 2016 Olympic bid.
Anyway, Chicago spent all that money and even sent the leader of the free world (Oprah Winfrey), President Barack Obama, to plead its case to the IOC, and still finished a distant third to Rio de Janeiro.
Meanwhile, the London Games were originally budgeted at 2.4 billion pounds, but the estimate is now well over 7 billion pounds (or $10.5 billion). Not that anyone would anticipate stadium budget overruns in New York.
What does a city get for all this money and work? Some infrastructure (i.e., years of maddening road construction), some very expensive venues that will never be used again (there has been talk of turning Beijing's spectacular Bird's Nest into a shopping mall) and seven years of hassle and taxes. On the other hand, you would have the honor of sweating as a volunteer in a hideous polo shirt.
Plus, if you're fortunate enough to actually attend an Olympics, the best part is traveling to an exciting city, not getting stuck in your own town's traffic while searching for a parking spot under $50.
Frankly, the IOC goes about the selection process the wrong way. Rather than having cities initially submit bids, it should select qualified cities. By that I mean cities people from around the world want to visit (i.e., not Dallas, and especially not in August).
A short list of such cities would be say, Sydney, Barcelona, Rome, Athens, Rio, Buenos Aires, London, Paris, Prague, Munich, Stockholm, Amsterdam, Tokyo, Singapore, Melbourne, Auckland, Cairo, Cape Town, Istanbul, St. Petersburg (Russia), Beijing, San Francisco, New York, Boston, Los Angeles, Seattle, Washington, D.C., Vancouver, Montreal, Toronto and Mumbai. That's just off the top of my head and by no means a full, conclusive list. There must be at least four times as many cities large enough and appealing enough. Generally speaking, though, at a minimum, a potential Olympic city must have its own Lonely Planet guide.
After that, qualified cities would be allowed to say whether they were interested in hosting the Olympics. Those that do not want to endure the years of hardship, would say, "No, we have our own nightmarish highway construction projects right now." Those that do not have the money would say, "Sorry, but maybe next time when the economy is better and the real unemployment rate is under 15 percent.'' Those that believe the money and effort would be better spent on the education and health of its citizens would say, "No thanks, we'll just watch it on TV."
And that would pretty much narrow it down to Sydney, which I don't think anyone would have a problem with.
As for Dallas, Chicago and New York? Fans there still get to see the Yankees, Mets, Cubs, Cowboys, Bulls, Mavericks, Stars, Bears, Knicks, White Sox, Rangers, Islanders, Giants, Jets and Blackhawks, plus all the pizza (deep dish or New York style) they can eat. I think they'll survive without trampoline and race-walking.