May, 13, 2012
5/13/12
6:17
PM ET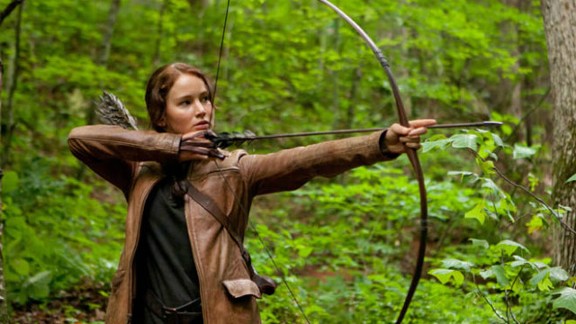 LionsgateU.S. archers are hoping movies like 'The Hunger Games' draw more interest to their sport.
DALLAS -- Archery has never been exactly what you would call a big spectator sport in America, but it might get a little more attention at the Olympics thanks to two recent Hollywood blockbusters. First, there was "The Hunger Games," in which young heroine Katniss Everdeen relies on her skills with the bow and arrow. Then, there was "The Avengers," with the archer Hawkeye on the team of superheroes.
"It's been huge for archery," Olympic gold-medal hopeful Brady Ellison said. "I know archery shops across the U.S. are sold out in everything. A lot of my friends who run archery shops say they have to turn people away. It has been huge for us in just the exposure of people wanting to try it. I just hope and pray those people won't just try it and leave. Hopefully we'll get a little percentage of those people shooting competitions with us."
"It's having a dramatic effect on our sport," U.S. archer Jennifer Nichols said. "We've had such an increase in interest as well as spectator base. We're really excited going into the Olympic Games having such an explosion not only in focus on our sport but in effect."
Ellison said he hasn't seen either movie but has viewed clips and Internet postings. "I really want to see 'The Avengers,'" he said. "There's been this post on my Facebook and on different websites comparing my form to Hawkeye's form and the differences. And one of the quotes is, 'Does Hawkeye have the worst archery form in history?'
"Any movie that portrays archery is a good thing, and your average person who doesn't watch archery won't notice the difference, but to every archer who shoots? Movies drive us nuts. 'Robin Hood' with Russell Crowe, he shoots OK. 'The Hunger Games' girl, she looks like a target archer, so that's good. Hawkeye? He's portraying archery, and that's good, but as far as you want to go technically and critique his form? Maybe not the best."
There is a reason Jennifer Lawrence shows good form as Everdeen in "The Hunger Games." She was trained by Olympic medalist Khatuna Lorig. "The form is incredibly similar to the way I shoot," Nichols said.
So could Nichols shoot an apple out of the mouth of a roasted pig amid a crowded dining room? "It would depend on the distance, but I think I could handle that," she said. -- Jim Caple
Steven Lopez and his "Choice"
For all that Steven Lopez has accomplished in taekwondo, winning two Olympic gold medals and five world championships, his younger sister Diana describes his approach to women with one word: "shy." So perhaps that's why it was such a surprise he agreed to participate in the upcoming Fox reality dating show, "The Choice."
The show, which will air this summer, features Lopez, Patriots tight end Rob Gronkowski, Rob Kardashian and actor/comedian Finesse Mitchell listening to a group of women who hope to persuade the bachelors to choose them for a date.
"They tell you what you want to hear, and if you like what you hear, you turn the chair around and pick the girl," said Lopez, whom People Magazine dubbed one of America's 50 hottest bachelors in 2004.
Lopez said he was pleased with his choice when he turned around and went on a date with the woman, but nothing materialized. "She lives in New York," the Houston resident said.
All in all, Lopez said it was an entertaining experience that again reminded him how unusual it is to be recognized for his looks as much as his talent.
"It's strange," he said. "I've put my blood, sweat and tears and sacrificed so much to get on top the podium and it's like, 'You're on People's 50 most beautiful bachelors, how does that feel?'"
Added Diana: "He gets mothers who come up to him and they're like, 'Oh, you'd be perfect for my daughter. Can you sign this for me?' It's hilarious." -- Wayne Drehs
October, 24, 2011
10/24/11
11:23
AM ET
By
Alejandro Pelayo
| ESPN.com
GUADALAJARA, Mexico -- Mexican archer Alejandra Valencia has become an archery queen at these Pan American Games with two gold medals -- one individual and one team medal -- breaking a Pan Am Games record with her teammates in the process.
The native of Sonora admitted that as a girl she practiced cycling along with her older sister, before her sibling was injured in an accident that opened the door to begin practicing archery -- upon an invitation from instructor Miguel Angel Flores.

"I told them they should instead come with me to archery; that there were no accidents there," Flores commented. "Of course, I did it because I was seeking people for my team."



The cycling accident, which was not serious, was witnessed by the aforementioned coach. As a consequence of the fall, Valencia's sister suffered a minor knee injury, while Flores intervened to help them. Minutes later, they both received an invitation from the instructor to switch sports.

From that point on, Valencia would not leave archery, although she recognized that it was not easy to adapt to a sport she had never practiced and in which she was not familiar. Thus, the process was slow; however, she adapted and has been able to launch a successful career.

"I had been told to go into cycling, track and field or basketball because of my height, but nothing attracted me," Valencia said. "One day Miguel invited me when I was riding a bike with my sister and I stayed.

"At the beginning I couldn't even hit the bale. I would say, 'When will I hit it? When will I hit it?' But I would see the older ones and I knew that I would hit the bale like them."
Barely 17 years old, Valencia remembers the moment when she fcompeted in the Pan Am Games finals. She points out that the key to her success was that she tried to remain cool at all times and remain concentrated so that the arrows hit the bull's-eye.

"The truth is that I always strived to not be relaxed because it is bad to be too relaxed," she said. "I always tried not to be calm but to have everything under control. I strived toward that. That is precisely what makes me more excited about this gold medal. Because it wasn't just any competitor; it was one of the highest-ranked, at No. 2. Honestly it was very, very exciting to have won gold against her."

Meanwhile, Fernando Becerra, archery coach in Jalisco, Mexico, and member of the Guadalajara 2011 Pan American Games Organizing Committee, maintained that for those who follow this sport closely, Valencia's victory comes as no surprise, given her meteoric career. Another archer who experienced a meteoric rise is Juan Rene Serrano, who emerged from the individual events empty handed.

"The results are deceitful. We were, of course, awaiting a medal from Juan Rene since he was the flag bearer for Mexico, but his fate would be to share a bracket with the world champion, which is not easy at all," Becerra said. "Letting go of the possibility of reaching the final due to pressure from the public that wanted to see him crowned champion carried weight in the following battle for bronze. In the women's events, Valencia dedicated herself fully to meeting expectations. It is not surprising that she is the Pan American champion, and she solely dedicated herself to close the year out well."
September, 11, 2011
9/11/11
4:39
PM ET
Sergeant Glenn Eller went the distance for the United States as it was another medal winning day for the USA shooting team at the 2011 ISSF World Clay Target Championship.

Eller advanced to the final round after winning a four-person shoot-off that lasted 36 targets. He then needed only four targets to beat Russia's Vitaly Fokeev in a shoot-off for the bronze medal.

Eller hit 45 out of 50 targets in the final. China's Jun Li won gold and Germany's Andreas Loew took silver.

"It feels really great to be back in the podium again after three years, Eller said, according to USA Shooting.

Eller was the 2008 men's double trap Olympic gold medalist.

Billy Crawford stunned his competition in the junior men's double trap.

Crawford set a new junior world record in taking home the gold medal.

"I continue to be impressed by our junior talent," national shotgun coach Bret Erickson said. "The performance of the junior men's double trap trio affirms that we will be successful in years to come."

Crawford's teammates Private First Class Derek Hademan and Ian Rupert finished in fifth and seventh place, respectively.
September, 10, 2011
9/10/11
5:37
PM ET
The American women made their way to the podium at the ISSF World Clay Target Championship with Kim Rhode and Morgan Craft winning bronze medals.

Rhode battled with China's Wei Ning in an eight-round target shoot-off, Ning finished with eight targets to claim the silver medal and Rhode with seven targets.

"It is an honor to represent the USA and bring home a medal," Rhode said, according to USA Shooting. "This was a great test of my skills against the competition that I will face in London and my goal of five medals in five Olympic Games."

Germany's Christine Wenzel won the gold medal.

Craft lost a shoot-off to France's Lucie Anastassiou but took home bronze in her first overseas trip.

"All the time, sweat and dedication put into my training this summer more than paid off when the bronze medal was placed around my neck on the podium while representing the USA," Craft said.
September, 8, 2011
9/08/11
12:19
PM ET
Jamie Van Natta added two more records to her resume on Wednesday at the Archery World Cup.

Van Natta broke the individual world record with her qualification score of 703 in Shanghai, China, and then clinched her second world record of the day with the team's No. 1 qualifying score of 2095.

The U.S. women's team is ranked first, followed by Italy and France.

Rodger Willett Jr. led the U.S. compound men's team with a third place ranking as he seeks an unprecedented World Cup season sweep. The U.S. men are ranked No. 1 after Braden Gellenthien finished the day in fifth place and brothers Reo and Logan Wilde finished in sixth and seventh, respectively.
May, 17, 2011
5/17/11
6:25
PM ET
The U.S. team that will compete at the World Archery Championships this July was finalized as 31 archers gathered in Bloomfield, N.J., this weekend to fight for the final three spots in each category.

The results were:

Women's recurve: four-time Olympian Khatuna Lorig (Los Angeles), two-time Olympian Jennifer Nichols (Bryan, Texas) and junior dream team member Miranda Leek (Des Moines, Iowa).

Men's recurve: Olympian and No. 2 world ranked Brady Ellison (Glendale, Ariz.), Jacob Wukie and Joseph Fanchin.

Women's compound team: Jamie Van Natta (Toledo, Ohio), Christie Colin (Ransomville, N.Y.) and Kailey Johnston (Dublin, Ga.).

Men's compound team: Braden Gellenthien (Woodbridge, Va.), reigning world champion Reo Wilde (Pocatello, Idaho) and Jesse Broadwater (Jennerstown, Pa.).

The athletes will be coached by national head coach KiSik Lee, Guy Krueger, Mel Nichols and Mike Usherenko. The team will be led by Cindy Bevilacqua.