September, 10, 2013
9/10/13
2:51
PM ET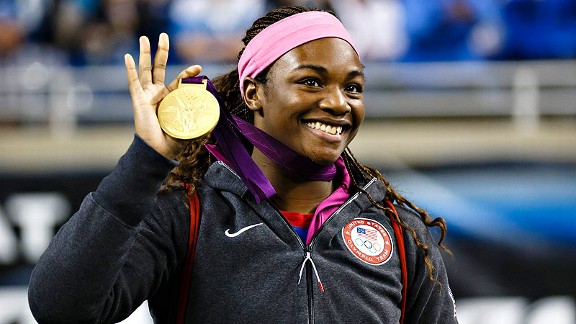 AP Photo/Rick OsentoskiClaressa Shields became the first American woman to win an Olympic boxing gold medal last year in London.
It may be a step back for Olympic gold medalist Claressa Shields, but at least it lands her back in the ring.
Shields, the lone American to win a gold medal in the debut of women's boxing at the 2012 London Olympics, will return to international competition later this month at the Women's Junior/Youth World Championships in Albena, Bulgaria.
The 18-year-old, who recently started her freshman year at Olivet College in her home state of Michigan, was forced to drop down to the youth division due to a rule change in the age divisions by AIBA, the international governing body for Olympic-style boxing.
The ruling, she told the Detroit News, was "devastating."
As a 17-year-old, Shields handily beat 33-year-old Nadezda Torlopova of Russia in the Olympic final. Since then, silence. Struggling to find anyone willing to fight her, a year went by between bouts. Shields finally returned to the ring last month in her hometown of Flint and beat Canadian Alison Greey to improve her record to 34-1 (which includes 15 TKOs).
Shields, who has won two Junior Olympic titles, is seeking her first youth championship. She plans to enter the elite age ranks in 2014 and has her eye on defending her middleweight gold at the 2016 Games in Rio.
The Women's Junior/Youth World Championships begin Sept. 22. The finals are scheduled for Sept. 28.
August, 8, 2012
8/08/12
2:03
PM ET
ESPN.com's Prim Siripipat and Bonnie D. Ford discuss Claressa Shields' attempt to win gold in women's boxing, the men's 5,000-meter final and women's soccer final against Japan: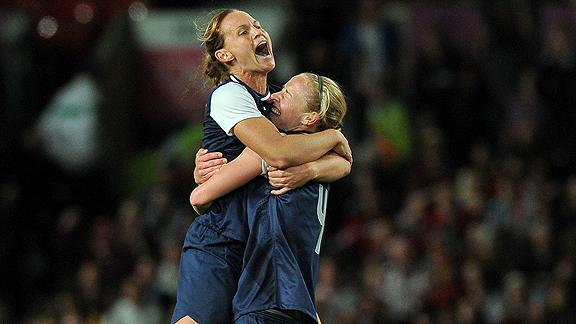 November, 29, 2011
11/29/11
11:07
PM ET
Twenty-four American women will fight to earn a spot in London as the sport of women's boxing makes its Olympic debut at the 2012 Games.

After six months of qualifying tournaments, eight women in each of the three Olympic weight divisions will compete in the first U.S. Olympic team trials for women's boxing on Feb. 13-19 in Airway Heights, Wash., just outside of Spokane.

"The 24 women who have qualified for the first-ever Olympic Trials are all outstanding athletes that will represent our sport and country in a first-class fashion," said Harold Adonis, the USA Boxing president. "They have each dedicated endless hours in the gym and made tremendous sacrifices to chase their Olympic dreams and we look forward to seeing them all compete in this historic event."

Flyweight Christina Cruz, lightweight Queen Underwood and middleweight Franchon Crews claimed the first spots in the Olympic Trials and represented the United States at the 2011 Pan American Games.

The three 2011 National Golden Gloves champions (flyweight Cynthia Moreno, lightweight Mikaela Mayer and middleweight Tiffanie Hearn) also advanced to trials.

The final spots were determined at the USA Boxing National Championships and the National PAL Championships. The three winners from trials will compete in the Women's World Championships.
November, 17, 2011
11/17/11
8:44
AM ET
When I first read the words "women's boxing" and "skirt" in the same sentence, my reaction went something like this: How about adding a frilly apron, and accessorizing with a bucket and scrub brush? Loser cleans the ring!
Then I came across a comment from Ching-Kuo Wu, president of the AIBA (which governs amateur boxing internationally), in which he said some television viewers were having trouble distinguishing female boxers from men.
I wanted to fire off a two-word answer: Hi. Def.
Then I asked myself what is often the most important question in journalism: What do I know?
I swam for a little neighborhood club team as a kid and played basketball in high school and college. I never competed in a sport where skirts were required or even optional, so I decided to seek out some athletes who wear them on the job and ask about the pros and cons.
[+] Enlarge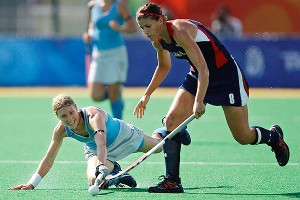 AP Photo/Rick RycroftSkirts are a part of performance attire for female field hockey players.
But before I go there, a few notes on the apparel controversy. It flared into public consciousness again a couple of weeks ago, but it's actually been percolating for more than a year, as the women boxers move closer to their Olympic debut in the 2012 London Games. After a little research, I learned the widely repeated AIBA president's comment was elicited by Albany Times-Union boxing blogger Michael Rivest in this September 2010 interview.
At last year's world championships, the AIBA leaned on boxers to give skirts a try, and most national federations complied. Lightweight world bronze medalist Queen Underwood said she was shocked when she opened her box of official gear before the medal rounds and found not only a skirt but what she described as a padded, non-sports bra. Underwood, who is not shy about expressing herself, said she hasn't worn a skirt or a dress on any occasion "for at least a decade," but thought she had no choice but to wear the outfit.
Once she got into the ring, Underwood said she forgot what she had on.
"I was in the zone, and afterwards I was thinking more about the loss than I was about the skirt," she said. "It didn't hamper me, but if they want to pay me to wear Maybelline and doll me all up, fine. I'm not getting paid to box in a skirt."
Reaction among boxers from other countries has tilted strongly against, as has that of commentators ranging from USA Today columnist Christine Brennan to blogger and amateur boxer Malissa Smith, whose Girlboxing site is a good resource for fans of the sport. India's five-time flyweight world champion Mary Kom has been quoted in her nation's media as saying that skirts would help set the women apart.
Officials in another Olympic sport, badminton, tried to play fashion police with female athletes, but the rebellion was so swift and furious they had to back down earlier this year.
Now, back to my very unscientific sample. The women I spoke with who play field hockey, lacrosse and tennis -- sports where skirts are traditional garb -- told me they prefer to practice in shorts but compete in skirts, even when given the choice.
"I never even think about it," said Rachel Dawson, a defender on the U.S. field hockey team that recently qualified for the Olympics by winning gold at the Pan American Games. "I love the idea of 'Look at me, I'm a woman in a skirt, but I can play just as tough as the boys, fighting, diving, hitting.' I love that contradiction."
Former Widener University assistant lacrosse coach Julie Dugan said her college coach at East Stroudsburg University raised the idea of switching to shorts one season. As the players mulled the concept, they faced a team that wore shorts and found the sight jarring. "They looked like they were playing volleyball," she said.
The team decided to stick with skirts -- although they, like many lacrosse and field hockey players, did wear Spandex compression shorts underneath, making sure they were short enough not to peek out below the hem.
"[Skirts] make you look a little more feminine, and I like the idea of being feminine and being good at sports," Dugan said.
Six-time Grand Slam doubles winner Lisa Raymond has seen a million fashion trends come and go in tennis since she turned pro in 1993. She considers shorts more comfortable and said she's seen flattering shorts-and-top outfits out there, but would feel underdressed wearing one.
"I'm kind of a traditionalist," Raymond said. "When you play a match, you're stepping out. It's a performance, as opposed to practice, when you're just grinding away."
The point is that skirts, in and of themselves, are not the problem. The problem is there's no history of or affection for them in boxing, and they're being introduced from the top down (pardon the pun) as if these women were boarding school students instead of sporting pioneers and symbols of strength.
It's hard not to wonder if there's a desire to sand a little roughness away from the sport for a worldwide audience that is used to stick-and-ball competition but not at all accustomed to the simpler visual equation of women slugging away at each other.
"I don't think they should be mandatory," Dawson said of boxing skirts. I completely agree -- and now that the AIBA has put forth the option, I also wouldn't stand in the way of a female boxer wearing one if she wanted.
This isn't the first time what female athletes wear, and the commotion it causes at the intersection of Politics Street and Marketing Avenue, threatens to overshadow the sporting contest itself. And it won't be the last. Such a ruckus wouldn't be fair to women who are stepping onto the Olympic stage for the first time.
As for the notion that viewers might not be able to tell women boxers from men at first or even second glance, I'd flip that on its head and say it might represent a kind of progress.
The AIBA is soliciting opinions on the issue from its athletes and the "wider public." Consider this a contribution to the latter. Taking away a woman's right to wear trunks would be the worst kind of wardrobe malfunction.
October, 24, 2011
10/24/11
10:49
PM ET
A look at how some American athletes fared Monday at the Pan American Games:
Gymnastics
The U.S. women's team won the team gold medal Monday, its 14th title in Pan Am Games history.
Team USA finished with 219.750 points, followed by Canada (217.450) and Brazil (209.825). The gold-winning squad included Bridgette Caquatto, Jessie DeZiel, Brandie Jay, Shawn Johnson, Grace McLaughlin and Bridget Sloan.
"I was going through the lineup and getting all teary-eyed because I was so proud of them," Johnson said. "We have gone through a lot in the last couple of weeks and I think we did a great job."
The U.S. also qualified for the all-around (held Wednesday) individual events (Thursday and Friday):
All-around: Caquatto and Jay.

Vault: Jay.

Uneven bars: Caquatto and Johnson.

Balance beam: DeZiel (third reserve athlete).

Floor exercise: DeZiel.
Boxing
The final four U.S. boxers were eliminated from contention in Monday's quarterfinal bouts: flyweight John Franklin, lightweight Toka Kahn Clary, light heavyweight Jeffery Spencer and super heavyweight Danny Kelly.
Men's volleyball
Team USA rallied from a 12-9 deficit in the fifth set to defeat Puerto Rico, 22-25, 25-19, 20-25, 25-16, 15-13 in its opening pool-play match. Captain Evan Patak led all scorers with 27 points on 18 kills, seven blocks and two aces.
"We won because of two things. First, our ability to adapt," U.S. coach John Speraw said. "We made some crucial adjustments throughout the match from a variety of different players. And for a young team like this, I found that impressive. Second, the serving of our captain, Evan Patak, carried the team when we struggled early in the match. He put on some runs that helped us win the second set and give us the confidence to beat Puerto Rico."
Next up for the men's squad: Canada on Tuesday in Pool B play.
Track and field
The U.S. earned three medals on the opening day of the track and field competition at the Pan Ams.
Jarred Rome won silver medal in the men's discus, Amber Campbell won bronze to become the first U.S. athlete to earn a Pan Ams medal in the women's hammer throw since 1999, and Becky Holliday took home the bronze in women's pole vault.
"The most challenging part was having this late of outdoor season because I compete indoors, as well ... so I've been going since January," Campbell said. I'm really hoping to continue the success into next year, try to fight these girls all around the world and make it to the podium in London."
October, 4, 2011
10/04/11
6:30
PM ET
Two-time Olympian and 2007 world champion Rau'shee Warren made history Tuesday, becoming the first U.S. boxer to qualify for three Olympic Games after his third-round victory at the 2011 World Championships in Baku, Azerbaijan.
Warren, 24, beat Rey Saludar of the Philippines 22-12 in the 114-pound class to earn a trip to London. Bantamweight Joseph Diaz, Jr. and welterweight Errol Spence also clinched Olympic berths.
Here is more from the USA Boxing press release:
Warren was the youngest U.S. male athlete in any sport in the 2004 Olympic Games at only 17-years-old. He then entered the Beijing Olympics as the favorite in his weight class following a gold medal at the 2007 World Championships, which served as the first international qualifier for the 2008 Olympics. Yet, he was unable to fulfill his dream of putting a gold medal around his mother, Paulette's neck in both Athens and Beijing, so he made the rare decision to come back for a third attempt at his lifelong goal. Warren will continue his run toward a second world title in a quarterfinal contest with England's Khalid Saeed Yafai on Wednesday evening.

Diaz competed in one of the best bouts of the day in his third round match-up with 2008 Olympian and 2009 World Championships bronze medalist Oscar Valdez of Mexico. The two boxers were throwing punches in bunches from bell-to-bell as they battled it out for a berth in the 2012 Olympic Games. Diaz got the better of the exchanges and held a 6-4 lead after the first round. The high pace continued in the second, but Valdez couldn't dent Diaz's advantage and the American took a 15-13 lead into the final round of action. Despite Valdez's best efforts, Diaz held on to a one-point lead over the last three minutes to win a 22-21 final decision and clinch his Olympic berth. He will compete for a spot in the semifinal round on Wednesday in a bout with Cuban Lazaro Alvarez Estrada.

Spence won the final U.S. Olympic spot of the day in his welterweight showdown with the number one seed in the tournament, Hungary's Imre Backsai. Once again, the American boxer took the key early lead in the bout. He claimed a 7-3 advantage after the first round of boxing in their welterweight contest. Backsai picked up the pace in the second but Spence matched his efforts as both boxers put 10 points on the board. Spence took a 17-13 lead into the last round but he didn't rest on his advantage. The Dallas boxer kept his foot on the gas, pushing his lead to a 10-point margin to win a 26-16 final decision and an Olympic berth. Spence will compete in quarterfinal competition on Wednesday in a contest with two-time light welterweight World Champion Serik Sapiyev of Kazakhstan.

Light heavyweight Marcus Browne (Staten Island, N.Y.) was the first American boxer to compete in Tuesday's third round action as he faced 2009 Heavyweight World Champion Egor Mekhontsev of Russia in the morning session. Browne stayed close through the first round, facing a slim 4-2 deficit after the opening stanza. Yet Mekhontsev began to pull away in the second, and following a warning for holding, Browne faced a 10-4 deficit as the final round began. Mekhonstev went on to win a 14-6 final decision over Browne to end his World Championships run.


August, 9, 2011
8/09/11
10:54
AM ET
By
Steve Bunce
| ESPN.com
Freddie Roach, who trains Amir Khan and Manny Pacquiao, has been given the impossible task of turning the American amateur boxers into the next great Olympic fairytale.
America stunned the world in 1972 when they beat the Soviets at basketball, and also in 1980 against the same opposition at the winter Olympics, a success that became known as The Miracle on Ice. If Freddie manages to come back from London 2012 with more than one US gold medal, it will be the Miracle in the Ring.
Golds at the Olympics are not -- and this may sound stupid -- won at the Olympics, they're won in international tournaments that take place over the one to four years before. And that's where the Americans are failing -- their fighters are highly talented, but they will be far too green to succeed at next year's Games.
Meanwhile, the British have showed tremendous forward-planning by placing the squad in week-long training camps since the last Olympics.
The Americans haven't, because they have their unique boxing trials, which are brilliantly fair but haven't worked at the last three Olympics. Looking at their squad for the World Championships, I reckon eight of the ten have had about 20 top-level international fights between them -- and that just isn't enough.
Read more »