January, 21, 2014
Jan 21
3:04
PM ET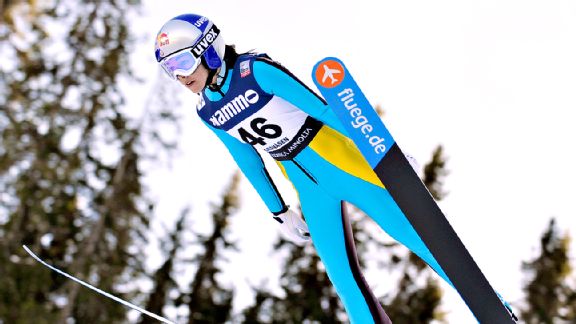 AP Photo/Ned AlleySarah Hendrickson is expected to be named to the U.S. Olympic team on Wednesday.
Those who know Sarah Hendrickson best -- her teammates, her family and her coaches -- had little doubt she would be able to push the envelope of recovery from major knee surgery. And she did.
The U.S. Ski Team and Women's Ski Jumping USA issued a joint press release Tuesday saying that the reigning world champion Hendrickson returned to full training mode last week, jumping on the 90-meter hill at her hometown and team's home base of Park City, Utah.
That news sets up Wednesday's announcement of the Olympic team that will compete in Sochi. Bank on the fact that Hendrickson will be on the roster, as head coach Alan Alborn has previously said she should be based on her past results, even though she has not been able to compete this season.
Hendrickson's schedule and progress last week were kept under wraps by team officials who wanted to minimize the pressure the 19-year-old would have put on herself -- and fend off outside speculation.
Hendrickson didn't give media interviews in the first few days after she tested her right knee, which was reconstructed in late August by Salt Lake City-based surgeon Dr. Andrew Cooper, the longtime physician for the ski team.
It went well, she said, as quoted in Tuesday's release: "I think I was born to be a ski jumper. The feeling of that first jump back was one of the best sensations in the entire world. I just let go of the bar and felt completely comfortable. All my nerves simply disappeared. My knee feels very good considering the situation."
On Aug. 29, days after a violent crash during training in Germany, Hendrickson underwent a hamstring graft on her torn anterior cruciate ligament, along with repairs to the medial collateral ligament and meniscus. She pursued an aggressive course of physical therapy. Three weeks ago, Cooper told espnW.com that Hendrickson was about two months ahead of where most athletes would be in rehab.
"Sarah has done an outstanding job of taking baby steps every day. She has exceeded everyone's expectations and continues to do so," Alborn said.
Three athletes will be named to the women's team Wednesday afternoon. There is a possibility a fourth will be added in the subsequent 24 hours, based on World Cup results and a complex formula of allocations by country that will remain in flux until each nation confirms its entries.
Jessica Jerome clinched one of the three guaranteed U.S. spots by winning the Olympic trials in late December.
January, 14, 2014
Jan 14
11:52
AM ET
By
ESPN.com news services
| ESPN.com
While Sochi organizers have promised snow will be on the ground despite warm temps in the coastal town, one thing we can say for sure: The venues for the 2014 Winter Olympics will be there.
Here's a look at some of the locales you'll see next month:
Shayba Arena
The Shayba Arena will host ice hockey games and is in close proximity to other ice skating venues. Capacity: 7,000.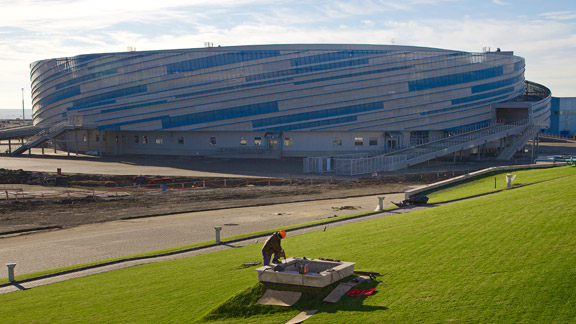 AP Photo/Ivan Sekretarev
Fisht Olympic Stadium
The Olympic Stadium will host the opening and closing ceremonies, and most medal ceremonies. Capacity: 40,000.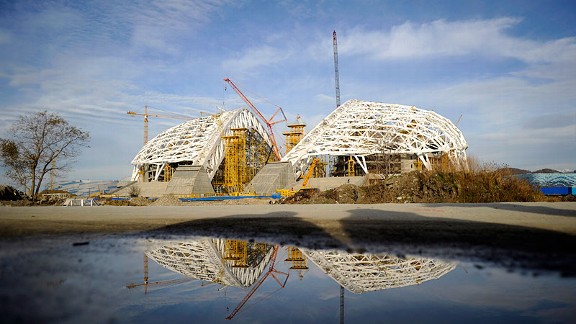 Mikhail Mordasov/AFP/Getty Images
'Ice Cube' Curling Center
You guessed it -- curling competitions will be held here. The venue is in the center of the "Coastal Cluster," where all of the ice-based venues are located. Capacity: 3,000.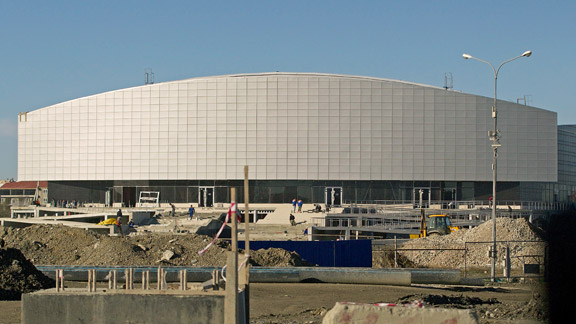 AP Photo/Ivan Sekretarev
Bolshoy Ice Dome
The ice hockey venue is said to be modeled after a "frozen water drop," but spectators may think it resembles a disco dance floor when they see the roof light up in multiple colors at night. Capacity: 12,000.
September, 1, 2013
9/01/13
9:51
AM ET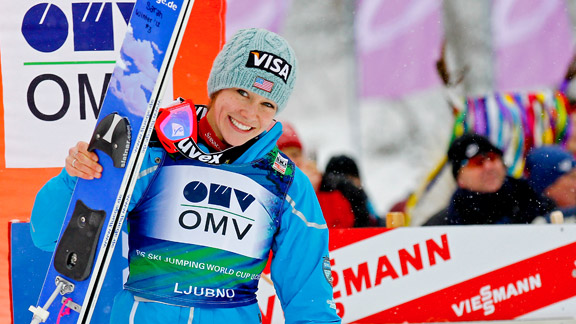 Stanko Gruden/Agence Zoom/Getty ImagesThere is no timetable yet for Sarah Hendrickson's return.
PARK CITY, Utah -- Every veteran on the U.S. women's ski jumping team has had multiple surgeries that kept them off their beloved hills, and they all can relate to the tunnel reigning world champion Sarah Hendrickson is about to enter. They kept her in their thoughts -- and texts and calls -- as they went about their business last week, and said they're confident she'll tackle the passage with the right energy.
"Never met an athlete that young, that talented, that smart, that driven, who knows what she's doing," said 2009 world champion Lindsey Van, who is 10 years older than Hendrickson and informally coached her during an injury layoff of her own one summer when Hendrickson was still a kid club jumper.
Hendrickson won the 2012 World Cup overall title and was a favorite to medal at the 2014 Sochi Games before a training jump went bad earlier this month. She underwent a three-pronged surgery last Thursday after tearing up her right knee on Aug. 21 in Oberstdorf, Germany. U.S. Ski team physician Dr. Andrew Cooper repaired her MCL and meniscus and reconstructed her ACL. Team officials declined to outline any specific timetable for her possible return.
Three-time Olympian and head coach Alan Alborn said Hendrickson should benefit from previous experience with the tedious process of rehab. She had surgery to repair microfractures on her other knee in April 2012 and could not put any weight on it for six weeks. Hendrickson had to rebuild atrophied muscle before she could even resume regular dry land workouts, but was back to jump training by September. "Five jumps later, I knew she was good to compete," Alborn said.
Alborn was careful not to compare the two injuries or make any predictions about how Hendrickson might progress over the next few months. But he and the other jumpers have all known her since she was a little girl and said they are certain of one thing: Her attitude. "If they say she can jump in January, that's when she'll be jumping," said teammate Abby Hughes.
Can Hendrickson be fit enough to compete in Sochi, where women's ski jumping is on the program for the first time in history? The answer is several months away, and will be contingent not only on her physical recovery but on team selection procedures. The United States, with one of the world's strongest athlete pools, will send four jumpers to the Winter Games in February. The winner of the U.S. Olympic trials on Dec. 29 qualifies automatically. Three others will earn berths based on World Cup results. All Olympic sports have a procedure for injured athletes to request a discretionary slot.
December, 6, 2011
12/06/11
12:50
PM ET
Sarah Hendrickson flew into history Saturday by winning the inaugural women's ski jumping World Cup on the Olympic hill in Lillehammer, Norway, sailing down a trail that older athletes blazed for her. The victory for the 17-year-old from Park City, Utah, was especially sweet for the U.S. team, one of the groups that took the lead in the long and ultimately successful fight to include the discipline for women on the Olympic calendar.
This season, the women have their own International Ski Federation (FIS) sanctioned World Cup events after toiling for years on the lower-key, lower-tier Continental Cup circuit. The first event of 14 parachuted the women directly into Norway, the cradle of the sport. They jumped before a crowd of 3,000 under a novel format that alternated women's and men's rounds. The entire two hours of competition was televised live in Europe by numerous national networks and Eurosport.
Altogether, it was a significant upgrade from the past. The 5-foot-3 Hendrickson, who was born the year the Olympics were held in Lillehammer, was only too happy to absorb the bigger buzz.
[+] Enlarge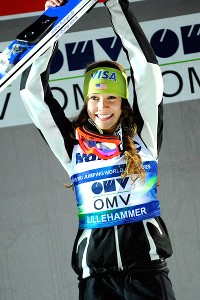 Alain Grosclaude/Getty ImagesSarah Hendrickson's jump distances of 100.5 and 95.5 meters this past weekend were comparable to the top men's marks.
"I kept saying, this feels like World Championships," Hendrickson said by phone from Norway. "Then I keep thinking, we have 13 more World Cups just in the season. It's a great feeling to have all that there throughout the whole year, not just [at worlds] every two years."
Hendrickson has uncommon composure for someone her age, a trait that came in handy over the weekend when she became a popular interview subject. The day after her win, she was invited to join longtime Eurosport commentator David Goldstrom to offer her analysis on the men's big hill competition.
"She's amazing, the fact that she's managing the situation that's moving around her in the last three days in a super-professional way," said U.S. coach Paolo Bernardi. "Just 17, and she's more professional than most of the older athletes I've met in my career."
Hendrickson's grounding starts at home, where she tries to have as normal a social life as possible given her unearthly skills. She got on skis at age 2 and began jumping at 7 (the ideal age, when kids are both fearless and ultra-flexible), prompted by her dad, a jumper in his high school days, and older brother.
But Hendrickson also loves soccer -- she's a left-footed midfielder -- and continues to play for her high school and club teams.
"I always kind of thought about going to college and playing soccer, but with the inclusion in the Olympics and getting World Cup, I think I've decided essentially to stay with ski jumping," she said.
Bernardi has come out to watch some of Hendrickson's soccer matches and admits the possibility of injury makes him nervous, but he said that's outweighed by his belief that she "needs to be happy and enjoy life ... when she's on the road, she gives 100 percent."
Hendrickson's jump distances of 100.5 and 95.5 meters were comparable to the top men's, and so is her technique, according to Bernardi. And it's not as if she's come out of nowhere. Last year, she became the first American, male or female, to medal at the Junior World Championships, taking a bronze.
Still, she said she surprised even herself with her performance.
"In official training the day before the event, I had the two longest jumps out of anybody," Hendrickson said. "It's actually kind of hard going into a competition knowing you've had the best training jumps. People are kind of looking at you continuing that into the competition."
She might have to get used to that.
October, 19, 2011
10/19/11
1:07
PM ET
Athletes are accustomed to being honored for what they do in competition, but even in these more enlightened times, female athletes are still engaged in equally important struggles that take place off the field.
Tonight in New York, the Women's Sports Foundation will recognize the perseverance of the U.S. women's ski jumping team and its backers by naming the jumpers recipients of the Wilma Rudolph Courage Award. The jumpers waged a year-long fight to be included in the Olympics that culminated with last April's International Olympic Committee
vote
to put the discipline on the schedule for Sochi 2014.
Team members Lindsey Van, Jessica Jerome and Alissa Johnson, along with former Salt Lake City mayor Deedee Corradini -- president of the foundation that has funded the program for the last few years, with Visa as title sponsor -- will represent the team. Past recipients of the award include seminal influences and barrier-breakers like Olympic heptathlon and long jump champion Jackie Joyner-Kersee, tennis legend Martina Navratilova, soccer pioneer Michelle Akers and jockey Julie Krone.
Why does this matter? Well, let's face it, there aren't that many obstacles to plain old inclusion any more, especially in this country. The steady stream of lawsuits and other initiatives in the 1970s and '80s by girls and their families seeking to let them play ball has slowly dwindled to a trickle as athletic opportunities have become both a legal right and a cultural given in our society. The battlegrounds these days are more subtle and tougher to track, like Title IX enforcement at the college level. (Read New York Times reporter Katie Thomas' excellent
series
report last spring for more on that.)
Any athlete that speeds down a 270-foot ramp at 50 or 60 miles per hour and launches herself airborne for a football field or two has some inborn courage, but it turns out the U.S. women jumpers -- joined by peers from other countries -- made their most meaningful landing when they sued for inclusion in the 2010 Vancouver Winter Games. They lost in court but eventually won the bigger-picture victory. The jumpers did have to "audition" in a sense when IOC representatives showed up at their events to judge the quality, but there's no doubt their courtroom action led to the boardroom discussion that unlocked the door.
The WSF award is a reminder that there is still bias and hypocrisy toward women's sports that needs to be assertively addressed. Ski jumping, and the related discipline of Nordic Combined, were the only skiing events not open to women. Nordic Combined, the hybrid of jumping and cross-country skiing, is still not on the calendar, and as of yet there has been no organized movement to include it.
As I wrote
previously
, the argument that women's ski jumping wasn't "deep" enough to merit inclusion is absurd given the IOC's willingness to add new "extreme" sports that have little or no history. How could the powers that be have expected women's ski jumping to grow and improve when a primary stimulus to growth -- the Olympic status accorded to men -- was being blocked?
The first-ever top-tier World Cup event for women will be held Dec. 3 in Lillehammer, Norway, and five U.S. women will compete on the circuit. Those same athletes have been included in the U.S. ski federation's elite training program, enabling them to draw on the considerable resources there. The last frontier for the U.S. women will be to see a World Cup event scheduled in their own country, a goal they hope to achieve before Sochi.
Finally, in January, 15-year-old Emilee Anderson of Eau Claire, Wis., will become the first-ever U.S. female ski jumper to participate in an IOC-sanctioned event when she competes in the 2012 Youth Olympic Winter Games in Innsbruck, Austria. She and the other teenagers there represent the shape of things to come.
April, 6, 2011
4/06/11
12:47
PM ET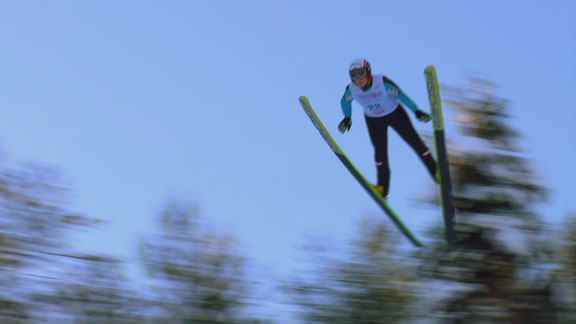 The best women's ski jumpers in the United States rose at dawn Wednesday and made their way to the Park City, Utah, home of former Salt Lake City Mayor DeeDee Corradini. Bagels and coffee were served. They dialed a number that would allow them to listen in on a news conference in London and waited to hear if their sport had finally been cleared for landing.
When International Olympic Committee sports director Christophe Dubi announced that women would jump at the Sochi Games in 2014 -- the culmination of a vigorous and at times contentious fight for the past several years -- it was a thrill, a relief and a challenge all wrapped into one.
"There's not a group out there more prepared for the world stage than we are," said 23-year-old U.S. team member Alissa Johnson, who began jumping when she was 5. "It's a huge weight off our shoulders, and the rain cloud's no longer following us wherever we go. But the battle doesn't end here."
Now, Johnson said, she and her teammates are intent on demonstrating that their performances can be just as breathtaking and compelling as their male counterparts.
Ski jumping was the last male-only skiing discipline in the Olympics. The women had petitioned for inclusion for years; but, leading up to the 2010 Vancouver Games, a multinational group of competitors mounted a more concerted effort to get on the schedule and eventually took their case to court. Although they lost, Corradini -- president of Women's Ski Jumping USA, the foundation that funds the women's program -- said the lawsuit was still the turning point in her mind.
"It gave us the ability to get the attention of the world and the IOC," she said. "We'd been trying to get the facts out, and we won in the sense that it exposed that this was discrimination."
The women will compete in only one event, the shorter "normal hill," in Sochi as opposed to the men, who jump the normal hill, the large hill and contest a team event. Corradini said the women will keep pushing to add those events, as well as Nordic combined (ski jumping and cross-country skiing), in future Olympics.
Top women are capable of jumping the same distances as top men. Men build up more speed on the approach, or "inrun," because they weigh more, but women, by virtue of being lighter, can sail farther in the air. Lindsey Van, the 2009 world champion from the U.S., held the distance record for both genders on the normal hill in Vancouver for two years before it was broken by several male skiers in the Olympics.
FIS, skiing's world governing body, has sanctioned the first women's World Cup circuit for the 2011-12 season. It will consist of between 10 and 14 events, some in conjunction with the men, and will include at least one event in the United States. The lower-tier Continental Cup series also will continue.
The details of integrating the top women's jumpers with the U.S. Ski and Snowboard Association are yet to be worked out. (VISA, a major sponsor of the USSA, also is the chief sponsor of the women's ski jumping foundation.)
On Wednesday, Van said the news "hasn't really set in" and admitted it has been hard to stay positive at times during a campaign that hit obstacle after obstacle. (Russian organizers reportedly put up some last-minute resistance to including the women.) She said she'll decide season by season whether to keep competing.
And Van said she is more than ready for the inevitable name-game confusion between her and her alpine skiing counterpart, Lindsey Vonn, born a month apart in 1984.
The U.S. women hope to continue the country's recent success in Nordic sports, headlined by the men's Nordic combined team in Vancouver. Gold medalist Billy Demong is among the women's supporters.
"They have been persistent in their pursuit of growing the sport and raising the level, and the fact that they've had two very competitive World Championships in Liberec [Czech Republic] and Oslo [Norway] illustrates that they have arrived at a point where they need to be taken seriously by the IOC," he said earlier this week. "Inclusion in Sochi can do nothing but help up the popularity of the sport and the level of the competition."
April, 4, 2011
4/04/11
9:48
PM ET
Women's ski jumping is expected to receive the blessing of the International Olympic Committee on Wednesday morning in London. Stephen Wilson of The Associated Press reported that unnamed IOC executive board members said the decision is all but certain and the women will be flying in Sochi.
The discipline (and its cousin, Nordic Combined) is the lone male-only bastion on the Olympic skiing program, and the exclusion of a women's event reflects a retro bias that has become impossible to justify.
Detractors have argued there isn't enough depth among the women on the elite level and cited the fact that the first women's world championships (won by Lindsey Van of the U.S.) were held in 2009. It's funny how much this rationale seems to crop up in discussion of women's sports, but is absent when the IOC adds an event like ski cross -- with all due respect -- not because it has centuries of tradition and a fabulously deep field, but because it's TV-friendly and skews young. (Ski cross was first contested at the freestyle world championships in 2005 and voted onto the Olympic schedule in 2006.)
January, 14, 2011
1/14/11
3:18
PM ET
By
Associated Press
| ESPN.com
WENGEN, Switzerland -- Ivica Kostelic won a World Cup super-combined event Friday to extend his lead in the overall standings with a third victory in 12 days. Bode Miller was the top American in sixth place.
Kostelic dominated the afternoon slalom run, after placing sixth in the downhill, for a combined two-leg time of 2 minutes 40.44 seconds. Carlo Janka of Switzerland was second, 0.58 seconds back. Aksel Lund Svindal of Norway was third.
American Ted Ligety used the second-best slalom run to place ninth.
January, 6, 2011
1/06/11
3:55
PM ET
By
Associated Press
| ESPN.com
A recap of Thursday's World Cup action:
Men's slalom: Ligety finishes sixth
ZAGREB, Croatia -- Andre Myhrer of Sweden won a World Cup night slalom race on Thursday for his second career title, four years after capturing his first.
The Olympic bronze medalist, who was fourth after the opening run, finished on the icy Crveni Spust course in a combined time of 1 minute, 52.74 seconds. Ivica Kostelic of Croatia was 0.10 seconds behind to finish second in his home race for the third time in four years.