July, 29, 2014
7/29/14
12:49
PM ET
By
Scott Douglas
| Runner's World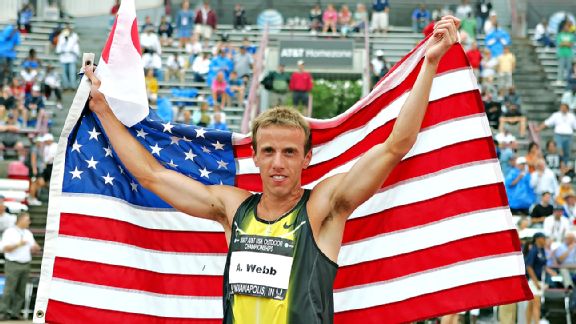 Andy Lyons/Getty ImagesAfter much track success on the national level, Alan Webb is now focused on triathlons.
Five months into his triathlon career Alan Webb is progressing quickly and, perhaps more important, feeling mentally recharged, according to an update on the U.S. Olympic Committee's site.
Webb, who holds the American record in the mile, has done three individual triathlons since running his last elite track race on February 15 at the Millrose Games. In his most recent, held last July 26 in Magog, Quebec, Webb placed second and was 2 seconds behind 2012 Canadian Olympic triathlete Kyle Jones.
The sprint-distance triathlon was comprised of a 750-meter swim, 20-kilometer bike and 5-kilometer run. Not surprisingly, Webb had the fastest run time of the day at 14:20, which was four seconds faster than Jones. In fact, Webb was also four seconds faster than Jones on the bike and only one second slower on the swim.
Perhaps showing his inexperience in the sport, Webb lost out in the two transitions where he was four and five seconds slower than Jones.
"One of the exciting things about Alan is probably what we don't know," Webb's coach, Jonathan Hall, told the USOC. "He's already competing at a high level, and there's a huge margin for the unknown and improvement."
After a stellar high school career -- including setting the U.S. prep mile record of 3:53.43 in 2001 -- Webb had wildly fluctuating results during the rest of his time as an elite runner. Highs included winning the 2004 Olympic Trials 1500-meter final and setting the American mile record of 3:46.91 in 2007. He is also one of two men in history to run under 1:44 for 800 meters and 27:40 for 10,000 meters.
But Webb was erratic and often injured as a pro. In the last part of his career, he had four coaches within a span of a few years. He failed to advance from his 5000-meter qualifying heat at the 2012 Olympic Trials. In recent years he often ran slower than when he was in high school, and the frustration was palpable.
At Hall's urging, Webb watched a sprint triathlon last fall and decided it was time for a change.
"I wanted to see growth in myself again," Webb told the USOC. "I finally got to the point where I was comfortable saying that I had given everything I had as a professional track athlete."
Webb told the USOC that he's taking his progression in his new sport as it comes, but said about being on the 2016 Olympic team that "I'd be lying if I didn't say that was my goal."
March, 8, 2013
3/08/13
5:51
PM ET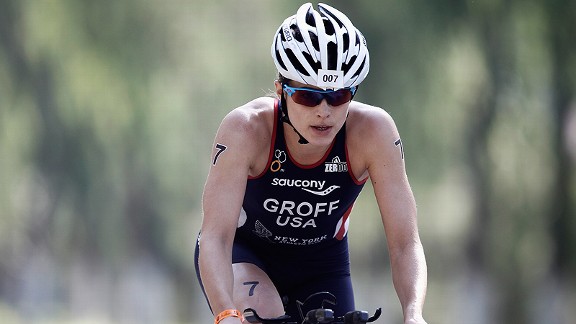 Lintao Zhang/Getty ImagesU.S. Olympian Sarah Groff talks about her new perspective on racing and her focus for the season.
The months since the London Olympics have been an endurance event in and of themselves for triathlete Sarah Groff, the 2011 world championships series bronze medalist who just missed placing in the top three at the Summer Games.
She struggled for equilibrium after finishing an achingly close fourth and decided to make some changes for this season, and beyond, to try to put herself in podium contention for Rio 2016. Groff, a 31-year-old native of Cooperstown, N.Y. and graduate of Middlebury (Vt.) College, is currently training with an international group under the aegis of Canadian coach Joel Filliol.
She opened 2013 by entering a race she had always yearned to do -- the punishing Escape From Alcatraz triathlon, rescheduled this year from June back to March to accommodate the upcoming America's Cup sailing competition. Fighting through a self-inflicted head injury and the aftereffects of food poisoning, Groff was overtaken by eventual winner Heather Jackson in the late going and finished second.
Groff is based outside Hanover, N.H., with her boyfriend, distance runner Ben True, but spoke to ESPN.com by telephone this week from Clermont, Fla., where she is getting in some warm-weather training. These are excerpts from that conversation:
Question from Bonnie D. Ford: How did you go about processing that fourth-place finish at the Olympics and structuring the rest of your season?
Answer from Groff: What I didn't expect -- other athletes always talk about how amazing the experience of going to the Olympics is, the whole village experience and the cool swag and meeting all the other athletes, but they don't really warn you about what happens after the Games. There's this tremendous buildup where for years we're focused on one thing, and then I finished fourth, which adds a whole other level to it. It's probably pretty common; I got pretty severely depressed for a while. I went through the motions, did a couple more races. I would say I'm just starting to gain momentum back. But, for whatever reason, athletes just don't talk about it.
I did [turn to] a fellow triathlete, Greg Bennett, who was on the Australian Olympic team in 2004, and his wife Laura was on the U.S. team in 2008, and they both finished fourth. So if anybody's going to know what it's like after that, it's going to be them. Greg told me pretty much right after the race, "Listen, Sarah, even now to this day, I'll be lying in bed, replaying the race, thinking about what I could have done differently."
He's absolutely right. It's going to stay with me for a while. It's both the best achievement of my life and also one of those moments where you can't help but wonder what could have been if you'd approached things differently, and I think it has the potential to make me a better athlete. There's so much that can go wrong at the Games, and I've just been trying to turn it around and think about everything I did right to finish fourth, because obviously it's a great result.
May, 14, 2012
5/14/12
4:56
PM ET
Want to be an Olympic triathlete? All you have to do is follow four-time Olympian Hunter Kemper's daily routine. Warning: Just reading it may require a performance-enhancer. Or some quality time on the couch afterward.
"A typical training day for me is swim practice from 7 to 9," he said. "I swim 5,000 meters or about three miles of swimming."
Swim three miles before breakfast? That can't be easy, but at least his training is over early, right?
"I'll take a little break, eat a big breakfast and go for a run around noon, and run about nine or 10 miles, about an hour of running."
Wait, there's more.
"I'll finish off with a bike ride in the 3-5 o'clock time frame, and that's about 40 miles or two hours of cycling."
Tired yet?
"I'm looking at about a 32-hour work week," Kemper said. "That's 28 hours of pure training, four hours of rehab and core stuff, so a 32-hour work week with about 25,000-30,000 meters of swimming, about 250 miles of cycling and about 60 miles of running a week. And it's usually all three disciplines a day. It's not like I do one sport a day and another sport the next -- it's usually all three, every day. And in that week, I'll do three hard run sessions, three difficult bike sessions and three difficult swim sessions, all staggered on different days."
Freeman qualified for his fourth Olympics by finishing as the top American in the World Triathlon Championships in San Diego on Saturday. He has improved his finish in each Olympics, finishing 17th in 2000, ninth in 2004 and seventh in 2008, when he was dealing with a sports hernia.
September, 11, 2011
9/11/11
4:50
PM ET
Sarah Groff secured third place in the ITU World Championship Series after finishing the final triathlon of the series in 10th place.

Groff's third place ranking is the best showing by an American in the three-year history of the series.

"It's nice to know that consistency pays off," Groff said, according to USA Triathlon. "I'm absolutely honored to be on the podium with two such phenomenal athletes."

Groff finished in the top 13 in all seven WCS events.

Fellow American Laura Bennett took fifth place with a time of 1 hour, 59 minutes, 2 seconds on Sunday for her top showing of the series and fourth top-10 finish of the season.

Helen Jenkins of Britain won the triathlon world title for a second time after a second-place finish in the final event of the season in Beijing.

Jenkins, who only needed to make the podium to clinch the title, finished behind Andrea Hewitt of New Zealand.

Hewitt had her best result of the year and moved into second in the world rankings.

Switzerland's Melanie Annaheim beat Sweden's Lisa Norden by two seconds in the home stretch to secure the bronze, capturing her first series medal.
September, 10, 2011
9/10/11
5:08
PM ET
Matt Chrabot lead the U.S. men at the final event of the 2011 International Triathlon Union World Championship Series on Saturday.

Chrabot finished in 25th place, recording a time of 1 hour, 50 minutes, 27 seconds on the Olympic-distance course.

Britain's Alistair Brownlee won the triathlon world title for a second time in cold and rainy conditions in Beijing.

Brownlee finished comfortably ahead of Switzerland's Sven Riederer and brother Jonathan Brownlee, who finished third on the day and second in the final series standings.

Spain's Javier Gomez ended the season third overall after placing sixth Saturday.

American Mark Fretta was 46th in a time of 1:52.44.

Chrabot and Fretta were part of the lead pack out of the water and were aggressive throughout the bike portion despite the wet conditions.

Chrabot battled for a top-20 finish for most of the run before finishing in 25th place.

"I had a little injury that kept me off from running for two weeks in June and July, but I'm starting to come back," Chrabot said, according to USA Triathlon.

Chrabot won the Chicago Triathlon on Aug. 28.

"Chicago gave me some confidence and it kept me on top of my game in the U.S., but as far as staying on top of my game on the world level it's just that much harder," Chrabot said.

The seven-race WCS is a proving ground for the United States' top triathletes aiming for a spot on the Olympic team.
August, 8, 2011
8/08/11
12:23
PM ET
Battling heavy rain as well as their opponents, no American men were able to secure an Olympic berth at the International Triathlon Union World Championship Series event at Hyde Park.
Manuel Huerta of Miami finished in 25th place with a time of 1 hour, 52 minutes, 30 seconds on Sunday to lead the U.S. contingent. Matt Chrabot (Colorado Springs, Colo.) was 42nd in 1:53:20.
European champion Alistair Brownlee won the London triathlon (1:50:09), finishing 25 seconds ahead of Russia's Alexander Bryukhankov to meet the selection criteria for Britain's 2012 Olympic team. Brownlee's brother, Jonathan, finished third and qualified.
Britain's Helen Jenkins won
the women's race on Saturday
, while Gwen Jorgensen of the United States finished second to qualify for the 2012 Olympics.
The U.S. men could have claimed two spots on the 2012 U.S. Olympic triathlon team with top-nine finishes. The next chance to qualify will come at a to-be-determined WCS race in spring 2012.
"I'm disappointed that I didn't make the automatic qualification for the Olympics ... I'm looking forward to getting faster, getting stronger and staying healthy for the next [qualifier]," said Huerta.
Jarrod Shoemaker (Maynard, Mass.) was forced to withdraw from the race following a bike crash on the fifth of seven bike laps. Hunter Kemper (Colorado Springs, Colo.) withdrew on the run because of a stomach illness.
The Hyde Park course will also be used for the 2012 Games.
Information from The Associated Press was used in this report.