Dive in! London Aquatics Center unveiled
July, 28, 2011
7/28/11
11:51
AM ET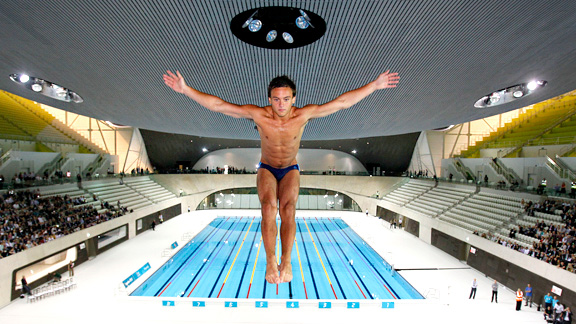 Kirsty Wigglesworth/Getty ImagesTom Daley performs the first dive into the pool, knifing cleanly into the water off the 10-meter board with an inward 1.5 somersault pike.
London organizers marked the completion of the Aquatic Center by having 17-year-old Tom Daley take the first dive in the venue, days after he qualified for his second Olympics.
"It's a pretty big moment for us," organizing committee chairman Sebastian Coe said. "Though a mountain of work is still needed to prepare [the venues], we have an extraordinary platform to build on ... I don't think we are sitting here fearful of anything; we have everything under control."
The 17,500-seat venue, which will be used for swimming, synchronized swimming and water polo events, was expected to be among the first major projects to be finished and one of the boldest architectural statements on the 560-acre east London site.
Instead, it is being completed after the 80,000-seat Olympic Stadium, the velodrome, handball arena, basketball arena and the International Broadcast Centre.
And the aquatics center design was scaled back in an effort to cut spiraling costs even before Britain slumped into recession.
While retaining the sweeping, wave-shaped roof, the size of the venue was reduced to prevent it from becoming a white elephant after the Games have finished, with two giant wings of temporary seating to be added to accommodate fans during Olympic competition.
A year from now, London will be welcoming 10,500 athletes from more than 200 countries, 5,000 coaches and team officials, 20,000 media personnel and hundreds of thousands of visitors. The 17-day festival will feature athletes competing in 26 sports in 32 venues.
Information from the Associated Press was used in this report.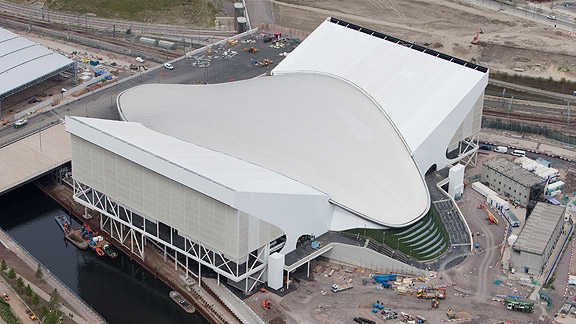 Anthony CharltonLocated in the southeast corner of the Olympic Park, the London Aquatics Centre will host swimming, diving, synchronized swimming and the aquatics discipline of the modern pentathlon.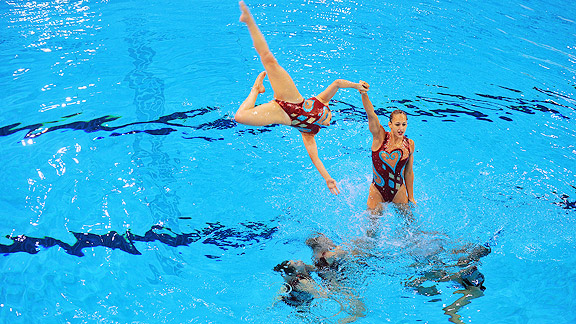 Ben Stansall/WPA Pool/Getty ImagesBritish synchronized swimmers perform a routine to the strains of Queen's "We Will Rock You."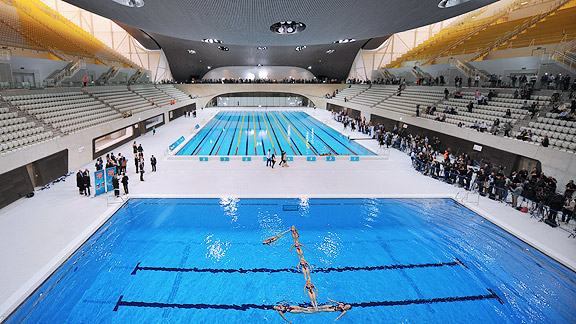 Ben Stansall/AFP/Getty ImagesSebastian Coe called the $442 million swimming center "enchanting" as he hustled through it.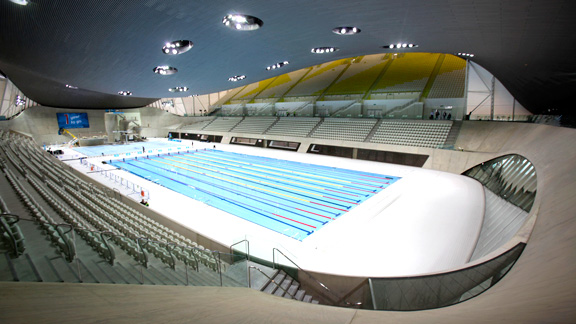 LOCOGThe venue features a spectacular wave-like roof that is almost 525 feet long and up to 262 feet wide.